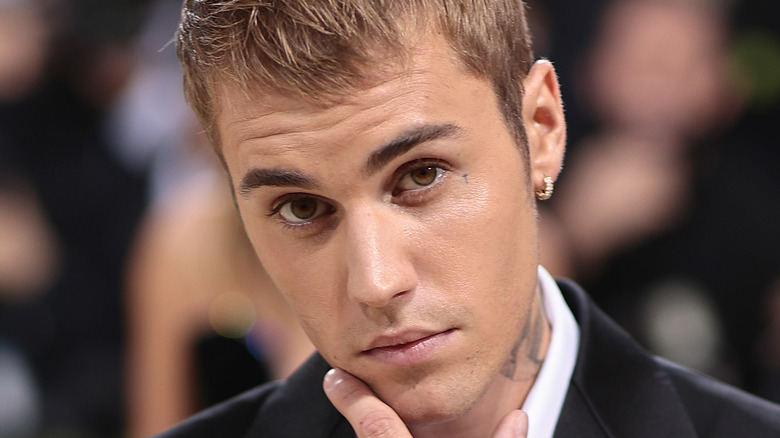 Justin Bieber's hit songs have made his Beliebers swoon over the pop star. Tunes like "Baby," "Boyfriend," and "Yummy" confirm that he knows how to charm his fans, but Bieber has claimed to always have a romantic side to him. He wrote in his 2012 "Just Getting Started" memoir (via Bustle), "It doesn't make you weak or any less of a man if you treat a woman with respect and spoil her a bit. Remember guys, if your friends give you a hard time about being romantic it's just because they don't know how to treat their lady right."
The Biebs is currently only spoiling one woman — his wife, Hailey Bieber. The two wed in September 2018 at a New York City courthouse and had a lavish wedding in South Carolina in September 2019. However, before Hails became his wife, Bieber had spent his fair share of time in the tabloids for relationships with many other women since his career launched. Bieber has had several romances with pop stars, models, and even more models. And these exes haven't kept quiet when asked about their time with the "Justice" singer.
Check out which of Bieber's exes have opened up about their time with one of the biggest pop stars on the planet.
Caitlin Beadles was dating Justin Bieber before the fame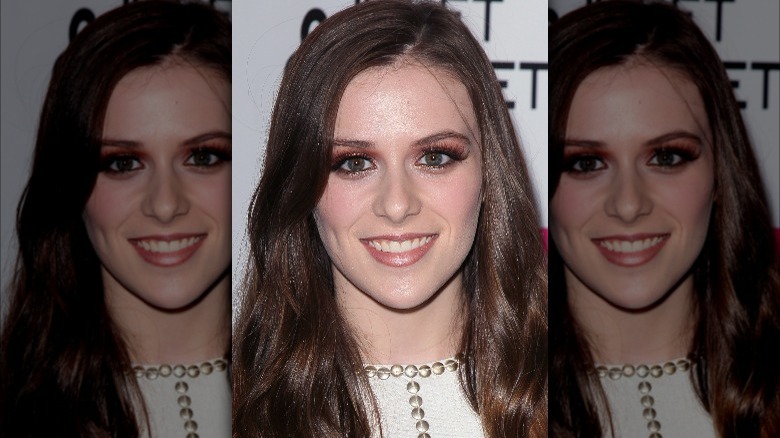 Justin Bieber's first-ever girlfriend was Caitlin Beadles, whom he dated before he ever amassed his success. According to E! News, the couple dated for just about a year when they met in 2008 in Atlanta, Georgia, where Bieber had met with Usher, who helped launch his career. The next year, Bieber released his first hit "One Time" and gained millions of fans aka his Beliebers.
The couple parted ways because of Bieber's busy career, with Billboard noting that Bieber's song "Never Let You Go," is supposedly about his first love. However, the exes stayed friends for years. Billboard also reported that Beadles and Bieber spent Thanksgiving together in 2017, and Beadles' brother, Christian (who was good friends with the singer), posted a since-deleted photo on Instagram with a caption that read, "So thankful for my brother and sister this thanksgiving."
The siblings even attended Justin and Hailey Bieber's wedding in September 2019 in South Carolina, where Caitlin shared photos of herself and her family on Instagram. Bieber clearly holds a special place in his heart for Beadles, especially since she was around at the start of his career.
Jasmine Villegas called their relationship 'puppy love'
Fans might remember the music video for Justin Bieber's 2010 hit song "Baby," and the lucky lady who got to star as his love interest. That girl was Jasmine Villegas, who revealed that she and Bieber formed more than a friendship.
According to E! News, the couple dated in January 2010 and Villegas joined Bieber on his "My World" tour, but they broke up that September. Villegas shared in an interview with VladTV that she was only 16 at the time, while Bieber was 15. "It was like a little kid thing, it was like puppy love, if you could even call it that." Bieber actually asked her mom to give him Villegas' phone number. "It was really nice, he had to ask my mom because my mom stood by me on the whole set, so I don't think he could've got past her if he tried," she said. Villegas called their break-up "nothing serious" and added that the pair remained friends.
After their split, Bieber and a young Disney star would cause a frenzy among his Beliebers when they entered into a relationship.
The saga of Jelena
The year 2011 became the year of "Jelena," when Justin Bieber and "Wizards of Waverly Place" actor Selena Gomez entered into a relationship. The pair made their romance official at the 2011 Vanity Fair Oscar Party. Gomez told E! News, "I am happy. I'm really happy." By 2012, the young lovers split, with a source for People claiming Gomez struggled to trust the heartthrob.
The couple was on-again, off-again for some time and in 2014, Gomez confirmed that her song "The Heart Wants What It Wants" was about her split from the Biebs. "He thought it was beautiful. I think it was really hard," she told Ryan Seacrest. Bieber was spotted with a slew of women, including Victoria's Secret models and Hailey Baldwin, after the break-up. By November 2017, Gomez and Bieber were back on, but would split for good in March 2018. Bieber soon resumed his relationship with Hailey and married the model that September.
Gomez's song "Lose You To Love Me" appeared to mention Bieber's new romance in the lyric, "In two months, you replaced us." In 2020, she revealed to NPR that she was a victim of emotional abuse while dating Bieber, stating, "As much as I definitely don't want to spend the rest of my life talking about this, I am really proud that I can say I feel the strongest I've ever felt and I've found a way to just walk through it with as much grace as possible."
Chantel Jeffries is happy about Justin's romance with Hailey Bieber
After Justin Bieber split from Selena Gomez in 2012, he was rumored to be dating numerous Hollywood stars, including Miranda Kerr, Barbara Palvin, and even Kourtney Kardashian — "Anything there?" he was asked on "The Bert Show" in 2016. "Nah, I'll leave it at that," Bieber answered. One relationship that seemed to be valid was with model Chantel Jeffries, whom he dated in 2014. However, their romance didn't come without controversy. MTV claimed that Jeffries took the wheel of Bieber's Lamborghini at some point on the night he was arrested for a DUI while drag racing in Miami, Florida. Other outlets reported that she was in the passenger seat.
Jeffries and Bieber rekindled their relationship two years later; she was spotted attending his concert in New York City in July 2016, per E! News. Bieber had also rented out a movie theater for the pair to watch the animated film "The Secret Life of Pets." It's unclear when their romance ended because by 2017, he reconnected with his ex, Selena Gomez.
These exes didn't seem to end on a bad note — Jeffries was thrilled to hear about Bieber's engagement news. During the 2018 MTV Video Music Awards, she told Us Weekly, "I'm so happy. I think it's so cool you get to be in a relationship with someone who is such a good friend of yours. Because it's just hanging with your friend all day."
Kendall Jenner has always denied a romance with Justin Bieber
In 2014, rumors swirled that Justin Bieber and Kendall Jenner were an item. The model denied dating rumors in November of that year, telling "Nightline" via (E! News), "He's a longtime friend of our family. Everybody loves to assume things, but no." However, rumors of a relationship swarmed these two stars after they posed for Vogue in March 2015, where one photo showed Jenner laying her hand on Bieber's bare abdomen. They continued to deny a romantic relationship, per CBS News.
In November 2015, Bieber gave an in-depth interview with Billboard, and the reporter wrote, "He says it was never serious with Kendall Jenner," indicating that the singer may have at least had something going on with the model. A few months earlier, the Biebs had also been noticed with British beauty influencer Jayde Pierce, who told the Mirror they were friends.
Whether Jenner and Bieber dated or not, it's all in the past, since he's happily married to Jenner's best friend. Jenner was fine with talking about the couple's 2018 engagement when she appeared on "The Tonight Show Starring Jimmy Fallon," sharing, "Whatever makes them happy, I'm happy. I've been friends with both of them for a very long time, so everybody's happy, and that makes me happy." Jenner was in attendance for the couple's South Carolina wedding, along with her sister Kylie Jenner, per People.