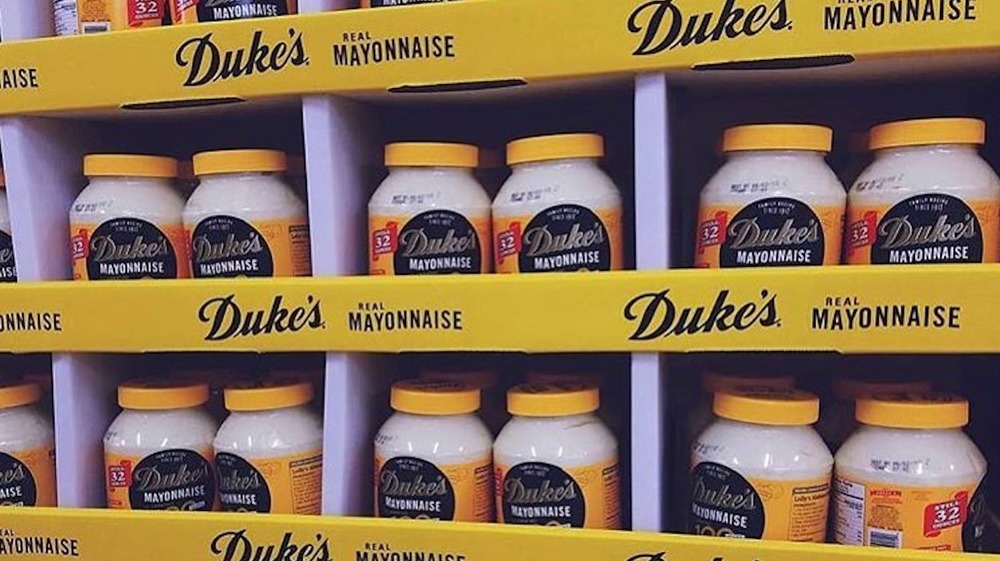 We may receive a commission on purchases made from links.
You heard it here first: All mayonnaise is not created equal. You can't just go grab any jar off the supermarket shelf and expect it to transform your turkey sandwich, brighten your BLT, or magically elevate your egg salad. There are better mayos than others out there, and if you ask many a foodie or pro chef, they will tell you Duke's mayonnaise is the only one worthy of unscrewing the lid.
Duke's mayo was created by a South Carolina housewife named Eugenia Thomas Duke in the onset of World War I, according to NPR. She started out making sandwiches to sell at a military camp, and eventually the tangy spread she was making to put on them started attracting attention. Eventually, Duke sold her business to a larger company, which then ramped up production of Eugenia's mayonnaise recipe and helped grow Duke's into the nationally beloved kitchen staple that it is today.
These days, the secret of Duke's has traveled far beyond the state lines of South Carolina, winning over more and more fans with each jar.
Duke's mayonnaise does things differently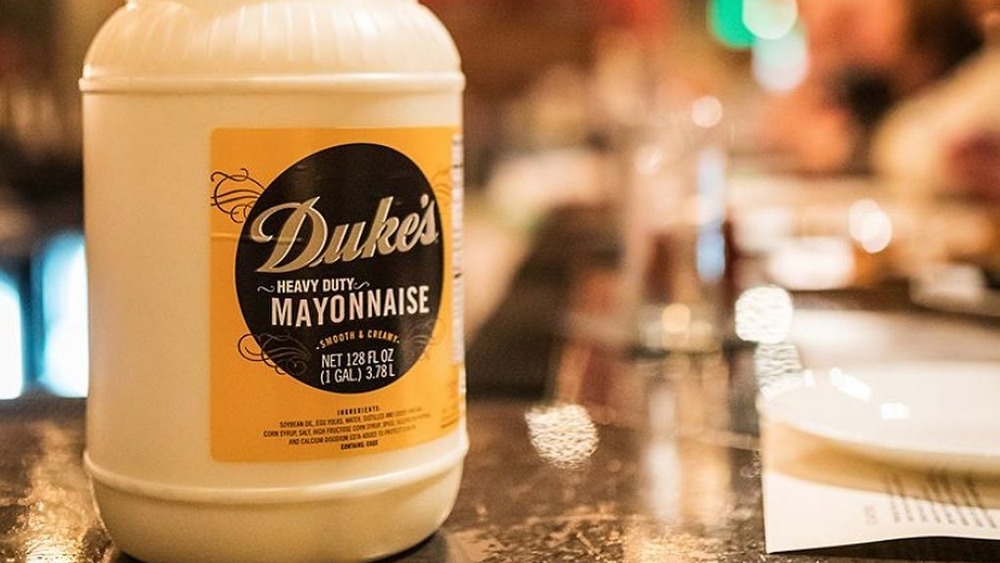 The love for Duke's mayonnaise runs deep. This isn't just your average condiment on the supermarket shelf; this century-old southern recipe has a mighty following of chefs and home cooks across the nation. Part of that has to do with the fact that Duke's mayo actually stands out from the crowd and is made differently from many of its competitors.
For one, you won't find sugar in Duke's mayo. This is a huge break from the norm — most condiments in general these days (not just mayonnaise) are made with added sugar to enhance taste. Duke's mayonnaise also uses more eggs than other brands, which apparently adds to its creamy, rich flavor and thick, custard-like texture.
As Southern Living puts it, these methods make Duke's mayo "look and taste more like homemade mayonnaise, a wonderful thing that is quite tedious to perfect." Plus, there's a touch of vinegar added, which makes all the difference.
Duke's mayonnaise is especially beloved by Southerners
While Duke's mayonnaise lovers exist all over the country, this condiment is especially revered in the American South. According to Southern Living, "Duke's is the brand that many of us Southerners grew up on, so it's the mayo that tastes like what we expect and crave." This sentiment is further evidenced by the "Duke's Road Trip" page on the company website, which features recipes for some of the most iconic signature regional delicacies all across the south (and even in some northeastern states, too), all made with Duke's mayo.
And the South's love for Duke's mayo spills outside the kitchen. Southern Living revealed that "Duke's mayonnaise has inspired art, poetry, essays, scholarly treatises, lectures, and quarrels with those who prefer Hellmann's, Blue Plate, or (shudder) Miracle Whip." The article even mentions one woman so loyal to the brand, she acquired vintage glass jars to have her ashes stored in one day.
Duke's mayonnaise is the secret to incredible mashed potatoes
Duke's mayonnaise isn't just for spreading on sandwiches and burgers. In fact, this condiment is apparently the secret ingredient to making homemade mashed potatoes, of all things. That's right, Duke's says, "you won't believe how rich, luscious, and creamy your mashed potatoes will be by adding Duke's mayonnaise to them. Duke's smooth and creamy consistency and one-of-a kind flavor combines with soft, fluffy Russet mashed potatoes and real butter to accent the ingredients' best qualities and flavors, creating the perfect balance of all parts."
Duke's recipe doesn't even call for milk, as the signature mayo provides all the creaminess you need. And don't just take it straight from the company's mouth (or recipe book). There are Duke's mayo mashed potato recipes all over the internet, like this one from Taste of Southern or this perfect Thanksgiving version from Sweet Pea Lifestyle.
Duke's mayonnaise has its own cookbook
Don't stop at mashed potatoes, as there are endless possibilities for what you can whip up with Duke's mayonnaise. And to help inspire you to use up that whole jar in your fridge, there's even an official "Duke's Mayonnaise Cookbook," featuring 75 recipes that star the signature condiment. You could give the pork banh mi with spicy mayo a try. How about the oyster Po' boys with Creole remoulade? Or, you could satisfy your sweet tooth with the blackberry and peach crisp recipe.
And if you don't see something that catches your eye in the cookbook, you'll find tons more original Duke's recipes on the company website. We're already intrigued to see how Duke's mayo can spruce up some old-fashioned biscuits. And who knew mayonnaise was the secret cake ingredient missing from your chocolate espresso cake (with a caramel-chocolate ganache buttercream frosting, we might add)?
Duke's doesn't just make mayonnaise
If you're already in the Duke's mayonnaise fan club, then you'll be excited to learn that classic mayo isn't the only product made by Duke's. In fact, Duke's may have all the sauces you need to make your next cookout a success, no matter what's on the menu.
Besides your light mayo and your olive oil mayo options, Duke's offers a range of southern condiments, including tartar sauce and six variations of barbecue sauce, covering the most important regional bases. There's the Alabama-style White BBQ sauce, the Georgia Sweet Heat BBQ Sauce, and the Tennessee Smoke and Whiskey BBQ sauce. Don't forget the classic Carolina Gold sauce, the Hickory Moonshine BBQ sauce (which embodies some classic Texas barbecue flavors), and the Carolina Vinegar BBQ sauce. Duke's also has its own version of Mississippi Comeback Sauce, a go-to dipping sauce for everything from fries to pork chops to hush puppies.