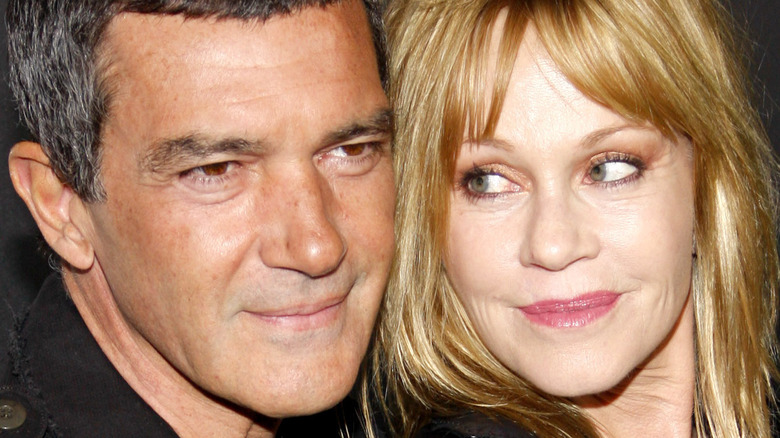 This article references drug use and addiction.
In the late '90s and early '00s, Antonio Banderas and Melanie Griffith were one of Hollywood's hottest couples. The actors had gotten scandalously close while shooting the 1995 rom-com "Two Much" before tying the knot a year later. Griffith had already been a fixture in the headlines because of her tumultuous on-and-off relationship with actor Don Johnson, to whom she was married when she met the Spanish actor. Yet the "Body Double" star was still an A-lister in her own right, having acted professionally since age 12, and receiving an Oscar nomination in 1989 for her performance in "Working Girl." As for Banderas, he was rising to fame in the U.S. at the time, thanks to his breakthrough role in 1992's "The Mambo Kings," and his critically acclaimed performance in 1993's "Philadelphia."
While both Banderas and Griffith continued to star in movies throughout their long and successful careers, it seems the public was always more interested in their marriage. It probably didn't help that their relationship was constantly the subject of tabloid rumors — and that was on top of their actual personal problems. Although they seemingly overcame a lot of challenges, they eventually divorced in 2014.
Yet, the former couple did stay married for almost two decades, which by Hollywood standards, is practically forever. So why did these two eventually decide to throw in the towel? Let's break down the reasons why Melanie Griffith and Antonio Banderas really split.
They fell in love on set
Melanie Griffith and Antonio Banderas had a true Hollywood romance in that they apparently fell in love on a movie set. However, they'd apparently met years earlier, at the 1989 Academy Awards. As Banderas later gushed to ABC News, he was seemingly taken with his future wife from the moment he saw her. "I saw this beautiful woman with a cream dress, with pearls," he recollected. Meanwhile, Griffith initially felt much different, telling AARP in 2011, "The first thing he asked me was my age. I said, 'That's the rudest thing anyone has asked me first.'"
It wasn't until the two starred in the 1995 rom-com "Two Much" that things became romantic. The only problem was they were both already married. "It was very, very fast and very compulsive, but … we were tied at the time," Banderas told ABC News. Although they were reportedly already having problems in their respective marriages, they tried to ignore their spark. "We just thought this may be one of those … infatuation moments that we have when we shoot movies because we got to play together a couple, so let's just go home," "The Mask of Zorro" star dished to the outlet.
Speaking to The Morning Call, Banderas revealed that they realized it was more than just an on-set crush. "You just know there is something inside you that is stronger than yourself. And you can't stop it." So they didn't and instead moved full-steam ahead with their relationship.
Griffith and Banderas got divorced to get married
Before they could get married, Melanie Griffith and Antonio Banderas had to divorce their respective spouses. The "Working Girl" star had been in a headline-making relationship with actor Don Johnson at the time, having initially married him in 1976, and then again in 1989. By 1994, People was reporting that their marriage was in trouble, with the "Miami Vice" star entering rehab for alcohol addiction while his wife admitted to having broken five years of sobriety herself. Griffith filed for divorce from Johnson in 1994, citing irreconcilable differences.
Banderas also left his then-wife, Spanish actor Ana Leza, whereupon Griffith was publicly accused of stealing her husband. "It's a circus," the "Desperaro" star told The Morning Call about the media attention lavished on the love triangle. However, he denied that his second wife was to blame for his divorce. "There is no connection," he told EW. "… It's not like I met this girl and poom."
Regardless, Leza apparently took Banderas to the cleaners in their 1996 divorce, receiving 3.4 million euros, not counting monthly alimony payments, and 50% of the profits from the films he made when they were married, per Vanity Fair. "They grab you by the foot, shake you, and when the last dollar [drops] they leave you," Banderas was quoted by the outlet as saying about the situation. However, it proved to be worth it — months later he married Griffith in a small ceremony held in London.
If you or anyone you know is struggling with addiction issues, help is available. Visit the Substance Abuse and Mental Health Services Administration website or contact SAMHSA's National Helpline at 1-800-662-HELP (4357).