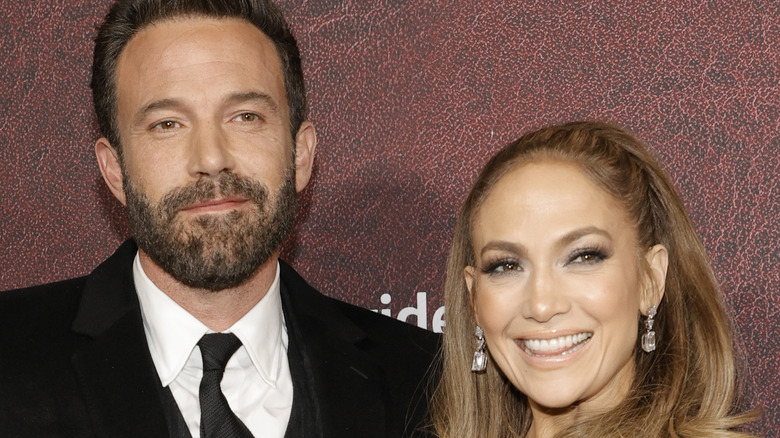 Could there be a more beloved romantic in Hollywood than the Jennifer Lopez? After three decades of box office hits, pop icon status, and sporting that seemingly eternal JLo Glow, the star found herself single again after ending her engagement with Alex Rodriguez. Despite the heartbreak, Lopez was waxing a bit philosophically after their split — spurred on, no doubt, by her reunion that same year with her most memorable of partners.
"What I can teach my children is that real love exists," she told People in early 2022. "Some things can be forever, but it doesn't mean they just have a straight line." That zig-zag has seen her through multiple marriages, breakups, and 2021's gift from the gossip gods: Bennifer 2.0. It's been a long love road since Lopez burst onto the scene in the early 1990s. Where did it all begin? Here's a complete timeline of Jennifer Lopez's relationships.
Jennifer Lopez and her high school sweetheart dated for years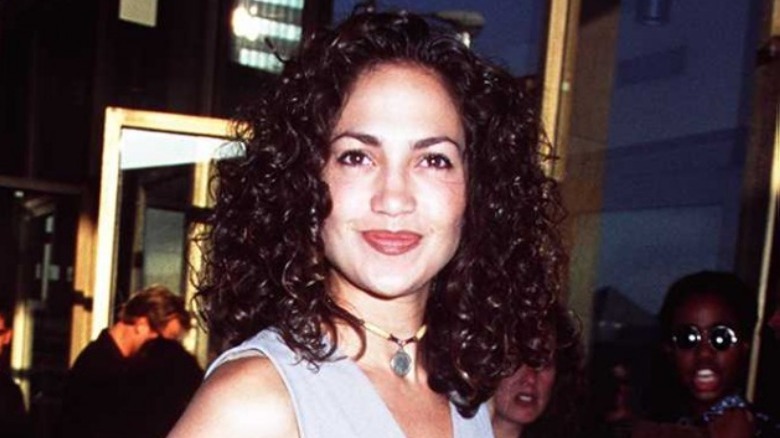 A major red carpet almost feels incomplete without an appearance by JLo in a glittering headdress (à la 2019's Met Gala), a hot pink gown as big as the carpet itself, or other such couture ensembles. But long before she was a style icon and red carpet staple, Jennifer Lopez put her sartorial sense to good use by designing her very own prom dress.
Lopez sketched her idea for the pink mermaid-style gown and "gave it to this dressmaker in the neighborhood, and [I] was like, 'This is the dress I want to make,'" she told Rolling Stone in 2022. "I had a vision." That vision included her date for the evening: David Cruz, her high-school sweetheart.
Lopez dated Cruz well into her early 20s, when she got her big break as a Fly Girl dancer on the TV show "In Living Color" in 1991. Though Cruz and Lopez's romance didn't turn into forever, she maintained an affection for him over the years. In the same Rolling Stone interview, Lopez, who still remembered Cruz's home phone number, revealed that after he passed away from heart disease, she called his mother to offer her condolences. "You get lucky [when] you have a first love like that," she said.
Jennifer Lopez's first husband was a waiter and aspiring actor
Love at first sight or first bite? Jennifer Lopez met her first husband, Ojani Noa, when he was working as a waiter at Cuban superstar Gloria Estefan's restaurant, according to Hollywood Life. The two married in 1997 but divorced less than a year later, in 1998.
In a scorcher of an interview Lopez gave to Movieline in shortly before their divorce, she hinted at one of the big issues the newly wedded couple was facing. "It's tough for me because the men I'm attracted to, for some reason, haven't gotten it together," she said. "Even my husband … whatever business he gets in, he's not gonna make as much money as me. That's something he has to deal with and to live with, which is tough for someone like him."
Though their marriage was short-lived, Lopez had to contend with Noa, a one-time aspiring actor and, later, celebrity boxer, on a few occasions more than a decade after the end of their relationship. In 2007, as reported by People, she won a lawsuit against him, keeping him from publishing a tell-all book about their time together. Then in 2009, she sued to keep him from releasing a video recording from their honeymoon.
Jennifer Lopez and Sean Combs have stayed friendly since their 2001 breakup
Everyone remembers that green dress. Even the former CEO of Google has said that interest in the daring Versace gown inspired his company to create the Google Image search function (via New York Post). But do you remember who Jennifer Lopez's date was for the 2000 Grammy Awards?
Accompanying JLo on the red carpet that night was her boyfriend, Sean Combs, aka Puff Daddy as he was then known. Lopez and Combs were pop music royalty, but their relationship, which began in 1999 and weathered a nightclub shooting incident, fell apart in 2001 amidst reports of infidelity. A few years after their breakup, Lopez confirmed the rumors to Vibe (via Entertainment Weekly). "It was the first time I was with someone who wasn't faithful," she said. "I never caught him, but I just knew," Lopez added. "He'd say he was going to a club for a couple of hours and then never come back that night."
Since their split, Lopez and Combs have remained friendly, with Combs even sharing a cheeky #TBT Instagram photo of the couple back in the day when Lopez and another former flame, Ben Affleck, were heating up for the second time in 2021. "It wasn't no trolling involved," Combs told Vanity Fair that same year about the post. "That's just my friend."
Jennifer Lopez's second husband was one of her backup dancers
After her relationship with Sean Combs ended in 2001, Jennifer Lopez didn't have to look too far for her next love interest. Enter: Cris Judd, a backup dancer who appeared in the video for Lopez's 2000 song "Love Don't Cost a Thing." JLo's rebound was sweet but short. Judd and Lopez married in 2001 but parted ways in 2002, after less than a year of marriage.
Lopez thought she had found "the one" in Judd, but as she told Vibe in 2003, she jumped into their union too quickly (via Entertainment Weekly). "Coming out of a torrid relationship [with Combs], I meet this sweet person [Judd] who's so refreshing," she said. "But marriage is not just about love. I thought I had learned that in my first marriage." Lopez explained that she still loved the actor and choreographer but felt they didn't have what it took for a lasting partnership.
Around this time, Lopez was starting work on her next film, a gig that would change her life in more ways than one. In late 2001 to early 2002, she starred opposite Ben Affleck in "Gigli." In 2003, when asked by Reader's Digest if the end of her relationship with Judd coincided with the start of her relationship with Affleck, Lopez shot down any rumors of overlap (via Entertainment Weekly). After Judd, though, things moved quickly for the power couple soon to be forever known as "Bennifer."
Jennifer Lopez and Ben Affleck were a power couple and tabloid dream in 2002
Ben Affleck and Jennifer Lopez's relationship quickly turned intense in 2002. And by personal, we're talking about the taking-out-ads-in-the-paper level of intensity. Yes, in 2002, the Oscar-winning Affleck took out an ad dedicated to Lopez in The New York Times that read, in part, "It has been nothing but an honor and a pleasure to work with you. I only wish I were lucky enough to be in all your movies."
From there, the flame between "Bennifer" grew. Lopez and Affleck were seen everywhere, from a dishy joint interview with Diane Sawyer to canoodling on a yacht together in the music video for Lopez's hit song "Jenny from the Block." They even co-starred together a second time, in 2004's "Jersey Girl" (though the film was released after their breakup).
The media scrutiny ultimately proved to be too much for Affleck and Lopez. The two called off their engagement in 2004. Looking back on their relationship, Lopez told People, "Before, we kind of put [our relationship] out there, and we were naïve, and it got a little trampled."
Marc Anthony came (back) into Jennifer Lopez's life right after her split from Ben Affleck
Following the implosion of Bennifer 1.0, Jennifer Lopez turned to friend, and rumored former boyfriend, Marc Anthony (via InStyle). And she turned fast.
In her 2014 book "True Love," Lopez explained that she was seeking comfort with Anthony after her heartbreaking split from Ben Affleck. "[I] tried to find someone who could make me feel loved and wanted in my loneliest hour," she wrote (via Celebuzz). "Marc came back into my life three days after I should have been at the altar saying 'I do' to another man."
Lopez and the Grammy-winning singer, who'd dueted on Lopez's debut album, "On the 6," in 1999, married in summer 2004. They married in the backyard of JLo's Los Angeles home (via History). During their seven years of marriage, the couple starred in a movie together ("El Cantante"), embarked on a joint tour, and, in 2008, welcomed twins Max and Emme (via MTV). But in 2011, amidst rumored infidelity — which Anthony refuted in an interview with ABC News – Lopez and her third husband decided to separate. Their divorce was finalized in 2014.
"It wasn't the dream that I had hoped for," Lopez told W magazine in 2016. "I hung in there for seven years. [But] I knew very quickly that it wasn't the right thing."
Jennifer Lopez fell for backup dancer Casper Smart in 2011
When Jennifer Lopez set out on her 2012 "Dance Again" world tour, "The Wedding Planner" star was supported by a team of stellar backup dancers, including her new beau, Casper Smart. According to Hola, the two first met in 2011, and he later appeared in the music video for her song "Dance Again." In an interview with Univision in 2019, Smart said their chemistry was off the charts (via Hola). In spite of that, their 18-year age difference ended up being a factor in their five-year on/off status.
"In the moment, everything just clicked," Smart, who went on to be a judge on "Dancing with the Stars," said. "[But] I was very young and selfish. I thought I was ready for a relationship with a woman with kids and everything."
Though JLo has never said much about her relationship with Smart, she shared in 2016 — the year they split for good, amidst infidelity rumors about Smart — that she was at a point in her life of enjoying being on her own. "Someone can add to your happiness, but that's not what's gonna make you happy," she told Today (via People). "I had to get happy on my own. It's been a learning curve."
Drake and JLo had a rumored fling in 2017
All it took was one cuddly photo shared on Instagram to get the gossip mills churning once more about Jennifer Lopez's love life. This time, it was the rom-com queen in a close embrace with rapper Drake. Both Drake and Lopez shared the captionless photo on their pages back in late 2016, leaving fans clamoring to find out if this meant the two had gone Instagram-official.
Around the time of their rumored fling, neither Lopez nor Drake ever officially commented on their status. Lopez dodged Ryan Seacrest's leading questions on the Grammys red carpet and revealed only that she and Drake had spent time together recording a song and, cryptically, that she had "so much love for that boy." Drake addressed the rumors more pointedly in a 2019 interview on the "Rap Radar" podcast, though he still didn't outright confirm that he and Lopez were a thing. "I have plenty of love for her," he said. "We were just hanging out at one point. … She's a great artist, great mother. I got nothing but positive things to say about her."
Perhaps the most definitive sign that things had heated up, at least for a minute, can be found in the lyrics of Drake's 2018 song "Diplomatic Immunity": "2010 was when I lost my halo / 2017 I lost a J. Lo."
Jennifer Lopez and Alex Rodriguez blended their families and businesses
Alex Rodriguez and Jennifer Lopez seemed like a perfect match when they coupled up in 2017. The former Yankees superstar and the pop icon, who got engaged in 2019, appeared especially well suited when it came to their business sense and entrepreneurial interests.
During their four-year relationship, Rodriguez and Lopez jointly invested in a number of ventures, according to Forbes, including tech companies, a telehealth startup, and Lopez's own JLo Beauty line. They also unsuccessfully bid for an ownership stake in the New York Mets baseball team. "Alex made me realize as an artist, I was a scarce asset, and the business world was searching for people like us so they can build billion-dollar businesses," Lopez told Forbes in late 2020. "He got me comfortable with investing my own money into other companies and into myself."
Despite their shared business interests, tabloid-minted moniker ("J-Rod"), and blended family (her twins, Max and Emme; his kids, Natasha and Ella from his previous marriage), Rodriguez and Lopez ultimately couldn't make their very lucrative partnership work. As reported by People, sources claimed it was JLo who ended their engagement in 2021 as infidelity rumors swirled around Rodriguez. A source allegedly told the magazine that "too many issues" were "unresolved" and that Lopez ultimately decided to move on. However, it reportedly took Rodriguez a bit of time to get over his ex (via E! News).
Jennifer Lopez and Ben Affleck fell in love again in 2021
"When you find somebody and you really, really love them and you get a second chance at that? That is a really rare, precious, beautiful thing, and we don't take it for granted," Jennifer Lopez told People in 2022 in reference to getting back together with actor Ben Affleck. It seemed too good to be true when the rumors started up again about Lopez and Affleck — nearly 20 years after their first go-round as a couple. Could the best gossip in two decades really be true? Would the world be graced with Bennifer … again?!
In April 2021, Affleck was spotted leaving Lopez's Los Angeles home, according to Page Six. And just like their first pairing, the two didn't waste any time. Just a year later, Affleck proposed to JLo (in a bubble bath!) with an 8.5-carat green diamond ring worth upwards of $10 million, according to Harper's Bazaar. (Props to Affleck for stepping up his game from his first proposal to Lopez, then with a 6.1-carat pink diamond.)
Though Lopez and Affleck seem to have finally found happily ever after, there's still that long walk down the aisle. Lopez, though, is confident that she and Affleck are in it for the long haul. "It's beautiful the way it feels very different than it was years ago," she shared with People. "There's more of an appreciation and a celebration for it, which is nice."