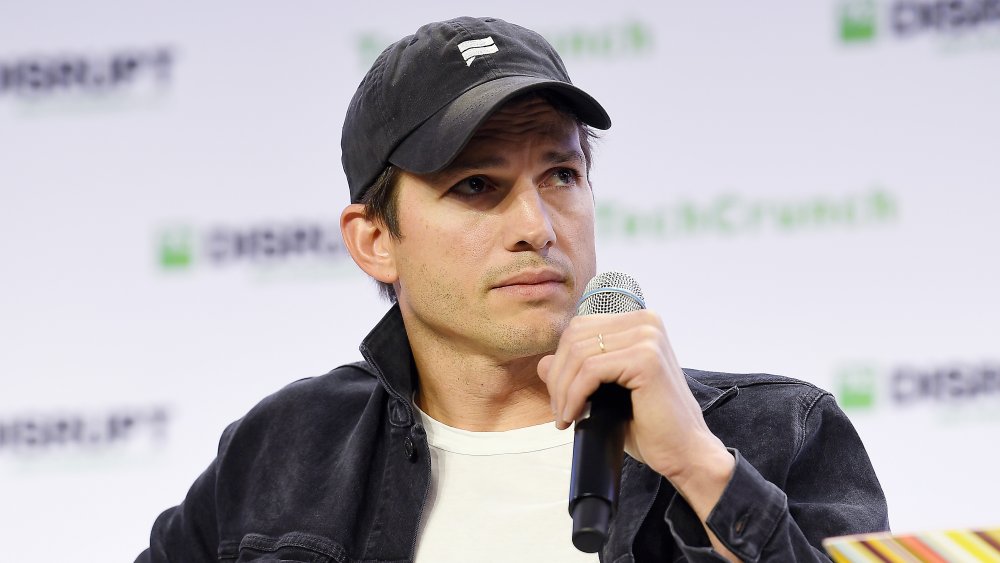 On April 13, 2009, actor and entrepreneur Ashton Kutcher tweeted a challenge: If he amassed one million followers on Twitter before CNN did, he would "ding dong ditch Ted Turners house." At that point, no single Twitter account had reached one million followers, and, as ABC News pointed out, Kutcher's account and the CNN account were two of the three that were closest to hitting that milestone. A mere few days after this race commenced, there was a winner: As the Guinness World Records site shows, Kutcher was the first Twitter user to hit the one million follower mark. The Dude, Where's My Car? actor held up his end of the bet: CNN reported on May 14, 2009 that Kutcher "ditched" 800 boxes of Ding Dongs at a restaurant named after Turner.
Where are we going with this, you wonder? Well, that race to a million followers with CNN just so happens to be one of several examples of Kutcher winding up in a public "face off." Of course, that one was all in good fun, but the same cannot be said for some of his other "battles." You want petty arguments? Are you looking for quickly resolved misunderstandings? Or how about actual drama that was not resolved for several years? This roundup has 'em all. Here are some of the celebrities who have had issues with Ashton Kutcher on some level.
A former star of a sitcom wasn't happy about his replacement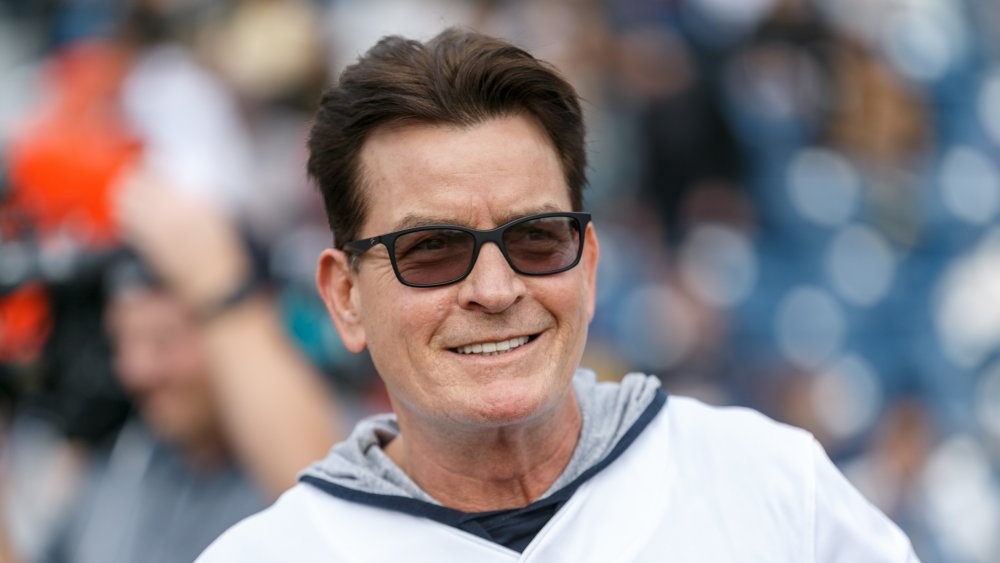 When Ashton Kutcher replaced him on Two and a Half Men in 2011, Charlie Sheen seemed into it… at first. Ahead of the Season 9 premiere, Sheen assured TMZ that he was "rooting hard" for the new lineup and believed "Ashton's gonna kill it" in the role.
But in February of the following year, Sheen told TMZ that he was "tired of pretending the show doesn't suck" and "tired of pretending Ashton doesn't suck." A few days later, he apologized for his comments on his website (via E! News). And then, in 2014, he took to Twitter to call his former co-star Jon Cryer "a GENIUS!!!" and ask about his "lame side-kik" on Two and a Half Men. He followed up with yet another mea culpa to Kutcher, before adding, "now quit barfing on my old brilliant show." That same year, Kutcher told Conan O'Brien that he "just kind of stopped listening to things that Charlie Sheen says" and compared Sheen's comments to that of an adult character from The Charlie Brown and Snoopy Show.
Ready for a twist? On a January 2017 episode of The Kyle & Jackie O Show, Sheen said he was "stupidly mean to [Kutcher]" and "should have been nicer." He also said he and Kutcher shook hands when they ran into each other at a Dodgers game a few months earlier. Sounds like things are on the mend mend mend mend, mend-ly mend mend mend.
A comic said Ashton Kutcher was "rude"
Comic Kathy Griffin is no stranger to sharing her celebrity encounters with the rest of the class, and apparently, her interactions with Ashton Kutcher were memorable for the wrong reasons. In her 2016 book, Kathy Griffin's Celebrity Run-Ins: My A-Z Index, she has some less-than-glowing things to say about the Punk'd star, including calling him "a tool." In 2005, she co-hosted a charity event for uBid.com with Kutcher, and apparently he "did not speak to [her] once." She writes, "It was bizarre and rude and made me feel as if he thought I was beneath him, someone not worth talking to in the slightest."
She goes on to recount running into Kutcher and Demi Moore at a restaurant some years later. "I smiled and waved. Nothin'. If you won't say hi to me in the Mexican takeout joint, you're a d-bag," she recalls. Griffin also mentions a time when she was in the middle of a conversation with Diddy when Kutcher apparently walked "directly in front of [her] and started talking to Diddy as if [she] wasn't even there."
Griffin adds that she does not "loathe" Kutcher but believes he is a person who has "made it perfectly clear" that he believes she has "absolutely nothing to offer him during his precious time on earth." Eesh.
Demi Moore spilled some salacious details about her ex-husband
Ashton Kutcher married Demi Moore in 2005, but their relationship evidently hit one too many speed bumps. After reports alleging Kutcher cheated on Moore surfaced in 2011, the two announced their separation. In 2012, People reported Kutcher filed divorce papers, citing irreconcilable differences, and Moore's 2019 book, Inside Out, offers a glimpse into those irreconcilable differences. In the memoir (via USA Today), she writes that she went "into contortions to try to fit the mold of the woman [Kutcher] wanted his wife to be." She explains that she went along with Kutcher's "fantasy of bringing a third person" in to "show him how great and fun" she was, even though it was not her thing. According to Moore, this set the infidelity wheels in motion. She writes, "Because we had brought in a third party into our relationship, Ashton said, that blurred the lines and, to some extent, justified what he's done." Moore also suggests Kutcher was dismissive of her battle with alcoholism.
After Moore's book hit the shelves and stories regarding their relationship started to hit the internet, Kutcher tweeted, "I was about to push the button on a really snarky tweet. Then I saw my son, daughter, and wife and I deleted it."
The dust has since settled and things seem to be fine between the exes. When he went on WTF with Marc Maron in February 2020, Kutcher said he and Moore "don't hang out" but "it's all good."
A talk show host claimed Ashton Kutcher wasn't a good guest
On a 2018 episode of Larry King Now, Sharon Osbourne revealed to Larry King that she "didn't get on" with Ashton Kutcher when he appeared on The Talk. She told King that she accidentally pulled an Adele Dazeem when Kutcher was a guest back in 2014, and apparently, it led to an icy back-and-forth. She messed up his name, he apparently "was pissed," and according to Osbourne, it was all downhill from there. She shared, "He comes on with an attitude, and he goes, 'What have you done in this industry?' And I was like, 'Kid, don't start with me because I'm going to eat you up and sh** you out.'" Zoinks.
While there apparently was some friction during the interview, Osbourne seemingly tried to make light of the moment after they taped The Talk segment. On Oct. 24, 2014, she tweeted a photo she took with Kutcher on the talk show set and wrote, "I messed up @aplusk's introduction. I think I called him Asstin Kushner…F***! SORRY!"
Hey, look on the bright side: She might've butchered his name but at least she didn't chuck a big slab of ham at him.
Melissa Joan Hart tried to get Ashton Kutcher kicked out of parties
As far as Clarissa Darling is concerned, Ashton Kutcher is no darling. When opening up about her party days in her 2013 book, Melissa Explains It All, Melissa Joan Hart shares that she clashed so much with one of the future stars of Two and a Half Men that she attempted to boot him from more than one party. She writes, "I do remember that twice I tried to kick Ashton Kutcher out, when he made smart-a** remarks to me after I asked him not to smoke in my house, but he never wanted to leave, and since I'm not burly enough to intimidate him into going, I eventually gave up."
It was inevitable that Hart and Kutcher wound up at some of the same events. Jason Goldberg, the person Kutcher started and ran production company Katalyst Media with, just so happens to be married to Soleil Moon Frye, Hart's former Sabrina the Teenage Witch co-star. Frye and Hart have been friends for years, which has resulted in Hart and Kutcher crossing paths every now and again. But Hart was not exactly clamoring to hang out with the co-captain of her dear pal's husband's production company. As she told Life & Style in 2013 (via E! News), "Ashton and I just didn't get along." Explain it all, Clarissa. Explain it all.
Trent Reznor doesn't care about Ashton Kutcher's work in tech
Ashton Kutcher became an early and successful investor in some Silicon Valley start-ups, but it seems safe to say Trent Reznor will not be tipping his cap to Michael Kelso's work in the tech investment world anytime soon. Some quick background information for good measure: In 2010, Kutcher, Guy Oseary, and Ron Burkle started A-Grade Investments, a venture capital firm, and, as Forbes pointed out in 2016, some of their earlier moves include putting money into Uber and Airbnb. These investments have raked in a pretty penny or two: According to Forbes, Kutcher and Oseary's fund went from $30 million into $250 million in six years. Reznor, however, couldn't care less.
When talking to Vulture in 2017 about celebrities dipping their toes in the tech world, the Nine Inch Nails frontman said, "My experience with Beats Music and then at Apple largely was dismissed from outside, maybe justifiably, as here's another celebrity moron holding up a phone and expecting some sort of credit." He said that was not his "kind of situation," but went on to say that scenarios like that are "insulting to the people that actually are doing the important jobs."
And then, Reznor offered up an example: "And I don't want to hear about 'Ashton Kutcher's a f***ing tech genius.' I don't give a s**t about that. He seems like an a**h**e." Ouch. Bow down before the one who burns.
Clint Eastwood's son dropped a huge scoop about Ashton Kutcher
Okay, we fudged the rules of the list for this one. Scott Eastwood is not mad at Ashton Kutcher, but Ashton Kutcher was reportedly not happy with Scott Eastwood for talking about an alleged affair on national television. In 2015, Eastwood went on Watch What Happens Live and claimed that Kutcher hooked up with his then-girlfriend a few years prior. Host Andy Cohen asked if Eastwood was referring to the Us Weekly report from 2011 regarding a woman Kutcher allegedly cheated on Demi Moore with in San Diego, and Eastwood said that he was indeed in a relationship with that very woman at the time of the alleged dalliance. He then went on to call the affair the "catalyst" that broke up Moore and Kutcher. Eastwood also assured Cohen that he was not the least bit upset with Kutcher.
While Eastwood may carry no hard feelings toward Kutcher, Kutcher was reportedly upset with Eastwood for bringing this up on WWHL. The day after the episode aired, Hollywood Life reported a source claimed Kutcher was "livid." The source continued, "Ashton himself never confirmed he had an affair, nor did he ever admit that was the reason for his break-up with Demi Moore. For Scott to come out and say that has left him furious because he likes to have his privacy." This all sounds like something out of a movie with a title like The Good, the Bad, and the Gossipmonger.
Miranda Lambert questioned Ashton Kutcher's country fandom
This was a short-lived spat that actually wasn't much of a spat at all. It was more of a misunderstanding that could have spiraled into something it was not if both parties did not speak directly to each other about it. At the 2012 Academy of Country Music Awards, Ashton Kutcher presented the award for female vocalist of the year, but not before he offered up a rendition of George Strait's "I Cross My Heart." Clad in a 10-gallon hat, a red western jacket, and a big belt buckle, Kutcher presented the award to Miranda Lambert. Following the award show, Lambert tweeted, "Was Ashton Kutcher making fun of country or is it just me? Watching it back now and I'm kinda wondering?"
She did not have to wonder for too long. Shortly after Lambert posted that tweet, Kutcher replied, "I Am One Of The biggest country Music fans you've ever met. Wasn't making fun at all."
A month after the ACMs, Lambert and Kutcher ran into each other again. As People noted, this time around, it was at a Kentucky Derby soirée.The two took a selfie together and Lambert kindly shared it with the internet. "Here it is y'all. He is sweet and lives country music! For real!:) and he likes randaritas!" she tweeted. It was a Derby miracle.
Justin Moore did not buy Ashton Kutcher's response
Like Miranda Lambert, country artist Justin Moore did a double take at the ensemble Ashton Kutcher picked out for at the 2012 Academy of Country Music Awards. But unlike Miranda Lambert, Justin Moore did not accept Ashton Kutcher's response. After he watched the award show, Moore tweeted, "Seen Ashton kutcher at the acms tonight. What a douche! I don't care for people making a mockery of the way country artists' dress."
Upon seeing Moore's post, Kutcher tweeted, "Justin Moore calls it mocking I call it respecting your Elders. Maybe that's old fashion. Know when to fold em brother…." Moore still was not having it. The singer replied, "go listen to alan Jackson 'gone country' brother…you can't hang with me on old country buddy. Not gonna happen…JM."
Kutcher and Moore did not meet up at a Kentucky Derby party to talk about their love of country music and take a photo for all the internet to see. Instead, they let their feud just ride off into the sunset on its own, entirely unresolved. They knew when to fold em when it came to whether or not Kutcher's outfit was mocking country music.
Ashton Kutcher faced off with Mr. Wonderful
This one is a Shark Tank shark tiff, not a feud-feud. But hey, who among us does not love a tiff between sharks? Ashton Kutcher and Kevin O'Leary did not exactly seem like the best of chums (Get it? Or did that one… tank?) during the Shark Tank season 7 premiere, and it made for thrilling television. When Kutcher was a guest shark in 2015, he and OG shark Kevin "Mr. Wonderful" O'Leary clashed briefly. After O'Leary asked an entrepreneur "Why are you doing this to yourself?", Kutcher made it clear that he was not feeling that inquiry. The That '70s Show actor told O'Leary he was being "belittling," but O'Leary insisted he was merely "asking a question." Kutcher countered, "She gave you an answer, and if her answer's not suitable, that's fine, but you don't have to belittle people. That's not cool."
O'Leary addressed their short but sweet argument on Twitter, writing, "Belittling is not the same as being honest @AplusK! If you can't handle the truth, get out of the tank! #SharkTank." Get out of the tank? *Gasp.*
Longstanding shark Daymond John was not on this episode, but he made it clear whose team he was on. The night the episode aired, he tweeted, "#SharkTank fans, I haven't pulled a Charlie Sheen. @aplusk keeping the seat warm & if he gives @kevinolearytv a hard time, even better!" Even better, indeed.
Ashton Kutcher's wife doesn't want to work with him
Wait, don't shout "love is dead" from the rooftops. Mila Kunis does not dislike her husband, she just dislikes the idea of working with him again. (See what we did there?) Kunis revealed on a 2018 episode of Today that acting opposite Ashton Kutcher is "weird." Oh, how things have changed since the two played Jackie and Kelso.
The two met way back when they were on That '70s Show, and in 2012, a whole six years after the sitcom ended, they began dating in real life. Apparently, that relationship status change impacted their ability to be scene partners. On the aforementioned episode of Today, Kunis said that when she and Kutcher filmed together for a 2014 episode of Two and a Half Men, it apparently did not go off without a hitch. She recalled, "I was like, 'Oh, I see you acting!' Like, I can catch it. And he looked at me and he was like, 'What's that face you make?'" She ultimately decided acting with her former co-star-turned-husband was not in the cards. She said, "I was like, 'We can't do this. We can't be together in a scene."
As "weird" as it might have been for the couple, they made it happen: Kutcher and Kunis are in episode 19 of Season 11 of Two and a Half Men together. Looks like they could "do this" this after all.