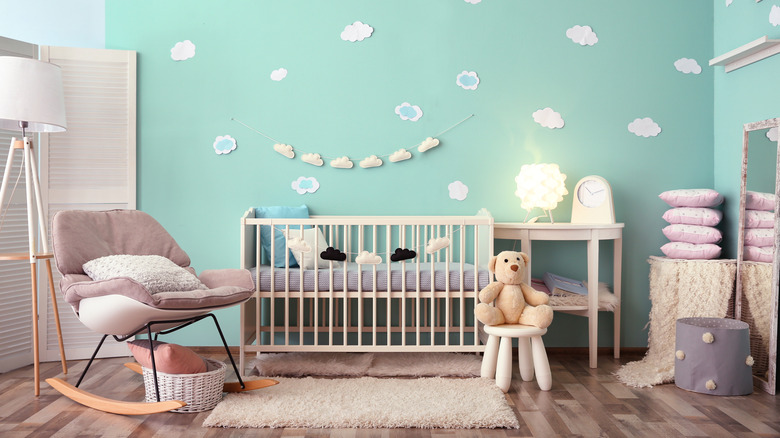 You want everything to be perfect for your bundle of joy, and safety is everything. There are several mistakes everyone makes when buying baby cribs, and understanding those mistakes will help as you piece your nursery together for your new love. Your baby's crib sees more use than any other equipment you buy for your little one. Babies sleep several hours out of the day (and hopefully, you catch some naps during that time, too.) The crib is worth some research, allowing you to make the best choice for your family.
According to Kernodle Clinic, it's important to have equipment such as the crib fully assembled and tested for safety before the baby arrives. They also recommend that new parents remember that less is more. Stick with what's most important, such as the crib and a car seat, so you don't get overwhelmed. Other equipment can be bought later if you find you need it.
Check for recall issues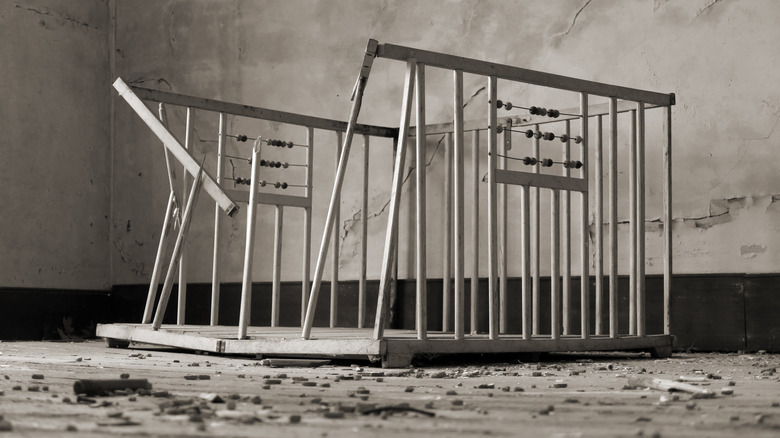 Recalls can happen quickly and change daily. Make sure you research all recalls for cribs, so you don't bring one home with safety issues. According to USA.gov, a refund is issued when a recall happens, or the item can be sent in for replacement or repair. A recall on a crib doesn't mean you've purchased the wrong crib. It does mean, however, that you need to get the repair made immediately or exchange the crib for something else.
Even the best companies have been recalled now and then due to accidents and mistakes. Still, the safety of the crib for your baby is everything. Take recalls seriously and check out Kids In Danger for the latest recall information. It offers current recall lists and also a way to search for specific products. You can also check the Consumer Product Safety Commission and use its search page as well.
Do you need a convertible crib
Convertible cribs grow with your child, meaning they turn into a toddler bed and sometimes even a full-size bed when the crib is no longer needed. If you already have the next bed on hand, you don't need to pay extra for the convertible crib. Depending on brands and style, it may be less expensive to purchase a new bed when the time comes rather than investing in a convertible crib immediately.
According to Good Housekeeping, most new parents hope to spend less than $300 on a new crib, but the convertible ones can range anywhere from $200 to $1,000, so it might not be a financially sound decision for every new parent. Keep in mind that you never know how long the baby will stay in the crib. For some, it's a couple of years; for others, it might be double that before they feel ready for a bigger space. Deciding to switch depends on your child's size and how much they move around, or if they decide to start climbing out. Also, toddler beds are often short-lived, and some parents choose to go right to a twin-size mattress instead. There's nothing wrong with a convertible crib, but if you need to save some money, look for a standard one instead.
Never buy a used crib
Safety measures for things like cribs are always improving as studies show how to prevent scary accidents. That's one reason why used cribs aren't a good option. Also, a crib may become less stable after it's been through a few children. According to Parents, you're better off buying a new portable crib than a used full-size crib if you can't afford a new one. The reason is that safety standards are always being updated to keep children safe and prevent dangerous situations caused by baby equipment. Aunt Millie's antique crib may be beautiful, but it doesn't meet the safety measures that today's cribs have.
For example, drop-side cribs and bumper pads were popular just a decade ago but have since been deemed a safety risk. You might be able to get them for a steal on Facebook Marketplace, but it's not worth the savings. If you choose to buy a secondhand crib, make sure it was made after 2011, after the drop-side crib ban went into effect (via Verywell Family). Besides constant improvements for new cribs, a used crib is often not sturdy after taking plenty of shakes from an energetic toddler.
Check the width of crib slats
Crib slats must be a certain width or aren't safe because little limbs can get stuck and hurt your child. According to Verywell Family, crib slats shouldn't be wider than 2 3/8 inches, slightly smaller than a soda can. "What was happening was that babies were getting their heads entrapped in the slats, and asphyxiate from getting their heads and necks caught," Michael Goodstein of the American Academy of Pediatrics told Fatherly. That hasn't always been the standard, so it's essential to determine when the crib was made.
Models with larger slats require baby bumpers to keep kids from getting caught in the gaps, but bumpers have since been deemed a suffocation risk, making them just as dangerous as the wide gaps. That means that an antique crib or hand-me-down bassinet can be a dangerous choice. The Consumer Product Safety Commission (CPSC) is the best website to check for updates on the standards for cribs.
Make sure the mattress is firm
A soft mattress sounds cozy and comforting for your baby, but it isn't safe. Babies need a firm mattress to easily turn their heads and safely breathe once they begin rolling over to their tummies. A soft mattress can form around their head, making the turning more difficult.
According to BabyCenter, you should place your baby on a firm, flat mattress covered only with a fitted sheet and have nothing else in the crib, not even a blanket. It also warns parents to put babies to sleep on their backs to help prevent SIDS (Sudden Infant Death Syndrome).
So, as much as you want your baby's bed to look and feel like a fluffy cloud, what they need is a firm, stiff mattress to keep them safe. It can seem cruel to not cover your new little one with a blanket, but there are other options, such as wearable blanket sleepers that safely zip up like a pair of pajamas but have a blanket-like feel to keep the baby cozy.
Look for an adjustable mattress height
Long ago, cribs weren't adjustable, making it hard to bend down and get the baby. It's tough on the back to have to do that several times a day. Today, many cribs offer an adjustable platform for the crib mattress so you can lower it and raise it as needed.
Although parents enjoy the convenience of a raised mattress, there are safety measures to be aware of so your baby is safe at the mattress height you choose. According to PubMed, you should measure from the top of the mattress support (what the mattress rests on) to the top of the crib's side rail. The distance should be a minimum of 26 inches, including a 6-inch crib mattress. Without the mattress, the distance is 20 inches. This is because having the baby raised too high with a low side rail could lead to a dangerous fall. Keep in mind that babies change daily. You never know when they'll gain strength and/or momentum and start rolling in their sleep or when they wake up.
Choose a plain solid headboard
There are some beautiful cribs out there with embellishments fit for a prince or princess. And although that's what your little one is, their crib is safer when it has as few embellishments as possible. Everything extra poses a need to worry. What if the attached scrollwork comes loose? What if little hands or feet get stuck in scrollwork cut out of the headboard or footboard? As a parent, you don't need another thing to worry about.
According to What To Expect, cribs designed after 2011 meet CPSC's standards, making them relatively safe since they have gone through rounds of careful testing, meet safety standards, and include sturdy hardware and crib slats. Still, pay attention to every detail and don't assume something new has correctly completed all of the organization's demands. Brands can still sneak in dangerous accents they know will sell, like cutouts, so double-check.
Make sure the crib isn't wobbly before you buy it
If possible, find a store that has some of their cribs on display so you can feel how sturdy it is. It won't be long before that sleepy newborn stands up and gives their crib a good shake in the morning. According to BabyCenter, children typically transition from crib to bed anywhere from 18 months to 3.5 years. That's quite a range, so it's hard to say for sure when your little dynamo will be ready to switch.
Here's the thing … the first sign of it being time is that morning when you walk in, and they've either climbed out of the crib, or they're giggling away as they stand and shake the crib in a proud frenzy. A wobbly crib won't stand up to that very well (literally). If you can't see the crib firsthand before buying, read plenty of reviews online. Five stars and happy parents are a good sign that it's a solid, sturdy crib.
Check for little imperfections
Your new love is perfect, but manufacturers are not. Even the best manufacturers can miss things in production. After your new nursery crib is assembled, look in every nook and cranny for screws that might stick out, splintering wood, or peeling paint. Never use a crib created before 1978 because it could be coated in lead paint which is very unhealthy and dangerous.
According to The Dom Family, it's important to have a weekly safety check of the crib, keeping an eye out for loose screws, bolts, and nails to ensure they're still tight and fitting well. Our babies become more and more active as the days go on, and all that wiggling in the crib may cause things to loosen. Also, when assembling, don't ignore the fact that a small part is missing. Everything works together to make the crib safe. A missing piece is most likely an essential one, or it wouldn't be included in the design.
Do the wheels lock
Obviously, you want this crib to sit still. Don't take any chances with wheels on a crib unless they offer a locking option. Whenever a crib has wheels, it's called a portable crib. Sometimes these cribs are smaller, making them even easier to move around and take places. Portable cribs can also be full size but easily move because of the wheels.
According to Baby's Little Place, portable cribs are handy for homes with little space for a full-size crib, for parents who need to move the crib from one spot to another, and to make cleaning a room easier because you can move the crib out of the way. Some portable cribs fold up, making it easy to get them completely out of the way when necessary. Portable cribs are also handy for parents who want their new baby in the room with them, but eventually want to move the crib into another room, such as the nursery. All these reasons for a crib on wheels make sense, but never purchase one with wheels that don't have a locking option. Locking the wheels is an extra step to keep the baby safe.
Choose the proper sheets
Make sure the crib you choose, or rather, the crib mattress, is designed to use the recommended baby sheets. Sheets must be snug and allow no space for the fitted sheet to come off the mattress while the baby sleeps. Sadly, a crib sheet that doesn't fit properly could cause a baby to get tangled up in the sheet. Never use a top sheet, only a bottom fitted sheet.
According to Mom Loves Best, the best material for crib sheets is cotton because it's breathable, soft, and easy to care for. Cotton also won't cause your little one to sweat. It also recommends organic cotton, if possible, so your sweet baby isn't exposed to the possible chemicals found in regular cotton. Polyester is an inexpensive and easy to care for option, and flannel is wonderful for colder climates, though it can make a baby too warm if they're also in cozy pajamas. Bamboo is a popular material for crib sheets for the eco-conscious parent.
Hire a professional if you can't assemble
Some new parents aren't comfortable assembling such an important piece of furniture as the baby's crib. That's understandable, especially if they haven't done a lot of furniture assembly themselves. According to The Bump, cribs are no small feat to put together. The small bed parts are heavy, and there's plenty of bending and lifting to be done. They also require two people to get the job done right.
Some stores offer assembly for an additional cost, so be sure to ask about it when you purchase your new crib. If your store doesn't offer assembly, do a quick search online to see who does assembling near you. Local handymen who do odd jobs are a good place to start. And there's always the option of you and your partner or a friend spending the afternoon building a crib, as long as you feel confident it will be put together safely.
Never use a crib with drop sides
Drop sides were once a must-have. They seemed convenient and were used as the perfect option to get a baby out of the crib without having to ruin your back bending over. Sadly, they were found to not be completely safe for babies, so if someone offers you one, please politely decline. Thankfully, we now have crib options that can raise the mattress rather than drop the side down. Plus, drop sides are no longer manufactured, as it's illegal to do so.
Any moving parts, like a drop side, simply pose a possible risk of malfunction, such as dropping when the baby is in the crib, and a caretaker isn't present. According to Healthline, drop-side cribs create a gap between the mattress and the crib because of a poor design. Tragically, some babies became trapped in that gap and suffocated because of it. Avoiding using old cribs will help you to avoid these possible dangers.
You don't need baby bumpers
They're so cute and make the crib look pretty, but bumpers are a hassle to take off and on, and more importantly, they can be dangerous to the baby. Skip the bumpers and keep the baby safe.
Bumpers were used for decades as a way to pull the room together and keep the baby's limbs and head from hitting the hard sides of the crib. As it turns out, your baby is better off running into the crib than sleeping with crib bumpers. According to The Journal of Pediatrics, a study done on crib-related injuries showed 27 infant deaths caused by bumper pads from 1985 to 2005. They concluded that a minor injury from hitting the crib's side is safer than the risk of suffocation from bumper pads. Don't grab the all-in-one bedding package for your baby's crib. Instead, simply choose a firm mattress with a snug, fitted sheet.