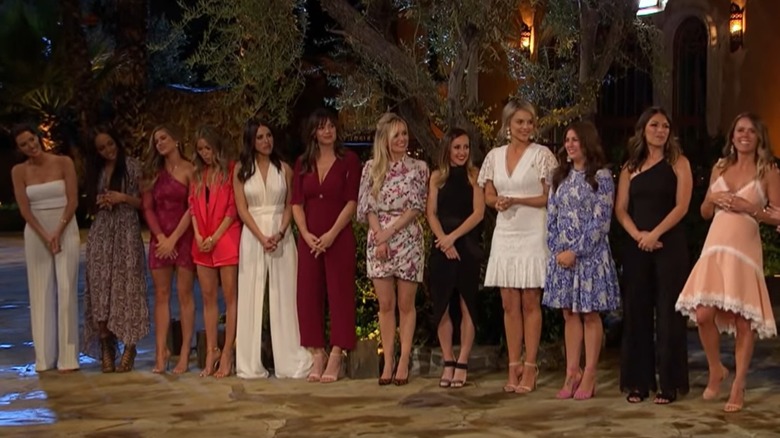 Over its 19 seasons, ABC's "The Bachelorette" has steadily gained traction for its fashion. During that time, viewers have seen a lot of drama, kisses, tears … and couture. When we're not checking out the contestants and their connection with the Bachelorette, we're checking out the clothes. And, we have to admit, some of them are to-die-for, many coming from designer Randi Rahm, who, in addition to dressing the Bachelorettes, has also dressed A-list celebrities, from Beyoncé to the late comedian and fashion critic Joan Rivers.
Each season, the Bachelorette is seen in everything from evening gowns and cocktail attire to casual wear, athletic wear, and swimwear, as well as — depending on the season — jackets, coats, and scarves. (Who can forget Emily Maynard's fabulous collection of scarves?) And, each season, the rose giver gets a little help from Cary Fetman, the show's longtime stylist of over two decades, as Entertainment Weekly noted. The magazine described Fetman as "confidant[e] and friend to nearly all both in front of and behind the camera" and as "the den mother of the franchise."
Narrowing down the options for this list was not easy. We've selected a variety of outfits worn by different Bachelorettes — from gowns to casual looks — and called out similar looks worthy of honorable mention.
Rachel Recchia shined in her black embellished gown for the first rose ceremony
While we have yet to see an entire season's worth of fashion from our newest Bachelorettes, we think Rachel Recchia's first rose ceremony gown deserves a shoutout. Recchia wowed in a black Randi Rahm gown with mesh insert and embellished with crystals and pearls, as noted by Worn on TV, accessorized by drop earrings from Natalie Mills. As the show's stylist, Cary Fetman, informed Entertainment Weekly, Recchia "wanted that dress from the minute she saw it."
Scrolling to the bottom of the fall 2020 couture collection from the designer's website, you'll find the dress toward the bottom of the page. You might also catch a glimpse of some other Bachelorette looks, including gowns worn by Michelle Young, Tayshia Adams, and Katie Thurston.
We found a similar look from Jules & Cleo — though with a v-neckline and a more affordable price tag — at David's Bridal. Another look, but with long sleeves, is the Kendall Cut Out Maxi Dress, available online at Fashion Nova.
Gabby Windey stole viewers' attention in her plunging plum creation
We were totally content featuring Gabby Windey's first rose ceremony gown: the Randi Rahm Toasty Taupe Sequin Gown, a stunning beaded gown with mesh overlay. But then we came across her standout Week 4 look, and we were basically obsessed. The dark purple dress features a plunging square cut neckline, high slit, and sheer peplum sleeve — in fact, the sleeves are so subtle, they're easy to miss at first glance. A closeup of the dress, per the designer's Instagram page, shows off the details.
While there's nothing quite like it on the market, we did find this tiered maxi dress in dark purple from Lulu's for $99 that would double as a fabulous bridesmaid look. And, though still a very different style, we thought Tayshia Adams' stunning purple tulle gown with one shoulder, known as the Amanda Gown, deserves a shoutout.
Windey must love purple, since she appeared on the show's Week 2 episode in a purple slip dress, officially known as The SEI's Strappy Gathered Dress. As of this writing, it's on sale at FWRD for $620, down from $885.
Michelle Young made her grand entrance in a dazzling gown with cutouts
Michelle Young's fashion all season long was pretty fabulous, but in the end, we went with her gown from the first night, a sparking Randi Rahm dress with cutouts. The dress — which appears gold but is, according to the designer, actually a shade called "soft lime" — was both eye-catching and time-consuming to make. It's constructed of over 15,000 sequins, each hand-sewn and topped off with a Swarovski crystal for added bling. As Rahm told Page Six, the gown took two sewers over 672 hours to complete. "I knew I wanted to create something sleek with openness that is still a classy and sophisticated look," the designer said of the gown. "With Michelle's elegant beauty and stature, I felt she was the perfect fit for this architectural piece."
Life & Style agreed, commenting that "looks were served in this gold metallic dress." Apparently, though, as Insider reported, the gown was not only laborious, but was also heavy and uncomfortable to wear, weighing in at a whopping 45 pounds. "Some of these beaded gowns are not made to wear 24 hours," Rahm explained. "They're made to wear for an event."
Clare Crawley looked chic in a satin blazer, lace bodysuit, and shorts
While Clare Crawley's tenure as Bachelorette was short — since she rode off into the sunset early with contestant Dale Moss — she still managed to show off some great looks, such as this satin blazer, lace bodysuit, and shorts outfit she wore in an October 2020 episode of "The Bachelorette." We love a unique dressy look — showing that shorts can be dressed up or down.
Per Worn on TV, the Catalina Satin Blazer and Eden Satin Shorts are both from Intermix, while the bodysuit is the Pret a Porter Lace Bodysuit by Cosabella. The site even lists prices of each individual piece: The bodysuit, available at Neiman Marcus, is $130. The blazer and shorts are both on sale for $129 (down from $298) and $89 (down from $228).
Speaking of blazers, we can't help but also mention JoJo Fletcher's stunning cream tweed jacket with black buttons from designer Isabel Marant.
Tayshia Adams' black mini dresses were super cute
A look we haven't yet called out is the little black dress, or LBD. While the iconic wardrobe staple is nothing new, it comes in various iterations. Perhaps our favorite was seen on Tayshia Adams during her season of "The Bachelorette," after she replaced Clare Crawley. Adams showed up for one date in a short Hervé Leger black cocktail dress adorned with rhinestones. Officially called the Studded Shimmered Bodycon Dress, the mini dress comes with a not-so-mini price tag of $1,689, per Femstella. Another sexy look was her LBD with front slit cut-out detail from designer Alexandre Vauthier for $1,917. And, while more cutesy than sexy, we loved her adorable black studded mini dress from Ramy Brook. Originally priced at $425, as of this writing, the dress was marked down to $149.99 at Saks Fifth Avenue's Off Fifth outlet — a total steal. No wonder it's sold out!
In 2021, Adams spoke with Fashionista about her "feminine" yet "edgy" style. "I like dainty, sophisticated, kind of simple designs, if you will. I don't like anything that won't translate years from now," she said. "It could be kind of edgy at times. I will tell you, Cary [Fetman] did bring out some of the edge in me."
Some other LBDs worthy of honorable mention: Rachel Lindsay's floral and lace mini dress from Marchesa, JoJo Fletcher's turtleneck cutout dress, and Katie Thurston's long-sleeved, crystal-embellished LBD.
Tayshia's edgy date-night looks were a win-win
Watching Tayshia Adams as the Bachelorette was like watching a weekly fashion show. We especially loved her edgy date-night looks, such as the navy Ballerina Silk Blend Bodysuit by Alice + Olivia paired with Randi Rahm's Sly Sequin Mini Skirt she wore during Week 5 (per Worn on TV). At first glance, the bodysuit looks black, which makes it just a little different. The bodysuit is now sold out at Nordstrom (though it's available at Shopbop for $198), while the skirt is from Randi Rahm's Spring 2019 collection. A similar look was seen on Michelle Young, who wore a black lace bodysuit with black faux leather mini skirt. Then there's Emily Maynard, who rocked a glittery skirt in Curacao — and glittery shorts in Prague — during Season 8, telling InStyle that Prague was the perfect place to wear the "over-the-top sparkly shorts."
Another edgy date-night look we loved from Adams was the black one-shoulder tulle top from Cushnie — priced at $795 — which she paired with black cropped pants. Young also had a similar look to this one: a sheer tulle bodysuit with leather pants.
All eyes were on JoJo Fletcher's white and silver gown
During the many seasons of "The Bachelorette," we've seen many gowns in white and plenty in silver. So, when former Bachelorette JoJo Fletcher combined both colors in one shimmering gown full of sequins from designer Jay Godfrey while at Pennsylvania's Nemacolin Resort (later the site of Matt James' season of "The Bachelor"), it became worthy of this list. Side cutouts topped off this already unique gown.
Although we haven't quite seen anything else like it on other Bachelorettes, we have seen our share of stunning silver gowns and elegant white gowns worthy of a mention. There was Tayshia Adams' nearly $2,000 Hervé Leger Bandage Fringe Dress in silver metallic, along with these stunning Randi Rahm creations: Michelle Young's sparkly, sleek, and subtle finale dress; Becca Kufrin's white beaded halter-style finale gown; Clare Crawley's halter gown with sequins sewn in an ombre effect; and Hannah Brown's shimmering silver number.
Hannah Brown's studded leather jacket was the focal point of her casual ensemble
Leather jackets are a wardrobe staple. So, when we got a glimpse of Hannah Brown's studded leather jacket, which she paired with black jeans and a blue sweater in the Week 4 episode of Season 15 of "The Bachelorette" while out with ex-fiancé Jed Wyatt, we were in love. It's edgy and cool and bold — just like Brown herself. According to Worn on TV, it's known as the Studded Leather Biker Jacket from Hudson. Though it was available at Bergdorf Goodman for $1,495, it's now sold out there and at Neiman Marcus. A slightly less pricey color-block version in black and blue was also available at Nordstrom for $1,047, though it sold out, too.
However, we found a similar style at Revolve and a few others at online leather jacket retailer Shopperfiesta. And The Style Spotter, which shared a picture of Brown's head-to-toe look, lists other similar affordable looks from Bebe, Michael Kors, and Levi's.
Another leather jacket worth mentioning is the Lamarque Embroidered Leather Moto Jacket seen on Becca Kufrin during the first episode of "The Bachelorette" Season 14. With its red embroidered flowers, it's the ultimate leather jacket for the rose giver, per Instagram. Shop Your TV has all the details.
One embellished sleeve made Michelle Young's black dress a standout
We've all seen many black dresses on "The Bachelorette" — after all, it's a classic go-to look. But what made one black gown from designer Randi Rahm stand out on Michelle Young was its single embellished sleeve. Fans on Instagram shared the sentiment, with comments such as, "This dress is everything" and "Love this look!" According to Worn on TV, the gorgeous dress is part of the designer's Couture Ink Evolution Collection. While it wasn't easy finding a similar style, we did land on this black Mac Duggal gown from Bloomingdale's, featuring a small embellishment on its one sleeve.
Another similar look we loved, also from Randi Rahm, was seen on former Bachelorette Katie Thurston: a one-sleeved, red gown decorated with a high slit at the thigh and edgy black chain detail, per Instagram. It's also available in black, as seen on the designer's website.
JoJo Fletcher proved that two pieces are better than one
We love a good two-piece outfit as an interesting alternative to a dress. During JoJo Fletcher's season of "The Bachelorette," the real estate developer donned a few two-piece outfits worth mentioning. In one episode, she wore a white turtleneck sweater with cutouts at the shoulders and a high-waisted matching skirt from designer Jonathan Simkhai that showed a hint of skin at various angles. It was just different enough from the Alice + Olivia white dress with side cutouts she wore another time (both similar to the white cutout Balmain dress seen later on Tayshia Adams). Season 19 co-lead Gabby Windey's white silk cutout gown was perhaps inspired by this look.
Another skirt set seen on Fletcher was the sparkly two-piece from Mac Duggal that's covered with crystals and sequins. According to Who What Wear, the outfit, officially known as the Homecoming 420N Sequin Dress, retailed for $398.
Some other two-piece outfits worthy of honorable mention: Fletcher's third two-piece outfit from her season (from WOW Couture), Michelle Young's cream knit crop top and matching skirt, Adams' orange one-shoulder top and ruched skirt (also from Jonathan Simkhai), and Becca Kufrin's floral ruffled top and skirt set.
Tayshia Adams looked both classy and comfy in a silk jumpsuit
Another nice alternative to a dress is the jumpsuit. Perhaps our favorite jumpsuit is the silk one seen on Tayshia Adams. She paired the bronze-colored jumpsuit from designer Randi Rahm with a pair of metallic sandals from Alexandre Birman, per Femestella. On Rahm's website, the jumpsuit, shown in red, retails for $1,159. It's obvious Adams loved the jumpsuit, as she was also seen wearing it in baby blue in her "Bachelorette" promo photos. Cinq a Sept offers a similar style jumpsuit for $395 (though in different colors) available at Neiman Marcus, as well as a bronze jumpsuit with straps.
In honor of the jumpsuit, here are a few others worthy of honorable mention: Becca Kufrin's elegant black beaded Randi Rahm jumpsuit, Andi Dorfman's white jumpsuit with plunging neckline from Two Birds, Hannah Brown's lovely silvery blue silk pantsuit, JoJo Fletcher's black low-cut jumpsuit from Blue Life, and Emily Maynard's white one-shoulder jumpsuit from designer Pamella Roland.
Katie Thurston made a cute cowgirl in this belted denim dress
While we've featured a lot of fancy designer gowns, we also love casual denim looks, such as this denim mini dress seen on Katie Thurston during her season in New Mexico in 2021. During Week 4, she wore the Outlaw Dress from Show Me Your Mumu, according to Worn on TV. We have to say, she and then-co-hosts Tayshia Adams and Kaitlyn Bristowe all looked amazing that day in their cowgirl-inspired denim outfits.
Though the denim mini dress was perfectly suited for Thurston's western-style cowgirl date, it can easily transition to a day in the city — after dropping the hat and boots, that is. Online retailer Revolve has the dress listed for $165.
Per Worn on TV, Adams also sported a similar denim mini dress from Vici, though a darker shade, on her season. Another denim look we love — which, like Thurston's look, was also accessorized with cowboy boots — was JoJo Fletcher's sleeveless denim shirt and white shorts, which she sported while filming in Texas.
JoJo Fletcher captured hearts with her unique After the Final Rose dress
On the "After the Final Rose" episode of her season of "The Bachelorette," directly following the season finale, JoJo Fletcher shared her love story on TV while wearing a blush Misha Collection dress, paired with Bella Belle Mariee blush stilettos. If there's one word to describe this dress, with its beautiful pale shade and unusual, flowy structure, "ethereal" would be it. In this Instagram photo from show stylist Cary Fetman, Fletcher poses with now-husband Jordan Rodgers and longtime former "Bachelor" franchise host Chris Harrison.
Bella Belle even named Fletcher as No. 1 in its May 2020 "Top 10 Bachelorettes We Love For the Fashion" piece. The article referred to her season as "the fairytale TV love story romance that we want from the Bachelor franchise," alongside a photo of her in our favorite dress, noting, "If there was a fashion moment that sums up Fletcher's season, it's this Misha Collection blush dress."
Ashley Hebert's finale gown was what fairy tales are made of
And, for our final favorite, we go back to 2011. We all watched one of our favorite Bachelor Nation couples get engaged when J.P. Rosenbaum popped the question to Ashley Hebert on the beach in Fiji overlooking the water. While the couple sadly later divorced after just about eight years of marriage and two children together, per Us Weekly, we'll always have this image of the former Bachelorette looking like a princess in her pink feathered fairytale gown alongside her prince.
According to The Hollywood Reporter, the blush gown was covered with ostrich feathers along with silver and crystal beads, a look that E! News called "truly exquisite." The Randi Rahm handmade creation cost a hefty $16,790. While we've seen similar colors on other Bachelorettes, such as JoJo Fletcher in her "After the Final Rose" dress, per Insider, the bottom of Hebert's unique gown is something never seen on a Bachelorette before that moment — or since.