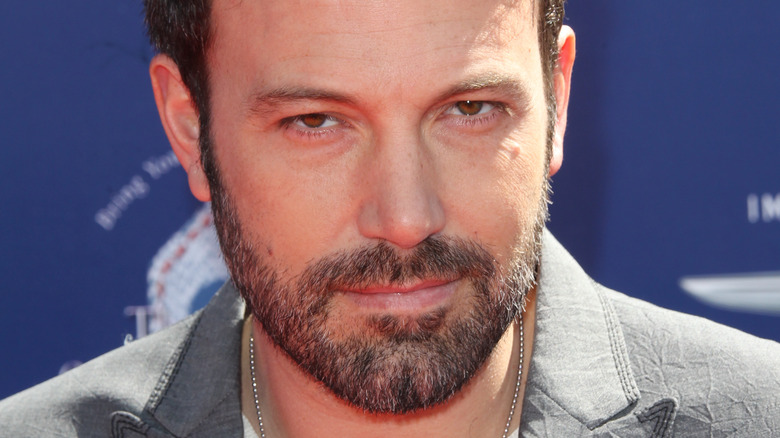 Jennifer Lopez and Ben Affleck's real-life love story rivals that of any romantic comedy they've starred in. The unlikely pairing of Jenny from the Block and Benny from the City of Squares has fascinated fans of a good Hollywood romance for decades, so much so that Lopez had to remind everyone that their pairing was unscripted. "It's our life, its [sic] not a television show," she told W magazine in 2003.
At that time, Bennifer was still burning bright, and photographers were feverishly following them in hopes of making bank by capturing them on film. The paparazzi were benefactors of the tabloid culture explosion of the early aughts, which saw People and Us Weekly getting into fierce bidding wars for photos of Affleck and Lopez — the former forked over $75,000 for a handful of such snapshots in 2002, according to the New York Post.
Before the couple became one of America's biggest obsessions, Affleck had won an Oscar for co-writing the "Good Will Hunting" screenplay with Matt Damon, and Lopez had become the first entertainer to have a No. 1 album and a No. 1 movie simultaneously, per MTV News. Her sophomore smash hit "J.Lo" solidified her status as a pop powerhouse, and "The Wedding Planner" proved that she was a force to be reckoned with in the rom-com era. But life wasn't all booty smooches and boat snoozes for the accomplished couple. From a box office bomb to the Bennifer reunion, this is the true story of their relationship.
Jennifer Lopez was married twice before meeting Ben Affleck
Jennifer Lopez weathered a few battles in her quest to find Mr. Right. She wasn't yet a global superstar when she married waiter Ojani Noa in 1997, per The Guardian, but her starring role in "Selena" had set her on that path. The couple divorced the following year and initially remained on such good terms that Lopez hired Noa to manage her Madre's eatery in 2002. Noa was fired months later and sued Lopez for wrongful termination in 2004, per MTV News.
Noa continued to be a thorn in Lopez's side for years. He attempted to publish a book about their relationship, which was a costly mistake; per CBS News, Lopez sued him for violating a confidentiality agreement and was awarded over half a million dollars in 2007. Noa also tried and failed to release intimate footage of Lopez from their honeymoon, per People. According to The Guardian, the singer's bitter ex made a prediction about her love life, saying, "She'll end up in her old age like Elizabeth Taylor: wrecked marriages in her wake and nobody to cuddle up to at night."
Lopez met her second husband, dancer Cris Judd, in 2001 on the set of her "Love Don't Cost a Thing" video. They wed that same year and separated in 2003, with Judd telling Us Weekly, "Unfortunately, it just didn't work out." In a 2019 "Today" interview, Lopez said of her first two marriages, "I don't really count those."
Thank Halle Berry for Bennifer's beginning
In a 2003 joint interview with "Access Hollywood" (via NBC News), Jennifer Lopez and Ben Affleck revealed that they'd had some run-ins at Hollywood shindigs, but they didn't really get to know each other until they started filming the movie "Gigli." They have Halle Berry to thank for unwittingly facilitating their meeting; per Entertainment Weekly, she dropped out of the role as Affleck's co-lead to be a Bond girl and rejoin the X-Men.
Cris Judd and Lopez were still husband and wife when "Gigli" began shooting. "At first, because she was married, there was no thought of a romantic relationship, so that created the opportunity to get to know each other without any of the falseness that goes with courtship," Affleck told Vanity Fair. He and Lopez became fast friends, and in an interview with MTV News, Lopez revealed that Affleck impressed her by serenading her with some of his favorite hip-hop hits. "He loves Ja Rule, he loves Nelly, he loves Snoop. He would know all the lyrics to these songs," she said. In their "Access" interview, she dished that Affleck also gossiped to her about his exes, who, at the time, included Gwyneth Paltrow.
Berry's decision to abandon ship turned out to be a savvy move, as "Gigli" sank at the box office. "People are saying there was no chemistry," Lopez complained to W magazine of the reaction to her scenes with Affleck. "That's insane! There's crazy chemistry!"
The couple's public professions of love
Before they were a couple, Ben Affleck shouted Jennifer Lopez's praises in the pages of The Hollywood Reporter and Variety. But he didn't settle for your run-of-the-mill promotional interview with the publications; instead, he paid around $20,000 to publish ads lauding Lopez, per the Evening Standard. "You have shown kindness, dedication, diligence, humility, graciousness of spirit, beauty in courage, great empathy, astonishing talent, real poise and true grace," Affleck's professional love letter to his co-star read.
After they started dating, he explained to Vanity Fair that he thought he was doing Lopez a favor by complimenting her in such a splashy way ahead of "Gigli" hitting theaters. "Jen had developed this reputation as a diva. … I wanted to go on record within the industry to counteract that," he explained.
For Lopez's part, she used her art to describe what she was feeling, penning a love song aptly titled "Dear Ben." It's lyrics included: "I don't think they understand / Why I love at your command / From the words you speak / So deep our bodies meet." Affleck also famously appeared in Lopez's "Jenny From the Block" music video, which included visual references to the public's obsession with Bennifer and Affleck's affection for his darling's derrière. "[It was] a commentary on the crazy tabloid paparazzi attention," Affleck told Vanity Fair. "We were trying to say, 'Look how silly this is!' while at the same time have it be fun and sexy."
Ben Affleck's first proposal
Ben Affleck popped the question for the first time in 2002, and Jennifer Lopez shared intimate details of the proposal in an interview with Diane Sawyer. Per ABC News, the "Marry Me" singer revealed that she thought they were just going to chill with Affleck's family and chow down on some pizza when he invited her to join him at his Boston home one night — but then she walked through the door.
Lopez set the scene, recalling, "It's just a blanket, a quilt of rose petals, all over the whole entire house. So many candles, and vases, bouquets. And my song 'Glad' was playing." She later learned that Affleck didn't deserve total credit for the romantic décor; he confessed that he had some help from his mother.
When Affleck asked for her hand in marriage, Lopez was so awestruck by the engagement ring he'd picked out that she didn't immediately answer him. The rock that he got was worth a gigantic block of Benjamins; per People, a huge pink diamond adorned the Harry Winston piece, which was valued at $1.2 million when it was purchased. In a 2020 interview with "At Home With Apple Music," Lopez revealed the ring helped her meet "Funny Girl" star Barbra Streisand, whom Lopez said was an idol of hers. "She asked me about the ring, but then she asked me — and I thought it was so strange — about being famous and how I handle it," J. Lo recalled.
Ben Affleck was accused of infidelity
In March 2003, Ben Affleck spoke to Vanity Fair about his absolute certainty that he was ready to settle down. "I'm not going to look back and say, I wish I could go out to clubs. That's pretty empty," he said. But five months later, an exotic dancer named Tammy Morris accused Affleck of having a little too much fun at her place of employment in Vancouver. "It's a night I'll never forget and I'm sure one he'll want to forget," she told the National Enquirer (via the Daily Mail). Affleck was reportedly there with other people, including actors Tara Reid and Christian Slater, and the group allegedly took the party back to Slater's place. Reid later told USA Today (via People) the report was untrue.
Jennifer Lopez and Affleck soon went into damage control mode. In an appearance on "The Tonight Show," Affleck admitted to getting talked into participating in an impromptu bachelor party by an unnamed group of friends. "They told me it was a Christian youth gathering," he quipped. Affleck said he got the go-ahead from Lopez before heading to the strip club, and he told host Jay Leno that their experience was nowhere near as wild as the tabloids claimed. "It would have been like a brunch for Colin Farrell," he joked.
As for Lopez, she told W magazine, "For me, it wasn't an issue. … What they put in the paper is not what happened, so it doesn't matter."
Why did the couple call their wedding off?
The media frenzy surrounding Bennifer reached a fever pitch after the National Enquirer published its story about Ben Affleck partying with strippers. On "The Tonight Show," Affleck confessed that it cost him a planned bachelor party with his pals in Boston, saying that Jennifer Lopez vetoed the pre-wedding tradition after he warned her that the tabloids had caught wind of his strip club outing. "I was like, Wow, so this is where we're at: You can't walk into a place and hang out with a couple of friends without it turning into a national scandal. It was ridiculous," Lopez told W magazine.
The couple mentioned the unwanted media attention when they announced that they were postponing their nuptials in September 2003, per ABC News. They revealed that planning their wedding had become more like a Hollywood production; they'd actually discussed trying to fool the paparazzi by hiring actors to play false brides. Months later, the postponement turned into a semi-permanent split that would last almost two decades.
Whenever the topic of what went wrong in their relationship came up, a typical response by both Lopez and Affleck was to mention the tabloid circus surrounding their romance. "It was scary. It was overwhelming for both of us," Lopez told "CBS Sunday Morning." In an interview with the Daily Mail, Affleck mused, "I think Jen and I made a mistake in that we fell in love, we were excited and maybe too accessible."
The Jersey Girl wedding Bennifer fans didn't get to see
Director Kevin Smith — who tweeted that he deserved credit for coining the "Bennifer" portmanteau — told TMZ that it was Ben Affleck's idea to cast Jennifer Lopez as his wife in the movie "Jersey Girl." Her character tragically dies in the film, but after producer Harvey Weinstein saw how badly "Gigli" bombed, Smith revealed that he wanted her killed off sooner than originally planned.
The Bennifer backlash wasn't the only issue; the world missed out on getting to watch Affleck and Lopez wed in the film because Smith was worried about how moviegoers would react to their characters' make-believe marriage ceremony. "Who watching the movie is not going to step out of the movie and say, 'Hey, that's f***ed up. They didn't get married,'" he explained to The Tech. Affleck, who had to promote the movie after he and Lopez called it quits, told IGN that he agreed with the decision to cut the wedding scene.
After Bennifer ended their engagement, Smith wrote on his website (via Entertainment Weekly), "I'm still giving them their wedding gifts. The s*** I got them both is too cool not to give 'em." The New York Post (via The Sydney Morning Herald) reported that Smith had previously commissioned a video game for the couple as a thank-you gift for appearing in his movie. Per the developer, it was titled "Jen Saves Ben" and included a menacing Matt Damon robot as one of the bosses.
How the exes felt about their relationship in hindsight
Each time Ben Affleck and Jennifer Lopez stepped out as a couple, they had to worry about paparazzi lurking about and stalking them. But after they split, they were hounded by a monster of their own making: The incessant attempts of interviewers to get a juicy Bennifer soundbite. After having some time to process their whirlwind romance, it turns out they had a lot to say about it.
By the time VH1 decided to focus on Lopez for a "Behind the Music" special in 2010, she was ready to open up about just how difficult the split was for her. "When you go through that kind of heartbreak in front of everybody you are not quite the same person you were before," she said, per Marie Claire. That same year, she appeared on "The Graham Norton Show" and spoke about how being under the media microscope with Affleck made her realize that she needed to make some changes in her life. However, while reflecting on filming "Gigli" with Affleck, she told HuffPost Live (via E!), "No regrets. I would do it all over again I think. I really would. Even the relationship part."
As for Affleck, he got brutally honest about Bennifer in a 2009 interview with Details, saying, "It was probably bad for my career." However, it did help in one area. "He had some good fashion moments when he was with me," Lopez boasted on "Watch What Happens Live."
The exes remained on good terms
In 2012, Ben Affleck told The Hollywood Reporter that he and Jennifer Lopez had remained in contact after their split. "I respect her. I like her. She's put up with some stuff that was unfair in her life, and I'm really pleased to see her successful," he said, adding that he thought her "American Idol" judging gig was a savvy career move. He kept the Lopez love coming while speaking to The New York Times reporter Brooks Barnes in 2020. Affleck revealed they were still keeping in touch and he praised her for her work in the movie "Hustlers," saying, "How awesome is it that she had her biggest hit movie at 50? That's f***ing baller." Shortly before the launch of Bennifer 2.0, Affleck paid his ex another compliment in an InStyle profile. "She remains, to this day, the hardest-working person I've come across in this business," he gushed.
As for Lopez, she showed her support for Affleck after he earned a Golden Globe award for directing "Argo" in 2013. "We went through a rough time at a certain point and it was like we couldn't get a break and now to see him be successful and getting what he deserves for what he did made me feel really good," she told Access.
Lopez wasn't as kind when weighing in on Affleck's massive back tattoo in 2016, however. "It's awful. … I would tell him that," she said on "Watch What Happens Live."
Inside Jennifer Lopez's love life after the split
Jennifer Lopez's 2022 reunion with Ben Affleck wasn't her first time rekindling an old flame. After they broke up, Lopez sought solace with singer Marc Anthony, with whom she'd had a brief relationship in the '90s, per The Guardian. Lopez and Affleck were still dating when she reached out to Anthony about starring alongside her in the movie "El Cantante." Lopez recalled to People en Español, "Four years later it all just happened. When we did the movie we were married, which is really crazy." The two wed in June 2004, and their twins, Emme and Max, were born four years later.
The couple called it quits in 2011, and Lopez's next high-profile romance was with Casper Smart. "I just got out of a big, heavy, devastating thing, and he's helped me heal," Lopez told People of her relationship with the dancer. She confessed that being 18 years older than her boyfriend made her question why Smart was with her instead of someone closer to his own age, but they remained together for five years.
Alex Rodriguez stepped up to the plate in 2017 — or rather, Lopez did. On "The Ellen DeGeneres Show," she recalled how she spotted the Yankees player at a restaurant and decided to say hello. Two years later, they got engaged, but A-Rod struck out in April 2021. Sources told TMZ that Lopez and Affleck had started regularly corresponding via email two months before the breakup.
Ben Affleck's post-J. Lo relationships
Just like J. Lo, Ben Affleck rebounded with a fellow entertainer he'd met during the era before Bennifer, and his choice of leading lady killed the possibility of the couple getting their own celeb nickname. Affleck and Jennifer Garner worked together on the movie "Pearl Harbor" in 2001, but didn't become romantically involved until they co-starred in the 2003 superhero film "Daredevil." When he was asked why he never worked with Garner again, Affleck told Playboy, "With our track record, I don't know if anyone's looking for a three-quel."
The couple tied the knot in 2005 and welcomed their daughter, Violet, that same year. Violet became an older sister when Seraphina arrived in 2009, and the youngest child, Samuel, was born in 2012. Affleck and Garner announced their separation in 2015. "The biggest regret of my life is this divorce," Affleck told The New York Times in 2020.
Per ET, Affleck went on to date "Saturday Night Live" producer Lindsay Shookus on-and-off, and he found love at work again when he filmed the 2022 erotic thriller "Deep Water" with Ana de Armas. The attention their relationship received became too overwhelming for de Armas, who told Elle that it's why she moved away from Los Angeles. Sources informed People that she was the one who did the dumping, but Affleck seemingly did some dumping of his own after the breakup — a life-sized cutout of de Armas was photographed in his trashcan, per the Daily Mail.
Jennifer Lopez's mom is the biggest Bennifer shipper
When Jennifer Lopez first introduced her mother, Lupe Rodríguez, to Ben Affleck, she wasn't expecting them to hit it off right away, but her mom immediately became one of Affleck's biggest fans. During her 2002 "Primetime" interview with Diane Sawyer, Lopez recalled warning Affleck that Rodríguez is always unimpressed with the guys she brings home. "But he won her over in true Affleck fashion," Lopez recalled, per People.
Fast forward to the 2022 Bennifer redo, and Rodríguez's adoration for Affleck hadn't dimmed a bit. On "The View," co-host Sunny Hostin revealed that she and Rodríguez had chatted about Lopez's feelings for the actor. "Lupe has always said that Ben is her true love," she dished.
Rodríguez's steadfast Bennifer shipping paid off in 2021; Affleck returned the love by casting her in an ad for his iGaming app. Per the New York Post, the actor also appears in the ad, which was filmed at a Las Vegas casino. As for how Affleck's mom, Chris, feels about Lopez, she has denied reports that she dislikes the entertainer. "She's just a lovely person," Chris told People (via Entertainment Weekly) in 2002. "She's very connected to her family. She's very warm. She's like the ideal daughter-in-law." Per TMZ, Chris joined her son, Lopez, and four of the couple's kids from their previous marriages when they went to see "Hamilton" in August 2021.
Ben Affleck's second proposal was so J. Lo
The Bennifer relaunch party began in April 2021 when insiders told Page Six that Ben Affleck had been hanging with his ex at her home in Bel Air. Per ET, insiders dished that it was Affleck who made the first move the second time around. While he and Jennifer Lopez had reportedly maintained a friendly relationship since their split, a source stated, "In February things took more of a flirty turn. Ben started to pursue Jen and made it clear he wanted more than a friendship."
During an appearance on "The Howard Stern Show," Affleck admitted that he had some reservations about taking their reunion public because he was afraid of the effect the attention would have on their kids. But Lopez noted that the public's reaction to their romance redo seemed to be positive overall. "It's a beautiful love story that we got a second chance," she told People.
As reported by Page Six, Lopez even rewarded subscribers to her email newsletter, On the JLo, with an account of how Affleck proposed while she was luxuriating in a bubble bath, a favorite activity of hers. "[I] just looked in his eyes smiling and crying at the same time trying hard to get my head around the fact that after 20 years this was happening all over again," she wrote. Lopez revealed she was so overwhelmed with emotion that Affleck had to ask if her silence meant she'd accepted his proposal.
Inside the couple's Vegas wedding
In July 2022, MTV reminded Instagram users of something Jennifer Lopez said during a 2002 appearance on "Total Request Live." She jokingly told host Carson Daly that she and Ben Affleck might get married in Las Vegas — and two decades later, that's exactly what they did.
Per People, the couple tied the knot at Sin City's famed A Little White Wedding Chapel on July 16, 2022. The facility's coordinator said they exchanged their own vows during their late-night ceremony, and their short wedding guest list included two of their kids. Sadly, Elvis was not in the building; in her "On the JLo" newsletter (via People), Lopez revealed the chapel's Presley impersonator was at home asleep. But she and Affleck did snag some wedding photos in the venue's pink convertible. "In the end it was the best possible wedding we could have imagined," Lopez wrote.
While the wedding ceremony was small, J. Lo added some extravagance to the affair by wearing two different bridal gowns. She walked down the aisle in a design by Zuhair Murad, and in her "On the JLo" newsletter, she wrote that her second dress was from one of her movies. She didn't reveal the title of the film, but according to the Daily Mail, there was speculation that it was a piece designed for the wedding scene she and Affleck filmed for their movie "Jersey Girl." Unfortunately, because the scene was cut, there's no footage for style sleuths to inspect.
The couple's combined net worth
Per Celebrity Net Worth, Jennifer Lopez's net worth of $400 million is significantly higher than her husband's, but adding Ben Affleck's assets to the Bank of Bennifer brings their combined worth to a whopping $550 million. In the early aughts, Affleck reportedly lavished Lopez with gifts, including a Rolls-Royce and jewelry, per the Daily Mail. The cost of their scrapped Santa Barbara wedding was around $2 million, per the New York Post, whereas the A Little White Wedding Chapel where they wed 20 years later was charging as little as $50 for its ceremonies at the time. But the couple seemingly didn't worry about busting their budget when it came to their love nest — they possibly bought a house that the last homebuyer paid $60 million for, per TMZ.
Affleck picked out an engagement ring with a rare green diamond for proposal No. 2. One expert told Bloomberg that it could be worth as much as $7 million — that's almost $6 million more than the pink bauble he bought for the engagement that didn't stick, per People.
But forget the extravagant spending; in Bennifer's world, love doesn't have to cost a thing to become the stuff Hollywood screenplays are made of. Just don't expect their epic romance to ever get the movie treatment. "It's a great story. And, you know, maybe one day I'll tell it. I'll write it all out," Affleck told The Wall Street Journal. "And then I'll light it on fire."