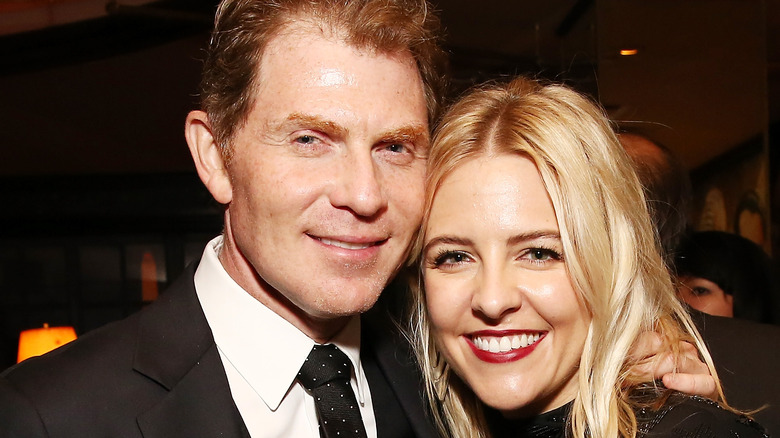 For how successful and well-versed Bobby Flay is in the kitchen, the same adjectives cannot be applied to his past relationships. The Food Network chef has been romantically linked to several women over the years, including his very good friend, travel buddy, and fellow Food Network chef, Giada de Laurentiis. When Flay met Canadian actress Heléne Yorke, fans everywhere thought it was kismet (more on that later); but, what many tend to forget or may not even know is that Flay was married three times before he met Yorke.
Flay's first marriage was to Debra Ponez, which was celebrated in the Rainbow Room in New York City, per The New York Times. The year was 1991 and both Flay and Ponez had just started their careers as professional chefs. The pair divorced in 1993 and Flay moved on to Food Network TV host Kate Connelly just one year later. They married in 1995 and had a baby girl, named Sophie, in 1996 (via Closer Weekly). Sadly, the two split in 1998, though Flay still has a tight relationship with his only child.
Then, Flay and actress Stephanie March became an item in 2000. While Flay's relationship to March is his longest yet (15 years so far), the couple had a lot of ups and downs and a few accusations of cheating along the way. After marrying in 2005, they divorced in 2015 (via The New York Times). Which brings us to Heléne Yorke.
Bobby Flay and Heléne Yorke's meet cute is the plot of a rom-com
How Bobby Flay and Heléne Yorke met is the storyline of movies and books that sweep you off your feet. During a 2017 episode of his Food Network show "Beat Bobby Flay," the master chef welcomed his new girlfriend and fellow Food Network chef and TV personality Alex Guarnaschelli as that night's episode's guest hosts and judges (via People magazine). As those on set usually do, they got to yapping about how they all know each other, which is when Flay spilled the tea that he and Yorke had actually been dating for a year.
"So I'm going to let you in on a little secret," he teased. "Last season, I went to a Knicks game, and I met Heléne. Now we kind of date." They met courtside at a New York Knicks basketball game — it's all very "How to Lose a Guy in 10 Days" of them. Yorke added that she thinks Flay is a "sweet guy." "Who knew?" she said in a joking manner.
Yorke started a foodstagram relating their food adventures
Clearly, the best part about having a culinary chef and well-known TV celebrity as a boyfriend is all the cool food creations you get to try. Plus, they can probably get a reservation or last-minute table at any restaurant, bistro or bar in town, especially in larger cities like Los Angeles and New York, or abroad in London and Paris, too. Basically, the perks when it comes to food are endless, and Yorke documented the whole thing for fans on her Instagram account @thehungriestgirlfriend, which she created after becoming Bobby Flay's girlfriend.
According to People magazine, her bio used to say, "I'm dating a chef. I'm still hungry," underneath her profile photo. The food-themed account was created to share all of her food and restaurant adventures and experiments in the kitchen with Flay. The magazine reported that Cade de la Esquina in Williamsburg, Michael Symon's Mabel's BBQ in Cleveland, and Bobby's Burger Palace (Flay's own establishment), were where some of their posts were captured. Unfortunately but understandably, Yorke deleted her foodstagram account after they split.
Yorke was 'afraid' to cook for Flay early on in their relationship
About a year and half into dating, Flay spoke to E! News (posted on YouTube) and revealed that their relationship — at first — had hindered Yorke's relationship with cooking. In the red carpet interview, Flay shared that his girlfriend was a big fan of cooking and learning new recipes, but had stopped spending as much time in the kitchen when they started seeing each other because she was too "afraid to cook for [him.]"
Now that time has passed and they're more comfortable around each other, he said she's happy having a date night at home in the kitchen. "She'll say 'I want to cook this' and I'll stand next to her and help her," he said. Flay went on to explain that he doesn't typically critique Yorke's food, but he more "pushes her in the right direction" by showing her a new way to season something or a different cooking technique, for example. "Her cooking has gotten to be really fantastic," adding, "We love to cook together."
When it comes to date nights, particularly in the summertime, Flay noted that they like to keep it simple and cook family-style meals. At the time, their go-to was a bottle of rosé, grilled fish, farm vegetables like corn, white peaches, and herbs.
Fans found out they had split after Yorke posted a photo kissing another man
It's unclear as to when Flay and Yorke officially broke up, but rumors started circulating when the "Masters of Sex" actress posted a photo to her Instagram of her sharing an intimate kiss with a man at a Michigan football game in September 2019. Spoiler alert: the man was not Flay. Considering Flay and Yorke waited a full year to go public with their relationship, it's safe to say this couple is pretty serious if Yorke is already posting about her new beau. Not to mention, he's sporting a shirt with her name across the back. Couples typically don't do that just for fun.
To say fans were confused by the photo would be an understatement. The comments section under Yorke's post were overflowing with questions like "wheres Bobby?," "no more Bobby flay?," and "Well this answers my question." No one was tagged in the photo, either, which leads us to believe that either this mystery man doesn't have an Instagram account or Yorke wanted to keep him just that: a mystery.
Bobby Flay confirmed their split on his show 'Beat Bobby Flay'
Almost one month later, Flay confirmed (against his will, basically) that he and Yorke had broken up for good. In fact, he says he was "kicked to the curb," as reported by People magazine in 2019. A guest competitor on his Food Network competition series "Beat Bobby Flay," popular actress Fran Drescher, asked the question everyone had been dying to ask: "You're not wearing a wedding ring. You have a girlfriend?" *Cue the crickets and awkward silence!* Drescher pinged him with, "What's your situation," in which he revealed, "I'm very single," confirming the breakup rumors. But he didn't stop there. Flay then went on to spill the piping hot tea that Yorke had allegedly "kicked me to the curb." So, that's that on that.
As it turns out, that mystery man is now Yorke's fiancé. She announced on Twitter this Valentine's Day that she had said "yes" to his proposal. There's still no clarification on who he is or how they met. Yorke has done a pretty good job keeping this relationship more private than others. As far as Flay's love life goes, there have been names tossed around, but he has yet to share or confirm any headlines, so we're assuming he is still single.