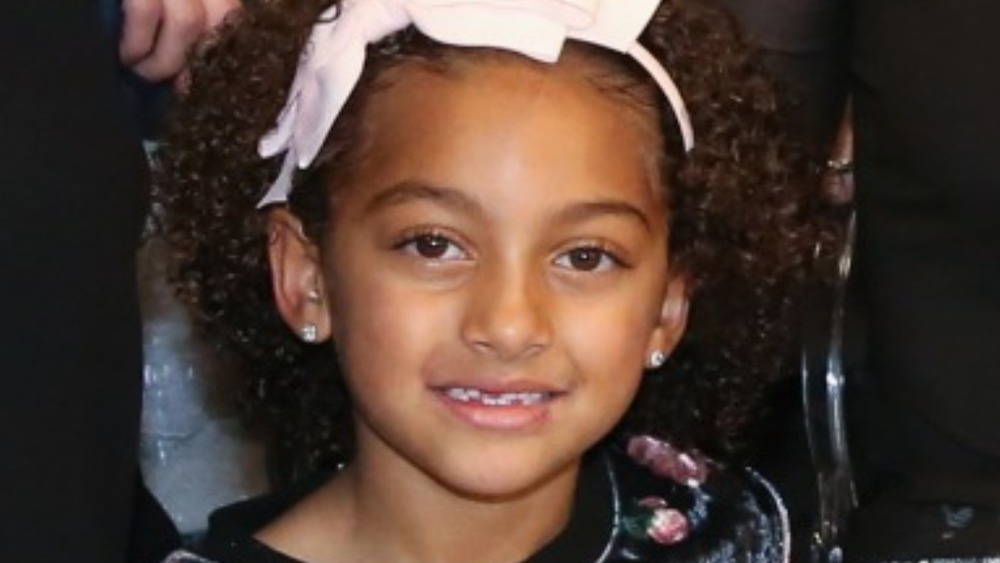 Todd Chrisley may be the patriarch of the family in Chrisley Knows Best, but it's Chloe Chrisley who's really the beating heart of the quirky Southern clan, as all loyal fans of the show know. The youngest member of the family, Chloe is known for being generally adorable and giving Todd a hard time (who doesn't love that?), and her hilarious antics get everyone laughing. Remember the time she got into Savannah's lipstick? Or when she called Chase and Savannah "bats**t crazy?" Talk about natural comedic timing!
In addition to being cute and funny, Chloe is also the obvious favorite of everyone on the program. She's often seen being doted on by various members of the family — usually Todd — though watching her run into Julie's arms at her preschool graduation was especially heartwarming. Even if reality shows aren't always 100 percent real, the love that every Chrisley has for Chloe seems genuine and from the heart.
So what else is there to know about Chloe Chrisley, who's growing up right before everyone's eyes? Read on to discover her untold truth.
Chloe Chrisley is the daughter of Todd Chrisley's son Kyle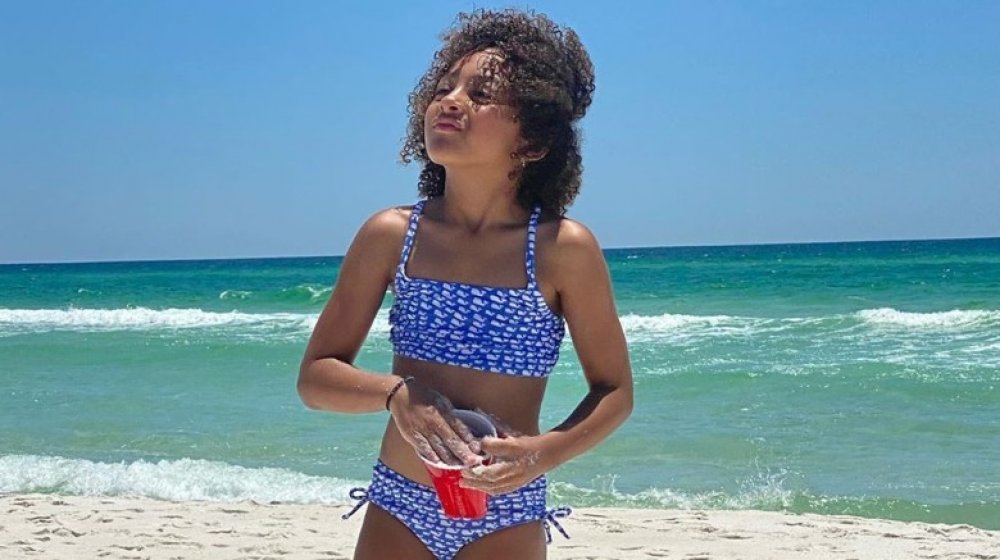 Let's get the elephant in the room out of the way: Chloe Chrisley looks different from all of the other folks in the Chrisley family. That's because she's biracial, half Black and half white, whereas the rest of the Chrisleys are all thoroughly Caucasian. The daughter of Todd's eldest son, Kyle, and Amber Johnson, Chloe is a grandchild of Todd and Julie, which is why she appears on the show Chrisley Knows Best alongside them.
If you're not familiar with Kyle's story, or why he stopped being on the show after the first season, you should know it's been a bit of a rough road. For one, according to E! News, Kyle has struggled with bipolar disorder, and, at certain points, he has reportedly refused to take the medication he needs to be healthy. He's also had problems with substance abuse, something he admitted on his Facebook page, which has hampered his parenting ability.
As for Chloe's mother, she has had brushes with the law, as she was reportedly arrested and charged with Medicaid fraud, as noted by Starcasm.
Todd and Julie Chrisley have custody of Chloe Chrisley
While Todd and Julie Chrisley are not the biological parents of Chloe Chrisley, they were awarded full custody of the young girl by the courts in 2014. This was on the heels of Todd's son Kyle Chrisley having a mental breakdown, which may have put Chloe at risk. Shortly thereafter, Chloe was also absent from Chrisley Knows Best due to the ongoing legal drama.
However, it wasn't a court injunction that prevented Chloe from appearing on the show. The problem was that Kyle was asking for money for her appearances and threatening to sue the network if they didn't comply. So Todd made the executive decision to film without her. "At the end of the day, we had to do what was best for Chloe," he explained to Radar Online. "We did not want to drag her through all this and there was no way that we were going to pay Kyle a penny."
Chloe Chrisley loves that she's biracial
In the wake of George Floyd's death at the hands of Minneapolis police officers, and as the grandparent of a biracial child, Todd Chrisley decided it was high time to have a conversation about race in America. To that end, he took to Instagram to announce that he, Julie Chrisley, and Chloe Chrisley would speak out on the Chrisley Confessions podcast.
During the episode, Todd discussed what he as a grandparent is doing to make sure Chloe is prepared for the world. "Chloe is 7, so Chloe needs to be involved in these conversations at 7," he explained (via People). "She needs to know that this country — this world as they see her — they will see you as a Black girl." He added that, since he's had Chloe in his life, he's had to educate himself about "silent racism," which has been a learning experience.
Chloe also shared some words with listeners, showing that she's been spoken to about these issues. "I have a Black mom and a white dad and I love how God made me," she proclaimed.
Chloe Chrisley calls Todd and Julie these specific names for a reason
While Chloe Chrisley may be the grandchild of Todd and Julie Chrisley, regular viewers of Chrisley Knows Best know that she doesn't address them as such. "Chloe calls me papa sometimes, and she calls me dad sometimes," Todd shared in an interview with Tennessean. "She calls Julie mimi or mama."
But that's not something that the Chrisleys forced Chloe to do, or even suggested might be appropriate. Rather, those terms of endearment came organically to her, according to Todd. "Through our child psychologist, they told us not to correct that," he continued. "Let her find her own natural rhythm, let her relate to us on the terms that she chooses to relate to us on." Frankly that does sound fair, as it allows Chloe to have agency and expression.
You can tell that Todd eats it up, though — there's no fooling anyone about that!
Todd Chrisley feels blessed to have Chloe Chrisley in his life
The circumstances under which Chloe Chrisley came into the world were obviously a bit complicated. For one, her birth father wasn't in a very good place when she was conceived and born, and Chloe's mother claimed to Life & Style that he'd been abusive to her. But that didn't stop Todd Chrisley from not only loving Chloe, but learning to be a better person because of her. "The sweetest gift from God, I thank you dear lord for every blessing you've ever given me, for every lesson I learned the hard way, for all the things I was wrong about and for the ability to love, forgive, and accept and move on," he gushed in a post on his Instagram page, which featured a photo of Chloe.
Todd went on to pledge to do the best that he can for Chloe, who has changed his life for the better. "THIS CHILD IS OUR BLESSING and we will honor that for [every day] we are given and beyond," he added.
Chloe Chrisley is Todd Chrisley's favorite person
While the members of the Chrisley family can often get on one another's nerves, you can still tell that they all love each other and share a genuine affection. That's despite the fact that they often joke with one another, picking on everything from someone's smarts (or lack thereof) to their life choices.
And when it comes to playing favorites, decorum can sometimes go out the window. That was definitely the case when Chase Chrisley shared that he has a favorite person — who, as you can guess, wasn't Todd Chrisley. Not one to be humble, Todd decided he'd fire back on social media. "Well since @chasechrisley wants to post who his favorite person is I thought I should post who my favorite person is," he wrote in an Instagram post, accompanied by a picture of Chloe. "So top that @chasechrisley." Clearly our girl has her papa wrapped right around her finger.
Chloe Chrisley loves riding horses
Riding horses is a Chrisley family tradition, one that started long before the cameras were rolling for Chrisley Knows Best. Specifically, Savannah Chrisley, who's had a stunning transformation, was involved in equestrian activities since she was a little girl, according to a post on her Instagram page. Perhaps that's why she was so overly controlling when a 5-year-old Chloe Chrisley was taking horseback riding lessons.
Chloe doesn't just ride horses for the show either, as it's something it looks like she truly enjoys. For one, in 2018, Julie Chrisley shared a photo of Chloe riding a horse on her Instagram page, in which she's smiling with a first place ribbon. "Sunday Funday! First horse show in the books," Julie wrote in the caption.
Todd Chrisley also shared a snap of Chloe on his Instagram in 2018, showing her with a huge smile on her face on top of a rather large horse. "And off she goes, AGAIN," he quipped in the caption.
Chloe Chrisley has a favorite doll
Did you have a favorite toy when you were growing up that you took with you everywhere you went? Perhaps it was one of those trolls with the big hair, or maybe you were obsessed with your Furby?
When it comes to Chloe Chrisley, her favorite toy is a bit more traditional than either of those, although it makes sense for a member of a more conservative family. Chloe's favorite toy is a doll, according to Todd Chrisley. "So, for those of you who may not know, Lucy, is Chloe's baby that goes everywhere with her," he shared in a 2018 Instagram post. "This morning Lucy is having breakfast with us and Chloe has ordered Lucy silver dollar pancakes with fruit." Awww!
Chloe is also a fan of coloring, as seen on Chrisley Knows Best, and she's not afraid of going hard on a super extra Christmas list. Do you think Todd will ever cave and buy her the designer bag she asked for?
Kyle Chrisley once accused Todd Chrisley of having Chloe Chrisley on the show to boost ratings
Although by all accounts Chloe Chrisley has a healthy and happy home life, that's not to say there's been no drama in her life. In fact, at one point, her father, Kyle Chrisley, accused Todd Chrisley of using his daughter for his own ends. "My dad showed no interest in Chloe at all until the show and until it was pointed out that having a mixed race child … would be good for his demographic," he shared in a now-notorious interview with the Daily Mail. "He didn't want to see her before then." Kyle even went so far as to say that Todd didn't want anything to do with her at all.
Unsurprisingly, Todd was deeply upset by the accusation, and he vehemently denied it. "That is probably the most hurtful thing in the article," he explained to E! News.
Fortunately for everyone involved, Kyle finally got sober, and he set the record straight in a 2019 Facebook post. "Everything I said in my interview was a lie," he confessed. He also praised his father for forgiving him.
Chloe Chrisley and her father are building their bond
While Kyle Chrisley hasn't always had the best relationship with his daughter, Chloe Chrisley — she's in the custody of Todd and Julie Chrisley, after all — from the looks of things, Kyle is working on his bond with Chloe. For one, after some turmoil in his life, he's sober and mending the relationships he's damaged with his family, as noted in a 2019 Facebook post he made.
That includes Kyle's relationship with Chloe, which appears to be on the up and up. "God sure knew what he was doing when he gave us this beautiful baby," he wrote in an 2019 Instagram post, featuring a selfie of himself with Chloe. Kyle also took to social media once again in November of 2020, in an Instagram post celebrating Chloe's 8th birthday. "Chloe you are the sweetest, most precious gift I could have ever been given and I love you more than the world," he gushed in the caption. It's so sweet seeing these two spending QT together!
Julie and Todd Chrisley came to Chloe Chrisley's defense once again
It's truly unfortunate, but Chloe Chrisley has been the victim of racist attacks on social media, something Julie Chrisley is fed up with. "People will write things like, 'She doesn't fit into your family,' and it hurts my heart," she lamented in an interview with Today. "If it's something stupid about me, I don't care. I don't have time for that. But if you attack Chloe, I'm gonna call you out." She added that Chloe has also experienced racism at school, even coming home in tears one day after being excluded by her peers.
Todd Chrisley is also committed to standing up for Chloe, which has been an eye-opening experience for both him and Julie. "What I do see is that we, as a white couple in America, have never dealt with racism until Chloe," he explained on the Tamron Hall show, "and we have been in that privileged sector of not having to have that added stress on us as people." He added that the Chrisleys will continue to use their prestige and privilege to speak out against racism. Keep up the good work, Todd!