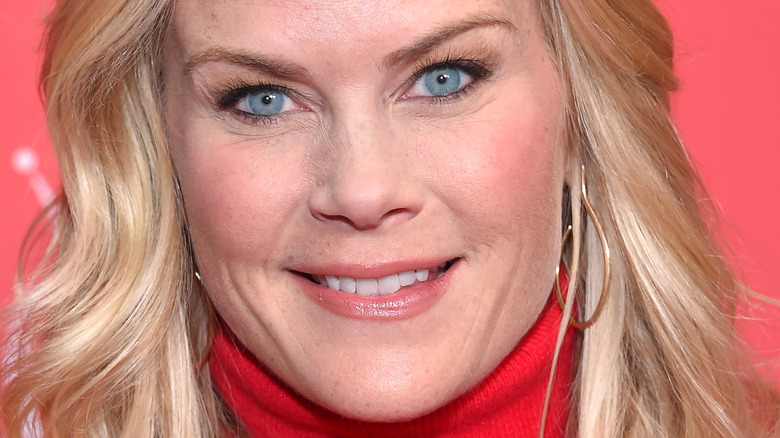 We may receive a commission on purchases made from links.
Alison Sweeney became a household name thanks to "Days of Our Lives," but unlike many of her fellow soap actors, she managed to build a diverse and long-lasting career outside of soap operas. Despite facing some hardships early on, she's avoided the tragic real-life struggles that have plagued so many "Days Of Our Lives" stars and has solidified herself as a star of the small screen. At the same time, she also built an impressive personal life with one of the few celeb spouses who work a regular job.
However, despite the decades she's spent in the limelight, there's plenty folks still don't know about the Los Angeles native. As she told Us Weekly back in 2011, she's full of surprises. Sharing some of her best-kept secrets, she revealed she can speak Spanish, loves to create a playlist, hits the grocery store when she needs a cool down, and knows "The Princess Bride" script verbatim. And there's plenty more beyond that. This is the untold truth of Alison Sweeney.
Alison Sweeney's family played a big role in her success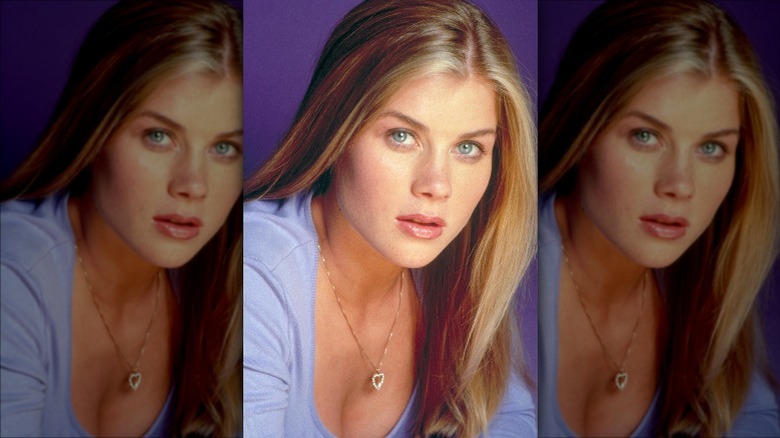 Alison Sweeney got her acting start at the tender age of four when she landed her first Kodak commercial. Then, at the age of seven, she got her first TV role in an episode of "Simon & Simon," per IMDb, and became a household name at the age of 16 when she was cast as Samantha "Sami" Brady on "Days of Our Lives" in 1993. Despite her early fame, Sweeney didn't follow in the footsteps of other child stars who met tragic fates. Rather, she managed to avoid all of the negative temptations and, as it turns out, she has her parents to thank for her success. Speaking with Closer Weekly, the actor shared, "Discipline and work ethic was always instilled in me as a kid." She was taught to be confident, be herself, learn from mistakes, and never give up.
Sweeney elaborated on how great their impact really was, telling Fox News, "My parents are super grounded and normal and real and tough and strict — I was never left out on my own to figure that out." Rather, they guided her in the right direction and now, she's imparting that same parenting tactic on her own kids. "I do not want to shelter my kids from choices and struggles and life but [it's important] to say, 'No. That's not your life. People do it but we don't do that in our family,'" she explained.
She's a passionate producer
Alison Sweeney doesn't just love acting, she also loves working behind the camera. As her IMDb reveals, she first tried directing in 2004 and, to date, has successfully directed seven episodes of "Days of Our Lives" and three episodes of "General Hospital". What's more, she also enjoys being an executive producer and has done just that for a slew of Hallmark movies, all of which she's also starred in.
Speaking of why she wanted to tackle so many different facets of filmmaking, Sweeney told Closer Weekly that it's a dream she's had for a long time. "I remember telling my dad when I was six years old that I was going to do this someday, and now I'm really doing it!" she gushed. As she told My Devotional Thoughts blog, "I love every aspect of making a project." And she means every aspect. When Sweeney fell in love with Joanne Fluke's "Hannah Swensen Mysteries" book series, she acquired the global TV rights to turn the books into movies, per Forbes. She then sold the U.S. rights to Hallmark and executive produced and starred in the films. But that's not all. As she confirmed to Monsters & Critics, she had a hand in every step that went into bringing the books to the small screen, from finding the right screenwriter to casting and location hunting. Sure, there are a lot of plates to spin, but as she told CW33, "It's a lot of work and a lot of fun."
Alison Sweeney's relationship with food and fitness
Alison Sweeney was introduced to a new audience when she hosted "The Biggest Loser" for a whopping 16 seasons. During her time at the helm from 2007 through 2015, she was often asked about her own relationship with food and fitness and she spoke candidly about both. Opening up to Working Mother (via PopSugar) in 2010, she shared how her weight journey had its ups and downs. "From the time I was 12 I was overweight, and as a teen I definitely struggled with my weight," she said. That, in turn, led to insecurity and pushed her to try extreme diets, including the papaya diet. She eventually came to realize that wasn't the right approach and turned things around by switching her focus from being skinny to being healthy.
As she said in the aforementioned Working Mother interview, Sweeney exercises several times a week, focusing on cardio, like running, spinning, and circuit training. She also eats healthy. As she told Delish, she starts the day with Greek yogurt or oatmeal, then has salad with chicken for lunch, and protein with veggies for dinner. The actor also completely avoids the snack aisle, instead going for nutrient-packed fruits or veggies, or trail mix. In the end, it's about balance. Speaking with Dear Doctor, she explained, "Don't set unrealistic expectations that will make you feel as though you've failed, but also, don't ignore your body and your reflection in the mirror for too long so that you feel helpless about doing something."
Alison Sweeney's masterful transition to writing
In addition to acting, producing, and directing, Alison Sweeney has yet another creative passion: writing. It all began in 2004 when she published a memoir titled "All The Days Of My Life (so Far)." She followed that up with 2010's "The Mommy Diet," a self-help book packed with motherhood lessons and tips to teach women how to put themselves first, even while juggling a family, career, and more. "Having two kids of my own, I am one of millions of women facing the challenge of balancing motherhood with a career, not to mention trying to find time for ourselves," she explained, per Entertainment Weekly.
Sweeney kicked her creativity into full gear in 2013 when she set her sights on fiction and published her first romance novel, "The Star Attraction." It was a resounding success with Publishers Weekly applauding, "It all adds up to a pleasurable read, and a particularly impressive first foray into this genre." But it almost didn't happen. As Sweeney told Publishers Weekly, she wrote it strictly for herself in 2005 (without using a ghostwriter) at a point when she'd hit a wall a the "Days of Our Lives" storyline. "My process was very much like an actor's: I wrote scene studies and character breakdowns," she shared. It wasn't until 2011 that she showed her agent and he loved it. "I have high standards," she quipped. Sweeney followed up her debut with "Scared Scriptless" in 2014 and "Opportunity Knocks" in 2016.
Alison Sweeney's sweet family life
Alison Sweeney's real-life meet-cute reads like a Hallmark script. The actor met husband David Sanov when they were kids. As she told Access, "His dad and my mom play the violin for feature film soundtracks, so we've actually known each other our whole lives." They grew up and went their separate ways, but when she learned of his chosen profession, she knew she needed to act. "When I found out he became a cop, I was like, 'I have to see him, Mom, you have to make this happen for me,'" she laughed.
The pair rekindled their friendship and romance soon bloomed. They tied the knot in 2000, then, in 2005, they welcomed son Benjamin Edward. Daughter ​​Megan Hope followed in 2009. As Sweeney told Smashing Interviews, her kids and family are everything. "I love being a mom, and I love everything that we do," she gushed. She also has plenty of love for her California Highway Patrolman hubby. The couple celebrated 20 years together in 2020 and Sweeney marked the occasion on Instagram by sharing a sweet snap and an important lesson. Writing how they were forced to cancel their plans and celebrate in their backyard due to pandemic restrictions, she wrote, "That's one of the best lessons we've learned over the last 20 years: Some of the best adventures come when plans get chucked out the window."
Alison Sweeney's skin cancer scare
When she's not working or spending time with her family, Alison Sweeney is a longtime Stand Up To Cancer ambassador. In 2010, she shared that the cause was close to her heart because both of her grandmothers were diagnosed with cancer, then, in 2019, she had her own health scare. Speaking with Health, Sweeney revealed how a routine trip to the dermatologist led to a scary diagnosis. She had spotted a bump on her nose that looked like a pimple, but after her doctor biopsied the mass, they discovered it was skin cancer. Sweeney was diagnosed with basal cell carcinoma, which, according to Mayo Clinic, is most often the result of prolonged sun exposure. It tends to appear on the head or neck and can take the form of a scaly patch, a lesion that looks like a dark spot, or a translucent bump.
Luckily for Sweeney, doctors were able to remove the bump and scrape away all of the affected layers of skin that surrounded it. "My doctor said it was a bit tricky to get it all out, and that really hit home for me, but he's confident that he was able to," she told the mag. The actor also shared the news on Instagram in the form of a PSA, telling her followers to always use sunscreen (which she does) and remain vigilant. "Check your skin for any noticeable changes and ask your doctor about it," she wrote.
Alison Sweeney has some sporty hobbies
When it comes to hobbies, Alison Sweeney loves being active. More specifically, she's an avid runner and skier. She told Runner's World in 2013 that she gravitated toward running when she was in high school, but she didn't have much time to pursue it as an extracurricular because of the whole acting thing. But that changed later in life. "When I was about 25, I did Barry's Bootcamp and that started me running for real," she told the mag. A major draw was how easy it was. As she put it, "All you need is a pair of shoes." Unfortunately, shin splints and a knee injury forced her to hit pause… until she met the perfect trainer. "He helped me center my body, work on posture and form, and learn to run again," she shared. Sweeney hasn't stopped running since, even when she's traveling for work. Turns out, running is a great way to sightsee. "My average run lately has been eight to 10 miles, and you can see a lot when you cover that distance!" she said.
As for skiing, it's something she enjoys doing with her husband, as she's shown off on Instagram. What's more, she's really good at it. "I ski double-black diamonds," she told Us Weekly. Maybe that's because, as she said in the Lansing State Journal, "I've been skiing my whole life. My parents took me up when I was 4 years old."
Alison Sweeney's true crime obsession
Alison Sweeney is no stranger to playing an amateur sleuth on TV. First, as baker/investigator Hannah Swensen in Hallmark's "Murder, She Baked" series, which debuted in 2015, and, more recently, as podcaster/cold case solver Alex McPherson in Hallmark's "The Chronicle Mysteries" series, which debuted in 2019. Revealing why she was drawn to co-create, produce, and star in the latter, she told NewsChannel 5 that it was because she herself is obsessed with true crime podcasts.
It all started when she discovered "Serial," binged it. "From there, I was just in the rabbit hole. I listened to other podcasts about 'Serial' and then other cases just caught my eye," she shared. Her own obsession gave her the idea for a character who was a true crime podcaster and became involved in a real-life cold case after discovering it centered around a woman she had known as a child. "I'm so proud of these movies," she told MediaVillage. "Hallmark was thrilled and loved the idea of the Alex character, and the world that I had developed," and so were her fans. One film turned into five and Sweeney's love of true crime has yet to cool. "I can't tell you the last song I actually heard as podcasts are all I listen to," she told the outlet. Another draw is the good they can do. "Podcasts can make a difference and raise awareness of these cold cases that have sat for decades," she mused.
Alison Sweeney analyzes her marriage once a year
Alison Sweeney and David Sanov have been married for over two decades and, according to the actor, the key to their marital success is being completely honest with your partner. So honest that you more or less draw up report cards for one another on an annual basis. As she told Health (via DailyMail) in 2015, "Every year on our anniversary, we have a dinner date and talk about how our relationship is going." Keeping their conversation balanced, they share both the good and the bad. "We talk about our three favorite things about the other person and then three things that we could work on," she elaborated.
Sweeney talked more about the process on "The Ellen DeGeneres Show," revealing that the ritual started at the beginning of their marriage. Calling it "a bit of a job evaluation," she told DeGeneres that the important thing is to set ground rules and not let feelings get hurt. "It's a sort of a free zone where you're not gonna get angry and you're not gonna get sensitive," she explained.
She's got a penchant for interior design
Alison Sweeney's creativity also translates to her home and, over the years, she's shown off her penchant for interior design, which she has a relative to thank for. "My aunt was a great interior decorator and a huge influence on me and my home style," she told Food Network Magazine. Growing up, she lived with her parents in Pasadena and filmed "Days of Our Lives" in Burbank, but spent time off with her aunt in Connecticut. There, she fell in love with the New England aesthetic that's now infused into her home. Giving the mag a tour of her kitchen, she shared some of her favorite features, including a French farm table from the 1800s and a gas fireplace. "We leave it on even when it's not cold out," she revealed. "It makes the room feel so cozy."
She later invited the Los Angeles Times to explore her living room, her top spot in the house. Lined with bookshelves, it features a drop-down screen that turns the space into a movie room. The most special feature, however, are the equestrian paintings linked to Jane. "I've always loved horses, and she helped me learn to decorate the house with things that make it personal," she shared. "They remind me of a special time with her before she passed."
Alison Sweeney's unbreakable connection to soaps
Alison Sweeney will forever be tied to "Days of Our Lives". After all, she spent a whopping 21 years playing Samantha "Sami" Brady before leaving the show in 2014. As she said on "The Ellen DeGeneres Show" (via People), she knew it was the time because she had other priorities to focus on. "I have worked so much, and my daughter just turned 5 and my son is 9, and I just want to be with them," she explained. Which isn't to say she stopped her career. After leaving the show, Sweeney became a Hallmark fixture while also exploring other creative outlets, like directing and producing. However, as she told Fox News in 2017, soaps will always be close to her heart. Saying she has nothing but good memories from her time on the series, she reminisced, "Sami was crazy, wonderful, and such a great adventure for me." Asked if she'd ever return to soaps, she teased, "I think I learned a good lesson from 'Days' and that's you never say never. I loved my job, I loved playing Sami, my door is always open to opportunities."
She wasn't kidding. Sweeney reprised her role in 2021 for Peacock's "Days of Our Lives: A Very Salem Christmas" special, telling People she simply couldn't resist because of her connection to Sami. "I love this character because she is definitely willing to do anything to get what she wants," she enthused before stressing that this was a one-off.
What is Alison Sweeney's net worth?
One question Hallmark movie fans often have is how much the network's biggest stars actually earn. As Vancouver Magazine reported in 2021, the amount is a lot less than many think. Because Hallmark movies are shot in Canada on "microbudgets" that clock in at under $1 million Canadian (or about $780,000 USD), industry guidelines dictate that the biggest stars get paid just $900 Canadian (or $700 USD) a day. Given that shoots are quick and usually last 15 days, an actor stands to earn $13,500 Canadian (or $10,500 USD) per film. However, as the outlet notes, many Hallmark A-listers also sign on as executive producers, which means they stand to earn up to 20% of international sales of the film. That's just the case with Alison Sweeney who often does double duty as an actor and executive producer.
What's more, Sweeney also has plenty of other projects bringing in big cash. According to Celebrity Net Worth, her "The Biggest Loser" salary alone was $45,000 per episode. Add to that her earnings from a two-decade run on "Days of Our Lives" (which reportedly pays recurring cast member $1,500 to $3,000 per episode and up to $5,000 per episode to its biggest stars), as well as her best-selling books, and her net worth lands at a cool $9 million. That makes her twice as rich as the Queen of Hallmark, Lacey Chabert, who has a $4 million net worth. Proof that side hustles really do pay off.