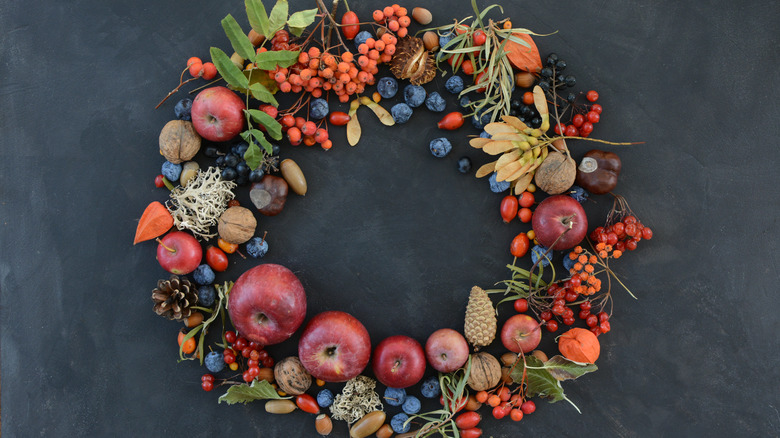 When decorating your home space, you have to consider your personality. According to Fresh Scents, introverts and extroverts focus on entirely different things when setting up their environments at home. For example, extroverts may want plenty of seating space such as chairs, sofas, and loveseats to have get-togethers with their friends and family members. Introverted people may prefer designing their own reading nook or quiet bedroom.
Bold colors are also a top choice when it comes to wall paint and furniture. For subtlety, neutral colors induce a sense of calming and peace. Entice olfactory senses by having room fresheners and scented candles in the home office, the kitchen, or the bathrooms. You can also be adventurous with prints — and nothing says cute and kitschy like working with fruit prints in the home. From lively citrus fruits in oranges, lemons, and limes to robustly vibrant fruits in apples, strawberries, and cherries, there's a world of wonder when working with fruit home décor.
Incorporate walls with fruit designs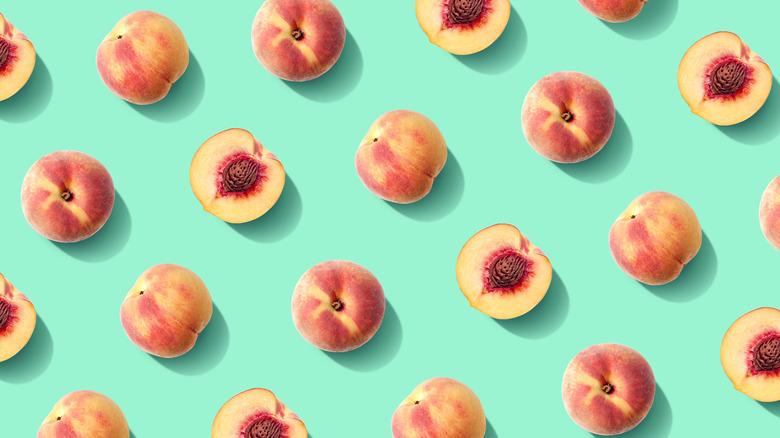 With the rise in popularity of tropical flower and palm tree wallpaper, fruit-printed wallpaper has also become fashionable due to the "summer year-round" aesthetic. Fruit-printed wallpaper looks fresh and cool and adds an extra splash of brightness to any room, as per Ever Wallpaper. Adults love the brazenness of fruit wall prints, while children enjoy the candied colors of succulent fruits.
Want to work with fruit wallpaper prints that are unique? Check out home stores to spot blueberries with vines printed wallpaper. Want to incorporate tart yet sweet exotic fruit wallpaper designs? Go for dragon fruit prints. Another idea would be to spice up the kitchen walls by purchasing garden-related wallpaper depicting fruits and vegetables. Go the hanging-fruit route by finding wallpaper prints with peaches, oranges, and apples growing together around leafy patterns. Or you can go vintage by pasting strawberry-printed wallpaper all along entryway walls. It'll look sweet and classic.
Play with tropical rugs
Since tropical prints are taking over the home design industry, incorporate fruit-printed rugs to establish a balance between nature motifs. According to Ruggable, it's all right to allow the rug's pattern to be the room's focal point. But if maximalism isn't your thing, you can balance a fruit-printed rug by keeping the rest of the furniture simple. There's no need to make a whole room filled with lemon décor. Decide on furniture accent colors by choosing one or two primary colors from the rug. Don't use busy patterns elsewhere in the room if the chosen carpet has attention-grabbing prints.
For the living room, a cherry-printed rug could look elegant with black furniture. Pull yellow and green tones from pineapple-printed rugs and mimic them in other living room or bedroom elements such as wallpaper, lamp shades, and plants. Be quirky by placing a banana-printed rug in the living room in conjunction with dark wooded furniture pieces to provide balance and boldness.
Make artful fruit prints
As noted by Creative Jewish Mom, there's no need to buy fruit artwork when it could be created at home. Get children involved in a fruit-based watercolor craft by grabbing pencils, watercolor palettes, paint brushes, salt, and sketchbook white paper. To begin, use a pencil to sketch out fruit. Use watercolor paints with a decent amount of water. When the painting is still wet, sprinkle salt on top to create a textured effect. Allow the image to dry and shake off the salt. This piece of watercolor art could be framed and placed above a fireplace mantle or hung on a kitchen wall.
Another watercolor fruit paint idea would be to mix watercolors with chalk markers (via Kassa). Have a sketchpad to lightly pencil trace fruit shapes and erase dark lines. Paint the fruits with watercolor. The chalk markers could add detail inside the fruits, such as pulp lines and seeds. Choose from metallic, neon, and pastel finishes when it comes to chalk markers. Frame the artwork, or place it onto a wall with tacky putty that won't ruin the wallpaper or wall paint.
Go for fruit inspired accessories in the kitchen
Looking for ways to remodel the kitchen? Look no further than using fruit-related kitchen accessories. Begin by sticking with a singular fruit theme instead of working with many different fruits, according to NiceSpace. For example, a way to go about this would be to incorporate watermelon prints in the kitchen and find accent pieces in shades of pink, red, and green. You could paint the walls in the kitchen an evergreen with light dusty pink paint on the molding. An uncomplicated way to spruce up the kitchen would be to visit home stores or shop online to find fruit-printed tablecloths. Look for washable tablecloths for easy cleaning.
Matching dishware sets are a terrific way to go with a singular fruit print. Check out ceramic tea sets in pear prints, including a teapot, cups, and dishes. Need a place to stow away homemade and store-bought cookies? Buy a ceramic or wooden cookie jar designed with oranges, apples, or bananas. Another way to embellish the kitchen with fruit prints would be to install drapes over a kitchen window. Search for papaya, kiwi, or mango printed synthetic or cotton drapes to add color and zest to an ordinary kitchen.
Decorate with fruit bowls
Evoke feelings of joy and happiness by placing a fruit bowl in the living room or the kitchen, as per Décor Tips. Fruit bowls look elegant and refined on coffee tables and kitchen counters. Try placing pears in a bowl. Pears are uniquely shaped and give a dynamic vibe while maintaining an essence of pure beauty. Love red? Place cherries in a bowl for that bold pop of red that will look stellar in a 1950s-designed retro kitchen. Can't decide between real fruit or fake fruit? Natural fruit has natural colors and fragrances, whereas fake fruit almost looks real. Plastic fruit is easy to clean and won't rot as real fruit does over time.
You can also make a fruit bowl from clay if you're feeling crafty (via Makoccino). Gather clay, acrylic paints, paint brushes, a plastic bowl for molding, and an X-Acto knife. Roll out the clay until it forms a circle and cut it out with the knife. Use the plastic bowl for molding the clay into a bowl, and allow the clay to dry for 12 hours. Paint the inside of the bowl to look like a lemon, watermelon, or orange. Be artistic by using a butter knife or toothpicks to construct intricate designs on the outside of the bowl. This activity is a distinctive spin on typical fruit bowls.
Put fruit on the mantle near the fireplace
For people already thinking ahead to the holiday months, you can DIY a wreath for the fireplace mantle that features both nature and fruit elements. Another straightforward way to add décor above the living room fireplace would be to place a fruit bowl on top of the mantle. Bring out holiday cheer by having a bowl filled with fruits representing Christmas colors in red, green, purple, and yellow. County Stone also recommends buying dried fruit from a grocery store to mix with pinecones found outdoors for some holiday spice.
For fall time, place a wreath above the fireplace mantle by making it the focal point (via The Ruffled Mango). Be on the lookout for wreaths constructed of faux orange, red, and yellow leaves to enter the autumn season. Have a bowl of oranges under the faux leafed wreath to be cohesive with the orange color scheme. Establish a sense of symmetry by placing two equally sized home accessories on either side of the wreath. This could be a lantern on one side and a vase with real or faux flowers on the other side. Incorporate small pumpkins and a variety of gourds to decorate the mantle fully.
Have fruit printed bedsheets in the bedroom
Growing in popularity as a fashion and home design trend is the cottagecore aesthetic. The cozy design trend involves agriculture and focuses on simple living such as baking and embracing nature, as stated by Aesthetic Roomcore. A different twist to the cottagecore aesthetic would be to embellish the look with fruit prints. Living room walls could be painted in neutral shades of beige, brown, or mossy green, with temporary fruit decal stickers on walls. Mix fruit designs with naturalistic motifs based on the cottagecore design by hanging up framed pictures of lemons, limes, and kiwis alongside floral, mushroom, and butterfly framed prints.
When it comes to bedroom furniture, discover dressers and bedside tables at secondhand shops in dizzy floral patterns and match with fruit-printed bedding. For those who prefer a simplistic approach, place a monochromatic duvet or blanket on top of fruit-printed sheets. A pale yellow blanket would look stellar on top of strawberry or cherry-printed bedsheets. Go country by spotting an apple-printed blanket to place on top of neutral or pastel-colored sheets. Or go the extra mile by adding a touch of femininity to the bedroom by displaying dried flowers and dried fruit in apothecary jars. Set candles around the room to allow fresh scents to permeate the space.
Design baby nurseries with fruit prints
Are you tired of the same common nursery room ideas filled with stuffed animals and expensive toys that the baby will grow out of or get bored of too soon? Why not create a fruit-themed nursery? ProstoConcept said to first decide on what to do about the bedroom walls. Wall paint, wallpaper, and wall decals are all options for designing bedroom walls with fruit prints. While wall paint and wallpaper are permanent, decals are low commitment and could be changed without fuss.
When deciding on cribs, dressers, and changing station décor, use complementary colors that go well with fruit-printed designs. Stay gender neutral to bring in a range of shades from mossy greens to periwinkle blues to sunburst oranges. These shades would look formidable with painted furniture featuring berries and citrus fruits. Try not to have too many pillows or stuffed animals in a crib to prevent smothering. A singular pillow sewn to look like watermelons, pineapples, or bananas is fine to have in a crib.
Remodel the bathroom featuring fruit
Are you tired of looking at lackluster bathroom décor? It's time to shake up the design, and one great way to change a bathroom would be to repaint the cabinet sink, as per Dezinefun With Michelle. If the paint looks dull, find a brighter hue to refresh it. Those with artistic talent could try to sketch and paint fruits onto the cabinet with acrylic paint. Start with a pencil design first so you can make changes by erasing. You can do the same to tiles covering your bathroom walls.
Add subtle hints of brass textures by replacing the toilet paper handle with a brass holder or changing the doorknob to brass. You can also display fruit ceramic art pieces above the toilet and replace an old rug with a cutely designed fruit-shaped nonslip mat. Check out local bedding stores for sets of fruit-inspired washcloths and towels to use when showering, and fruit-print shower curtains also add a spunky touch.
Use fruit for centerpieces
For the holidays or any special occasion, create a festive fruit runner in the center of the dining table, as per Justina Blakeney. Gather fresh fruits in the center of the dining table in all varieties. Cut some fruits in half and leave other fruits whole. Cutting fruits in half adds to the beauty of the centerpiece because different fruits have unique insides that resemble stars or hearts, especially pomegranates. Bring in greenery by placing faux green leaves onto the centerpiece.
Another way to create dining table centerpieces is by using glass or plastic mason jars. These jars could be painted with silver or gold metallic paint or covered with glitter with a protective overcoat to prevent shedding. Add dried or plastic toy fruits inside the jars, but be aware that placing real fruit in mason jars spoils easily.
Be authentic and sustainable with fruits
According to Tru-Cape, fruit décor is on the rise due to a harkening back to pastoral times. "We're seeing plants and fruit taking center stage in interiors, clothing, art, and décor styling. We see it as a growing appreciation of the simple things and nature's goodness," furniture designer Haldane Martin shared. "Using a bowl full of inviting fruit or simply seasonal vegetation scattered organically … emphasizes a welcoming feeling of homeliness and communion. It's also a more eco-conscious way of living as the family consumes the fruit rather than disposes of dead flower arrangements."
Apple and pear fruit bowls are popular because both could be left out to ripen properly. For those who favor the fall months, apples provide a crisp-smelling aroma that's perfect for the season. Check out home and candle shops to find fruit scented room sprays and fruit scented reed diffusers. Or you can go the homemade natural route by boiling a pot filled with water and citrus fruit slices to freshen the home.
Professional interior designers favor the fruit aesthetic because it reminds them of their childhoods when mothers would place bowls filled with succulent fruits on countertop spaces. Though fruit home designs have been popularized since the 1970s, people have moved away from using obviously fake-looking fruits by returning to nature. For showing or eating, fruit could be constructed to look as fabulous as a flower bouquet with an abundance of colors and assorted shapes. A minimalist white plate or a metal tray would look equally exquisite, containing fruits of all kinds and colors.
Crafts and fruits
Let children get involved with crafting fruit projects to feature in the home, as noted by Glued to My Crafts. Make a paper plate strawberry with red tissue paper, scissors, black markers, glue, a stapler filled with staples, paper plates, white paper, paint brushes, and green paint. Use the scissors to cut out a triangle that best represents the shape of a strawberry. After the triangle is cut, spread non-toxic glue evenly on the plate. Tear pieces of red tissue paper to paste all over the triangle. Once the glue has dried, use a black marker to create dots all over the red tissue paper. These dots will look like seeds. Then, paint the kids' hands green, and press them against a piece of paper. Cut the handprint out and staple it to the red paper plate. Viola! It's a strawberry!
You can also decorate with rocks that are painted to look like miniature watermelons (via Glued to My Crafts). For this craft, find pink, green, and black paints, paint brushes, and a protective cover to place the wet rocks on. Take a rock and use the green paint to draw the rind. Color the rest of the rock pink to represent the inside of the watermelon. Use black paint to make the seeds. Once the stones are dried, these could be placed along a kitchen or a bedroom windowsill.
Create a garden and grow your own fruits
For those who have a green thumb, they may want to plant their own fruits and vegetables. Berry Chatty said it's better to grow a small garden than plant a big one that won't develop properly. Start with growing one kind of fruit before planting seeds for other fruits. Find a spot outdoors in the backyard where sunlight is plentiful, and the soil is fertile.
Make sure to have the appropriate gardening tools on hand by buying gardening gloves. Purchase shovels, rakes, and watering cans and begin planting seeds. It's been known that strawberries don't need too much space to grow. Planting fruit trees, like lemon or mango ones, are also popular choices. Adorning a home with fruit décor could be accomplished with live fruits, artwork, and fabric prints in just a pinch. Have fun with fruit and eat it, too!