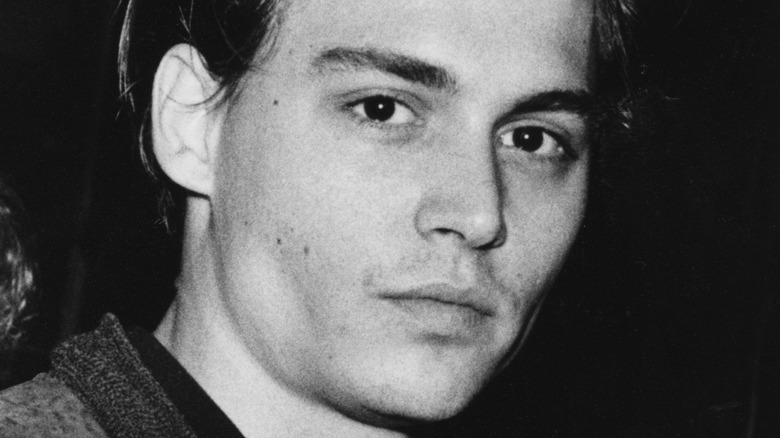 Johnny Depp is one of few actors who've maintained their star power over the decades. He first shot to fame in the '80s on Fox's "21 Jump Street." In the '90s, he transitioned to big screen success in films such as "Edward Scissorhands" and "Donnie Brasco," while making headlines for his highly-publicized relationships and his "bad boy" behavior (per People).
In the 2000s, a whole new audience became fans of Depp when he starred in Disney's family-friendly "Pirates of the Caribbean" franchise. He himself became a dad to a daughter and son, both of whom he shares with Vanessa Paradis, his former girlfriend of 14 years. Fast forward to the 2010s: Depp began a romance with actress Amber Heard, whom he later married and divorced. The pair's messy split played out in the media, amid nasty accusations and a lengthy legal battle, as AP News reported, with a 2022 trial that enthralled fans.
However, there is a lot more to Johnny Depp than just the Amber Heard drama. We're going way back to the beginning to show his transformation from a kid in Kentucky to a bona fide Hollywood star.
Johnny Depp had a troubled childhood
Johnny Depp was born John Christopher Depp II on June 9, 1963, in Owensboro, Kentucky (via Britannica). He was the youngest of four children born to John Depp, an engineer, and Betty Sue, a waitress, a couple for whom money was tight. His family moved to Florida when he was 7 years old — one of many moves, he told Rolling Stone, which greatly affected him. "When it's time to pack, even to go on vacation, I'm a wreck, man," he said. "It reminds me so much of having to move all the time."
In an interview with Playboy, he recalled his "strange" childhood. "It wasn't until I started going to other kids' houses and hanging out, having dinner, seeing what a family is supposed to do that I saw that we weren't so normal," he told the magazine.
Depp's words and actions over the years show his mixed feelings toward his parents. "I wouldn't say my youth was the perfect model in terms of raising a kid," he told Rolling Stone. He continued, saying, "If you did something wrong, you got hit. If you didn't do something wrong, you got hit. But my parents, they did the best they could with what they knew." Despite his "dark" childhood, he generously bought his mother a home in Los Angeles.
He discovered a love for music as a teen
As a teen, Johnny Depp was smoking, drinking, and getting in trouble at school, as he divulged to Rolling Stone. However, playing guitar in his room provided him solace. He told Boulevard Magazine, "That's how I got through puberty. When I was 16 I dropped out of high school, and my parents had split up. So I guess from 12 to 17 I felt pretty weird."
Depp's older brother introduced him to music. "He turned me on to Van Morrison and Bob Dylan … the soundtracks to A Clockwork Orange and Last Tango in Paris. I loved Aerosmith, Kiss and Alice Cooper, and when I was older, the Clash, the Sex Pistols and the Ramones," he described to Playboy.
After Depp dropped out of high school, he pursued music with his band, The Kids. They opened for iconic groups like Iggy Pop and the Ramones, and Depp even hung out with future shock rock singer Marilyn Manson, who also lived in South Florida. However, the two didn't collaborate musically until later in life, as Manson told Loudwire.
He moved to L.A. with the girlfriend who later became his wife
While focusing on music, Johnny Depp met future makeup artist Lori Anne Allison. Five years older than Depp, Allison was the sister of one of his bandmates.
Depp, Allison, and the rest of the band moved to Los Angeles to make it big. While the band broke up before a record deal became reality, according to The Slate, Depp and Allison married in 1983 when he was 20. They divorced two years later. "It was a strong bond with someone but I can't necessarily say I was in love," he recalled to Boulevard Magazine. "That's something that comes around once, maybe twice, if you are lucky. And I don't know that I experienced that before I turned 30."
Over the years, Allison has said kind things about her ex-husband. "He's a talented actor and can pull off the pirate thing like nobody's business," she told the Miami Herald in 2015. "But he's also an extremely talented guitar player."
Johnny Depp credits 'luck' for his fame
When Johnny Depp first moved to Los Angeles, it was music — not acting — that was on his mind. "I never wanted to be an actor," he admitted to Boulevard Magazine. "I was a musician and I still am, and that was my life. But this sort of happened." And it happened thanks to Depp's first wife, Lori Anne Allison, who introduced him to her friend, Nicolas Cage (via The Teal Mango).
The actor mentored young Depp and introduced him to his agent, who sent Depp to a casting director. This led to his first movie role in 1984's "A Nightmare on Elm Street," which shocked him. As he told Playboy, "I was stupefied. They paid me all that money for a week," he said. "It was luck, an accident. I did it purely to pay the rent. I was literally filling out job applications at the same time, any kind of job."
Seemingly overnight, Johnny Depp became a Hollywood heartthrob
Johnny Depp's first movie role in the Freddie Kreuger horror flick "A Nightmare on Elm Street" led to his breakthrough role on Fox's "21 Jump Street" in 1987. Struggling to pay his bills, Depp seemingly overnight turned into an '80s teen idol, appearing on the cover of Tiger Beat and being inundated with fan mail (per People). "I went from [struggling to get by] to making a bunch of money," he told Playboy. "I went from anonymity to going to a restaurant and having people point at me."
Although grateful for the experience, he wasn't very happy working on "21 Jump Street." As he explained to Playboy, "It was a great education, but it was very frustrating. I felt like I was filling up space between commercials." He continued, saying, "But what really bothered me was that I could see … where it was all going, and it scared the s*** out of me." He explained further that, at the time, Fox was using the show as the launchpad for what would soon become a hit network. "They were shoving my face out there, selling me as this product. It made me crazy," he said. "I thought, 'After this you'll be in a sitcom. You'll be on a lunch box and then a thermos and a notebook. And in two years you'll be ridiculous.'"
He began dating fellow actors in the '80s
After his divorce from Lori Anne Allison, Johnny Depp went on to date women in the entertainment field. There was Sherilyn Fenn, best known for starring on the '80s series "Twin Peaks," though new to the biz when she dated Depp. "We were so young. I met him when I was 19 and he was 21. We went out for two-and-a-half years when we were just starting out in the business," she said of the relationship in an interview with Big Issue. "He was very sweet. He was my first love."
Next came "Dirty Dancing" and "Ferris Bueller's Day Off" star Jennifer Grey, who began a whirlwind relationship with the actor, leading to an engagement, just after breaking up with her "Ferris Bueller" co-star, Matthew Broderick. "There was some heat. … I've never seen a guy like this," she said of their chemistry in an interview with People.
His '90s romances included Kate Moss and Winona Ryder
When it comes to relationships, Johnny Depp is, perhaps, best known for his high-profile relationships during the '90s. First was Winona Ryder, whom Depp met in 1990 and proposed to after five months. Of their relationship, he said at the time, "There's been nothing in my 27 years that's comparable to the feeling I have with Winona" (per People). Nevertheless, they broke up three years later.
Depp's next relationship with supermodel Kate Moss was even more intense. They met in New York in 1994. "It was love at first sight. For both of us," Depp relayed to Boulevard Magazine. A source told People, "They can't keep their hands, lips, mouths, legs off each other." They fought just as much.
Shortly after their 1998 split, Depp shared his regrets with Hello! Magazine, even referring to himself as a "moron." "I have never got that emotional over a woman before. I have been so stupid," he said. "I let my work get in the way and I didn't give her the attention I should have done. I was horrific to live with."
Moss was equally candid. She told Vanity Fair years later, "[Johnny's taking care of me is] what I missed when I left. I really lost that gauge of somebody I could trust." She added, "Nightmare. Years and years of crying."
The actor became known for playing offbeat characters in indie films
Johnny Depp was careful about his next role following "21 Jump Street." He told Playboy that he decided to wait for a movie and wanted to pick the right project. He starred in the movie "CryBaby," followed by a season of "21 Jump Street" and then "Edward Scissorhands" — during which time he learned he was cut from the series. From then on, he felt free and vowed only to do creative projects he loved. "I swore to myself that I would never again compromise to the degree that I had," he said. "I wouldn't do what was expected of me or what was necessary to maintain … a popular or financially rewarding career."
Depp became largely known for morphing into offbeat characters in a wide range of films — from "Ed Wood" to "Alice in Wonderland" to "Willy Wonka and the Chocolate Factory" — many thanks to his good friend, director Tim Burton (per Vanity Fair). Part of what appealed to Depp was his ability to hide. "Covering myself up in makeup, it's easier to look at someone else," he told Rolling Stone. "It's important for … whatever's left of your sanity, I guess." The other part of the appeal? "I like the challenge of trying different things and wondering whether it's going to work," he told The Sun.
Johnny Depp opened the iconic Viper Room in L.A.
In 1993, Johnny Depp and his two business partners opened The Viper Room, the now-infamous rock club on Hollywood's Sunset Strip in Los Angeles. Designed with an unpretentious feel in mind, the club served casual nosh in an atmosphere reminiscent of the gangster era. "I really love the idea of clubs from the '20s, '30s and '40s," Depp once told the Los Angeles Times, noting how the building once housed a club owned by gangster Mickey Cohen and frequented by fellow mobster Bugsy Siegel.
Having Depp's name attached helped draw top acts — from Johnny Cash and Keith Richards of the Rolling Stones to Oasis and Michael Hutchence of INXS — and launch careers, like that of the Pussycat Dolls. "It was a dive of a place, but it had the best sound system anywhere on the Strip and because Johnny owned it he got a lot of amazing people," as Steve Cohn, Depp's then-contractor who frequented the spot, told the Independent. "The best acts that ever came through LA played there."
The club, however, largely became known as the place where actor River Phoenix overdosed in October 1993. By 2004, Depp sold his stake in the club, and, in 2022, The Viper Room was demolished to make room for a 12-story high-rise, noted the Independent, marking the end of an era.
He demonstrated some bad boy behavior in the '90s
In the mid-'90s, Johnny Depp made some less-than-flattering headlines. During these years, Depp lived mostly in hotels — "[living] nothing but a vagabond existence, really" (per Rolling Stone).
In probably the most publicized incident, he trashed his New York City hotel room after apparently fighting with then-girlfriend Kate Moss. A People cover story from 1994 summed up the debacle, reporting that Depp was arrested and charged with criminal mischief. He spent a few hours in jail and was forced to reimburse the hotel for nearly $10,000. "I didn't hurt anyone and I didn't think the incident was particularly newsworthy," he later told Boulevard Magazine, "I'm human just like anyone and I can be as sensitive as anyone else. It's really odd. People perceive me as some hotel-wrecking, drug-addled fiend. I'm not remotely close to that."
A decade later, while speaking with Playboy, the actor shed even more light on the infamous incident, saying, "Very simply, I had a bad day. I'd been chased by paparazzi and was feeling a little bit like Novelty Boy. Obviously something wasn't working in my life. For a few years I wasn't angry but just sort of frustrated and upset because I didn't know what it was all about."
He became a father in 1999
Johnny Depp's longest high-profile relationship was with French model and actress Vanessa Paradis. The couple, who never married, are parents to daughter Lily-Rose Depp, born in 1999, and son Jack Depp, born in 2002 (via Parade). For Depp, becoming a father had a profound influence on his life. "I was angry and frustrated until I started my own family and my first child was born. Until then I didn't really appreciate life the way I should have, but fortunately I woke up," he told The Sun.
Depp and Paradis knew each other for several years through mutual friends, though Depp lived in Los Angeles while Paradis was based in France. Paradis once described how the pair got together, telling People, "We were in two different worlds — him in America, me in France — but we had friends in common. We saw each other sometimes over the course of four years. But then, the day we found each other in Paris, we were both in the same world and free and it was just instant."
Paradis also shared their ability to give each other space. "We understand that, if we want our relationship to continue, we must give each other space, allow each other to go off on our own, and trust each other," she once revealed (via Yahoo). "Not everyone is lucky enough to be given space and trust." However, in 2012, after 14 years together, the couple went their separate ways, People reported.
In the early aughts, Pirates of the Caribbean catapulted Johnny Depp to mega-stardom
While Johnny Depp had long promised himself he'd never choose commercial success over art, he eventually found both when he landed the part of Captain Jack Sparrow in Disney's billion-dollar movie franchise "Pirates of the Caribbean." The move catapulted his success and led to an Oscar nomination for Depp in 2003.
But, Depp has said, the situation was never perfect. "I was freaked out by it," he admitted of his rise to big-budget, mainstream success. "I enjoyed creating those characters up there, being in the trenches and sparring with collaborators, actors, directors," he told GQ in 2018. "The trouble with working with these big studios is they can get uncomfortable about certain creative decisions you make. That happened with 'Pirates.' My view is if the studio isn't worried then I'm not doing my job properly."
The fact that Depp, largely known as a character actor, could carry big-budget studio features was unusual. As "Pirates of the Caribbean" director Gore Verbinski told Rolling Stone, "Twenty years ago, I don't think Johnny Depp greenlights a $100 million movie, with giant robots in it or whatever. Now you can't seem to get a movie made without him!"
In 2012, the musician joined the band Hollywood Vampires
A longtime music lover, Johnny Depp dabbled in the art form over the years, joining the band Rock City Angels in the mid-'80s and releasing a record in 1995 with another former band. He's long collaborated with other artists — from the Pogues' Shane MacGowan to Oasis, as Slate noted. Then, in 2012, rock legend Alice Cooper invited Depp, along with Aerosmith's Joe Perry, to join the group The Hollywood Vampires, a move which largely came about from Depp's friendship with guitarist Jeff Beck (via Marca).
Unlike Depp's former bands, The Hollywood Vampires appears to have staying power, possibly because it's not its members' full-time gig. In June 2022, the band announced their 2023 six-date tour. "The Hollywood Vampires are BACK!!" the band revealed on Instagram. We're coming to Germany and Luxembourg Summer 2023!" Fans from all over the world chimed in, hoping for additional shows in the U.S., the U.K., Turkey, Italy, and more countries.
Johnny Depp's relationship with Amber Heard led to chaos
Johnny Depp met his second wife, Amber Heard, on the set of the 2011 movie "The Rum Diary," according to AP News. In 2015, the pair married in the Bahamas. The celebrations didn't last long, though. Just one year later, Heard filed for divorce, and the former couple released a statement saying, "Our relationship was intensely passionate and at times volatile, but always bound by love. Neither party has made false accusations for financial gain. There was never any intent of physical or emotional harm" (via AP News).
The actress had accused Depp of abuse and filed a restraining order before later withdrawing the allegations. In 2018, she published an op-ed in The Washington Post about her alleged abuse, although she didn't use Depp's name. Depp sued her for defamation, and Heard filed a countersuit. The trial played out in the media and explored the couple's "volatile" relationship.
On June 1, 2022, the jury sided largely in Depp's favor, awarding him $15 million, while awarding Heard $2 million. Depp was found guilty on one of three counts of defamation (via Time). In a statement published by Entertainment Weekly, Depp, who had long defended his innocence, thanked his supporters and said, "False, very serious and criminal allegations … had a seismic impact on my life and my career. And six years later, the jury gave me my life back. I am truly humbled."