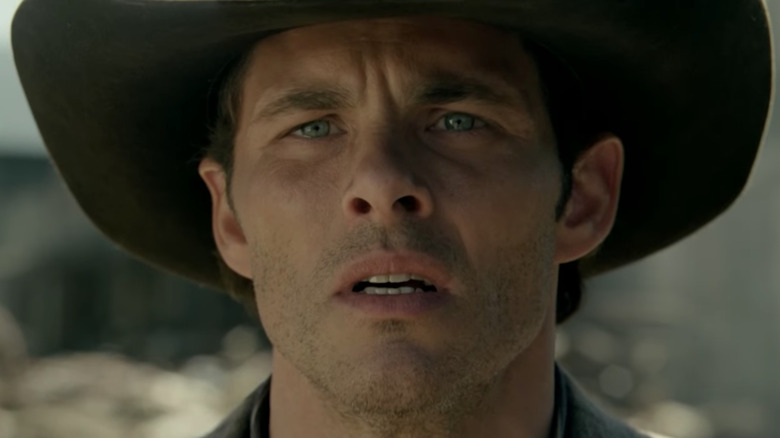 Have you ever questioned the nature of your reality? The futuristic mystery box series "Westworld" takes viewers on an unforgettable journey full of cowboy robots, businessmen with god complexes, and bloodthirsty tourists desperate for adventure. Throughout these misadventures and repeating loops, "Westworld" asks philosophical questions that go way deeper than those posed by traditional television shows. The main quandary posed by "Westworld" involves the humanity of the A.I. hosts, who are continuously and endlessly perfected to appear more and more like their human visitors.
The series boasts an all-star cast that includes the likes of Evan Rachel Wood, Anthony Hopkins, Thandie Newton, James Marsden, Aaron Paul, and Ed Harris, and the production is always top notch. The show looks great and asks bold questions, but the creation of HBO's "Westworld" is just as fascinating as the series itself. From the films and video games that influenced it to the abandoned big screen reboot, this is the untold truth of "Westworld."
The series is based on Michael Crichton's original 1973 film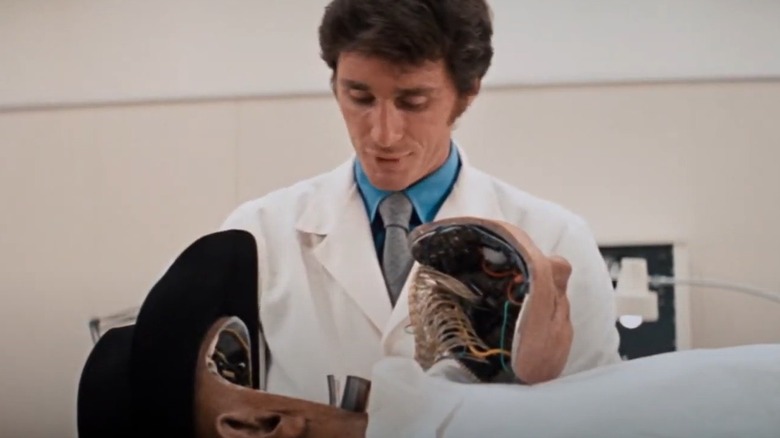 The history of "Westworld" is about as wild as the West itself. The HBO series is a reimagined upgrade of Michael Crichton's original 1973 film of the same name starring Yul Brynner and James Brolin. Crichton's film was way ahead of its time, ushering in 1980's sci-fi thrillers like "Blade Runner" and "The Terminator." According to Vulture, Crichton was displeased with the end result and claimed the audience didn't understand his warnings of corporate greed and capitalism. The film holds a Certified Fresh rating on Rotten Tomatoes, with critics praising the way it deftly combines practical effects with early CGI.
Crichton's perceived failures with "Westworld" would lead him to rewrite the script and turn the old bones of cowboy robots into genetically engineered dinosaurs. His next theme park disaster story, "Jurassic Park," would be published in 1990, with Steven Spielberg's franchise-spawning "Jurassic Park" movie releasing three years later. In a full circle moment, Spielberg's "Jurassic Park" would also blend CGI with practical effects in a revolutionary manner.
Audiences back in the 1970s would still return to "Westworld," even without creator Michael Crichton. In 1976, director Richard T. Heffron helmed the sequel "Futureworld," exploring brand new theme parks for valued Delos customers. Crichton finally returned to the Wild West with the short-lived CBS series "Beyond Westworld" in 1980. The show follows an android manufacturer's security chief attempting to foil an evil genius who wants to release robots into the real world.
Warner Bros. wanted to reboot the show in the 1990s
The Hollywood Reporter first revealed that a reboot of "Westworld" was in the pipeline way back in 2011. In that same report, the outlet said that "Warners has been trying to remake it since the 1990s." After years of failing to get the project off the ground, everything fell into place when studio executive Jessica Goodman (who supervised projects like Zack Snyder's "Watchmen" and the Ryan Reynolds version of "Green Lantern") left Warner Bros. after 13 years. She had been sitting on several remakes at the time, and, because the higher-ups had "reassigned her portfolio among several other execs," as The Hollywood Reporter put it, these projects all got a much-needed boost.
Numerous properties were lined up for the reboot treatment. Along with "Westworld," there were hits like "Lethal Weapon," which became a TV series in 2016, and the controversial Western film "The Wild Bunch," which is supposedly being reimagined for the big screen. The leaps in technology, including near indistinguishable CGI and visual effects, 3D printing, and drone capabilities, made a new version of "Westworld" inevitable. This time around, the series indulged in Crichton's themes and explored the chilling effects of capitalism, corporate greed, and domination in Anthony Hopkins' terrifying performance as Dr. Ford. HBO's "Westworld" even resurrected The Gunslinger from the original story, portrayed brilliantly by Ed Harris.
The original Gunslinger inspired Arnold Schwarzenegger's Terminator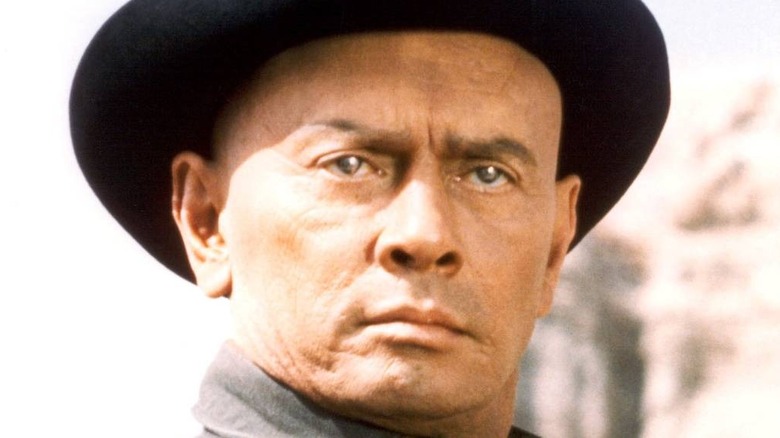 Arnold Schwarzenegger almost starred in a remake of "Westworld" around the time he appeared in "Terminator 3: Rise of the Machines," with the actor expressing his delight over the project to reporters. "I am very excited to be working on 'Westworld,'" Schwarzenegger told Variety in 2002. "I loved the original film when I saw it in 1973 and have wanted to remake it for several years. After following the project for some time, I am really thrilled it has finally come together at Warner Bros." It would have been a huge moment for the actor, who has admitted that "Westworld" inspired his performance in the "Terminator" films.
When Schwarzenegger sat down with the horror magazine Fangoria (via The Terminator Fans) to promote "The Terminator" in 1984, he said: "This film is also in some ways comparable to 'Westworld.' My character is in some ways like the Yul Brynner character in that film – and my approach to the Terminator is partly based on what Brynner did in that role." It took years for the whole thing to come full circle, but Schwarzenegger's "Westworld" reboot never happened. The year after it was announced, the movie star became the 38th governor of California and began concentrating on politics instead.
The Hollywood blockbuster crew behind the show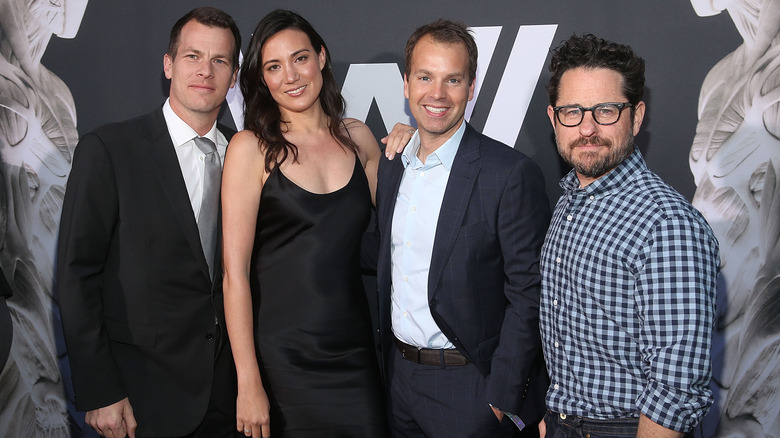 It's no surprise that "Westworld" feels like a Hollywood blockbuster packed into a weekly television event with such experienced vets behind the camera. Jonathan Nolan, Lisa Joy, Casey Bloys (chief content officer at HBO/HBO Max), and J.J. Abrams are responsible for some of the biggest cultural phenomena of the last 20 years, which earned them the freedom to tell a sprawling, intertwining narrative with "Westworld."
Nolan employs his skills at telling stories out of temporal order (he co-wrote the mind-bending films "The Prestige" and "Interstellar," directed by his brother Christopher Nolan), applying them to "Westworld" with fantastic results. His co-creator Lisa Joy, who has previously produced shows like "Burn Notice" and "Pushing Daisies," brings a tension-relieving dark humor to proceedings. Abrams and Bad Robot add an explosive production value to the series, fully fleshing out the artificial worlds created by Delos. The combination of these elements culminates in a unique and enthralling disaster epic that deeply explores humanity and morality.
Has the show been mapped out from the start?
In Season 4 of "Westworld," it's hard to determine whether or not the series shows signs of slowing down. In 2016, Entertainment Weekly reported that the ending of "Westworld" had already been mapped out. James Marsden (who plays tragic cowboy host Teddy Flood) told the outlet: "It wasn't about getting the first 10 [episodes] done, it was about mapping out what the next 5 or 6 years are going to be. We wanted everything in line so that when the very last episode airs and we have our show finale, five or seven years down the line, we knew how it was going to end the first season."
In 2019, The Hollywood Reporter revealed that Lisa Joy and Jonathan Nolan (who are married) had struck a deal with Amazon to adapt the video game "Fallout." This caused speculation that "Westworld" would soon be reaching a speedy conclusion. After Season 3 concluded in 2020, Variety spoke with Joy and Nolan and received an update and even clarification on Marsden's original quote.
"Lisa and I have never actually talked about a number of seasons," Nolan said. "James Marsden mentioned five [seasons] in the first season when we were on hiatus. But we've never actually talked out loud about how many seasons we imagine this thing going, because I think you'd be foolish to. Things change, circumstances change." Nolan continues with: "We're heading towards that end, but we haven't completely mapped it out. At this point, part of the work is looking at the rest of the story we have to tell."
Certain video games had a massive influence on the series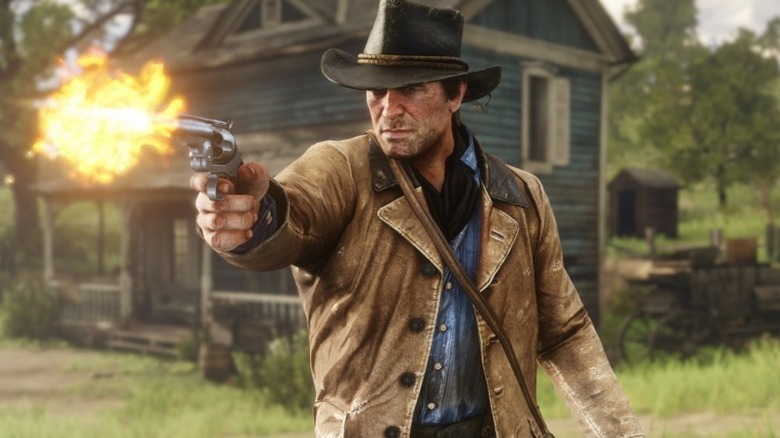 The limitless potential of guests when they enter Westworld could be compared to the feeling players get from open world role playing video games. When they sat down for an interview with Vice together, Lisa Joy and Jonathan Nolan revealed that several video games inspired them as they dreamed up their "Westworld" reboot. "Now, video games are a bigger industry than film or TV," Nolan said. "I've never worked in that industry, but we have friends who have, and I was fascinated by the concept of writing a story in which the protagonists' actions aren't part of the story. In games like 'The Elder Scrolls: Skyrim,' 'Red Dead Redemption,' or the sandbox games that BioWare make, morality is a variable."
The hit game "Red Dead Redemption 2," part of the popular series from Rockstar Games, uses a so-called honor system, meaning players that tend to abide by the law experience different cutscenes and endings. However, it's not just the range of morality afforded to protagonists that attracted Nolan to this kind of video game. He went on to explain how "Westworld" was partly inspired by the detailed non-player characters that populate open world games. "In 'Skyrim,' when you walk into a village, you aren't necessarily the most important person there," he said. "The NPCs have lives that happen whether you're there or not."
Each season has a lesser known subtitle
Each season of "Westworld" has a previously hidden subtitle that was only referred to by the writers and producers of the show. However, following the conclusion of Season 2, Lisa Joy and Jonathan Nolan gave Entertainment Weekly some exclusive details and even revealed the subtitles for Season 1 and Season 2. "We think of our seasons as discrete components in the series, to the point where we've named our seasons," Nolan said. "The first season was called 'The Maze.' The second season is called 'The Door." The Maze refers to the hosts' journey towards consciousness as well as the actual maze within the Westworld park. The Door is both the physical door to The Valley Beyond, or The Sublime, and the door to the outside world. It could also be interpreted as a metaphor for the door to immortality, as we discover Delos' true intent with Westworld.
Season 3 of "Westworld" has the subtitle "The New World," which also has a double meaning. It's a reference to the new world trying to adjust six months after the devastating (or necessary, depending on who you ask) attacks at Westworld. It's also a symbol of optimism for Dolores who has finally escaped her prison at the park. Speaking to Insider, Lisa Joy revealed that the subtitle for Season 4 is "The Choice," but she wouldn't be drawn on what that actually means. "You're gonna have to see," she said. As soon as the episodes started airing, the theme of choices was evident, from little moments like Delores choosing between black and white shoes to the dramatic climax of Season 4.
The series is shot on both film and digital
An enormous part of what makes "Westworld" so captivating is the meticulous attention to detail. Gorgeous scenic landscapes, gritty fight scenes, and pristine corporate buildings are all captured beautifully on a mix of film and digital photography. Cinematographer Paul Cameron explained to Filmmaker magazine how Nolan's previous experience with film allowed for an exciting (and even experimental) experience.
"We shot spherical with 3-perf 35mm film and Cooke S4's as the main lenses," Cameron said of "Westworld" Season 1. "For flashbacks and dream sequences I also used a set of Canon K-35s from Keslow Camera that were uncoated and gorgeous. Then we used a few Fujinon Premier zooms for a lot of the work in Moab, where the park is set." Put simply, the specially chosen equipment gives "Westworld" a distinctive look with richer colors and a stronger composition.
The choice to shoot both digitally and with traditional film was initially an artistic one, but as an added bonus it helped keep everybody focused. "There's a certain reverence when you shoot film that somehow keeps a little edge to the set," Cameron told ICG Magazine. "There's always the knowledge, in the back of everybody's head, that they know the film's going to run out at a certain point."
The aesthetic of the show takes cues from The Dark Knight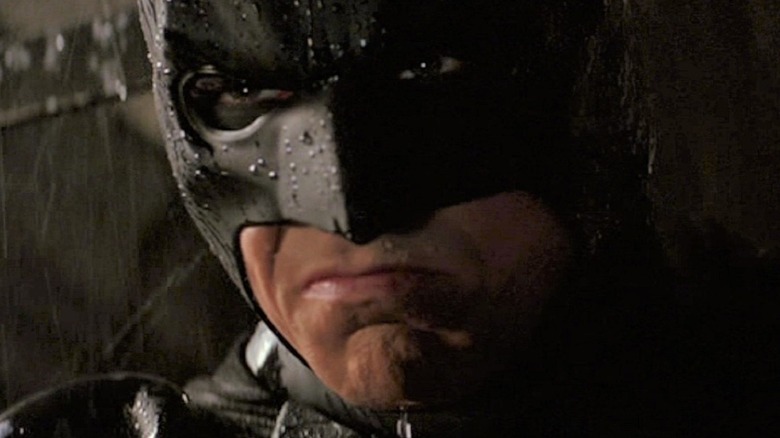 Speaking to Art of the Title, Patrick Clair — the creative director of Elastic, the company that created the "Westworld" title sequence — revealed that the ambition of Lisa Joy and Jonathan Nolan is what attracted him to the project. "I've really got to commend HBO for making stuff like this," he said. "They're big, risky projects to undertake from a network's point of view." Clair was shown a lot of material from the show so he could make an opening sequence in the same vein, and he found himself being reminded of Christopher Nolan's Batman movies (Jonathan Nolan was a co-writer on "The Dark Knight" and "The Dark Knight Rises").
"There's so much stuff in the design of the show that echoes the design of 'The Dark Knight' and films like that," Clair said. "That in and of itself harks back to masters like Kubrick." He kept this in mind as he worked on what would become a memorable opening credits sequence. "I'm obsessed with circles and squares and symmetry and balance, and how to take real-life situations and transition them into things that become graphic in their simplicity," he explained. "So all of that was in there."
Westworld has several Game of Thrones connections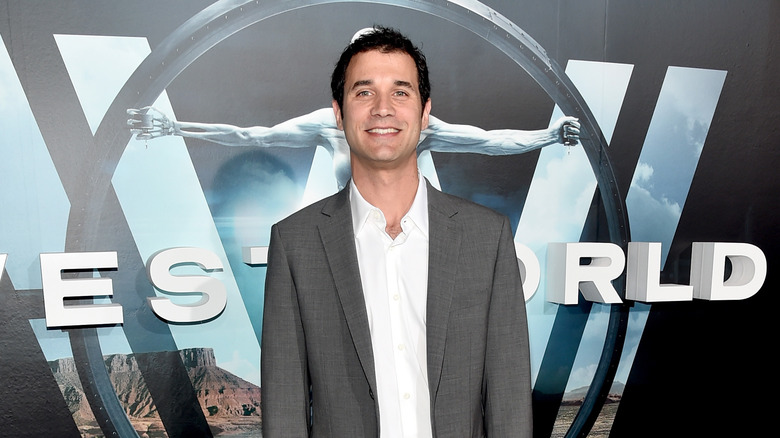 "Westworld" isn't the only HBO show that Patrick Clair's Elastic has created the credits for: The company is also responsible for the opening sequences of "True Detective" and, perhaps most memorably, "Game of Thrones." The opening of "Game of Thrones" has been parodied by shows like "The Simpsons" and has become as much a part of pop culture as the show itself. However, it wouldn't have been quite as memorable without the music, and that's where there's another connection between "Game of Thrones" and "Westworld."
Composer Ramin Djawadi created the music for both shows. While he stuck largely to a fantasy theme with "Game of Thrones" and didn't include any modern music (unless you count Ed Sheeran's ill-fated cameo), he decided to take a different approach with "Westworld." He told Vulture: "The show has an anachronistic feel to it. It's a Western theme park, and yet it has robots in it, so why not have modern songs? And that's a metaphor in itself, wrapped up in the overall theme of the show." This theme gifted us with fresh arrangements of The Weeknd's "Wicked Games," Billie Eilish's "Bad Guy," and Metallica's "Enter Sandman," to name but a few.
The show's ratings have been on a downward slide since Season 1
Season 4 had a lot to live up to following the mixed fan reaction to "Westworld" Season 3. Some fans found Season 3's storyline to be confusing and unworthy of Aaron Paul's Caleb, a tortured and somewhat relatable character in a rapidly changing world. Season 4 rectified that right out of the gate, introducing a compelling new story in the early episodes. It's full of nostalgic callbacks to Season 1 and it does what "Westworld" does best: It answers questions while teasing even bigger ones. The element of mystery is still there, and the action scenes are as well-executed as they've always been. Why, then, are the ratings on a downward slide?
Ratings for "Westworld" have fallen drastically since Season 1, and interest in the show has seemingly waned since production was delayed during the COVID-19 pandemic. "'Westworld' was already past the peak of its cultural relevance before its extended break," said The Ringer, which pointed out that ratings for the Season 3 finale "were down almost 20 percent from the season prior, which were in turn a decline from Season 1." The report goes on to say that "Westworld" wasn't making any waves on the Google Trends chart ahead of Season 4, an indication that its glory days may be behind it.