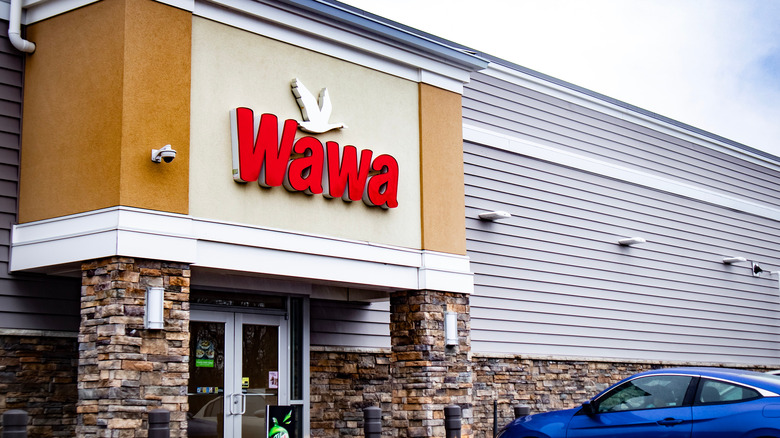 Pennsylvania is known for many different food-related features: It's home to a deliciously classic cannoli dessert. It's one of the few states in which teaberry ice cream is available. However, perhaps one of the biggest ventures to originate out of Pennsylvania is Wawa. Wawa is a chain of gas stations and convenience stores that also offers grab-and-go food items that you can purchase when you stop to fill up your gas. It's the gas station's rather impressive menu that makes a stop there mandatory for many folks passing through New Jersey and Pennsylvania. The menu at Wawa goes so much further than typical gas station snack items such as a bag of chips, candy bar, or a pack of gum.
It's difficult to pinpoint the exact type of food that Wawa offer since the menu is quite varied. Wawa offers items such as mac-and-cheese, hoagies, salads, sandwiches, and chalupas. That's not to mention all of its beverages, which also have legions of fans. The menu is filled with lots of exciting options. However, no restaurant is without its secrets and Wawa has some particularly delicious secret menu items that are even more exciting than regular menu options.
Rainbow lemonade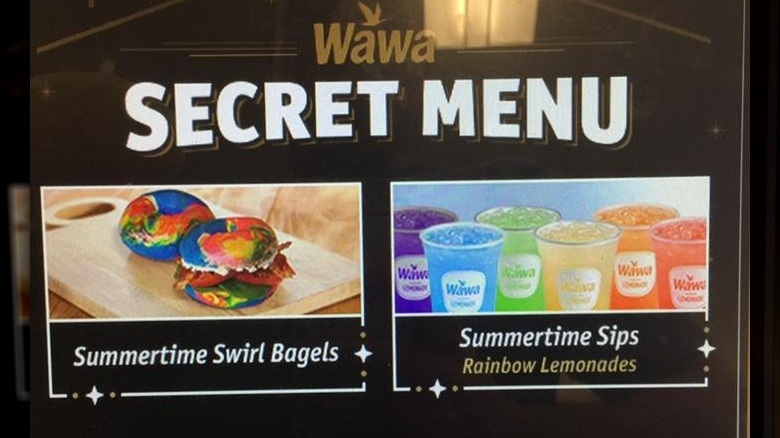 June is for celebrating pride month, and many stores and restaurants often release themed products to reflect this important occasion. Although it's not clear if this drink is inspired by Pride month, it was released in the hot month of June and has provided Wawa patrons with a colorful, fruity, and refreshing way to quench their thirst (as per Philly Magazine).
Wawa's "Summertime Sips" drink consisted of six different lemonades, all brightly colored, with each reflecting the colors of the rainbow. According to a Twitter post, this delicious lemonade was available in various different flavors such as strawberry, strawberry mango, mango, mango citrus, blue citrus, and strawberry citrus flavors. These flavors embodied various colors such as red, orange, green, yellow, blue, and violet.
Each of these drinks provides a rainbow, fruit-flavored spin on Wawa's classic lemonade. Numerous fans on Twitter who adore Wawa's beverages viewed this lemonade as a perfect way to cool off on a hot summer day.
Rainbow bagels
Wawa's secret menu can be accessed by clicking on the small Goose logo in the corner of a menu screen at Wawa (via Business Insider). Wawa released two rainbow items in June of 2018: One of these was the Summertime Rainbow Smoothies while the other was the Summertime Swirl Bagels (as per Philadelphia Magazine). These toasted treats were colorful bagels with rainbow swirls that were served with a mild, yet delectable cream cheese. Unlike the Rainbow Smoothies, the bagels were not fruit-flavored.
Again, while no official ads or statements were made regarding this item's release coinciding with Pride month, these bagels certainly did resonate with the celebratory season. While these bagels often appear to have a mixture of blue, red, and yellow swirls, various Twitter posts also show differently colored bagels. For example, in one post, the bagel has a solid balance of blue and red, while a different Wawa bagel on Twitter is more yellow and blue.
Regardless of the exact color scheme, these bagels were quite popular among Wawa fans, and various posts on social media sites showcase and praise these bright, stand-out bagels. These bagels, along with the Rainbow Lemonade, were hugely popular secret menu items.
St. Patrick's Day smoothies
When St. Patrick's Day rolls around in March, fun, sweet treats begin to pop up all over the place. So many of us get excited about seeing the light green, minty Shamrock Shake that you can get from Mcdonald's or the St. Patrick's Day Lucky Charms cereal that will turn your milk green.
Everywhere you go, there seems to be some way to celebrate the fun day filled with leprechauns, rainbows, and clover. Green may be seen as the color of envy but Wawa's menu features fun green drinks like an iced matcha drink (via NBC 10 Philadelphia). For even cooler options, the secret menu has a few more fun, festive, and luck-filled smoothies.
In the March of 2019, Wawa's introduced three sweet smoothies in honor of Saint Patrick's Day: a caramel "Pot of Gold" smoothie, a Mocha Mint, and a Good Luck Mint, which was a bright green smoothie with rainbow candies sitting atop the drink, per Twitter. Wawa fans who ordered off this secret menu seemed to enjoy the chocolate, mint, and caramel flavors of these drinks. Some customers also asserted the superiority of Wawa's Good Luck Mint over the drinks at McDonald's.
Birthday Cake drinks
Wawa's secret menu hasn't been around forever. Though the first Wawa location opened in the '60s, the secret menu is more recent and was only created in 2018 (via Business Insider). The surprised patrons who discovered the secret menu upon its first release were met with two items. The two original selections on Wawa's secret menu were a Birthday Cake Smoothie and a Birthday Cake Milkshake.
These drinks were topped with whipped cream and rainbow sprinkles and, of course, infused with sweet birthday cake flavor. Wawa fans who managed to find the secret menu when it first came out were enamored with both the secret menu and the drinks themselves. A Facebook post noted that fans who didn't want ice cream could opt for a yogurt base instead. These delicious birthday-themed beverages were delicious thick and creamy flavored drinks that gave the senses a delicious sugar-filled rush of sweet decadence.
Spooky smoothies
Fans of Halloween are often in the mood for creepy sweet treats, devilish drinks, and all things spooky when October rolls around. This includes the monster-sized Mummy Burritos at IHOP and the festively themed vampire, cobweb, and spooky donuts that you might find at Krispy Kreme. Many shops and restaurants get their trick-or-treat faces on by offering special Halloween treats, and that includes Wawa.
Wawa frequently sells themed beverages for Halloween to celebrate the festivities. In 2018, Wawa's secret menu offered several spooky, and downright creative, Halloween-themed smoothies, including the Graveyard Smash, a play on the classic "worms in dirt" treat, which featured vanilla ice cream whipped with cookie pieces, and topped with crumbled cookie "dirt" and gummy worms (via Philly Voice). It also offered the Fang-O Mango, a mango smoothie with chocolate sauce and a swirl of blood-red strawberry sauce that gave it a ghoulish spin. And of course, there was the Franken-Mint Macchiato,which was a blend of espresso and mint topped with cookie pieces and whipped cream.
In 2019, Wawa featured three more limted-edition Halloween secret menu smoothies: Spellbinding Strawberry, Mystical Mango, and Blueberry Pom Reader, with a delicious and healthy blend of blueberry and pomegranate (via NBC Philadelphia). Like other secret menu items, you had to click the goose on Wawa's ordering screens to find these treats. It'll be exciting to wait and see which sweet and spooky offerings Wawa will create the next time that Halloween rolls around.
Red Bull infusions
Energy drinks are highly common: While hot caffeinated drinks like tea and coffee are the drinks that people typically turn to, beverages like Monster Energy and Red Bull have become increasingly popular, and numerous Americans across the country use these drinks to remain energized throughout a long workday. Red Bull is one of the more popular energy drink companies. While the Red Bull brand sells numerous flavors of drinks, you can also make some pretty fun drinks using Red Bull as a mix or as a base.
Two of Wawa's secret menu items took the energizing Red Bull drink and infused it with tropical and fresh flavors (via Twitter). Wawa has released two energy-blasted secret menu drinks: The Volcano Blast, which infused Red Bull with a dragon fruit lemonade, as well as the Tidal Rush, which combined the energy drink with blue raspberry lemonade.
Both drinks look absolutely beautiful and contain hues of pink, orange, blue, and yellow to match the respective flavors. Even if you aren't a fan of energy drinks, you will probably get a kick out of these fruity, sweet, and delicious Red Bull lemonades.
Valentine's Day smoothies
Valentine's Day is the perfect occasion for chocolates, cards, or just showing someone how much you care about them. Whether you're buying someone a bottle of fine wine or showing yourself a little love by making your favorite Valentine's Day chocolate recipe or drink, the holiday is ideal for a little indulgence.
Wawa sells a few delicious, fantastic treats for the most romantic holiday. Wawa offers strawberry sprinkled donuts similar to the Strawberry Frosted donuts at Dunkin' Donuts (via Facebook). The Wawa secret menu hides some special treats for extra-special Valentine's Day festivities.
Wawa had three different secret smoothies on offer during the love-filled month of February in 2019: Chocolate Covered Strawberry, White Chocolate Truffle, and Double Chocolate Truffle Cream Smoothies (via HerCampus). Each of these drinks was served with whipped cream and chocolate chips. Overall, the smoothies were perfect for the Valentine's Day holiday. Wawa offers several chocolate-based treats on its normal menu, but these secret smoothies were a true chocolate lover's delight.
Swedish Fish Blue Splash lemonades
Swedish Fish are a fun candy that makes for a sweet treat. These small, red, fish-shaped gummies are commonly found in the candy aisles of grocery stores in bright yellow and blue boxes just waiting to be taken home and enjoyed. Swedish Fish also make for a great addition to other sweet desserts. In addition to being featured in the divisive Swedish Fish Oreos, these candies can also be used as a topping for ice cream sundaes. The candy works quite well in drinks, too, and can be used to make incredibly sweet and enjoyable beverages.
In July of 2019, Wawa's offered two bright blue lemonade drinks, each filled with the red fishy candies we all know and love: The Blue Splash Frozen Lemonade, a slushie-like drink with whipped cream on top, and the Blue Splash Iced Lemonade (via KnowPhilly). Some Wawa fans took to Facebook to post about the Swedish Fish lemonade. These drinks felt like a hot summer day at the beach and looked like tiny aquariums complete with swimming red fish. If the Sweish Fish lemonade drinks were on Wawa's regular menu, they probably would've been hugely popular.
Mint-er Wonderland drinks
When the cold weather hits and the air becomes brisk, you may find yourself craving a hot drink such as a hot peppermint mocha from McDonald's or Starbucks, along with other seasonal mint chocolate desserts like peppermint bark. Wawa often offers winter and Christmas holiday specials like sweet eggnog. The chain has also featured minty, frozen surprises for those who know where to look.
In 2018, Wawa offered the "Mint-er Wonderland" secret menu, which included three drinks: Peppermint Steamer, Peppermint Bark Cream Smoothie, and Peppermint Hot Chocolate (via Philadelphia Magazine). These drinks had a wonderfully rich yet uplifting quality that really conveyed the holiday spirit. The Peppermint Bark Cream Smoothie was served topped with whipped cream and was particularly appealing, despite being a frozen drink sold in the dead of winter (via Twitter).
All three Mint-er Wonderland drinks were equally perfect for the holiday season. Wawa's fun holiday treats did a lot to ensure that its keen patrons were rewarded with minty, merry treats.
Strawberry Jalapeño Lemonade
Many of Wawa's secret menu items are sweet and include fruity lemonades, seasonal smoothies, and sugary milkshakes. Wawa's Strawberry Jalapeño Lemonade does have hints of sweetness but also has a spicy kick. Jalapeño may not be the first ingredient you consider putting into a sweet drink. You may be more accustomed to seeing jalapeño in cheese bread, pizza, or any other savory dish. However, in 2019, Wawa added the Strawberry Jalapeño Lemonade to its range of sweeter secret drinks as well.
Wawa's strawberry lemonade with jalapeños may not be the most conventional of lemonade flavors; however, the spicy jalapeños made for an interesting pairing with the sweetness of the strawberry lemonade base. As a post on the chain's Twitter suggested, "Not to get jalapeño business, but we think you should check out the Touch Screen."
This drink held an exciting appeal and offered an unusual secret menu selection for customers looking for a spicy-sweet drink. Patrons who ordered this drink undoubtedly enjoyed its blend of fiery and sugary flavors.
Siptopia
Wawa is one of those places that has such a devoted, cult-like fanbase that there are maybe more Reddit threads dedicated to following its secret menu items and promotions than there are for "Stranger Things." And one such secretive, ultra-special drink promotion that gets Wawa enthusiasts in a tizzy is the Siptopia promotion. You don't know when it'll happen, or even in which states, but when a Wawa Siptopia special happens, you can trust that Reddit will be the first to know.
So what is Siptopia? It's a promotion where you can get any 16 ounce custom drink for only $1.99. We're talking iced drinks, hot drinks, blended drinks, milkshakes, smoothies, including these cookie-based "smoothies" that are definitely just milkshakes, but hey, smoothie sounds healthier, all for just two American dollars. And if you wanna go even bigger and get a 24 ounce drink? That'll only set you back three bucks. According to Reddit, Siptopias have been fewer and farther between during the pandemic, likely due to supply chain and staffing issues, but here's hoping we emerge out of this into a Siptopia-filled utopian future.
Wawa Day free coffee
If Siptopia is your favorite holiday thanks to those discounted drinks, then prepare to have your mind blown because Wawa also gives away free coffees about once a year. In 2022, Wawa Day fell on April 14th, on the chain's 58th birthday (via NBC Philadelphia). And to celebrate, every Wawa location in the country (all 960 of them) gave away a free cup of coffee per customer. A birthday where we get a present? Count us in.
Wawa predicted that it would give away roughly two million cups of coffee on Wawa Day across its stores in Pennsylvania, New Jersey, Delaware, Maryland, Virginia, Florida, and Washington, D.C. That's a lot of brew. In addition to a free cup of coffee, employees at each store chose one customer to receive their secret "Day Brightener" prize, which was a box full of Wawa gifts and swag for a member of the community "to acknowledge the positivity they spread throughout their communities." Sounds like Wawa really knows how to throw a memorable birthday party.
Cinnamon French Toast Milkshake
Who doesn't love some cinnamon french toast for breakfast? Sadly, Wawa doesn't offer this as one of its myriad breakfast items (for now) but it did for a time offer the next best thing: a Cinnamon French Toast Milkshake. While it's not currently on the menu, we can hope that like many of its other secret menu items and limited-time offerings, it may one day make a comeback.
According to reviews, the milkshake had a vanilla ice cream base blended with maple syrup, whipped cream, caramel, and of course, topped with a healthy dose of cinnamon. Some reviewers complained that the maple flavor was a little light and the cinnamon flavor only came from the sprinkle on top, so that could vary greatly depending on who made your shake. On Instagram, some commenters said this shake wasn't as good as expected, which may be the reason it's no longer on the menu. Let's hope Wawa goes back to the drawing board to find a way to bring out the cinnamon-maple flavor because this shake really does sound delicious.