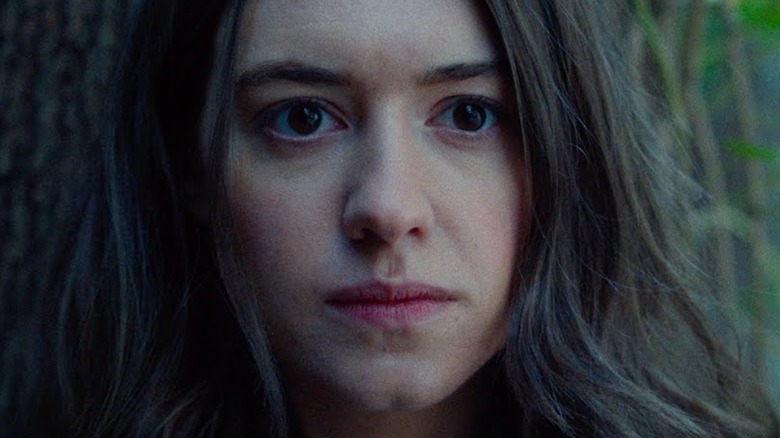 "Where the Crawdads Sing" is a 2018 thriller novel by Delia Owens which became a major best seller and mega hit. It was no surprise, then, when was nabbed up by Reese Witherspoon's production company Hello Sunshine for a movie adaptation. The story takes place in the small coastal town of Barclay Cove, North Carolina, in the 1950s and '60s. A young woman named Kya lives alone in the marshes along the town, earning her the nickname "Marsh Girl." Kya was abandoned as a child — first by her mother, who decided to leave her abusive husband and gaggle of children behind, and then by all of her siblings and father.
But Kya does manage to survive, grow up on her own, and become a naturalist by teaching herself about the land and wildlife. Wild and free herself, she stays on the outskirts of society, eschewing all "normal" living. She does, however, form relationships with two young men. First there's Tate, a sincere boy who teaches her how to read and write. And then there's Chase, a popular townie who triggers Kya's adolescent development. But when Chase ends up dead, Kya gets charged with his murder, throwing the whole town of Barclay Cove into a thrilling mystery.
There are some newcomers among the cast of this southern gothic drama, but there are some familiar faces as well. Here's where you've seen the cast of "Where the Crawdads Sing" before.
Daisy Edgar-Jones as Kya
Protagonist Catherine "Kya" Clark grows up alone in the marshes of Barclay Cove, North Carolina. Her mother walked out on their family when she was very young, and after that, one by one, her siblings left as well. Kya lived alone with her drunken father for a time, until he didn't return from a night out gambling. She tried going to school once, but the kids ridiculed her so much that she never returned. As a young adult, Kya collects feathers, shells, and other sea trinkets to study as her own form of education. Her childhood friend Tate teaches her how to read and write, but when Tate goes off to college, Kya begins a relationship with Chase Andrews.
Kya is played by English actor Daisy Edgar-Jones, who is probably best known for playing Marianne in the BBC's TV adaptation of Sally Rooney's "Normal People." She co-starred alongside Sebastian Stan in the Hulu movie "Fresh," in which she plays a woman whose new boyfriend tries to cannibalize her. But Edgar-Jones' career has been mostly spent in the television world. As a teen, she joined the British comedy series "Cold Feet" in its sixth season before relocating to France to co-star in Epix's Anglo-French adaptation of H.G. Wells' "War of the Worlds." And just before "Crawdads" hit theaters, Edgar-Jones acted alongside fellow Brit Andrew Garfield on FX's "Under the Banner of Heaven" miniseries. Suffice to say, her career is really just getting started.
Taylor John Smith as Tate Walker
Tate and Kya first meet as children when Tate, out fishing, discovers Kya lost in her father's tiny boat and helps her find her way through the marsh and back to her shack. From then on, Tate and Kya have a devoted friendship, and Tate is the only one Kya lets into her world or near her home. They share a love of the marsh and all things in nature, though Tate wishes to study it all more scientifically. As they grow into young adults, Kya and Tate's relationship blossoms into something more than friendship. But when Tate has to leave for college, Kya feels betrayed and abandoned.
Tate is played by Taylor John Smith, who is no stranger to the mystery thriller genre. He co-starred alongside Amy Adams in the HBO adaptation of Gillian Flynn's "Sharper Objects." Smith started out his career as an unnamed tribute in a video in 2012's "The Hunger Games," and has consistently acted since then. In the television realm, Smith has had roles on "Hart of Dixie," "Hawaii Five-0," "Grey's Anatomy," "Chicago P.D.," and "Faking It." His transition to the big screen includes "Wolves" with Michael Shannon, the Netflix thriller "You Get Me," the 2020 World War II horror film "Shadow in the Cloud," and the Liam Neeson thriller "Blacklight." He will soon be seen in "Come As You Are," which explores the dark corners of social media where he'll co-star alongside "Game of Thrones'" Sophie Turner.
Harris Dickinson as Chase Andrews
Chase Andrews is the kind of popular boy that has a lot of friends, girlfriends, and prospects. So when Tate goes off to college, Chase uses Tate's absence to his advantage and swoops in on Kya, acting on his infatuation with "The Marsh Girl." Their relationship is full of young lust, but on the surface it's clear that Chase is using Kya while pursuing a "respectable" life in society as well. So Chase becomes the second young man to betray Kya, turning her off of living among people for good. But when Chase Andrews ends up dead, having fallen from the top of a fire tower, Kya becomes the sole suspect in his murder.
English actor Harris Dickinson plays Chase. Like his co-star Daisy Edgar-Jones, he started his career on British television, appearing on the series "Some Girls." His big break in stateside came via the FX miniseries "Trust," which tells the story of the 1973 kidnapping of John Paul Getty III. Dickinson starred as the young Getty, the grandson of oil tycoon John Paul Getty, played by Donald Sutherland. He then took over the role of Prince Phillip in the 2018 sequel "Maleficent: Mistress of Evil," and took the lead in the "Kingsman" prequel "The King's Man." 2022 found him attached to the FX miniseries "Retreat" and the film "See How They Run," in which he plays a young Richard Attenborough.
Sterling Macer Jr. as James 'Jumpin" Madison
After Kya finds herself abandoned and living on her own as a child, she has to find a way to eat, take care of herself, and make money. She starts collecting mussels and oysters in the marsh and takes them to the boat gas station run by a Mr. James "Jumpin'" Madison and his wife Mabel. Jumpin' and Mabel buy the shellfish from Kya to then sell to their customers, and Kya is able to buy herself staples like food and clothing in order to survive the long years alone. Jumpin' becomes more of a father figure to Kya as she grows up, having been abandoned by her own father at seven years old. And Jumpin' and Mabel take care of Kya as best they can, when she allows herself to be seen and helped.
Sterling Macer Jr. plays Jumpin', and he has an acting career stemming all the way back to 1989. He co-starred in 1993's "Dragon: The Bruce Lee Story," and has a long resume of television roles, including the soap opera "Generations," the Kyle Chandler-led veteran drama "Homefront," the Beau Bridges western series "Harts of the West," and the police drama "Lincoln Heights," as well as small stints on "NYPD Blue," "Veronica Mars," "CSI Miami," "JAG," "24," "Bones," and "NCIS." In other words, just about every crime procedural show out there.
Michael Hyatt as Mabel
Mabel, Jumpin's wife, runs the shop attached to Jumpin's boat gas station where Kya is able to sell her shellfish in exchange for groceries. Mabel also collects donated items, including clothing, for Kya as she grows up. Mabel and Jumpin' become Kya's new family over the years, and Mabel is the only person Kya lets hug her as a child.
Mabel is played by yet another English actress, Michael Hyatt. Acting on screen since 1995, Hyatt has had long stints on some of the most prestigious television shows, including "The Wire," "True Detective," and "The West Wing," on which she played Angela Blake. Other one-offs and short stints include spots on "Ally McBeal," "Six Feet Under," "24," "Law & Order," Grey's Anatomy," "Bones," and "NCIS," among others. She also played Dr. Noelle Akopian on "Crazy Ex-Girlfriend." Her most recent project before "Crawdads" was the 1980's-set FX series "Snowfall."
David Strathairn as Tom Milton
Tom Milton is the retired lawyer whose ears perk up when he hears the town gossiping about how "The Marsh Girl" killed Chase Andrews. He remembers Kya from when she was a child and he encouraged her to go to school, so he decides to come out of retirement and represent Kya as her defense attorney for free, knowing that she surely doesn't have the money for a fancy lawyer. Milton is kind, and almost a caricature of a Southern gentleman. As it turns out, though, his softness is a ruse covering how hard he works and fights for Kya during the case, and to good results.
Tom Milton is played by famous character actor David Strathairn, whom you probably recognize from about a zillion different movies and television shows over the last four decades. He played Ira Lowenstein in Penny Marshall's 1992 comedy classic "A League of Their Own," and appeared in dramas like "L.A. Confidential," "The Firm," and "Lincoln." He's done the Jason Bourne franchise, Shakespeare adaptations like "A Midsummer Night's Dream" and "The Tempest," and tons of television, such as "The Sopranos," "The Expanse," "Billions," and "The Blacklist." Strathairn's most famous role, however, was probably that of defiant broadcast journalist Edward R. Murrow in George Clooney's 2005 black-and-white nail biter "Good Night, and Good Luck."
Garret Dillahunt as Pa Clark
"Pa" Clark, Kya's father, returns from fighting in World War II with an injured leg and a dependence on alcohol. His abuse of Kya's mother and their children make up most of Kya's childhood memories of her father, so much so that when her mother finally walks off and leaves her children behind, Kya eventually grows to understand why. One by one, Kya's siblings all abandon the family shack due to Pa's drunken abuse. Kya seems to be the only one who's able to hide from him, giving her an advantage in the thick marshes. One night when Pa doesn't return from a night of gambling, Kya assumes him dead, and continues to live on her own in the marsh for the rest of her life.
A commanding and stoic presence was needed for Pa, so the role went to Garret Dillahunt, who's been acting in film and television since his first soap opera role on "One Life to Live" in the '90s. Since then, he's done a ton of single episode spots, but his bigger roles have been on "Deadwood," "Terminator: The Sarah Connor Chronicles," "ER," "The 4400," "Damages," "Justified," and "Fear the Walking Dead." But the dour-looking Dillahunt has also dipped into comedy with a hilarious role on "The Mindy Project." In the movie realm, he's been in "No Country for Old Men," "Widows," "12 Years a Slave," "Winter's Bone," and "Looper," among others.
Ahna O'Reilly as Ma Clark
When she was younger, Kya's mother, aka "Ma," left her wealthy New Orleans family and moved with Pa to his North Carolina shack, abandoning a job offer from her parents. Unfortunately, it wasn't long before she found herself stuck in a life of abuse. Eventually, Ma suffers a mental break down and leaves her children behind by simply walking away. Kya watches her go, and the intense feelings of abandonment — combined with Pa's abuse — leave her struggling to trust in anyone for most of her life.
Ma is played by Ahna O'Reilly, whose early career is filled with indie movies and one-episode spots on TV shows. She played Elizabeth Leefolt, Viola Davis' character's boss, in "The Help." She's also had roles in "Forgetting Sarah Marshall," "Jobs," "Fruitvale Station," and "Bombshell." She played the victim Ashley Brown, a pivotal role, on "The Morning Show."
Logan Macrae as Jodie
Kya's brother Jodie, who is seven years older than her, is the last sibling to leave after Ma's departure. Jodie being the closest in age to Kya, he took the most care of her and played with her like an equal. But after suffering particularly intense abuse at the hands of their father, Jodie decides to take off. Before he leaves, though, he advises Kya to run away into the marsh whenever Pa tries to abuse her or when other grown-ups come looking around the shack for her. Jodie returns years later after having served in the military. He brings Kya news of their mother, as well as some of her old belongings, and he supports her through her trial. In fact, he's the only member of Kya's family that actually comes back.
Jodie is played by relative newcomer Logan Macrae, who's had roles in the horror film "The Vigil," in the drama "A Mouthful of Air" with Amanda Seyfried and Finn Wittrock, and on the TV miniseries "Black Bird." Macrae's work after "Where the Crawdads Sing" includes the Jamie Foxx film "The Burial" and a "based on true events" U.S. Navy fighter pilot movie called "Devotion."
Bill Kelly as Sheriff Ed Jackson
Sheriff Ed Jackson doesn't think Chase Andrew's death was an accident. There's just something fishy about why he fell, where he fell, and the fact that he was alone on a fire tower in the first place. He homes in on the fact that there are no footprints leading up to the tower, including those that would belong to Chase. So it's Sheriff Jackson that initially pursues Kya, aka "The Marsh Girl," as a murder suspect.
Sheriff Jackson is played by actor Bill Kelly, whose most recent role was as Coach Wright on the TV reboot of "The Wonder Years." But Kelly was plenty prolific on TV before that, with stints on "MacGuyver," "True Detective," "Queen Sugar," "Halt and Catch Fire," and "Burn Notice." Notably, he played Clay Grunwald on "Bloodline." At the movies, Kelly has appeared in "The Ravine," The Banker," and "Hillbilly Elegy," among other small indie films earlier in his career.
Joe Chrest as Dr. Cone
Coroner Dr. Cone plays an important part in Kya's murder trial. He's the one who performs the autopsy on Chase, finds microfibers of a wool hat of Kya's on Chase's clothes, and determines that Chase's head wounds imply that he was pushed, rather than fell. His testimony sheds doubt on Kya's innocence, and while he's just doing his job, the character serves as something of an antagonist who complicates Kya's case.
Dr. Cone is played by Joe Chrest, best known as dad Ted Wheeler on Netflix's hit sci-fi series "Stranger Things." Elsewhere on the small screen, Chrest has been seen on the TV version of "The Purge," he played Elvis Presley's dad Vernon on CMT's "Sun Records," and he played Detective Demma on "True Detective," which shot his career out of indie movie obscurity. He's acted alongside Mark Wahlberg in "Deepwater Horizon," with Hugh Jackman in "The Front Runner," and he has a role in Martin Scorsese's 2023 film "Killers of the Flower Moon." He's also got a part on the TV "A Friend of the Family" with Anna Paquin and Colin Hanks.
Eric Ladin as Eric Chastain
Prosecutor Eric Chastain is the opposite of defense attorney Tom Milton. Whereas Tom is a quiet gentlemen, Chastain is loud, flashy, and pompous. He's assigned to prosecute Kya for the murder of Chase Andrews, and uses all of his bombastic voice and wild persona to do so. Kya, being the self-taught naturalist that she is, compares him in her mind to the wild male animals that have to puff themselves up and make them seem bigger than they are in order to scare off competitors or win partners.
Eric Chastain is played by Eric Ladin, who is likely best known for playing Kerry Stone on the popular drama series "Ozark." But Ladin has a pretty extensive television career under his belt. He's played Scott Anderson on "Bosch," Gene Kranz on "For All Mankind," Chris Kraft on "The Right Stuff," Trevor Wozniak on "Six," Sawyer Crane on "Longmire," Jamie Wright on "The Killing," and J. Edgar Hoover on "Boardwalk Empire." And those are just some of his multi-episode television roles. Ladin is also an accomplished voice actor with roles in video games, animated series, and films, most notably across Avengers and Scooby-Doo tie-ins.
Jayson Warner Smith as Deputy Joe Purdue
Deputy Joe Purdue assists Sheriff Jackson in his investigation into Chase Andrews' death. As he and Jackson pour over details, interview potential witnesses, and dig into Kya's character, Deputy Joe seems more interested in the free lunches he'll get from the various diners and shops in which he and Jackson have their meetings. Much like Sheriff Jackson, he too believes Kya guilty of the murder, and his thoughts come to epitomize those of the rest of the community in Barclay Cove, judging Kya for being a wild and untamed young woman in a world of strict societal rules.
You've definitely seen Jayson Warner Smith, the actor who plays Deputy Joe Purdue, in other movies and TV shows. He just has one of those recognizable faces that makes you say, "Oh hey, it's that guy!" Smith played Gavin on "The Walking Dead" and Wendall Jelks on "Rectify," likely his two most notable roles. But Smith's penchant for playing somewhat creepy-looking white guys has gotten him a ton of other roles in film and television over the course of his career.
Jojo Regina as Young Kya
"Where the Crawdads Sing" covers a lot of Kya's childhood, so it's only right that the filmmaking team would find a young actor just as wild and spirited as the character. Young Kya has to have the range enough to show her love for her Ma and brother Jodie, her fear of Pa, the betrayal when her family leaves her, the resilience to survive, and the ability to trust again when meeting young Tate. It's a tough role, sure to be demanding of even the most talented child performer.
Young Kya is played by Jojo Regina, a young actor making her feature film debut. Regina has appeared in commercials and an episode of the religious TV series "The Chosen," but that's about it. Perhaps "Where the Crawdads Sing" will mark the arrival of a rising star, and we'll be seeing much more of her in the future.