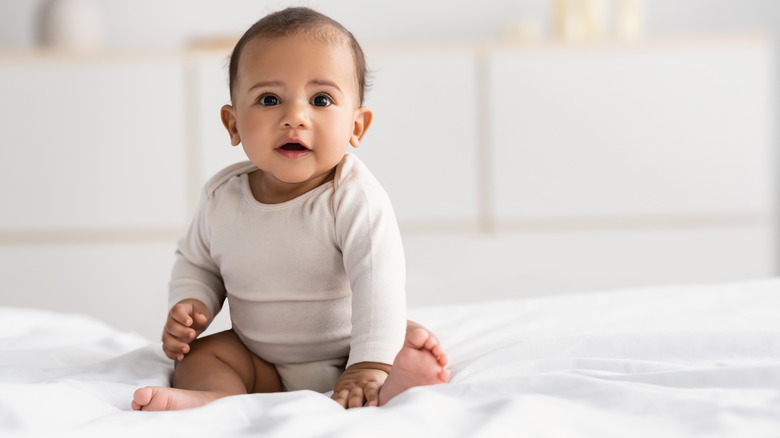 If you want to take a step back from the traditional blue and pink nursery colors, this post is for you. Whether you are waiting to know the sex of the baby after delivery, or you just want to design a nursery with neutral colors so you can add pops of color to the décor, we can help. According to The Bump, moms are all about embracing great design instead of slapping a pastel blue or soft pink for a nursery. We love this trend, especially since color and design have been shown to impact sleep.
With so many colors that affect mood, blend easily with existing décor and furniture, and can grow with your baby as he gets older, there are some fantastic options today for boys. We've got excellent colors to paint your son's nursery that isn't blue but sure to match your personal style, making the nursery the perfect oasis for your little newcomer. Let's get into it!
1. Black and white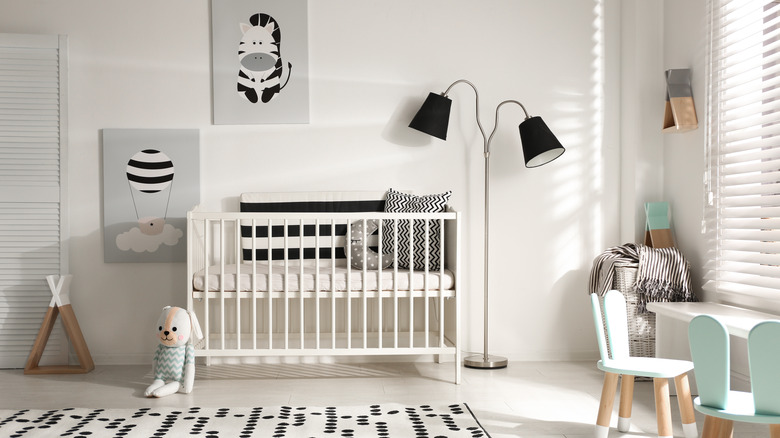 While black and white may not be the first colors you think of for a baby's nursery, choosing these neutral and contrasting shades encourages the use of patterns, decals, and furniture to introduce pops of color to the room. It's also one of the first colors a baby can see, and the contrast of the two can actually help develop the optic nerves, which helps cognitive development without overstimulating, according to Tiny Love. This is why you see many newborn toys and books having that stark contrast of white and black. Having a room to do that is smart and thoughtful.
Patterns can also help with a newborn's vision, and it's also a great design. It achieves the goal of a beautiful, modern nursery, a plus for those that love a pleasing aesthetic that serves a purpose. Try an accent wall with a coat of black paint with white stars, stripes, or simple dots. Another idea is to leave the ceiling white with black accents, making a beautiful mobile that babies can focus on as they age and can see farther away.
2. Mint green
An ode to a spring baby, a mint green nursery feels bright, airy, and modern. Green is an excellent color for a nursery because of its calming and soothing nature. Adding greenery to the room is great, and there are so many wallpaper designs and decals of lush trees and garden patches that would be so nice in a gender-neutral space. It's also a great way to decorate the room in a way that can grow with the baby for the toddler and little kid years.
Try an ombré paint design on a dresser or bookshelf, or pair it with darker shades like navy for a bold contrast. Adding textures like wood and metal can also give a mint green nursery some style and can match the rest of the home. According to Kids Interiors, mint green is versatile and actually pairs well with many shades. For a room that has some natural light, mint green can really take it up a notch.
3. Earthy brown
Another beautiful hue with a nod to nature, earthy brown, can easily be matched with other shades to match a design that fits your style. It also has a reputation for being modern, grown-up, and elegant. Brown symbolizes being grounded, in tune with nature and the elements that give life to plants and flowers. Brown is also a popular home décor neutral shade, so if you want to match the rest of the home, this is a good color.
Project Nursery suggests going with either light beige, tan or dark chocolate brown if choosing an earthy brown for a nursery, as the in-between shades can resemble, well, you know. To add some pretty contrast, pair with red and orange — just be aware of the possibility of the room looking darker than you want. Find the area of the room with the most natural light to optimize the paint color.
4. Purple
Purple is a beautiful color that elicits feelings of royalty and elegance, making it ideal for a little prince. According to Colgate Mattress, the color has the soothing, calming properties of blue but is elevated in a modern way. Bold shades can be overstimulating, especially for a nursery, so go with lilac or lavender. Those shades are easy on the eyes, helping little ones prepare for dreamland, to which all parents would give a standing ovation.
Keep in mind that a little goes a long way, so it's suggested to go a shade or two lighter when picking out purple for a nursery. If you want to go bold, an accent wall will work really well, bringing some style to the room, as would a design like stripes of purple and white or gray to add contrast. There are some great purple shades that work beautifully in a baby boy nursery.
5. Red
Crayon, apple, Elmo, and alphabet red are very popular in baby and toddler land, making it a fun option for a baby boy's nursery. The color red can symbolize power, independence, and creativity, which is why we love it for a baby boy's nursery room. Whether it's an accent wall, fun decals, or stick-on wallpaper, there are many fun red options for any style and décor. Happiest Baby suggests not to be afraid of themed rooms that would go so well with the color red. Try a London theme with red phone booths, or go for primary colors that would be so fun and creative and easily transition into a toddler and little kid room as well. In the future, a red-themed color could also become a playroom or study room as the shade can help focus.
We hope these colors encourage you to look outside the baby blue paint shade for a nursery and try a gender-neutral color that is fun, creative, modern, and has the potential to last through the years.