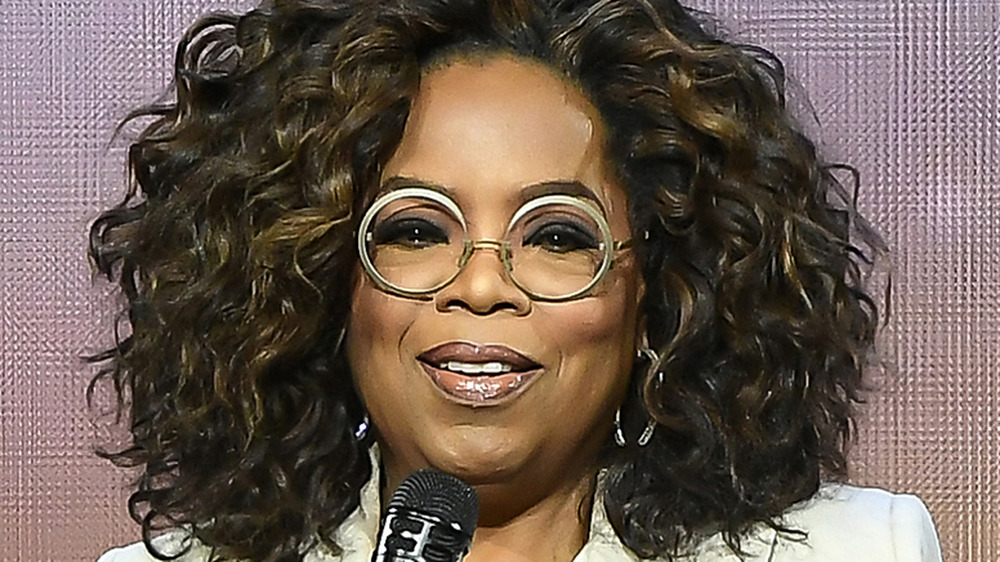 With crash diets and diet trends coming and going, there is a solid reason Weight Watchers has withstood the test of time. According to the company's site, some iteration of the program has been around since the early 1960s. And while it has seen major changes and upgrades — including the 2018 wellness rebrand to the name WW, the core value of the program remains the same: community support, goal-setting, and continued health education.
Celebrities have been a part of the Weight Watchers experience since 1983, when actress Lynn Redgrave became the company's first celebrity spokesperson (via Weight Watchers). While there have been a fair share of A-list (and not-so-A-list) stars who have used or continue to utilize some of the plan's principals, some have been more successful at dropping pounds and committing to living healthier, happier lifestyles.
Want to know which stars have embraced the WW life? Read on for all the celebrity scoop.
Jessica Simpson lost weight on Weight Watchers twice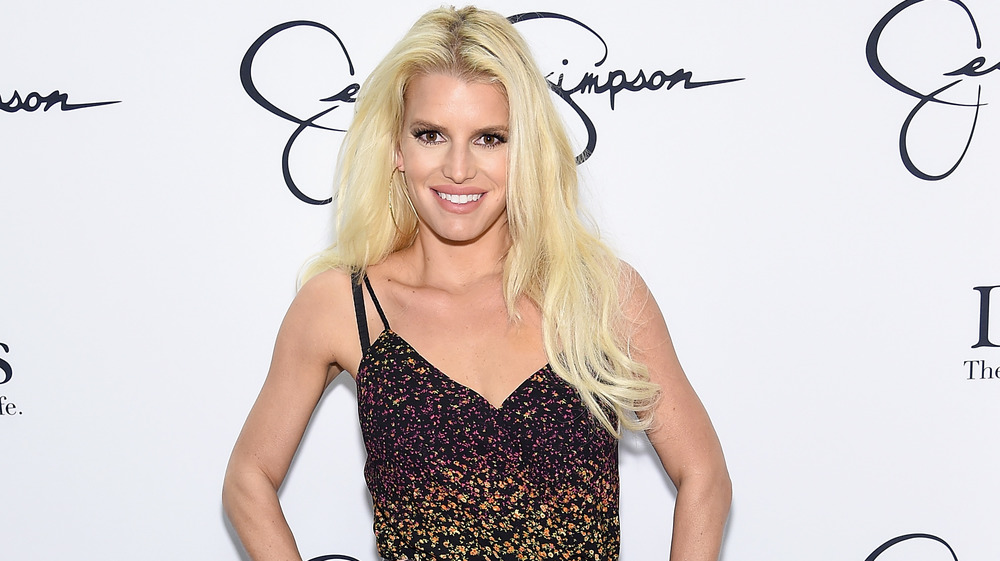 In 2013, Simpson told USA Today that pregnancy "took a toll" on her body and health. She had two kids almost back to back, and her body didn't bounce right back (seriously whose would?). However, she already had the tools to kick start a healthier lifestyle.
After the birth of her first child, she went on Weight Watchers, lost 50 pounds, and learned the fundamentals of healthy eating and diet management. After giving birth to her second child, she eagerly signed up for the company's 14-day Simple Start plan, which streamlines specific grocery lists and provides designated menus. She noticed a difference quickly, and soon transitioned to the regular Weight Watchers points system.
A few years later, when she got pregnant with baby number three, Simpson "tipped the scales at 240 pounds," as she revealed on Instagram. "When [I'm] pregnant, I gain a lot, I mean, a lot. I didn't expect to gain as much with my third. I thought I'd learned my lesson, but apparently, that's just the way God made me, very hungry and pregnant," She joked to People. Although she chose a different program this time around, she still managed to lose 100 pounds with hard word, perseverance, and healthy choices.
Oprah Winfrey found success on Weight Watchers and became the face of the brand
For decades, the public witnessed Oprah Winfrey's weight loss journey and yo-yo dieting struggle. After many years and failed attempts, the iconic television host turned to Weight Watchers. Through the program, she found compromise and sustainable success. She told USA Today in 2020 that she "never feels deprived." She elaborated, saying, "I never feel that I'm wanting for anything. The moment I would go on a no-carb diet I started craving bread."
Eventually, her journey became less about the pounds lost than the knowledge, confidence, and mental wellness gained. "Healthy for me is the new skinny," she continued. "You are never going to see me trying to fit into a pair of jeans to suit anybody else again."
Oprah is not only a WW advocate, she's a major shareholder, board member, and advisor. She even teamed up with the company to host a series of high-profile interviews as part of her "Oprah's 2020 Vision: Your Life in Focus" tour (via USA Today).
Jennifer Hudson was a Weight Watchers ambassador for years
In 2010, Academy Award-winning actress and singer Jennifer Hudson started her journey with Weight Watchers, monitoring her diet and exercise choices and even regularly meeting with a coach. Throughout her four-year ambassadorship with the brand she lost a whopping 80 pounds, according to People, and showed off her body in prime time commercial spots. In one such ad, she boasted, "I've never been this size in my adult life" (via The New York Times)
When Hudson amicably parted ways with the company in 2014, she talked to People about the success of the partnership and her long-term health goals. "My experience with Weight Watchers has truly been life changing," she began. "I am grateful for what I have learned throughout the process and will always take it with me."
Most importantly, Hudson shared a message with fans that a weight-loss pursuit has to be motivated by your own desire, and no on else's. "The key about losing weight: You have to do it for you," she explained.
Jenny McCarthy partnered with Weight Watchers after having her son
Jenny McCarthy may have been crowned Playmate of the Year in 1994, but since then, she has had her share of weight struggles. Like many women, her biggest period of weight gain happened while she was pregnant.
In 2011, she told Shape that she was 211 pounds at the time of her son's birth. "I thought I might be 170 when I left the hospital," she revealed, "but no, I was 200!" Soon afterward, she partnered with Weight Watchers and became a celebrity spokesperson (via The New York Times). "They taught me portion control and to be conscious of what I put in my mouth," the actress and former model told Shape.
While she learned how to eat healthy and follow a smarter diet plan, McCarthy admitted to Radar in 2013 that sometimes her weight still fluctuates. "I'm a big yo-yoer. I do go up and down. I go from like 120 to 138. … And I take this time to thoroughly enjoy it during the holidays. I'm kind of part of the collective thinking when it comes to just surrendering to the not so great foods."
Ginnifer Goodwin has been a member of Weight Watchers for decades
Ginnifer Goodwin has been on Weight Watchers for over two decades. She told Health that she was a "heavy little girl," and that she was "unhappy." Thus began her pursuit to eat healthy and manage her weight. "[Weight Watchers] is the only thing on the planet that doesn't dehydrate you or just make you miserable," she explained. "I've never had a dramatic weight problem, it's just that I tend to indulge, and then I need to get back on track so I can button my pants."
When Goodwin first publicly admitted to her long-term use of Weight Watchers, she faced some backlash. In an interview with Glamour, Goodwin told Katie Couric that she realized that many people don't understand that Weight Watchers is simply a system of learning "good eating habits." Still, Goodwin admits that she has a specific weight she strives for in adulthood. She elaborated to Health, saying, "My happy number [is] where I feel good about myself and my energy's high."
Kate Hudson chose WW to get back to her "fighting weight"
Kate Hudson may not look like she participates in any specific weight-loss plan; however, after giving birth to her third child in 2018, she became a celebrity ambassador for WW — and it wasn't without some controversy.
As reported by Today, there was initial backlash over the partnership. Hudson is, after all, svelte, and, well, movie-star beautiful. She explained her decision on the morning TV show, saying, "My struggle is not in weight loss. Mine is about staying healthy, trying to stay focused and balanced." Furthermore, she talked about the "re-imagining of WW." The actress elaborated, revealing, "To me, it's all about support. … It's a community for people to understand their health better, holistically." It's simply a way for her to stay motivated and inspire other people on their journey along the way.
While wellness may be Hudson's ultimate goal, weight loss was still part of that picture initially. Hudson admitted on Instagram that she had a goal of shedding 25 pounds of postpartum weight and getting back to her "fighting weight" in time to film a new movie.
Tina Fey first signed up for Weight Watchers in 2000
Funny woman Tina Fey hasn't always been slim and trim. During Oprah's 2020 Vision: Your Life In Focus tour, in partnership with WW, she told the host that when she was in her 20s with a budding career, she struggled to keep her weight in check. "I was in Chicago, and really enjoyed the food … and the big coats" (via Prevention).
However, the witty actress could not stay hidden under parkas when she came to New York in the late '90s to join the team of Saturday Night Live: "I was a size 12 when I came to the show, and then I was really dealing with my stress with Krispy Kremes," she told People in 2004. And this just about sums up why Fey considers herself a "lifetime" follower of WW.
She officially became a member in 2000, and gradually lost 30 pounds while tracking her food intake. She told Oprah Winfrey that while she doesn't always actively count points, she'll still pop on the WW Connect app from time to time (via Prevention).
Ciara joined WW after gaining 65 pounds during her third pregnancy
After welcoming her third child in 2020 and subsequently gaining 65-plus pounds, Ciara became a WW ambassador. She realized that despite being incredibly busy as a mom, she needed to prioritize her own health and wellness for the sake of her family. She told People, "The extreme way that I would approach my eating habits [before] is just unrealistic for me. I have too much to look after, and I'm also breastfeeding." Cue: WW.
The performer users the WW app, counts her points, and follows a flexible program. She elaborated, saying, "For me, it gives me something to look forward to and makes it fun. … What I really love about this is I'm having fun while also learning how to develop really good eating habits. One of the ultimate goals is to have a good wellness lifestyle that's going to carry me through life."
What's more, Ciara revealed that following the basic principles of WW can work wonders. In early 2021, she posted a photo on Instagram and exclaimed that just a few months into her weight-loss journey, she'd already lost 28 pounds.
Katie Lee joined WW to feel "healthy and strong" for her daughter
TV host, cookbook author, and lifestyle guru Katie Lee's job revolves around delicious comfort foods. And while she's — by most accounts — considered quite slender, she relies on WW to help her keep track of her eating patterns and refocus on wellness.
As a WW ambassador, she shares some WW-friendly recipes on the company's site, including one for "lightened up chicken Parmesan." She also revealed her motivation for joining the plan in a January 2021 Instagram post, writing, "These days my wellness motivation is more about feeling healthy and strong for my daughter, and less about how I look in a bathing suit. I gained 45+ pounds in my pregnancy and enjoyed every bit of it."
While she said that she's not doing WW to get back to her "pre-baby body," she is looking to get more control over her meal planning and dietary decisions. "It's very easy to just grab something without thinking about what it is when I'm in a hurry, but the app point tracker holds me accountable," she continued. "WW works for me because it's so flexible."
WW helps Daphne Oz manage her "stress eating"
After having her fourth child, talk show and podcast host Daphne Oz was ready to make some changes to her lifestyle — and WW was there to help. In May 2020, she announced that she'd lost almost 50 pounds since giving birth to her youngest daughter nine months earlier. "I still have a way to go, but my aim to feel strong in my skin, energetic for my kids, and to love the way my clothes fit have been my guide," she revealed in an Instagram post.
During an Instagram Live with her WW coach in spring 2020, she said, "[WW has] been such a welcome guide for me, particularly in the last couple of months when it's been kind of like a free for all, home a lot. In my old mindset, I might have gone back to emotional eating, back to stress eating" (via Good Morning America).
Josh Ostrovsky followed his mother-in-law's example and joined WW
"The Fat Jewish" aka influencer Josh Ostrovsky is known for his humor and large frame. He was okay with that — until he wasn't. He said in an interview with Men's Health, "I used to live life like an unmonitored 12-year-old at a sleepover. I just ate what I wanted." But when he caught sight of a photo of himself weighing nearly 300 pounds, he decided that enough was enough. He opted to follow in his mother-in-law's footsteps and join WW, using the company's blue plan, which lets him choose 200 foods that have zero points; everything else has a designated value.
He admitted that the plan is not complicated nor antiquated. "People think of it as being kinda dusty," he explained. But according to him, "it's super cutting edge" these days. What's more, he told Men's Health that it has changed his life for the better in a subtle and simple way. "I thought it was going to be some crazy insane journey. Honestly, once I discovered WW the journey wasn't that bad," Ostrovsky opined. "It wasn't like I woke up every day and was like, 'Rise and grind. Time to get after it.' I basically just lived my life."
DJ Khaled started "cruising" on Weight Watchers in 2017
At 293 pounds, record-producing sensation D.J. Khaled decided he needed to do something about his weight. And so in late 2017, he joined Weight Watchers, and officially became an ambassador for the brand in 2018 (via Men's Health). A year after beginning the program, he boasted about his 43 pound weight loss on Instagram, saying that he's simply enjoying the process, and "cruising" on the journey.
Khaled told Men's Health that his motivation is and has always been his family. "I have to love myself to take care of the people that I love," he explained. "It's not a priority, it's the only priority." He's learned throughout the process to enjoy temptation, but indulge with caution. Moderation is the spice of life, and WW helps him have the best of both worlds.
"I love pumpkin pie, I love sweet potato pie," he admitted, before adding, "But I touch that and it still pleases my taste buds. I'm not gonna eat it seven days a week now. I might eat it once a week and it's like a celebration."
Kevin Smith joined Weight Watchers following a heart attack
After suffering a major heart attack in February 2018, Kevin Smith decided to make some serious changes and follow the potentially life-saving advice of his doctor: Lose 50 pounds. Of course, that is no small feat to take on solo, so Smith elicited the help of Weight Watchers. And just a half-year later, he celebrated his success in a humorous (and completely on-brand) Instagram post.
"Six months ago from right now, I was in the hospital recovering from a heart attack I'd had the night before," he captioned side-by-side photos of himself. "I started at 256 and now I weigh 205," he continued. "This is the lightest I've been since high school! My hope now is I can slowly lose another 10 with [Weight Watchers] and get down to my birth weight of 195!" However, he said he was thrilled to have already lost over 50 pounds. Inspired by his vegan daughter, Harley Quinn, Smith also wrote that he began exploring a "meatless/milkless galaxy."
James Corden made a resolution to join WW in 2021
Host of The Late Late Show, James Corden, admitted that years of failed New Year's diet resolutions left him feeling sad and frustrated. He decided that 2021 would be different, and on January 1, he announced his partnership with WW.
Corden got real in a video he released for the brand, saying, "I'm fed up with the way I look, I'm fed up with being unhealthy, and this is it — this is the year I'm doing it." So how did he commit to making this attempt different from those of the past? Corden said that a few WW experts helped him see that he his previous strategies were doomed from the get-go. "They told me that probably what I'm doing wrong is that I'm going on a diet, and that's probably not the answer," he explained.
Additionally, Corden reflected on his mission and motivation in a WW press release. "I don't want to wake up tired, or feel embarrassed when I'm chasing my son on the soccer field and out of breath after three minutes," he explained. "The weight is not the issue, it's the wellness of it I am ready to tackle." As of mid-February 2021, he'd already lost 16 pounds (via People).