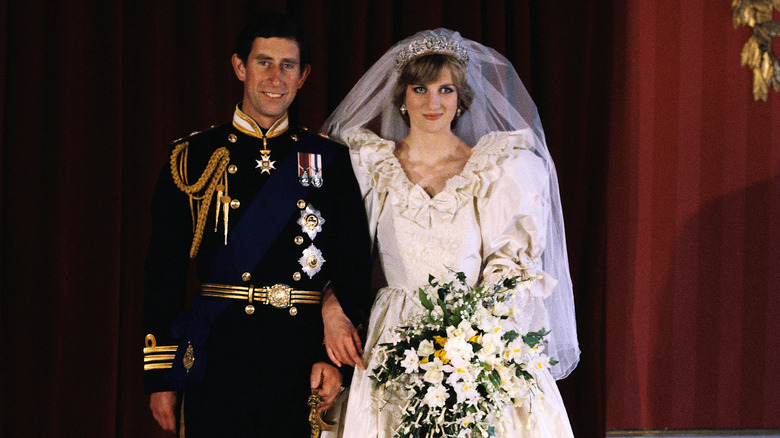 While plenty of people fantasize about having their dream wedding, most won't get to experience the perks of the luxurious affair that is a royal wedding. But even though a royal ceremony sounds like the ultimate wedding experience, merely being a royal does not guarantee a perfect day. No, members of royalty aren't immune from experiencing the occasional mistake — or two or three — during their big day.
While some wedding mishaps seem pretty minor, other instances are seriously shocking. And of all the weddings in royal family history, Prince Charles and Princess Diana's ceremony certainly takes the cake when it comes to blunders. Nevertheless, plenty of other royals have experienced mishaps, too.
Royal wedding gaffes run the gamut from tripping to falling asleep to even saying the wrong name during the vow exchange — whoops. Here's a look at the many royal weddings that just didn't go as planned.
Prince Charles appeared to fall asleep during the Duke and Duchess of Sussex's wedding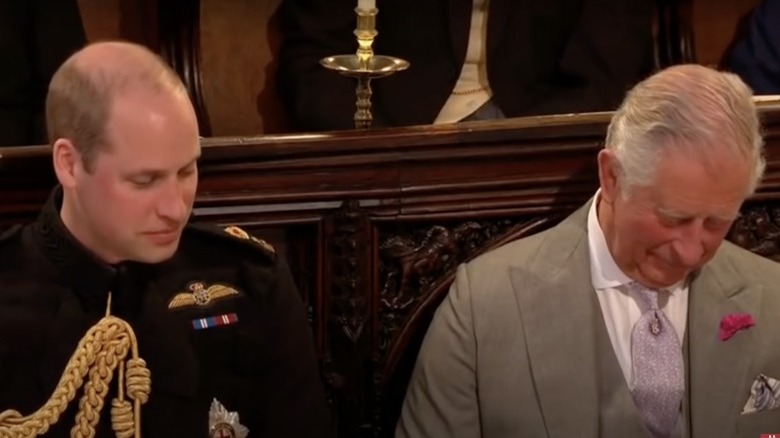 While plenty of royal fans eagerly watched the wedding of Prince Harry and Meghan Markle, it would appear that the same didn't apply to some of the royal attendees. As Cosmopolitan reported at the time, a number of Twitter users viewing the televised event believed that Prince Charles fell asleep during his son's wedding. "Prince Charles is falling asleep," one person watching the royal wedding tweeted. Another wrote, "Someone find the switch on button for Prince Charles." According to Insider, this wasn't the first time the Prince of Wales may have nodded off during a televised event. It also looked like he fell asleep during the State Opening of Parliament — during his mother Queen Elizabeth II's speech, no less.
Whether or not Charles nodded off during his youngest son's wedding, CNN noted that he still played an important role on the big day. He stepped in to walk Meghan down the aisle after her father backed out, citing medical issues. In a BBC documentary, Prince Harry said, "I asked him to and I think he knew it was coming and he immediately said, 'Yes, of course, I'll do whatever Meghan needs and I'm here to support you" (via CNN).
Prince William was sleep deprived on his big day
A person's wedding is one of the biggest milestones in their life so, naturally, it comes as no surprise that many get nervous before the big day. According to the Daily Mail, Prince William, the Duke of Cambridge, barely slept the day before his wedding citing nervousness and cheering crowds as the reasons he couldn't get much shut-eye. Regarding the noise outside his quarters at Clarence House, Prince William stated, "They were singing and cheering all night long, so the excitement of that, the nervousness of me and everyone singing — I slept for about half an hour."
Similarly, Hello! Magazine noted that Prince William went outside and greeted the thousands who were camping out by his father's home. The prince told them that all he needed to worry about was reciting his lines correctly. According to the publication, the Duke of Cambridge isn't the only royal in the family who ended up with sleep deprivation on their wedding day. Years later, when William's younger brother married Meghan Markle, the pair were both "exhausted," according to royal photographer Alexi Luormirski. "She just slumped in between his legs and there was this moment they were just laughing because of how exhausted they were and that finally it was all over," he told Hello! Magazine.
Queen Elizabeth's tiara was accidentally broken
Even with extensive planning, wedding mishaps are bound to happen — even to monarchs like Queen Elizabeth II. According to Hello! Magazine, Queen Elizabeth's wedding had a surprising last-minute accident that almost turned into a big disaster. The queen was ready to walk down the aisle in her stunning Sir Norman Hartnell white satin dress and the Queen Mary's Fringe Tiara. But unfortunately, the headpiece ended up getting broken shortly before the ceremony. Speaking about the accident during an exhibition of Kate Middleton's wedding dress in 2018, the queen revealed, "The catch, which I didn't know existed, it suddenly went … I thought I'd broken it … We stuck it all together again, but I was rather alarmed."
In an interview with Marie Claire, the royal jewelry house Garrard recalled the incident. They explained, "The Fringe Tiara was given to Queen Elizabeth on her wedding day, and the hairdresser broke it." The police ended up escorting the tiara to the jeweler's workshop for repair. "We fixed the tiara that morning, had it sent back to Queen Elizabeth, and then she got married in it," the jewelers confirmed.
Even though the queen's tiara incident almost caused a serious problem for Her Majesty, the headpiece has since reappeared for another royal wedding — this time without causing any major blunders. Princess Beatrice borrowed the iconic tiara for her wedding to real estate developer Edoardo Mapelli Mozzi (via Vanity Fair).
Both Prince Charles and Princess Diana messed up their vows
Whether you're having a low-key ceremony with a few guests or an elaborate affair with thousands of attendees, there's no questioning that weddings can be stressful affairs. And of course, when it comes to royal weddings that are televised, the pressure is cranked up even further.
At one of the most anticipated royal events, the wedding of Prince Charles and Princess Diana, a couple unfortunate gaffes occurred. Before 3,400 guests inside St Paul's Cathedral and approximately 750 million watching from home, Charles and Diana both mixed up their words (via Marie Claire). During the couple's vow exchange, Princess Diana referred to the Prince of Wales as "Philip Charles Arthur George" instead of "Charles Philip Arthur George." Many chalked up this mix-up to nerves. And Princess Diana wasn't the only one that misspoke during the couple's wedding vows. Prince Charles said "thy goods" instead of the correct "my worldly goods" (via Mirror). While neither mistake would have likely been noticeable at a smaller wedding, it's definitely harder to brush off errors like these when you have a global audience.
Marie Antoinette's wedding dress didn't fit
Royal wedding mishaps have happened all throughout history, as proven by Marie Antoinette's big day. The French Queen, famous for the alleged statement "let them eat cake," had a big issue with her wedding dress. The dress, a full-skirted silver gown with clumps of white diamonds, was stunning — but it didn't fit. Due to miscalculating the bride's size, the back of her dress wouldn't close, as author Caroline Weber explained in the book, "Queen of Fashion: What Marie Antoinette Wore to the Revolution." This mistake resulted in a strange gap that revealed the young Antoinette's undergarments which appeared between the rows of diamonds.
The young Austrian was only fourteen years old when she married the future King Louis XVI in the royal chapel at the Palace of Versailles, and thus her body was still growing, History Extra noted. This important fact likely wasn't taken into account, which led to the resulting too-small bodice that couldn't be fastened. Also, according to one attendee, the ill-fitting gown was obvious. She noted that there was "quite a broad stripe of lacing and shift quite visible, which had a bad effect between two broader stripes of diamonds" (via "Queen of Fashion").
Prince William struggled with Kate Middleton's ring
Prince William's wedding to Kate Middleton was unquestionably a lavish royal affair. Still, some watching the royal event pointed out that the Duke of Cambridge struggled when it was time to place a ring on his blushing bride. As noted by the Daily Mail, most people watching likely assumed that the mishap was the result of nervousness. But, according to the outlet, the real reason the couple went through that awkward moment was due to the Duchess of Cambridge's ring being too small for her finger. The ring's size wasn't an accident, though, as Middleton reportedly asked that it be made a size smaller, so it didn't fall off.
According to the outlet, Middleton may have requested the smaller band size because she allegedly experienced an issue with her engagement ring being too large. Middleton reportedly asked jewelers to alter the engagement ring so that it would fit her finger better (via Daily Mail). The sapphire and diamond ring was previously worn by Princess Diana and is said to be worth around £32 million. It's fair to say that you wouldn't want that to fall off your finger.
Princess Diana's tiara left her with a bad headache
A headache on any given day of the week can be a hassle. But having a headache on your wedding day? So much worse. Unfortunately, Princess Diana struggled with a bad headache on her wedding day due to her tiara, according to Hello! Magazine. However, the outlet noted that the princess didn't make this declaration herself. Instead, her brother, Earl Charles Spencer, made the statement during an interview with Entertainment Tonight. He said, "​​I just remember she had a cracking headache too, because she wasn't used to wearing a tiara all morning" (via Hello! Magazine).
The tiara was a Spencer family heirloom that served as the princess's "something borrowed." The striking headpiece was created in 1919 and was given to Princess Diana's grandmother, Lady Cynthia Hamilton, as a wedding gift upon her marriage to Viscount Althorp. After the princess' tragic death in 1997, the tiara was given to her brother Charles. In 2022, the tiara was displayed for the public for first time in decades. It made its reappearance at a Sotheby's auction house exhibit called "Power & Image: Royal & Aristocratic Tiaras" (via CNN). The display marked 70 years of the British monarchy and was provided on loan to the auction house by the princess' brother.
Princess Margaret and Captain Peter Townsend's wedding that never was
While a royal romance sounds like a dream come true, the couple doesn't always get their happily ever after. As noted by Town & County, Princess Margaret's relationship with Captain Peter Townsend initially began eight years after meeting, when the Countess of Snowdon was 22 years old. While the duo tried to keep their relationship private, the press furthered rumors about their romance by speculating about the couple. Still, it was the pair's desire to tie the knot that ultimately led to serious public conflict. Though there was a 16-year age gap between the lovers, the age difference wasn't considered an issue. However, Townsend's status as a divorcée was seen as the problem.
According to the outlet, Townsend's divorce in 1952 disqualified him from being able to marry Princess Margaret. Likewise, the Church of England and parliament made it clear they were against the couple getting married for this reason. In 1955, Princess Margaret publicly announced that she was calling off the wedding after it was made clear that she would lose all her royal privileges if she chose to go ahead and marry Townsend (via BBC).
According to Noel Botham's book, "Margaret: The Last Real Princess," Townsend knew that he couldn't make up for all that the princess would have lost by marrying him (via Express). As such, he wasn't resentful about her decision not to proceed.
Prince Charles told Diana he didn't love her the night before their wedding
The last thing that any bride wants to hear before her wedding day is that her partner isn't in love with her. Sadly for Princess Diana, Prince Charles reportedly told his soon-to-be Mrs. these words the night before they said "I do" (via People). The claims came from Princess Diana's astrologer Penny Thornton who spoke about the late princess during the ITV documentary "The Diana Interview: Revenge of a Princess." "One of the most shocking things that Diana told me was that the night before the wedding Charles told her that he didn't love her," Thornton revealed (via People).
The astrologer went on to say that she believed Prince Charles delivered the harsh blow because he didn't want to get married under dishonest circumstances. Still, Thornton declared that the princess was seriously hurt, as any bride would be. "It was devastating for Diana," she said, before adding that after the news, the Princess of Wales didn't want to have a wedding.
Additionally, the Independent reported that previously unseen video tapes recorded Diana's feelings about her big day, in which she stated it was the "worst day of my life." Similarly, royal wedding photographer Kent Gavin told Insider that while everyone else seemed to enjoy the wedding of Prince Charles and Princess Diana, the princess spent the day visibly miserable. "It was a very happy occasion for everybody apart from Diana, sadly," he said.
Prince Harry and Meghan Markle's big day had a few mishaps
With plenty of people watching the royal wedding of Prince Harry and Meghan Markle, it's no surprise that eagle-eyed fans spotted a couple of mishaps. As noted by Good Housekeeping, the program for the royal couple's wedding wasn't entirely accurate. It read, "The Bride, having been greeted by the Dean of Windsor, moves in procession through the Nave where she is joined by her Father, Mr Thomas Markle, to the High Altar." By the time the program was released, it had already been made clear that Markle's dad would not be in attendance.
To make matters more awkward, the father-and-daughter duo looked to have a rocky relationship, and Markle's father even admitted that he staged paparazzi photographs. After the mistake, Kensington Palace issued a statement about the mix-up, saying that the Order of Service was made before it was confirmed that Thomas Markle wasn't coming to the wedding.
In addition to this uncomfortable error, Cosmopolitan noted that the royal couple suffered another wedding blunder on their big day. The second — albeit minor — wedding fail happened during the ceremony when Prince Harry struggled to lift his bride's veil. Still, despite being momentarily embarrassing, the rest of the couple's big day appeared to run smoothly.
Queen Sofía tripped on her wedding dress
With plenty of eyes following royal weddings, it's no surprise that some royal couples experience serious pre-wedding jitters. For Princess Sophia Margarita Victoria Frederica of Greece and her groom Prince Juan Carlos, the pressure was cranked up even more. This couple had not one, not two, but three weddings — all of which took place in Athens, Greece (via PopSugar). The first was a Catholic ceremony at the Cathedral of Saint Dionysius the Areopagite, the second a Greek Orthodox wedding at the Metropolitan Cathedral of the Annunciation, and the third a civil rite at the Royal Palace in Athens.
With that many weddings to keep track of — and that many opportunities for error — it's no shock that Princess Sophia fell victim to a blunder on one of her big days. According to Vogue, the mishap occurred during the pair's third ceremony. Reportedly, the princess was so caught up in the excitement that she tripped on her Jean Dessès wedding gown. The dress, which was created out of silver and white lamé and covered in tulle and antique lace, also included a 16-foot train (quite the tripping hazard). Still, despite the mistake, the ceremony continued on, and Princess Sophie relinquished her ties to the Greek monarchy, changing her name to its Spanish variation, Sofía.
Princess Diana had issues with her wedding dress
For Princess Diana, it probably seemed as if nothing was going according to plan on her big day. Shortly before walking down the aisle, she suffered a serious last-minute wardrobe malfunction. According to Hello! Magazine, she spilled Quelques Fleurs perfume down the front of her David and Elizabeth Emanuel wedding gown. The liquid ended up very noticeably staining the material. Attempts to clean the dress didn't work, and Princess Diana was ultimately forced to place her hand over the spot, as if she were lifting her dress to walk, to conceal the stain.
Apparently, the hand placement trick appeared to work, as none of the onlookers noticed the stain. However, this wedding blunder wasn't the only problem with Princess Diana's dress. Although Diana's wedding gown was stunning, the fabric had an apparent problem with creases (via Marie Claire). One of the dress designers, Elizabeth, explained during an ITV spot that while she knew the material would likely wrinkle, she was shocked by the end result. "I was horrified, really, because it was quite a lot of creasing. It was a lot more than we thought," she admitted (via Marie Claire). The designer added that she believed the problem resulted from the lengthy dress being crammed into the princess' carriage.
Prince Charles and Camilla Parker Bowles had to confess their sins
There's no question that a wedding is meant to be a happy occasion, focusing on the joining of two individuals who are very much in love. However, witnessing a couple confessing their sins before being able to say "I do" doesn't exactly scream romance. Due to their controversial history, Prince Charles and Camilla Parker Bowles had to make such confessions.
For those not in the know, the pair were reportedly in love with one another for decades, although both were married to other people at the time. Still, despite their lengthy and surprising love story, the duo ultimately found their happy ending and married in 2005.
As noted by CNN, the bride and groom had to acknowledge their prior indiscretions before they could tie the knot. Prince Charles committed adultery with Parker Bowles when he was married to Princess Diana and, as a result, both recited a confession from the "Book of Common Prayer." According to the outlet, the prayer confession includes some seriously eyebrow-raising declarations: "We acknowledge and bewail our manifold sins and wickedness, Which we, from time to time, most grievously have committed, by thought, word and deed, Against thy Divine Majesty, Provoking most justly thy wrath and indignation against us." While it certainly doesn't sound like a dream wedding situation, the pair still managed to make it official despite the awkwardness.
Princess Charlene allegedly tried to escape her wedding
Many prospective brides fantasize about the perfect wedding; however, Princess Charlene of Monaco may have been fantasizing about how to escape hers. According to Marie Claire, her wedding to Prince Albert seemed more like a nightmare than a fairytale. According to the outlet, various reports stated that the princess tried to leave Monaco a total of three times to avoid her July wedding, but she was prevented from doing so each time.
Supposedly, the first attempt happened after the media reported that Prince Albert had conceived a child with another woman during his relationship with Charlene (via ABC News). The princess' alleged second attempt to leave Monaco during the 2010 Grand Prix was stopped by some of Prince Albert's people, who reportedly confiscated her passport. Charlene's final effort to flee is said to have happened just two days before the pair were wed. Per Le Journal du Dimanche, the princess booked a one-way ticket back to her home in South Africa but was stopped on her way to leave and convinced to stay for the wedding (via Marie Claire).
The couple then tied the knot in a luxurious three-day wedding that cost approximately £53 million. The media reported that Charlene was seen openly weeping throughout the day. However, the princess somewhat refuted such claims, telling The Times, "Everything was just so overwhelming and there were all the mixed emotions because of the rumours, and obviously the tension built up and I burst into tears." She continued, saying, "And then I burst into tears some more because I was thinking 'Oh no, now the whole world has seen me cry.'"