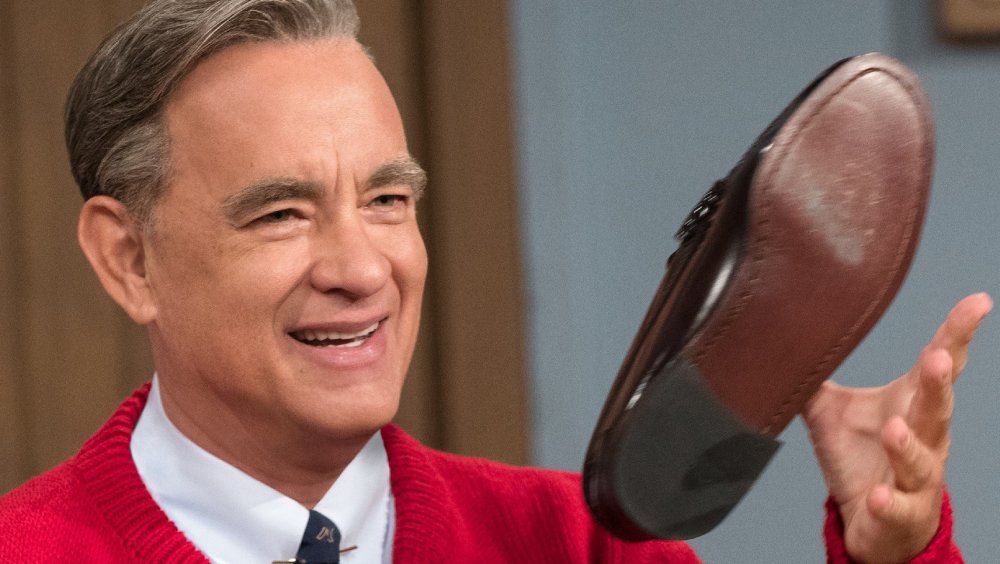 We may receive a commission on purchases made from links.
Only really important people tend to get the big-budget Hollywood biographical movie treatment — your influential world leaders, freedom fighters, and boundary-breaking rock stars, for example. But in 2019, a movie studio finally produced a film about one of the most influential figures in American history, a by all accounts great and decent man who's probably the first famous person millions can remember noticing and appreciating. That's Fred Rogers, host of Mister Rogers' Neighborhood on public television from the mid-1960s until 2001.
A Beautiful Day in the Neighborhood features the almost-as-beloved Tom Hanks donning that iconic red cardigan and sneakers to channel the man who showed kids of all ages that it was okay to have feelings, but that it was even more important to be kind. The film, directed by Marielle Heller, hits theaters in November 2019 and has generated some Oscar buzz, so "won't you please" have a read about the making of A Beautiful Day in the Neighborhood?
A Beautiful Day in the Neighborhood is about a reporter, not Mister Rogers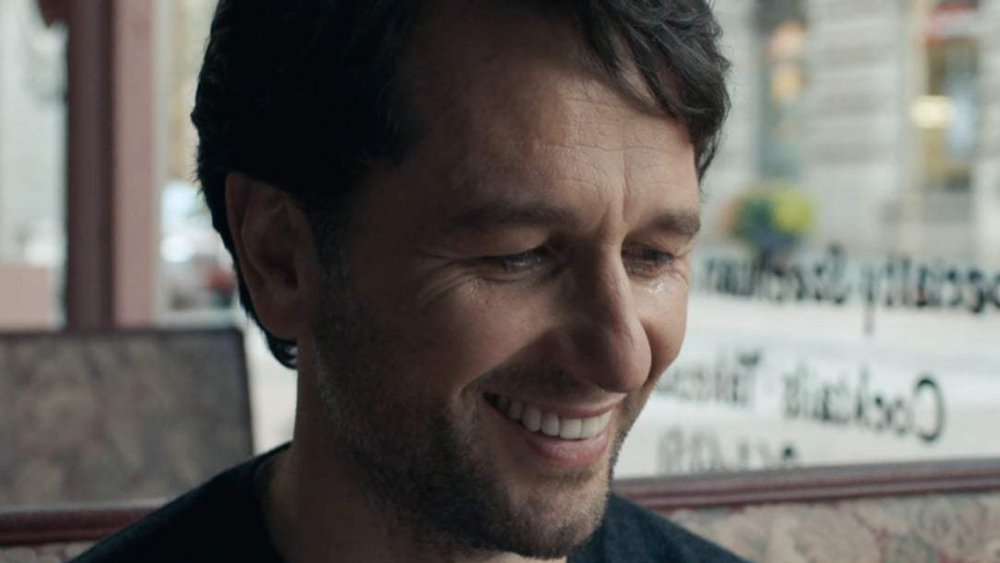 A Beautiful Day in the Neighborhood stars Tom Hanks as Mister Rogers, a minister, puppeteer, advocate of kindness, gentle host of Mister Rogers' Neighborhood, and role model to multiple generations of Americans. As such a prominent figure who loomed large in the emotional development of millions — and appeared on TV every day for decades — it makes sense that Hollywood would want to make a big-budget movie starring an Oscar-winning actor.
But A Beautiful Day in the Neighborhood is just not that movie. This isn't "The Mister Rogers Story," or a biopic like the surreal Elton John biography Rocketman or the rise-of-Dick-Cheney story Vice. It's more about the impact of Mister Rogers on others, particularly a jaded and cynical journalist named Lloyd Vogel (Matthew Rhys) and how his interactions with the TV host chill his sometimes icy heart. However, the movie is also highly fictionalized, as Vogel is based on Tom Junod, who wrote the 1998 Esquire article "Can You Say … Hero?" that inspired the screenplay.
The title of A Beautiful Day in the Neighborhood is wrong
While the film entered production with the name You Are My Friend, it ultimately wound up with the title A Beautiful Day in the Neighborhood, which is more clearly evocative of its subject, Fred Rogers and Mister Rogers' Neighborhood. That phrase comes from the opening line of the extremely well-known theme song to Mister Rogers' Neighborhood … or at least from what most people think is the first line.
The Mandela Effect is a psychological phenomenon in which countless, unrelated individuals misremember something that isn't true as a "fact." It's named for how millions apparently thought freedom fighter Nelson Mandela died in prison decades ago … but he was actually released in 1992 and went on to serve as the president of South Africa and died in 2013. The opening stanza of the Mister Rogers' Neighborhood theme music is another example of the Mandela Effect. If you listen carefully, Mister Rogers sings "It's a beautiful day in this neighborhood." He does not sing "a beautiful day in the neighborhood," and yet that's the name of the movie about the man, because if they went with the right word everyone would think it was wrong! (Sorry if we just completely blew your mind.)
A crew member died during production of A Beautiful Day in the Neighborhood
While Fred Rogers espoused kindness and understanding in the face of an often cruel and unfeeling world — he famously encouraged people to "look for the heroes" during times of tragedy — the movie about the man couldn't escape the shocking sadness that the universe can dish out.
James Emswiller, an Emmy-winning sound mixer for his work on the HBO movie Bessie, took a cigarette break during the October 2018 filming of A Beautiful Day in the Neighborhood in Mount Lebanon, Pennsylvania, retreating to a balcony outside of an apartment building. People in the area reported hearing a large crash and discovered Emswiller, who'd suffered a two-story fall. He was rushed to nearby hospital UPMC Mercy and was initially listened in serious condition before his condition worsened in the hours after the accident. Emswiller, who also worked on movies like The Fault in Our Stars and Marvel's The Avengers passed away as a result of the fall at the age of 61. "This is a devastating tragedy and the studio is investigating the matter," producing studio Sony said in a statement.
The A Beautiful Day in the Neighborhood project bounced around Hollywood for a decade
There's a reason why the journalist played by Matthew Rhys in the based-on-real-people A Beautiful Day in the Neighborhood is a not-real person named Lloyd Vogel. It's because he's a fictionalized composite of several people.
Back in 2006, writer Tim Madigan published I'm Proud of You: My Friendship with Fred Rogers, a memoir of his relationship with the late children's TV host, particularly how he helped Madigan reconnect with his estranged father. That became the basis for a screenplay by Micah Fizerman-Blue and Noah Harpster, which Big Beach Films optioned in 2013, with Little Miss Sunshine team Jonathan Dayton and Valerie Faris signing on to direct. The script bounced around Hollywood for years, with revisions to both content and title. It came to be known as You Are My Friend and then A Beautiful Day in the Neighborhood, but retained the element of Mister Rogers helping a writer make amends with his father, along with incorporating elements from "Can You Say … Hero?," the 1998 Esquire article by Tom Junod, who was the loose basis for the character portrayed in A Beautiful Day in the Neighborhood by Matthew Rhys.
While the writers worked out the details of the script, producers worked on landing the right actor to play Mister Rogers. They pursued Tom Hanks for years, who turned down the role "a few times" according to director Marielle Heller.
Tom Hanks didn't care for Mister Rogers … at first
Wouldn't just about everyone consider themselves a huge fan of Fred Rogers, or at least Mister Rogers' Neighborhood, his gentle PBS series that ran for more than 30 years? Well, Tom Hanks of all people, the guy playing Rogers in A Beautiful Day in the Neighborhood, didn't count himself among the loyal Rogers rank-and-file until very recently. As a child, he preferred sillier fare than what Rogers offered. "I was too busy watching Rocky and Bullwinkle, and stuff like that," Hanks told reporters at the Toronto Film Festival after the premiere of A Beautiful Day in the Neighborhood.
That all changed a couple years ago, before he took on the gig of playing Mister Rogers, when a friend emailed him a 1981 clip of Mister Rogers' Neighborhood, in which Rogers converses with Jeffrey Erlanger, a little boy who required a wheelchair, and then sings "It's You I Like" with him. "Fred is just so wonderfully gentle and present [with] someone who normally would make [most people] feel uncomfortable," Hanks explained. "What do you say to somebody who will spend their life in a wheelchair? He said, 'Jeff, do you ever have days when you're feeling sad?' He says, 'Well, yeah, sure Mister Rogers. Some days … but not today.'" The clip made Hanks "bawl his eyes out," and he said that it's "one of the reasons" he's in A Beautiful Day in the Neighborhood.
How Colin Hanks made A Beautiful Day in the Neighborhood possible
A Beautiful Day in the Neighborhood is another big movie for two-time Oscar-winner Tom Hanks, and the biggest movie yet for director Marielle Heller, following 2015's The Diary of a Teenage Girl and 2018's Can You Ever Forgive Me? The two have known each other for years — Heller is friends with Hanks' son, actor Colin Hanks. "I met Tom at Colin's kid's party, I think," Heller told IMDb. Hanks went out and watched The Diary of a Teenage Girl, scheduled a meeting with Heller, and promised he'd work with her on a movie someday.
Heller says they could never find the "right fit" … until she secured the job directing a movie about Fred Rogers. Producers wanted Hanks, but he'd rejected the role in the past, trying to avoid playing "any more real people" after films like The Post, Captain Phillips, and Sully. "I get that, that's valid, but he is perfect for the part," Heller said, agreeing to persuade the Academy Award winner to join the project. About a week later, Hanks agreed to play Mister Rogers.
Oddly enough, this isn't the first time a Hanks would be involved with an onscreen portrayal of Mister Rogers. In February 2018, just weeks after Tom Hanks signed up to play Mister Rogers, Colin Hanks played the TV host in an episode of Drunk History.
How the crew re-created Mister Rogers' Neighborhood
A Beautiful Day in the Neighborhood is a movie about emotions — after all, it was the life's work of Fred Rogers to tell children that it was okay to feel their feelings. That emotional realism resonates from a framework of realism — the movie diligently and accurately recreates Mister Rogers' Neighborhood. The film's scenes of Rogers' show were produced in the same studio in Pittsburgh where the real show was made for more than 30 years. Director Marielle Heller even brought in crew from the real show to stage the re-creation, including set decorator Barbie Pastorik and camera operator John Burdick, who used authentic cameras of yesteryear to capture Tom Hanks as Mister Rogers. "We lit it with the actual lights that had lit Mister Rogers," Heller told Entertainment Weekly. "Everything about it feels identical in a way that's tangible." The set is a full and detailed remake of the one Rogers worked on, built off of the original blueprints.
Even "mistakes" were left in. "There was a blob of gaffer tape on the floor that they used as a door stopper for the closet that they had just added in and we had the same blob of gaffer tape on the floor to stop the door," Heller told Deadline.
A Beautiful Day in the Neighborhood boasts some very special cameos
It's a fun thing when Hollywood makes a movie about real people, and then some of those people the movie is about show up for a cameo role — a reality-blurring "Easter egg" for sharp-eyed fans or followers of the subject matter. A Beautiful Day in the Neighborhood features many brief appearances from some of the people who made Mister Rogers' Neighborhood such a special thing.
Sadly, Mister Rogers himself, Fred Rogers, died at age 74 in 2003, so he does not appear in the film, but his wife of 50 years, pianist Joanne Rogers, pops up for a moment. (The character of Joanne is portrayed by actress Maryann Plunkett). Fred Rogers' close associate Bill Isler, CEO of The Fred Rogers Company, has a cameo, too (and he's portrayed in his younger years by Enrico Colantoni). Longtime Mister Rogers' Neighborhood cast member David Newell — Speedy Express delivery man Mr. McFeely — appears, too.