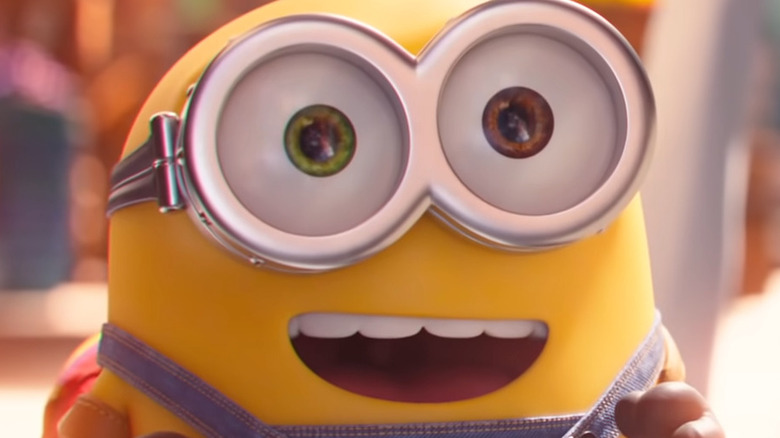 Inspiration from kung fu classics? A Minion being awarded with one of Hollywood's highest honors? Gen Z overtaking movie screenings in formal wear? Yes, yes, and, yes when it comes to the fascinating development and explosive debut of "Minions: The Rise of Gru."
The fifth entry in its franchise, following three "Despicable Me" films and a 2015 "Minions" prequel, 2022's "The Rise of Gru" takes the audience back to the 1970s. There we find Gru (Steve Carell) as 11 ¾ years old. Even at a young age, it's Gru's dream to become the greatest supervillain of all time. Leaning into cartoony mischief rather than actual terror, Gru sets a foundation for his later villainy with the help of his new accomplices, an armada of tiny, yellow creatures called Minions.
"The Rise of Gru" was created by Illumination, an animation studio owned by Universal Pictures whose résumé highlights also include family franchises "The Secret Life of Pets" and "Sing." In "The Rise of Gru," the studio brings a sleek adventure bursting with vibrant visuals and a script packed with silly Minions antics. Let's take a look at some of the backstage stories behind the making of the movie and its wild debut.
The movie was delayed for two years
If you felt like you'd seen trailers for "Minions: The Rise of Gru" for literal years leading up to its release, it's because you did. The movie was originally slated for July 3, 2020 before being postponed a number of times due to the COVID-19 pandemic (per Cartoon Brew). It finally debuted in theaters on July 1, 2022.
As movie theaters closed in the face of the pandemic, producer Chris Meledandri spoke to Deadline about Universal's insistence to keep "The Rise of Gru" as a theatrical event, willing to wait to release the film until theaters reopened and audiences were comfortable going to the movies again. "[This] was a pretty bold move given the distribution strategy that we saw many of the other films and other studios take in the face of an impaired or closed cinema business," he said.
Even more remarkable in Universal's fortitude is the fact that the movie was practically finished when COVID first imposed quarantines in March 2020. Director Kyle Balda told Awards Watch that the crew only had "four or five weeks left of production" to complete, the homestretch of the years-long process it takes to create an animated movie. Even still, it was theaters or bust for "Minions."
Forbes notes that of the many films forced to delay their release dates in response to the pandemic, "Minions: The Rise of Gru" is the final project of the bunch to finally have its day in the sun.
Minions sparked a TikTok movement
If you saw "Minions: The Rise of Gru" in a theater during its opening week and found yourself in a particularly enthusiastic audience, you may have witnessed movie history. Teenager Bill Hirst and a group of his friends attended a screening of the movie immediately following their school formal. As such, they were all still dressed in their black-tie attire. Capturing moments from the evening and posting a highlight reel on TikTok, Hirst's video went viral and inspired a cultural phenomenon that came to be known as the "Gentleminions" movement.
The TODAY Show chronicled the saga, which led to other teenagers following Hirst's lead and assembling large groups of their own to see "Minions" together, all dressed in formal wear. They greeted the film with verbal enthusiasm, cheering on Gru and some even throwing bananas into the air. (Bananas are famously Minions' favorite food.) You can browse the events for yourself by perusing the "Gentleminions" hashtag on TikTok. It should be noted that some theaters caught on to the trend and began prohibiting entry to moviegoers arriving in suits, fearing disruptive and distracting behavior for others in the theater.
The film is directed by a veteran of the franchise
You never know what you're going to get with a spin-off, prequel, or otherwise random extension of a beloved franchise, but "Minions: The Rise of Gru" feels like a natural extension of the established fictional world of "Despicable Me." This is thanks in part to the movie being directed by Kyle Balda, a filmmaker who's no stranger to this series. After working as an animator at Pixar, Balda began his Illumination career as a layout supervisor on the first "Despicable Me" in 2010. Since then, he's co-directed 2015's "Minions" and 2017's "Despicable Me 3."
Balda helms "Minions: The Rise of Gru" solo, without the directorial assistance of Pierre Coffin, who co-directed all four previous entries in the series up until this point. Coffin's presence is happily still all over the movie, though, as he happens to be the voice of the Minions themselves.
Its debut had the biggest 4th of July box office of all time
"Minions: The Rise of Gru" debuted in the United States over Independence Day weekend 2022. During the four-day holiday weekend, the movie earned $125 million domestically, making it the biggest 4th of July box office debut ever (per CNN). The record was previously held at $115 million by 2011's "Transformers: Dark of the Moon," the third entry in the "Transformers" movie franchise. Other previous 4th of July movies that "The Rise of Gru" now reigns king over include "Spider-Man 2," "The Twilight Saga: Eclipse," and the "Minions" franchise's own sibling, "Despicable Me 3."
The movie's record-breaking success is a testament to Universal's release strategy, keeping its commitment to debut the film in theaters and therefore postponing its debut. With many 2020 and 2021 films that were initially announced as theatrical releases instead premiering directly on streaming services, Universal could have easily dropped the "Minions" follow-up on its fledgling streaming platform, Peacock, which launched in 2020 (via Forbes). Instead, it played the long game, which clearly paid off in the end.
Its voice cast are Minions fans themselves
It might be hard to believe, but the "Despicable Me" franchise is now over a decade old. As such, the Minions have earned their place in popular culture. Several actors in the voice cast for "The Rise of Gru" expressed their abundant appreciation for being part of the characters' ongoing legacy.
Michelle Yeoh, who voices a new character, Master Chow, spoke at the film's world premiere about her adoration for the Minions, dressed head to toe in yellow clothing in their honor. "I must be so excited, right?" she remarked about her wardrobe. "I love the fact that I'm part of this series. I've always loved the Minions."
Julie Andrews, who reprises her role as Gru's mother, agrees. Andrews appeared on "The Tonight Show" and implored to Jimmy Fallon, "Aren't those Minions adorable? Don't you love them?" She followed up with her best impression of a Minion.
Steve Carell, longtime voice of Gru, sees why the characters are so universally beloved. "They are equal parts obnoxious and hysterical and silly," he told Entertainment Tonight. "I think they represent a side of all of us that we sometimes like to be, but can't always be."
The director had two requirements for casting the Vicious 6 villains
"Minions: The Rise of Gru" introduces a nefarious troupe of supervillains known at the Vicious 6. The team includes Alan Arkin as Wild Knuckles, Taraji P. Henson as Belle Bottom, Danny Trejo as Stronghold, Jean-Claude Van Damme as Jean-Clawed, Lucy Lawless as Nun-chuck, and Dolph Lundgren as Svengeance.
Director Kyle Balda told The Lowdown Magazine about casting these new characters. "We needed actors … with gravitas in their voices and could bring the menace," he explained, "but are fun-loving people in real life." The motley crew of bad guys certainly fit the bill of this description, as do the actors who voice them.
Taraji P. Henson was glad to join the team as Belle Bottom. "I love animation. It's so much fun," she shared with E! News at the film's premiere. "I just love villains. I can't get enough!" Henson's fellow villain fans find plenty of them in "The Rise of Gru," riding along with young Gru as he looks up to them in beginning his villainous pursuits. The Vicious 6 succeed in being bad guys the audience can't help but like, each with their own stylized apparel and tricked-out cars to match their distinct personalities.
Young Gru's voice is all Steve Carell, no filter
Young Gru makes a brief appearance at the conclusion of 2015's "Minions," but 2022's "Minions: The Rise of Gru" is otherwise the first time that audiences really get to know this familiar "Despicable Me" character as his younger self. Rather than recasting Gru, filmmakers chose to stick with Steve Carell, who has voiced the character since 2010.
When initially thinking about how any difference in Gru's voice should be approached, the production crew originally planned to record Carell doing his usual Gru voice and distort the audio to a higher pitch. When workshopping this decision, the team realized Carell could do a great younger Gru voice on his own that didn't need any editing. Joking with Jimmy Fallon, Carell said that figuring out how to speak in the new voice was "so, so difficult" before immediately laughing and implying it wasn't difficult at all, demonstrating how he simply shifted his typical Gru performance to a higher register.
Filmmakers approached the movie as a rom-com
If the storytelling structure of "Minions: The Rise of Gru" reminds you of something, but you can't quite put your finger on it, could it be that the plot has shades of your favorite romantic comedy? While on the surface the film might not appear to have anything to do with the genre, the underlying similarities were no accident. "The core story is really about the relationship between Gru and the Minions," director Kyle Balda told AwardsWatch, "and sort of thinking almost like a rom-com about how they come together and meet. It's a love story."
With that insight as a lens, it's easy to see this reference point throughout the movie as the Minions go the extra mile to connect with young Gru, whereas Gru questions where the Minions fit into his future as a supervillain. The logistics might look vastly different than what we'd traditionally define as a rom-com, but the dynamics between the relationships at the center of the narrative are strikingly similar.
Animators turned to kung fu classics to get their style right
Michelle Yeoh voices Master Chow, who trains Minions Kevin, Stuart, and Bob in the art of kung fu. The "Rise of Gru" filmmakers saw this as an opportunity to draw inspiration from the best in class among kung fu movies. As shared in The Lowdown Magazine, these included relatively modern productions like "Kung Fu Hustle" and "Shaolin Soccer," as well as older classics starring Jackie Chan. As different as Chan might seem from the Minions, studying the movement of his performances lent itself well to the medium of animation.
The homages are evident, certainly in the overall style of the kung fu sequences, but also in small details. For example, any text that appears on screen during scenes involving Master Chow's training presents itself in large, bold lettering that wiggles ever so slightly, a quirk of vintage films of the genre that had on-screen text shimmering on old film stock.
Even if Gru's a villain, he can still inspire people
There's no hiding the fact that Gru's dream is to be despicable. Despite this, his placement as a protagonist is never presented as sadistic or in any way meant to imply that audience members should translate his cartoony antics into actual acts of violence in real life. If anything, voice actor Steve Carell thinks viewers can find inspiration in young Gru if they look hard enough.
Speaking to Fandango All Access, Carell elaborated on the worldview Gru possesses in his early years. "[He's] overcoming all of this fear and all of this anxiety," the actor said. "He's really out of his league, certainly in terms of his age, so it's all very daunting, but he equips himself quite well." It's an applicable lesson to audience members of any age to confront fear and achieve the impossible, even if it feels like a greater supply of resources or more status is needed to get the job done.
NBC promoted the film by spoofing the opening titles from The Office
Like all films in the "Despicable Me" franchise, "Minions: The Rise of Gru" was created by Illumination, an animation studio owned by NBCUniversal (which itself is part of Comcast). When a high-profile project exists as part of such a wide-reaching corporate portfolio, there are often opportunities for synergy among different intellectual properties.
Such was the case when Universal took advantage of the fact that "The Rise of Gru" and "The Office" both belong to the same parent company and happen to both star Steve Carell. To create additional buzz for the second "Minions" film, Universal spoofed the opening title sequence of "The Office" by inserting "Despicable Me" characters into some of the sitcom's most famous scenes. A Minion drops the bowl of chili instead of Kevin. Dr. Nefario gives a health safety presentation instead of Rose (defaced mannequin dummy and all). Gru, filling in for Carell's Michael Scott, is still, it seems, the "world's best boss."
As part of the publicity tour, a Minion was immortalized on Hollywood Boulevard
If you've ever visited Hollywood, you may have stopped by the famed Grauman's Chinese Theater. Over the years, some of the most legendary names in show business have placed their handprints in the cement of the theater's courtyard. Tourists find plenty of photo-ops in placing their hands in the outlines of palms belonging to everyone from Shirley Temple to Daniel Radcliffe as they reflect on the many eclectic eras of silver screen history.
As part of this time-honored tradition, someone from the "Minions" cast became a new member of this elite collection of movie stars to have their legacy immortalized on Hollywood Boulevard. Who was the lucky honoree? Why, none other than Bob the Minion, of course. On June 24, 2022, just days before the debut of "The Rise of Gru," a costumed mascot version of Bob cemented his footprints in the fabled pavement, accompanied in a ceremony by actor Steve Carell and "Minions" producer Chris Meledandri. Joining Bob's feet in the cement are handprints and goggle prints of Stuart, Kevin, and Otto, three of his fellow Minions. So the next time you're on Hollywood Boulevard, look closely and you might just get to walk in the footsteps of a Minion.
Minions: The Rise of Gru isn't the last entry in the franchise
"Minions: The Rise of Gru" is the fifth installment in the "Despicable Me" franchise, and while five movies would certainly make for an accomplished collection if this was the final entry in the saga, that's not the case in the slightest. There's plenty more "Minions" to come.
The audience once again jumps forward in time to catch up with Gru's original adult self in "Despicable Me 4," hitting theaters July 3, 2024 (per The Hollywood Reporter). While details are still being kept under wraps, Illumination CEO and longtime "Minions" franchise producer Chris Meledandri is excited about the franchise's future. "While directionally we have lots of places that we have discussed going, we don't exactly have a map to take us there," he told Deadline. "We react more to the enthusiasm when we sit down and start talking about what story we want to tell rather than be prescriptive about it."
Families with their sights set on an Orlando vacation can also plan on more "Minions" fun. At Universal Studios Florida, construction walls with "Minions" artwork currently surround the building that previously housed the longstanding "Shrek 4-D" attraction, which closed in 2022. While Universal has yet to formally announce the project beyond the artwork reveal, Theme Park Stop believes the experience may involve a standing moving platform, based on permits filed for the space. This future attraction would exist in addition to "Despicable Me: Minions Mayhem," a park favorite since 2012.