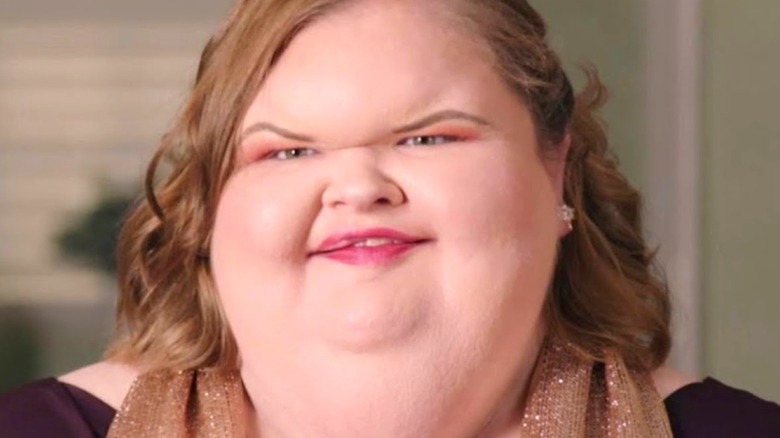 TLC's 1000-Lb Sisters focuses on Kentucky siblings Amy and Tammy Slaton. As the title of the show suggests, the sisters featured on the series have a combined weight that exceeds 1,000 pounds at the start of the show.
The series, according to TLC's announcement, focuses on 406-lb Amy, "who wants to start a family with her new husband but is having trouble getting pregnant due to her weight and health issues," and her 605-lb sister Tammy who "needs help with everyday tasks" and had to move in with her sister and brother-in-law after a stint in the hospital. TLC's 1000-Lb Sisters follows the two siblings in their attempt to lose enough weight to qualify for bariatric surgery. "I think it's going to be hard because we'll both be grumpy if we don't eat," Amy pointed out in a promo.
From their hidden personal struggles to their unexpected fame on YouTube to the launch of their series, read on to learn the untold truth of TLC's 1000-Lb Sisters.
Before TLC's 1000-Lb Sisters, the Slaton sisters found fame on YouTube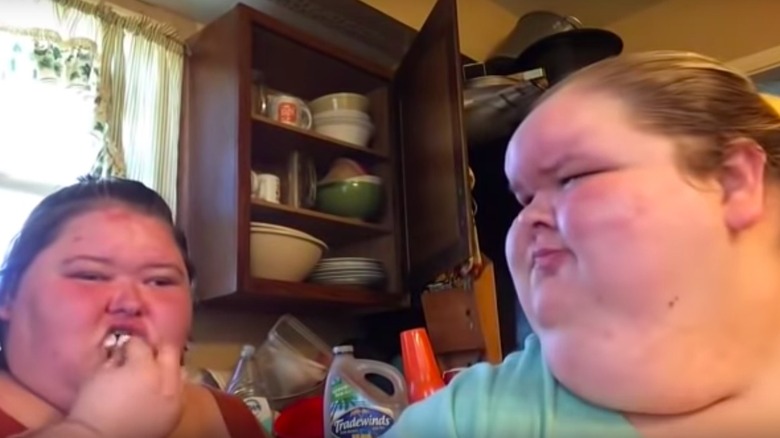 In 2011, Amy Slaton launched her own YouTube channel, posting lighthearted videos featuring her and sister Tammy. It wasn't until 2014, however, that they skyrocketed to online fame by taking on the "Chubby Bunny Challenge." The goal of said challenge is to stuff marshmallows into one's mouth, one at a time, and utter the phrase "chubby bunny," which is ridiculously difficult to enunciate with a mouth packed with marshmallows.
In their video, the stars of TLC's 1000-Lb Sisters crammed marshmallow after marshmallow into their mouths, cracking each other up as they do so. Despite its silliness — or probably because of it — the video quickly went viral, racking up more than 1.8 million views. (Note: While the Chubby Bunny challenge can be funny, it's also one of the most dangerous food challenges ever.)
The video's unexpected success made the sisters YouTube sensations, and more videos followed, with some gaining big viewership. In April 2016, Amy Slaton had her most-watched video ever (at the time of this writing) with "The Power of Makeup," in which she puts makeup on half her face and leaves the other half untouched to offer a sort of compare and contrast. That video received an astounding 7.4 million views, proving the Slatons were no one-hit wonders on the video platform.
The stars of TLC's 1000-Lb Sisters have faced bullying online
The double-edged sword of YouTube stardom is that the factors that make someone popular are usually the same things they're criticized for. The Slatons were not immune to this phenomenon, and they were hit with a barrage of cruel and hateful comments. In fact, in 2017, Amy Slaton posted a video of herself reading some of the "hate comments" the sisters have received, and then she responded to them directly.
Not only do the Slatons occasionally respond to the haters, but sometimes their fans do it for them. In May 2017, Amy Slaton took to Instagram to repost a message from one of her social media followers who wrote, "This post goes out to Amy Slaton and other ladies being bullied on social media. Stop it! Yes, you trolls and spiteful haters. … If you don't like Amy Slaton then don't watch her channel. Spreading hate and negativity will destroy you [from] within."
In the caption of her repost, TLC's 1000-Lb Sisters star wrote, "Y'all are so nice to me, this is just one example of a fan being so kind and supportive. Without y'all Idk where I'd be."
TLC's 1000-Lb Sisters star Tammy Slaton experienced some serious health issues
Given that Tammy Slaton has weighed more than 600 pounds, it's not surprising that she's experienced some severe health challenges. "Tammy's limited mobility forces her to rely on Amy more than she'd like to, adding to the tension that already exists just from living under the same roof," the announcement for TLC's 1000-Lb Sisters noted. "She hasn't left home in six years except for medical attention, and the isolation has taken a toll on both of them."
In an interview with the Louisville Courier Journal, Tammy explained that her motivation to have bariatric surgery and to document her weight-loss journey for TLC was to simply become healthy. She shared that she's coped with two blood clots, pneumonia, and several medical procedures. She was even being placed on life support in the past. "I'm tired of being sick all the time," she admitted. "I'm just done."
In March 2019, Tammy shared a video of herself in a hospital bed after being admitted for yet another malady. Explaining she was hospitalized after her foot had become so painful and swollen she couldn't stand up, she revealed her latest affliction: "I got gout."
This star of TLC's 1000-Lb Sisters once tried to take her own life
Chronic health issues not only affected Tammy Slaton's mobility and kept her more-or-less housebound for years, but also left the star of TLC's 1000-Lb Sisters suffering with severe depression. The isolation she felt, she told People, eventually became so overwhelming that it actually brought her to the brink of taking her own life, as she candidly told the magazine in December 2019.
Ultimately, the experience served as a wake-up call, convincing her it was time to make some big adjustments in her life — in order to ensure she would still have a life in a few years. "I had a feeling that if I didn't make changes now, I wasn't going to live past 35," she admitted.
With 1000-Lb Sisters chronicling the siblings' attempts to embrace healthier dietary choices and begin an exercise regime, Tammy told People that the results have been encouraging. "I don't feel like I have to wear a mask or hide my body when I leave the house anymore," she declared. "I'm not afraid to let people see me."
Star of TLC's 1000-Lb Sisters, Amy was of average weight until this happened
Amy Slaton turned to food as a means of coping with grief, and it's something the star of TLC's 1000-Lb Sisters has been battling for most of her life. Speaking with the Louisville Courier Journal, the Slaton sister said her weight was basically average until approximately age 10, when her beloved grandmother passed away. "My mom worked two to three jobs at a time, and my grandma was basically our mom," she explained. "When she died, our whole world changed."
With their mother working and their older siblings having moved out of the family home, the death of their grandmother forced Tammy and Amy to fend for themselves. Aged 10 and 11 at the time, they turned to easy-to-prepare packaged food such as frozen pizza and ramen noodles. "It's what we ate to survive, and that stuff is not good for you," Tammy told the newspaper. "Depression and just trying to live all kind of caught up with us."
While they're now more knowledgeable about nutrition, Amy lamented the fact that healthier food options are often the most expensive. "You go to McDonald's and you can get a cheeseburger for a dollar, but a salad costs like five," she complained.
How Twitter reacted to TLC's 1000-Lb Sisters
In early December 2019, TLC announced it would be airing the six-episode docu-series 1000-Lb Sisters, and the network — which is known for premiering shows like The Little Couple, 90 Day Fiancé, and Welcome to Plathville – unveiled the first promo video for the show.
People who viewed the trailer were quick to share their reactions on Twitter, and responses were all over the map. While there were people who mocked the show, there were also those who were appalled by the sisters' dietary choices. Admitting she felt "grossed out" watching the preview, one Twitter user wrote that she was "not trying to judge these women, but when you're in that position WHY would you make Lasagna, Chicken and Dumplings, two Desserts and a Peanut Butter and Mayo sandwich for dinner?" Another tweet read, "This is just depressing. How in the world could…I mean it's just really sad."
However, after a sneak peek of the premiere of TLC's 1000-Lb sisters streamed online ahead of its air date, there were others who clearly felt like they'd found their next favorite reality show. "I was really trying not to get locked into another reality series in 2020 but this 1000-Lb Sisters from @TLC already has me hooked," wrote a fan. "The #1000lbsisters was actually…good? I'm surprised i liked it!" wrote another.
The stars of TLC's 1000-Lb Sisters got messy when promoting their show
Prior to the launch of TLC's 1000-Lb Sisters, the network posted a video on Facebook showing the Slaton sisters undertaking the "Dressed Banana" challenge. In the video, Tammy asked, "What the heck's a Dressed Banana?" As Amy explained, the process involves peeling a banana, dipping it in a jar of salad dressing, and then rolling it in crushed peanuts, a concoction she admitted sounded "like the nastiest thing in the world."
Interspersed with the duo's banana-dipping exploits, the sisters are also seen sitting on the porch offering some commentary behind the silliness. "When people see us eating the banana, the comments … are gonna be tellin' us we don't need to be eatin' it," said Tammy. "We're getting so used to it now," added Amy. "It's more like, 'Oh, another comment.' If you eat something and somebody tells you not to, you're going to eat it even more. So basically, this is like, eat it." Tammy noted, "Live a little."
Finally, the sisters took a taste of their culinary creations. "Slimy yet satisfying," quipped Tammy. The video ended in pure slapstick Slaton style, with the sisters smashing cream pies in each other's face. Guess that's one way to promote a show.
Why the Slaton sisters thought TLC's 1000-Lb Sisters would cast them in "a different light"
Speaking with the Louisville Courier Journal, the Slatons revealed that it was their YouTube followers who first reached out to TLC, imploring the network to feature the sisters in a TV docu-series. Ahead of TLC's 1000-Lb Sisters' debut, the sisters expressed their hope to be able to show people a different side of themselves that doesn't necessarily come across in their wacky YouTube videos.
"Doing the show is one way to give us a different light because you can only show so much on YouTube," Amy explained. "This is actually day-to-day stuff that we deal with." One of those "day-to-day" things is Amy's desire to have a baby with her husband, Michael. However, her obesity became an obstacle in becoming pregnant, as doctors warned her she wouldn't be able to conceive until she lost weight.
"I [always] wanted to be a mom. I feel incomplete as a woman because I can't have a kid," Amy revealed in the debut episode of 1000-Lb Sisters (via Heavy). "My husband Michael means the world to me." She also added, "He's really supportive of helping Tammy."
The stars of TLC's 1000-Lb Sisters are committed to their weight-loss journey
According to People, the Slaton sisters filmed the first season of TLC's 1000-Lb Sisters in May 2019. And in their late December 2019 interview with the magazine, Tammy and Amy Slaton hinted that they've been taking their goal to become healthier seriously.
In addition to removing sugar from their diets, they reportedly embraced "low-carb, high-protein" foods. Each also settled on a favorite form of exercise. Tammy revealed she enjoys swimming, while Amy noted that she started dancing and going for long walks with her husband.
After their experience on the show, both sisters said their self-esteem has grown by leaps and bounds. "I can go to the store and not worry about my looks because I feel good about myself regardless of what other people say about me," said Amy. "I'm beautiful the way I am."
The stars of TLC's 1000-Lb Sisters shared the diet tips that led to weight loss
Getting their eating on track required a dietary overhaul for Amy and Tammy Slaton, and the 1000-Lb Sisters stars revealed to In Touch in January 2020 how they managed to shift gears toward healthier fare. "The food part is okay," Amy said. "The sodas were really hard. But I ended up doing it and I haven't had a soda in what, four months now?" While she admitted to occasionally craving a sparkling, sugary soft drink, it's an urge she's learned to overcome. "But mostly, I'll just drink water and coffee," she said.
Tammy agreed that giving up soda was also her biggest challenge. "I mean, I'm still having trouble giving up soda and fried foods, but I think I'm doing a lot better than what I used to do," she said.
The Slatons also learned how to create healthier substitutions for favorite comfort foods, such as swapping cauliflower for macaroni in mac and cheese. "So you can find an alternative that is healthy," Tammy explained, adding, "So we're still complying to the diet, but yet we're still having that chocolate fix or the fix that we needed at the time, the craving but just doing it at a healthier alternative."
The 1000-Lb Sisters stars revealed how the show affected their relationship
In 2019, Amy and Tammy Slaton were popular YouTubers with a certain degree of online notoriety, but they'd hardly be described as famous. That changed thanks to their TLC series 1000-Lb Sisters, with the sisters suddenly the subject of television news reports and featured in national magazines like People.
Discussing their sudden fame, Amy told Indiana's 44 News she was glad she had her sister by her side. "It's easier to go through the journey with somebody rather than alone," she said. Being on television differed significantly from their YouTube appearances, explained Tammy, in that it's "more in the day of the life," noting, "They see more of how our life is and what is going to making better choices and everything, from where on YouTube they don't see as much of what goes on behind [the] scenes."
In addition to losing weight and improving their overall health, the sisters agreed that their experience on the show strengthened their relationship. "I think this has brought us closer together in a sense that we know what the other one is going through," added Tammy. "But we just know that the other one is going through the same thing."
The Slatons from 1000-Lb Sisters were psyched to make the front page of their local newspaper
With 1000-Lb Sisters becoming an out-of-the-box hit for TLC, Tammy Slaton excitedly took to Twitter in early January of 2020 to share a brief video, displaying the front page of The Journal-Enterprise, which serves Kentucky's Webster County. "We made front page!" she declared in the video, showing a large photo of the sisters on the newspaper's front page.
Her tweet received an array of positive response from her Twitter followers. "Proud of you both….YOU CAN DO THIS BABE," tweeted one fan, while another wrote, "You gals make me smile."
Tammy also offered her personal thanks to a fan who told her via Twitter that she was in a similar situation as the Slaton sisters, and that 1000-Lb Sisters had provided her with some much-needed inspiration. "I'm trying to lose weight due to depression so I know how challenging it can be. Just wanted to let you know that I'm so proud of you," the fan tweeted. "You really touched my heart in ep2 … You've got this Tammy."
Fans weren't sure if there would be a second season of TLC's 1000-Lb Sisters
Ratings for 1000-Lb Sisters were fantastic. The episode that aired on Jan. 22, 2020, as reported TV by the Numbers, was the 14th most-watched series on cable that night, with 1.2 million total viewers (more than established hit My 600-Lb Life). The following week, the January 29 episode was cable's eighth most-watched show.
While a second season would seem to be a no-brainer given viewership like that, one of the Slaton sisters claimed there would be no more 1000-Lb Sisters. In a typo-filled tweet issued on February 5, the date the season finale aired, Tammy thanked fans for watching, saying, "I really hope that you all enjoyed our show." When a fan asked if the sisters were returning for another season, Tammy tweeted, "No I'm sorry we're not doing another season."
But wait! A week later, another fan asked the same question and received a very different response. "We're not sure just yet they haven't told us anything but no offense and not trying to be rude but even if they do tell us we won't be able to tell anybody else but keep your fingers crossed that we do get a season 2," she tweeted. Season 2 would ultimately premiere in January 2021.
The reason Tammy was "mad and sad and worried" when she learned Amy was pregnant
After the first season of TLC's 1000-Lb Sisters, Amy Slaton proved more successful at losing weight than her sister Tammy. Amy, in fact, achieved her goal of shedding enough pounds to qualify for bariatric surgery.
As People reported in December 2020, the first teaser for the show's second season revealed Amy announcing some big news: She was pregnant. "Having a baby means the world to me, it's everything I've always wanted," she gushed.
While that would seemingly be joyous news, Tammy wasn't happy. "When I first heard that Amy was pregnant I was feeling all sorts of things, I was mad and sad and worried about her health and safety since it was so soon after her surgery," she told People of Tammy becoming pregnant just four months after surgery; as Today reported, Amy's doctor warned her that becoming pregnant so soon after surgery was perilous, recommending she wait at least two years. "When Amy told me she was pregnant, I didn't know really what to say, other than like, 'Really? Are you freakin' serious? You know you're not supposed to be pregnant right now,'" griped Tammy.
What 1000-lb Sisters' Amy put on her baby registry
Like many expectant moms, Amy Slaton shared her baby registry on Amazon, in hopes that her fans would buy all sorts of stuff for her. Of course, as anyone who's watched TLC's 1000-Lb Sisters can attest, Amy is hardly a typical mom-to-be. This was demonstrated in her slightly nutty registry.
As The Blast reported, Amy's Amazon registry features onesies, blankets, and the usual baby stuff, but they're a little bit out there. One of the items requested was a baby onesie emblazoned with the slogan "Breaking hearts & blasting farts," accompanying an image of a flatulent heart passing gas. Another quirky onesie, reported The Blast, reads, "Stephen King Rules," apparently demonstrating her devotion to the famed horror author, while another features a drawing of knife-wielding doll Chuckie from the Child's Play horror movies. Another item on the registry is a $200 electronic chair, which is purported to facilitate breastfeeding.
According to Monsters & Critics, Amy also revealed her due date to be Jan. 7, 2021, and that her little bundle of joy was going to be a boy.
Tammy Slaton tested positive for COVID-19
In November 2020, Tammy Slaton revealed she'd become one of the millions of Americans to test positive for COVID-19. In a YouTube video she titled "Thankful," Tammy filmed herself in a hospital bed receiving additional oxygen to help improve her breathing. According to guidelines from the Centers for Disease Control, the star of TLC's 1000-Lb Sisters faced an increased risk of suffering "severe illness" and possibly even death due to her weight, as morbid obesity is one of the underlying conditions that place people at higher risk.
"Uh, excuse the ugly situation," she said at the beginning of the brief video, which clocks in at just 58 seconds. "I just kind of want to update… I did end up getting tested positive for COVID."
Tammy admitted she had hoped she "didn't get it, but it is what it is." She revealed that coronavirus wasn't the only health woe she was dealing with. "I also have pneumonia," she explained, divulging she'd been battling the virus for three weeks, and had been hospitalized for half that time. She concluded by promising she was "doing great and I'll be out soon."
Amy Slaton had some bizarre pregnancy cravings
In a YouTube video that Amy and Tammy Slaton shared with fans of TLC's 1000-Lb Sisters on Jan. 11, 2021 — several days after the due date Amy had stated on her Amazon registry — they discussed Amy's "weird pregnancy cravings."
Amy began by ripping a peppermint patty out of its packaging and placing it atop a strawberry, jamming the minty-fruit combo into her mouth. That gave Tammy an idea. "I dare you [to put] a peppermint patty with an eggroll," she challenged. As stomach-churning as that might seem, Amy wasted no time as she nonchalantly reached over to grab an eggroll from an aluminum container. Placing a half of a peppermint patty atop the eggroll, she then took a bite as Tammy turned her head in revulsion. "I can't watch this s**t," said Tammy while Amy pondered the unique flavor combination her tastebuds were experiencing.
"You done desecrated some good s**t and made it bad," Tammy complained. Amy agreed to disagree, replying, "It's actually pretty damn good."
The stars of 1000-lb Sisters experienced a heartbreaking death in the family
In January 2020, Tammy Slaton shared a post on Instagram to let her fans know that the reason she and sister Amy had been less active on social media than usual was because they were "trying to deal with a death in our family."
According to Heavy, the stars of TLC's 1000-Lb Sisters were mourning the loss of their stepfather, Robert "Frank" Rednour, who passed away on January 6 at the far-too-young age of 62. Rednour married the Slaton sisters' mother, Darlene Rednour, in 2013. His obituary recalled that Rednour had been "a volunteer dispatcher, rescue, and firefighter" for a number of years before becoming "a full-time firefighter for five years."
In addition to working for a decade as a bus driver, Rednour had also retired from the Union County Road Department after 13 years. "He loved his dogs, enjoyed fishing, sightseeing, and bird watching," the obituary added.
The stars of 1000-Lb sisters no longer weigh 1,000 pounds
When the debut season of TLC's 1000-Lb Sisters premiered in January 2020, Tammy and Amy Slaton weighed in at 605 and 406 pounds, respectively, according to TLC's original announcement of the series. By the time filming began on the second season, the show's title was no longer accurate given that Amy had shed some significant weight during the course of that season.
According to Today, by December 2020, Amy weighed 124 pounds less than she did at the start of the series, listing her current weight as 276 pounds. Tammy's weight, on the other hand, hadn't really changed by a whole lot. As Soap Dirt pointed out, she had managed to make it down to about 550 pounds at one point; however, her weight went up to 597 pounds by the second season. A clip indicated the situation to be dire, with Tammy's doctor advising that her "chances of dying within the next five years are about 80 percent" (via MEAWW).
In any case, from a technical standpoint, they are no longer the 1000-Lb Sisters; a more accurate title for the show's second season would be 873-Lb Sisters.