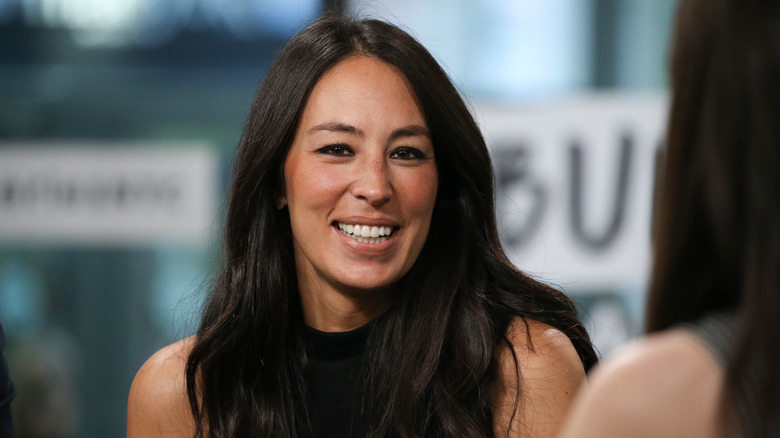 There's no denying that former HGTV star Joanna Gaines loves spending time in the kitchen, especially considering her cooking show and cookbook series, "Magnolia Table," per Magnolia. Because of this, it only makes sense that the interior designer would eventually go on to create her own paint line made specifically for the kitchen. To do so, Gaines partnered with KILZ, a paint, primer, and stain company based in Missouri (via KILZ), back in 2016 with the intention of crafting a collection of premium paints under her and her husband Chip Gaines' brand, Magnolia.
Since then, Gaines and KILZ have collaborated on 150 interior paint colors under Magnolia Home Paint and have even expanded into premium exterior paints and chalk-style paints, now offering a total of almost 350 paint options in four different finishes (via KIlZ). Along with their wide selection of paints, Gaines and KILZ have collaborated on various paint brushes, including a 3-inch flat brush and a 1½ inch angle brush.
As for the paints themselves, they were designed for a multitude of areas both inside and outside of the home but were specially crafted for interior walls, trim, and kitchen cabinetry. The business mogul additionally took inspiration from her family and their life in Waco, Texas, when it came to selecting and naming the colors in the collection, with Silos White, Sir Drake, and Shiplap all being highlighted as some of Magnolia Home's most popular paint colors, per Magnolia.
Classic creams
In true Joanna Gaines fashion, a handful of paints offered in her collaboration with KILZ can be considered whites and creams. A prominent color scheme in a majority of design styles, including modern farmhouse, which Gaines is particularly known for, whites and creams are not only timeless and classic colors, but they can act as the perfect partner for similar neutrals, as well as other more vibrant or moody colors.
One of Gaines' most popular creamy-colored paints, True White, has been described by the interior designer as a raw and honest color that is complementary to other colors and allows them to shine when used in individual spaces, per Magnolia. Other similar colors in the Magnolia Home's paint collection would also be suitable options in the kitchen and have been described as warm, comfortable, and organized.
If you're looking for paint with a different type of finish or color with some varying undertones, Benjamin Moore's Steam and Morning Dew are both great options. And although they weren't necessarily designed for the kitchen like Gaines' collection is, both paints have been featured as trending colors for 2022, according to Benjamin Moore. So whether you're looking for a way to brighten up your kitchen or give it a cleaner, more modern feel, using whites and creams on your walls, trim, and cabinets can be one of the best things you can do.
Reliable beiges and grays
Along with her appreciation for neutral colors, Joanna Gaines has also made sure that Magnolia Home's paint collection includes a good selection of beige and gray paints. Perfect for fans of traditional design styles, as well as fans of modern and rustic designs, many of Gaines and KILZ's beige and gray paints have been inspired by the weathered and aging elements of living on a farm and feature both warm and cool undertones.
Gaines has additionally embraced the greige trend with colors such as Yarn and Cupola in their collaborative paint collection. Like True White, Yarn has been described as an inviting yet crisp paint, intended to be a background color that allows the other colors that it's paired with to shine, per Magnolia. Cupola, on the other hand, is the darker of the two colors, and while it can be paired with lighter neutrals, the color on its own commands attention, making it a great option for kitchen cabinetry, explains Magnolia.
Similar to both of Magnolia Home's greige colors, Stone Harbor by Benjamin Moore is a warm greige that pairs well with both light and dark colors and has a subtle brown undertone that can be further highlighted by decor. Overall, whether you opt for two-toned cabinets or allow a single beige or gray color to take center stage, these color families offer a variety of options to pick from that would work with just about any design style you desire in your home.
Dark and cozy
Despite being known for favoring lighter colors in her designs, Joanna Gaines definitely isn't afraid to make a bold color choice every now and again, especially in a kitchen. And according to her collaborative partner KILZ, Gaines actually encourages opting for darker colors in the home, stating that while these colors may seem intimidating at first, using deep hues can ultimately help elevate spaces and end up being a risk worth taking.
As for Magnolia Home's darker paints, there are a variety of colors to pick from, many of which have blue and green undertones that would pair nicely with lighter paints when used on two-toned cabinets or statement pieces. Gaines has additionally showcased the collection's versatility by styling kitchens with the collection's moodier colors, including a grayish blue called Coffee Nook and a dark gray with muted green undertones called Locally Grown (via Magnolia). She further accented the colors with warm decor and delicate hardware, which gave both kitchens a cozy yet modern feel.
And although these paints don't necessarily fit into individual color families like most of the paints in Gaines' collection, they are part of a seemingly universal color palette made up of similar dark colors like Mysterious by Benjamin Moore and Sea Serpent by Sherwin Williams. Overall, though, these colors can not only modernize a room but can also add a level of sophistication to just about any home.
Beautiful blues
Whether it's used throughout your kitchen or on statement cabinets or furniture, blue is a versatile color that can give your kitchen a traditional, bohemian, coastal, or french country feel, all based on how you use it. In particular, Joanna Gaines has been inviting homeowners to express themselves and their creativity by supplying them with a variety of eye-catching blues from the Magnolia Home's paint collection.
And while it isn't the collection's most common color family and can seem like a daunting color to use at first, many of Gaines' blues can be paired with lighter, more neutral colors, as well as warmer decor, which can help tone it down. Blues can also be subtle throughout a home to draw attention to individual rooms and elevate the home as a whole. Evidently, Gaines used both of these strategies in the first season of "Fixer Upper: Welcome Home" by painting a kitchen island in one of her blues known as Secondhand Find and pairing it with warm brick flooring creamy cabinetry, and charming blue tile, per Magnolia.
Overall, whether you opt for a true blue, a greenish blue, or a grayish blue, make sure you select a color that is not only right for your home but right for you as well. And no matter how you use blue in your kitchen, whether it's as a complementary color, an accent color, or as the main color of your cabinets, there's no denying that blue belongs in the kitchen.
Lively and earthy greens
Similar to blue, the color green is all about versatility. It can be used in just about any room and works well with a large variety of design styles. The color also seems to be one of Joanna Gaines' favorites, as Magnolia Home's paint collection features almost 40 different greens ranging from earthy olives to jewel-toned greens (via Magnolia), one of which was even used on the interior and exterior of her and her husband's coffee shop, Magnolia Press, per Magnolia.
Along with being a prominent color in Magnolia Home's paint collection, the color also appears to be having a bit of a moment in terms of interior design as multiple variations of it have been listed on trending color palettes for 2022. In particular, Sherwin Williams and Benjamin Moore have named greens their color of the year, with a grayish green called Evergreen Fog taking the title for Sherwin Williams and a muted, light green known as October Mist claiming the top spot for Benjamin Moore.
Overall, green is likely the most versatile color as it can grab your attention while allowing other colors to shine and compliment warm and cool color schemes. The color's versatility is even more apparent when used monochromatically, as light and dark variations of one green can be paired together. Overall, it's definitely a suitable color for kitchens, thanks to its versatility and calming energy, and chances are it's already found its way into your home.