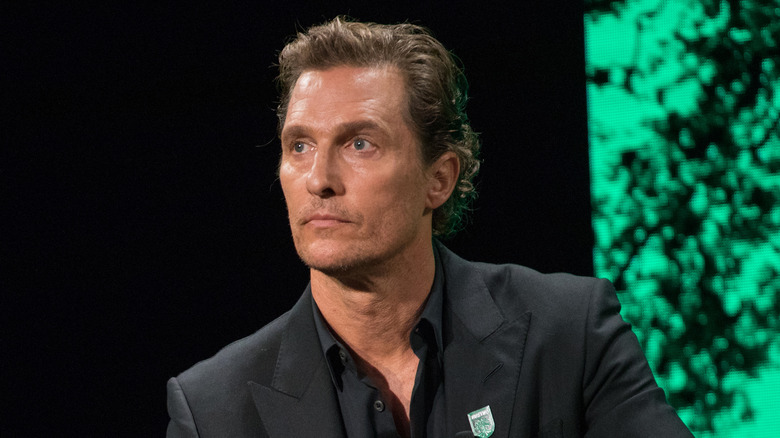 As most of his fans will attest, actor Matthew McConaughey is quite the dreamboat. Known for his performances in films like "Dazed and Confused," "A Time to Kill," "Amistad," "Mud," and "Dallas Buyers Club," McConaughey is a versatile actor with a career that let him experiment with a plethora of roles (via Biography). It's fair to say that while McConaughey experimented with less serious roles initially, he has evolved as an artist over the years and taken on more challenging roles, such as his role as an activist with AIDS in "Dollar Buyers Club."
The actor gave it all to stay true to his character, losing 47 pounds for the film. His effort and hard work didn't go unnoticed. He was awarded Best Actor at the Academy Awards, as well as the Golden Globes in 2014, a major achievement for someone who was trying to mold his image away from romantic comedies and stand out for his acting talent. Away from his public persona, McConaughey has had many tragic experiences while growing up. He was also forced to deal with unprecedented events later in life after becoming famous. Here's taking a look at McConaughey's life through the highs and lows that have helped shape the actor's perspective and made him the star he is.
Matthew McConaughey witnessed violence as a kid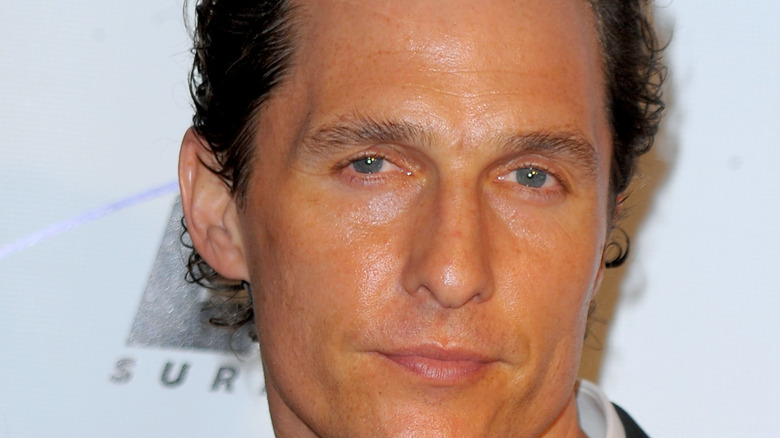 Matthew McConaughey was born in November 1969 in Texas (via Biography). Even as a student, he was popular and even bagged an award titled, "Most Handsome Student." However, life at home wasn't exactly smooth for the young actor. He later revealed that he witnessed violent incidents as a child but never really thought his parents were abusive even though he acknowledged that others would probably perceive their actions as such (via Today). He said, "I was scared at the moment, but even then and immediately after that, I didn't ever question the love that Mom and Dad had or the love that they gave us."
He added that as a parent himself, his approach is different compared to his parents, but he still doesn't think they were abusive and emphasized the fact that whenever he was hit, he'd earned it and had been up to no good. He also said that he and his wife focus on communicating as much as he can with his children, something that doesn't make sense to his mother.
Matthew McConaughey had a difficult time abroad
Matthew McConaughey in his memoir, "Greenlights," highlighted the fact that he had it rough after high school when he decided to enroll in an exchange program that took him to Australia. Things weren't exactly the way he expected them to be, and he had to find a way to get through a difficult year (via CBS Austin). "I was with a very odd family in the middle of the country in nowhere Australia, so my visions of beaches and Elle McPherson were never realized, let me just put it that way," McConaughey explained.
He added that his life was basically brought to a standstill during his time in Australia. He didn't have friends or a steady paying job. He didn't even have a phone to get in touch with his loved ones and had to figure out a way to depend on himself. He added, "I would not be where I am today with the life I had if I did not have that year, that very tough year that I had in Australia."
Matthew McConaughey experienced abuse as a teenager
While opening up about his experiences in "Greenlights," Matthew McConaughey has also been transparent about some of the most traumatic experiences he's lived through. He wrote that his first brush with sex wasn't pleasant, and that he was essentially forced into it (via Variety). He explained that he was 15 years old when it happened, and it was a case of "blackmail." He wrote, "I was certain I was going to hell for the premarital sex. Today, I am merely certain that I hope that's not the case."
He also added that he faced abuse later as well when he was 18 years old and was attacked by an older man. Despite the difficult experiences that he's lived through, the actor doesn't think that he's ever felt like a victim. He added a positive note after the grim details and wrote, "I have a lot of proof that the world is conspiring to make me happy."
Matthew McConaughey had to struggle in his early days
Matthew McConaughey may be rather popular and well-known now, but that wasn't always the case. The actor had to face his share of struggles when he was starting out in the entertainment industry. As reported by Entertainment Weekly, McConaughey first tried to make his mark as a hand model when he was feeling demotivated about the sheer number of rejections he had to endure when he was in film school. He was told by a talent agent that he had "good looking hands." He was also advised to stop biting his nails and take care of his hands to pursue such a career.
Additionally, McConaughey also decided to take up a job as a server at a bar called Catfish Station in order to make more money. He called it an "all-Black, sweaty bar that sold catfish, beer and blues" and said that he definitely stood out at the bar because he was the only white person there (via The Hollywood Reporter). McConaughey shared a great relationship with the owner of the bar, who he's still friends with.
Matthew McConaughey was estranged from his mom
Fame had a major downside for Matthew McConaughey and the relationship that he shared with his mom, Kay. As reported by People, after show business took over the actor's life, he realized that his mom was dazzled by her son's newfound fame. The actor explained that after becoming a celebrity, even something as simple as his regular weekly calls with his mother were affected. He said, "Mother wasn't answering the phone. A fan of my fame was answering the phone."
Moreover, McConaughey was trying to figure out ways to get used to being famous when things took a turn for the worse once he figured out that some of the things he shared with his mom would later end up becoming news stories. "I was trying to find my own balance with fame and stuff. And I would share things with her … some of those things I would share might show up in the six o'clock news three days later," McConaughey revealed.
This caused a rift between the two, and McConaughey was estranged from his mother for a long time. Eight years, to be precise. They eventually worked things out and started speaking again, but it took the actor a long time to get over what happened.
Nothing quite made Matthew McConaughey happy
Even though Matthew McConaughey has achieved a considerable amount of success, he's always felt like he could do better. As highlighted by The Guardian in 2018, the actor always believed that the dreams he's had have been better than reality itself. He said, "I've never done [a film] that's lived up to what I imagined it could be." It's clear that McConaughey doesn't mind being hard on himself.
He further said that he has been a part of many movies that he loves and respects. Plus, he is also a fan of some of his performances where he's able to acknowledge that he did a decent job, but he implied that he's not found anything that made him feel like it was extraordinary. And he doesn't think that he'll ever chance upon a film that will make him feel like he's achieved exactly what he needed to.
Matthew McConaughey ended up in unexpected scandals
Matthew McConaughey has been controversial at times. For example, one of his most scandalous incidents is from 1999, when the actor was arrested. According to The Hollywood Reporter, McConaughey wrote at length about that scandalous event in his memoir, "Greenlights." He was naked, the windows in his home were open, and he had made the decision to "smoke a bowl and listen to the beautiful African melodic beats of Henri Dikongué" in the middle of the night.
This didn't go down well with cops in Austin, who broke into his home, handcuffed him, and told him that he was being arrested for "disturbing the peace, possession of marijuana and resisting arrest." The actor was displeased, yelled a retort at them and refused to put his clothes back on. According to McConaughey, this was his way of showing that he wasn't wrong and was minding his own business when they entered his home.
The actor later got away with a fine amounting to $50 and well, plenty of publicity. He wrote that in a couple of days, BONGO NAKED T-shirts started showing up in Austin everywhere.
Matthew McConaughey was stereotyped
Matthew McConaughey surprised everyone in the early 2000s when he decided to take a sabbatical, or what was called the "McConaissance." He was away from the public eye for 20 long months because he knew he was being stereotyped and specifically being cast only in romantic comedies, something that he wasn't happy about (via The Hollywood Reporter). He said, "What happened was I was the rom-com guy, I was the shirtless guy on the beach. That was fine. Yes, I said it then and I'll say it now, those rom-coms I was in were paying for the house on the beach where I was shirtless. Guilty."
Well, the actor wasn't being given a chance to work on more diverse roles, and he decided to do something about his situation. He even refused a role that could have potentially given him $14.5 million simply because he didn't want to do romantic comedies. The sabbatical helped the actor mold his image once again. He put it rather well when he said that being away meant that he could become a "new good idea." His efforts were successful as he was soon considered for new, more diverse roles.
Matthew McConaughey missed out on Titanic and the Hulk
Despite being a promising actor, Matthew McConaughey didn't always get the roles he wanted, opportunities that could have helped his career immensely. For example, according to Today, McConaughey was one of the actors who was considered for the role in "Titanic" that eventually went to Leonardo DiCaprio. Kate Winslet once said that she did audition with the McConaughey once. "I auditioned with Matthew, isn't that weird?" she said, before adding, "Never said that in public before. I auditioned with Matthew, which was completely fantastic. It just wouldn't have been the whole 'Jack and Rose, Kate and Leo' thing."
Wait, there's more. The actor also had his heart set on playing the Hulk but never quite got the chance to fulfill his dream. As reported by theHuffington Post, he was rejected when he showed interest in being a part of the Marvel hero's world. When he was asked whether he made his interest in the role known, he said he did, but he was turned away. For those who recall, Edward Norton played the Hulk in the 2008 film, "The Incredible Hulk," and Mark Ruffalo eventually became the character in other Hulk films from the Marvel Cinematic Universe. McConaughey has yet to play a super hero in a Marvel film.
Losing his father was devastating for him
Matthew McConaughey received a huge blow when he found out that he'd lost his father, James Donald McConaughey, in 1992. He spoke to Tim Ferriss about his loss and said that losing his father made him more open to risks as far his work was concerned. He said, "My dad being this sort of crutch, just because he was alive and above government and above law, was now gone…I had no crutch, I had no safety net, all of a sudden."
Losing his dad made the actor reflect on things like mortality. He realized that the things he previously loved and craved for such as acting and fame were temporary, and in a way, this allowed him to take more risks and embrace change as opposed to being stuck in a rut out of fear.
Also, as noted by Vanity Fair, McConaughey's parents had a torrid relationship and married each other and separated many times over the course of their lives together. Eventually, they would always come back to each other. In fact, James passed away while making love to his wife. The actor reflected on what it was like hearing the news from his mom and said, "My knees buckled. I couldn't believe it. He was my dad. Nobody or nothing could kill him."
McConaughey put his body through immense stress for a movie that failed
If there is one thing that Matthew McConaughey does well, it's preparing for a role and going all out to make sure that he does his best. For example, while working on his role for the 2016 film, "Gold," the actor put himself through a lot of pain by putting on 45 pounds. He was playing businessman, Kenny Wells, and wanted to make sure that he looked the part (via CNN).
Unfortunately, the movie was a colossal failure, and the actor's hard work went down the drain. Not to mention the fact that it obviously took him many months of working out rather intensely to lose all that extra fat. In fact, McConaughey said that he was still trying to lose weight in 2019 (via Associated Press). He said, "It's been a while. I needed to get in shape. I wanted to. I was 220lbs in 'Gold', of which I still have a couple of things back here [on my back]."
The actor, according to The Guardian, also shaved his head for the film. The reviews were terrible, and no awards came the actor's way. He did manage to impress viewers with his performance in the 2013 film, "Dallas Buyers Club," for which he shed 50 pounds or so.
Matthew McConaughey eventually didn't see as much success at the box office
Matthew McConaughey has not quite been able to crack the code. Despite winning several awards for his roles over the years — including an Oscar — he's not been able to achieve success at the box office (via The Hollywood Reporter). The actor has acted in many interesting films, such as "Interstellar," "White Boy Rick," "Serenity," "The Gentlemen," and more, but he knows that he has not consistently been able to deliver commercial hits. He wrote in "Greenlights" that he had "very few box office successes … Was it me? The subject matter? The films themselves?"
"The box office failures didn't dampen my love of acting. If anything they made me more feverishly committed to my craft … In my career now, I was more than an entertainer, I was an actor, an artist. And that satisfied me. My career was full," he added.
In 2017, a Guardian piece reflected on McConaughey's career downturn and suggested that the actor perhaps needed another career break. Another "McConaissance" if you will. He ended up being a part of several flops in recent years that made The Guardian's Noah Gittell suggest that 2016 was truly awful for the actor when his film, "Free State of Jones," failed to make an impact and didn't manage to earn even half of the budget it was made on. Another film, "The Sea of Tress," was also not embraced by audience members at Cannes, who booed when they watched the film.
A tragedy occurred in his hometown
As a proud Texan, Matthew McConaughey has never been shy of showing or discussing his roots. Appearing on Popcorn with Peter Travers, the actor gushed about the affinity he has for the Lone Star State in detail, explaining how the spirit of Texas and its people mean the world to him. So when a tragedy occurred in his hometown of Uvalde in June 2022, McConaughey was right there, standing beside his neighbors and helping them to deal with the trauma.
Uvalde and the world were left shocked and appalled by the mass shooting that took place at Robb Elementary. As per CNN, McConaughey and his wife, Camilla, visited the families impacted by this despicable event and showed their support. The actor didn't stop there, though, as he appeared at a White House briefing where he utilized his platform and influence as a celebrity to encourage stronger gun control laws and for everyone to come together for the greater good of all Americans.
"We got to take a sober, humble, and honest look in the mirror and rebrand ourselves based on what we truly value," he said. "We got to get some real courage and honor our immortal obligations instead of our party affiliations."
He lost his best friend
It often takes a dog to show us the true meaning of humanity. Due to their uncompromising loyalty and purity of love, these four-legged fluffs are more than pets — but important members of every family. They leave a paw print on our hearts, as we never forget the impact and memories they leave in our lives. Matthew McConaughey is an animal lover, too, and he revealed to Oprah Winfrey (via Contactmusic.com) how his half-Labrador, half-chow dog, Ms. Hud, traveled with him around America before he had to take the heartbreaking decision to put her to sleep.
"Ms. Hud, that's a good woman there," he said. "I got her in a pound in Tucson, Arizona, 12 years ago and cancer got her." McConaughey explained how Ms. Hud had already had a front leg amputated because of cancer. One evening, she fell off the bed and the actor helped her back up. In the morning, he took her to the veterinarian, who discovered that her hind legs were paralyzed. McConaughey looked at his friend and considered the quality of life she would have going forward, so he had to make a tough choice and say his goodbyes.