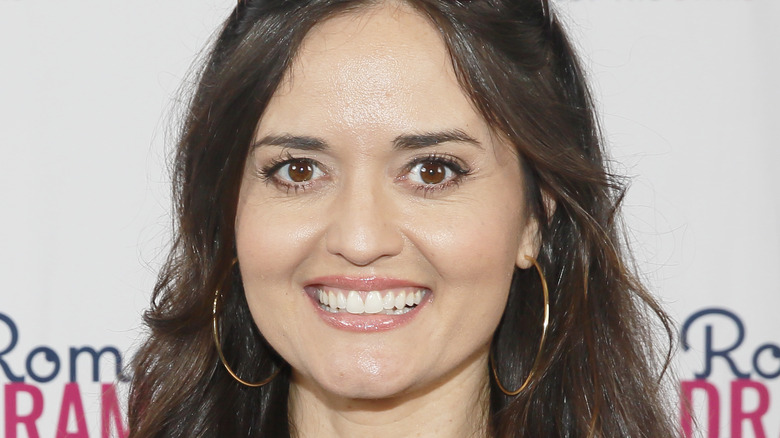 Danica McKellar has been a fixture on American television since the 1980s. According to her IMDb credits, she was just 10 years old when made her screen debut in a 1985 episode of "The Twilight Zone" before being cast in the role that would end up following her for her entire life: Winnie Cooper on the nostalgia-driven drama "The Wonder Years." Further acting roles followed, most notably a recurring role in the critically acclaimed series "The West Wing," not to mention guest-starring roles in numerous TV series, ranging from "NCIS" to "The Big Bang Theory."
In 2015, McKellar starred in the Hallmark Channel rom-com "Perfect Match," followed by another that same year, "Crown for Christmas." More Hallmark movies followed, bringing McKellar a whole new level of fandom beyond starring in a much-beloved TV series from 30 years earlier.
Those who only know McKellar from her various acting roles may be surprised by how much they don't know about this talented actor, author, mathematician, and fitness aficionado. Let's learn more about Hallmark star Danica McKellar.
She had a childhood crush on Michael J. Fox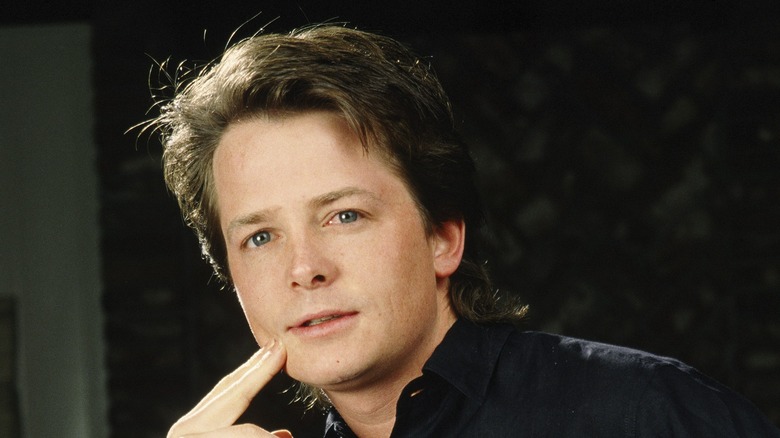 While there were no doubt many young viewers of "The Wonder Years" who had crushes on Danica McKellar, she was not immune to having a celebrity crush of her own. "As a kid, I was in love with Michael J. Fox," she told Us Weekly.
As she revealed in an interview with Today, young McKellar happened to encounter the object of her affection live and in person instead of merely on a television screen. One morning while McKellar's mother drove her and her sister to school, she instructed the girls to look behind them. "We turned around, and Michael J. Fox was driving in his little black Mercedes convertible, and we both were, like, screaming and smiling," she said. Decades later, that memory remains a vivid one for her, with McKellar confirming she still remembers "exactly how he looked."
Looking back at the magical moment for The Girlfriend from AARP, McKellar can still remember the "Back to the Future" star's response, recalling that "he laughed, looked down, kind of shyly, and lifted his hand off the wheel just enough to wave." The gesture, she added, "made our life."
Danica beat out her own sister for the role in The Wonder Years
Both Danica McKellar and her younger sister, Crystal McKellar, are actors, with both beginning to perform professionally when they were still children. This led to the sisters becoming costars when Crystal was cast in the recurring role of Becky Slater on "The Wonder Years."
Interestingly, Crystal landed the role after losing the part she'd initially auditioned for: Winnie, which ultimately went to her older sister. "Crystal and I both auditioned for the part of Winnie Cooper and it came down to the two of us," the eldest McKellar sister explained in an interview with ABC News. "They ended up hiring me, but they said they loved Crystal and they meant it. They said, 'We're gonna write a part if this goes to series,' and they wrote a part for her."
As viewers will recall, Becky had an unrequited crush on young Kevin Arnold (played by Fred Savage) — which she expressed by terrorizing him. According to McKellar, her sister wasn't actually that different from the tough-acting girl she portrayed on the show. "I remember in fifth grade, there were these boys who were teasing me, and Crystal went and kicked them in the shins for me," McKellar recalled. "She's a lawyer now."
Her first kiss took place on camera
A first kiss is often considered a milestone in one's life, yet how many people have had this romantic rite of passage captured on film and then broadcast to an audience of millions? Danica McKellar has, given that Winnie Cooper's first kiss with Kevin Arnold was also the first smooch for both her and costar Fred Savage. "Being a kid and having your first kiss is nerve-racking enough, but imagine you're surrounded by a film crew of 50 or 100 people watching you," McKellar told Forbes.
"I can't imagine I was a very good kisser," Savage told Entertainment Tonight. "But we were very nervous and excited … we were 11, we were little."
Looking back at that now-iconic scene for Entertainment Weekly, McKellar remembered she was "jumping out of my skin" with nervousness before filming the kiss. And even though she was trying hard to maintain her actor's professionalism and stay calm, it wasn't easy. Once they had filmed several takes, she added, "the entire crew erupted into applause. And it was just so humiliating. Like, I'm trying to have a private moment here!"
Danica has starred in many Hallmark Channel movies
While it's true that Danica McKellar was once identified primarily as the erstwhile Winnie Cooper of "The Wonder Years" fame, these days she's now more associated with Hallmark Channel movies. This is understandable, given that she's starred in 16 of them since 2015, with seven of those being Christmas movies. While she's since parted ways with Hallmark in order to make similar movies for the GAC network, she's made no secret of how much she enjoyed making all those Hallmark movies.
"I love doing programming that makes people feel good," she said in an interview with TV Insider. "And also to kind of model behaviors and traditions and things that might inspire families to be more connected. And that to me really feels like a gift to the world, in addition to just fun entertainment."
As McKellar explained to Us Weekly, her exit from Hallmark for an exclusive deal with GAC shouldn't be interpreted that she was dissatisfied with her former employer in any way, but because of the additional opportunities it afforded. "Part of it was because I had the opportunity to do a multi-picture deal, which I hadn't done at Hallmark, and also not just multi-picture, but also really being a producer, really helping to develop these stories from the beginning," she said.
She competed on Dancing With the Stars with a broken rib
In 2014, Danica McKellar participated a very particular celebrity rite of passage when she competed in the 18th season of "Dancing With the Stars." As the season progressed, McKellar shared some unfortunate news on Twitter. "I broke a rib in yesterday's #DWTS rehearsal," she wrote, asking fans for their prayers.
McKellar refused to throw in the towel and insisted on soldiering on. To compensate for her injury, her dance partner, Val Chmerkovskiy, was forced to make some adjustments to the pair's routines. "We're just going to have to be creative, choreographically, and very careful when we're working," he told ABC News. "But I definitely don't want to tone it down, it's like [the] finish line, pretty much. We're almost there. We can't afford to make it too simple."
Despite Chmerkovskiy's modifications, he and McKellar wound up being eliminated shortly after. She took her ejection from "DWTS" in stride. "It's been absolutely amazing," she said of her time on the show, as reported by ABC News. "You never know when you're going to get eliminated. So you just have to live in the moment. It's a good life lesson, actually."
Danica created a yoga DVD
Anyone who's seen Danica McKellar on TV, whether she's tripping the light fantastic on "Dancing With the Stars" or falling in love in a Hallmark rom-com, can attest that she keeps herself in tip-top shape. "Yes, I care about how I look and staying fit and healthy. No, I don't think that makes me superficial. And yes, it takes work," she wrote in a 2013 post for her website.
She added that yoga is her preferred form of exercise — so much so that she even starred in her own yoga and meditation video, titled "Daily Dose of Dharma." In the production, McKellar demonstrates yoga, while her mom, Mahaila McKellar, offers instruction on meditation.
During the early days of the pandemic in 2020, McKellar took to Instagram to tell her followers that "yoga has been a *lifesaver* for me during this time, physically, mentally, and emotionally." While she joked that she often found herself doing yoga with a sonic backdrop of her husband and children having "nerf battles," she conceded that "it still makes a HUGE difference in how I feel."
She made out with Avril Lavigne in a music video
Arguably among the top of Danica McKellar's many screen appearances was her role in Avril Lavigne's music video for her 2013 single "Rock N Roll." In the video, apparently an homage to "Tank Girl," she and McKellar are driving in what seems to be a post-apocalyptic wasteland when McKellar leans over and gives the Canadian rocker a full-on kiss. While they make out, Lavigne can be heard in a voiceover (clearly referencing McKellar's "Wonder Years" kiss with Fred Savage), saying, "It was the first kiss for both of us, we never really talked about it afterward. But I think about the events of that day again and again, and somehow I know Winnie does too."
After shooting the video, McKellar gushed about the experience on Twitter. "Just had the best time shooting @AvrilLavigne's new video," she wrote. "And she is so sweet and fun! Made me feel like a rock star." McKellar elaborated on the experience in an interview with "Good Morning America," admitting the video was "sexy, edgy, stuff I usually don't get offered, so this was really fun."
That wasn't the first time McKellar has showcased her skills in a music video; she can also be seen playing the cello in the video for Debbie Gibson's 1989 track "No More Rhyme."
Danica created a mathematical theorem
After "The Wonder Years" ended its run in 1993, Danica McKellar — then 18 — decided to put her Hollywood career on hold and head to college. Studying at UCLA, she graduated with a Bachelor of Science in mathematics. While still an undergrad, McKellar was co-author of a scientific paper — co-written with Professor Lincoln Chayes and fellow student Brandy Winn — with the catchy title of "Percolation and Gibbs States Multiplicity for Ferromagnetic Ashkin-Teller Models on Z2."
The results demonstrated in that paper led to the formulation of a new mathematical theorem, the Chayes–McKellar–Winn theorem. Interviewed by NPR's "Weekend Edition," McKellar explained how they came to create the theorem. "We took a two-dimensional mathematical model of magnetic material and proved a theorem about it," she said, describing the theorem as "a pretend two-dimensional lattice grid representation of this material, and it has properties based on temperature."
As a New York Times profile on McKellar pointed out, she combined her dual passions for math and acting when she portrayed a woman claiming to have solved a complex mathematical puzzle in a production of the play "Proof" at the San Diego Repertory Theater. When she auditioned, McKellar was asked how much she knew about math. "She went into a five-minute explanation," said the theater's artistic director, Sam Woodhouse. "Which was a stunning and mystifying five minutes."
Her passion is to inspire girls to love math
Having co-created a mathematical theorem, Danica McKellar clearly has a love of math. In fact, she's held an interest in science for her entire life. Interviewed by USA Today, she revealed that her passion for STEM (science, technology, engineering, and math) extended back to childhood. "I can't ever remember a time that I didn't want to not only learn, but be challenged," she shared. "I think that's why I love math; it challenges my brain."
As a result, she's eager to share her passion for science with young women who may not have previously considered a career path in a scientific field. "I want to inspire girls not to aspire to be that cute girl that takes selfies," she explained in an interview with Fatherly. "They can aspire to be the cute young woman who's wearing a fabulous suit and heels bought with the money made at a fabulous job."
Part of that effort, she told USA Today, was to shoot down the stereotype that science is something that's only undertaken by uncool kids. "I want to make over the perception of who 'smart kids' and those who love math actually are," she declared.
She's written more than a dozen books
In her pursuit to popularize the study of mathematics, Danica McKellar has written several books on the subject. As her author profile page for Penguin Random House demonstrates, her tomes have run the gamut from math-themed children's books aimed at toddlers (with such titles as "Bathtime Mathtime" and "Goodnight, Numbers") to others aimed at teens (including "Math Doesn't Suck," "Kiss My Math," and the geometry-inspired "Girls Get Curves"), under her McKellar Math brand.
As she explained in an interview with The Children's Book Review, McKellar's books are her way of tackling the common misperception that math is difficult or scary. Her goal, she said, is to "make it entertaining, but educational as well. By writing books, I can reach a lot more kids all over the world … I love to use this outlet, especially to encourage young girls."
Interestingly, McKellar told BUILD Series, when one of her books was chosen for Dolly Parton's Imagination Library — which donates free books to children — it led her to pitch a movie idea to the country music icon herself. As a result, McKellar wound up starring with Parton in the Hallmark holiday movie "Christmas at Dollywood."
Danica has learned valuable lessons from her divorce
In 2012, Danica McKellar filed to divorce husband Mike Verta after just three years of marriage, per TMZ. The divorce was finalized the following year, with the exes sharing custody of their son, who was then 2 years old.
McKellar opened up about her complicated feelings in a post for her website, via the Daily Mail. "The end of a marriage has got to be one of the saddest events one can experience," she wrote, comparing the demise of a marital relationship to the death of a family member. However, she also shared her gratitude that their split had been "nothing but amicable," resulting in a divorce that went "as smooth as can be hoped for."
Speaking with Fatherly, McKellar laid out the two key "pieces of advice" she wanted to share with anyone in the midst of a divorce. "Number 1: Don't badmouth each other or the new partners ever, ever. That just puts the kid in the middle," she said. "Number 2: Be generous with your ex, in every way you can be."
Her romance with husband Scott Svelosky is just like one of her Hallmark movies
Following her divorce, Danica McKellar remarried. In fact, her love story with second husband Scott Svelosky isn't all that dissimilar from one of the Hallmark Channel rom-coms for which she's become synonymous.
Speaking with Country Living, McKellar revealed that she was set up with Svelosky through some mutual friends. Before they met, the future spouses first got to know each other over the phone, discovering they were both fans of Deepak Chopra's book "The Seven Spiritual Laws of Success." When they finally met, she recalled, he arrived with a copy of the book, showing her the passages that he'd underlined.
"I sat down across from him for coffee and started giggling and couldn't stop. I didn't know what to say. I couldn't believe this is who I was sitting across [from]," she said. "I just already loved him and was smitten from the moment I sat down." They got engaged in 2014 and wed later that same year.