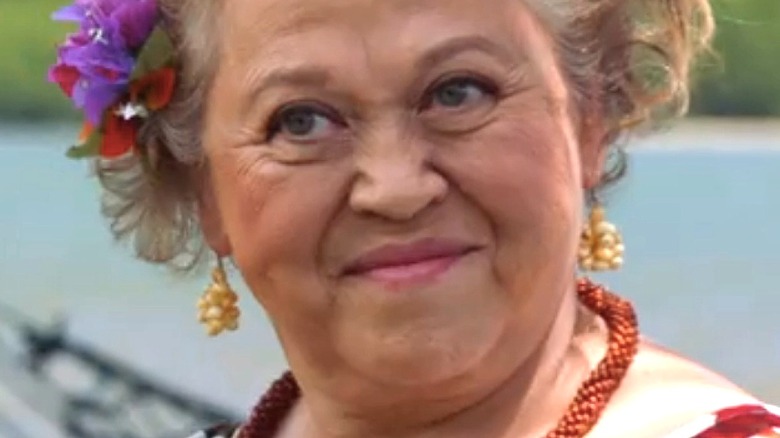 Thanks to NBC's decision to swoop in and save "Magnum P.I." from the brink of cancellation, fans of the former CBS series will enjoy at least two more seasons of Eric Guggenheim and Peter M. Lenkov's reboot (via The Hollywood Reporter). The cancellation, according to IndieWire, was largely the result of a substantial licensing fee — a claim that makes sense given the series' relative popularity (per TV Series Finale) in a world dominated by non-network streaming shows. At least part of that popularity was driven, no doubt, by nostalgia for the original, but the series' talented and charismatic cast also deserves some credit.
Though the series differs from its predecessor (aka Donald P. Bellisario and Glen A. Larson's comma-adorned "Magnum, P.I.") in a number of ways — e.g., its titular character's lack of mustache, and its polarizing reimagining of John Hillerman's Higgins – the two shows share quite a bit in common. In addition to its near-identical premise, the new series is peopled with characters that mirror the original's most memorable figures. Like Tom Selleck's Magnum, Jay Hernandez' Magnum resides in the guest house of a mysterious off-screen benefactor's estate called The Robin's Nest, and occasionally, and playfully, butts heads with the home's caretaker. In the 1980s series, Hillerman's Higgins took on this role, but in the reboot, a woman named Kumu acts as the estate's cultural curator. Unlike Hernandez, whose career kicked-off relatively recently, the actor behind Kumu has been a mainstay of film and television for decades.
Hill made sitcom history in All-American Girl
That mainstay is none other than the versatile Amy Hill, who's been in just about every television show ever made. When ABC's "All-American Girl" debuted in 1994 and helped jumpstart the actor's screen career, it made history as the first U.S. sitcom to revolve around a family of Asian descent. The series, starring comedian and actor Margaret Cho, would hold that record for two long and all-too-telling decades, until "Off The Boat" premiered in 2015.
By the time Amy Hill landed the role of Yung-hee Kim, aka Grandma, on the show, she'd already enjoyed a respectable career that began in 1984 with an arc on NBC's "Partners in Crime," included roles on "Growing Pains," "Night Court," "Perfect Strangers," and "Beverly Hills 90210," and saw the actor hit the big screen alongside Billy Murray in "Scrooged" and Sean Connery in "Rising Sun." In a 2013 interview with Asians on Film, Hill revealed that her character was a tribute to the years she'd spent impersonating her Japanese mother while doing improv comedy in San Fransisco, and explained her approach to Grandma as follows: "It wasn't just my mother, it was like a Korean version … but the important thing was making her a real person."
Despite a star-studded cast that also included BD Wong and Jodi Long, the series was cancelled after just one season. As Cho explained to PBS in 2014, its failure was due largely to the network's own failure to defy pervasive racist and sexist expectations — to the detriment of both its writing and its cast.
1995 to 2005 was Hill's first wave of sitcom success
Hill's first major, regular role on a TV series led to many, many more. From 1995 to 2005, Hill was a small screen mainstay, appearing as a guest on a litany of popular series, including "Seinfeld," "Boston Common," "Mad About You," "Two Guys, a Girl and a Pizza Place," "Friends," "The Hughleys," "Curb Your Enthusiasm," "The Bernie Mac Show," "Frasier," "Reno 911!," "Six Feet Under," "That's so Raven," "The Closer," and "Related." In addition to endless guest appearances, the actor enjoyed regular roles in a number of series as well.
From 1995 to 1996, Hill starred alongside the legendary Betty White in the short-lived sitcom, "Maybe This Time." In it, Hill portrayed Kay Ohara, the sardonic, quip-filled friend of White's Shirley, and a regular at the latter's cafe. The following year, Hill appeared in Fox's "Pauly," a sitcom that attempted to cash-in on Pauly Shore's then-waning "The Weasel" persona and career, and had a short lifespan as a result. But the failure of "Pauly" had little impact on Hill. In 1997, the actor joined Matthew Diamond's "The Naked Truth," portraying photographer Suji in 22 episodes of the sitcom's third and last season before nabbing the role of restaurant owner Fanny Sue Chang in Comedy Central's absurdist Soap Opera spoof, "Strip Mall."
The latter end of the period saw Hill star as one of the more central figures, the (again, sardonic and quip-filled) receptionist Mary in ABC's "Hot Properties." The series also starred Gail O'Grady ("NYPD Blue"), Nicole Sullivan ("MADtv"), and a pre-"Modern Family" Sofía Vergara.
Amy Hill juggled sitcom and silver screen stints in the early aughts
In the early 2000s, Hill proved she was also a big screen go-to. In 2003, Hill played the lilac-haired and narcoleptic babysitter, Mrs. Kwan, in "Dr. Suess' The Cat in the Hat." The film was despised by critics (via Rotten Tomatoes), including the occasionally brutal Roger Ebert. In his review, Ebert criticized the film's use of Mrs. Kwan in particular: "To use the unconscious Mrs. Kwan [as a raft] is creepy and offensive," he writes, adding that the gag was "making fun of old people in general, in a cruel way, and I don't think it's funny" (via Roger Ebert). Nonetheless, by the time of the film's release, Hill had already established her career's Teflon tough durability, and the movie's disappointing reception didn't hold her back in the slightest.
The next six years saw Hill pop up in numerous of films. In 2000, she starred as Mrs. Ho-Kym in "Next Friday," the then-number one movie in America (via Austin Chronicle). In 2003, Hill portrayed teacher Miss Hozzie in Shawn Levy's "Cheaper by the Dozen" reboot. The following year, the actor served as the all-important local diner owner, Sue, in Peter Segal's "50 First Dates," Hollywood's first attempt to recapture the Barrymore-Sandler magic of "The Wedding Singer" (the second was 2014's "Blended"). Then, in 2005, Hill moved into a more artful brand of comedy with Nicole Bettauer's quirky and poignant "Duck," before returning to the romcoms as a therapist in 2009's "Couples Retreat."
Amy Hill is no stranger to patients and juries
Over the course of her career, Hill has appeared repeatedly as either a nurse, or (some form of) doctor, or a judge. The actor's time on the bench began back in 2006, when she starred as Judge Eva Fwae Wun in Bob Odenkirk's dark comedy, "Let's Go to Prison." Then, between 2007 and 2012, the former improv comedian would bang a gavel in several productions, including "The Sarah Silverman Program," "Eli Stone," "Law & Order: LA," and "Raising Hope." But the frequency of her robe-donning is nothing compared to her extensive experience in the medical profession.
In 2009, Hill starred as Dr. Brown in eleven episodes of ABC's "General Hospital." While the target audience was a relatively new one for the primetime star, the profession of her character was not. In 1988, Hill portrayed Dr. Celeste Buhai in "Growing Pains," and would go on to play a nurse, doctor, or therapist in too many series and films to name over the course of her career, including, but not limited to: "Singles," "Nurses," "Buddies," "My Wife and Kids," "The Mentalist," "Studio 60 on the Sunset Strip," "Boston Legal," "The Return of Jezebel James," "Glee," "Santa Clarita Diet," "Outdated," and "Doogie Kamealoha, M.D."
On the big screen, Hill portrayed a doctor in Quentin Lee's "White Frog," Ringo Le's "Big Gay Love," and Graham Streeter's "Imperfect Sky." What's more, in addition to portraying a therapist in the aforementioned "Couples Retreat," the actor brought Hollywood therapist Dr. Wagerstein to life in a 2015 series loaded with social commentary.
In UnREAL, Hill pulled back the reality TV curtain
In 2015, the endlessly prolific star portrayed the pragmatically manipulative Dr. Wagerstein on Lifetime's highly-rated but sadly short-lived "UnREAL." The series — a biting and smart commentary on the hellscape that is the reality TV dating show — followed post-breakdown producer Rachel Goldberg (Shiri Appleby) as she fought to satisfy the ratings and melodrama needs of Constance Zimmer's Quinn King, Goldberg's frenemy and executive producer of "The Bachelor"-esque fictional series, "Everlasting." Hill's Dr. Wagerstein, a kind of medical mercenary, was hired to mine the contestants' personal lives and psychologies for material that might prove useful on the series.
Created by Marti Noxon and Sarah Gertrude Shapiro, Season 1 of "UnReal" used its dark humor to successfully tackle, investigate, and comment upon topics such as misogyny and racism, and received an impressive smattering of acclaim that included two Emmy nominations, an AFI award, and a Peabody (per IMDb). Unfortunately, the series failed to keep up with audiences' rapidly evolving approach to empowerment. As The Guardian's Arielle Bernstein explains in a 2018 article, "[At] a time when so many series are focusing on women who are actively working to dismantle a patriarchal system, both Rachel and Quinn's insistence on staying safe in each other's arms, promising that they will do better, after burning down the world around them, actually feels kind of infuriating."
But even as the series fizzled out, Hill's career continued to pop.
Hill's second TV series explosion involved neighbors, grandkids, vampires, and crazy ex-girlfriends
For the next few years, Hill's familiar face and unflappable comedic timing came streaming into living rooms everywhere via five different television series.
After appearing in Onur Tukel's "Catfight," the actor starred in four episodes of CBS and Mike Gibbons's "The Great Indoors," alongside "Community" veteran Joel McHale and the iconic Stephen Fry. Next, it was on to co-creaters Sam Catlin, Evan Goldberg, and Seth Rogen's "Preacher," an adaptation of Garth Ennis and Steve Dillon's DC comic of the same name, in which Hill portrayed Hell warden Ms. Mannering for six episodes. Following her foray into the underworld, Hill stepped back into the sitcom spotlight with a recurring role as nosy and antagonistic neighbor Beverly on CBS' "Mom." The following year, the actor appeared in two episodes Kenya Barris's "Black-ish" ("R-E-S-P-E-C-T" and "White Breakfast") as Nana Jean, the mercurial grandmother of Emerson Min's Mason and longtime foe of Jenifer Lewis' Ruby Johnson.
It was a role Hill landed just prior to her time on "Black-ish," however, that most defined the actor's second sitcom wave. From 2015 to 2018, Hill portrayed Lourdes Chan, mother to Vincent Rodriguez III's Josh Chan, the ex boyfriend in Rachel Bloom and Aline Brosh McKenna's "My Crazy Ex Girlfriend." The too-underrated series, which boasts a critical score of 98% on Rotten Tomatoes, would serve as Hill's last recurring on-screen role in an adult-oriented sitcom or series until she joined the cast of "Magnum P.I." later that year. This didn't mean, however, that Hill didn't still have other audiences to win over.
Hill played it kid-friendly in Just Add Magic
From 2016 to 2019, a period that overlaps with some of her time on "Magnum P.I.," Hill starred as on-again-off-again antagonist and mysterious shop owner Mama P in Amazon Studios' "Just Add Magic," an adaptation of YA author Cindy Callaghan's book by the same name. As Deadline reports, the series premiere of the audience-adored, critically-ignored kids show (created for ages 6-11), was wildly successful, setting an Amazon Original Kids premiere weekend record for streams and hours watched.
In the series, Hill's Mama P enjoys an arc that begins in the realm of "stock, friendly, wise local grocer" and moves through various degrees of misunderstood villain and eventual friendly cohort. In Jessica Jernigan's review of the series (per Decider), she likens it to a tween-oriented "Buffy," writing that, like the seminal teen vampire series, "'Just Add Magic' mixes an overarching storyline with standalone plots. Darkness and danger is leavened with humor. And the supernatural elements are amplifications of real-life situations and experiences."
Considering Hill's vast and varied experience as a voice actor in kid-oriented productions such as the "Lilo & Stich" franchise, the versatile comedian and actor's stint on "Just Add Magic" made perfect sense — even if it stands in stark contrast to so many of her most notorious and hilarious roles.