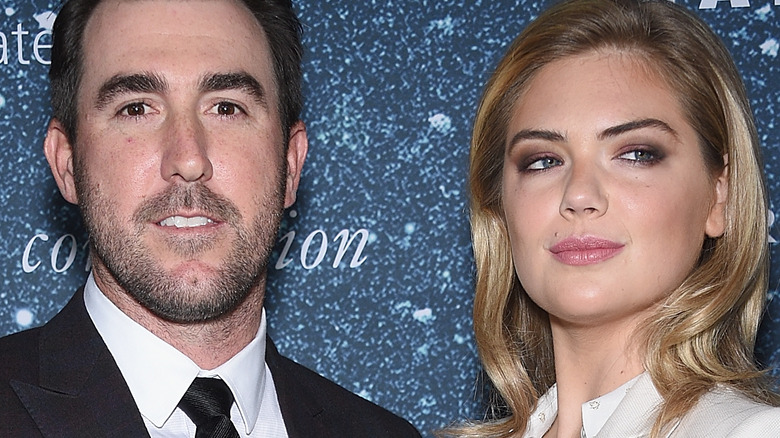 Athletes and supermodels have been falling in love with each other since the beginning of time, so it was no surprise when rumors emerged that Sports Illustrated cover girl Kate Upton was dating Major League Baseball pitcher Justin Verlander back in 2012. Apparently, the two kept things under wraps for a while, not going public until early 2013. That same year, the duo split up but were back on by 2014. Since then, and as of this writing, the pair have been going strong.
Over the years, they've gone through breakups, makeups, a top-secret engagement, and a fairy-tale wedding in Italy. But just like everything when it comes to the rich and famous, certain aspects of their relationship are on the unusual side, especially when compared to the non-celebrities among us. Despite Verlander telling Forbes, "We're just normal people. You know, normal relationship — believe it or not," should we believe it, or not? Read on to see just how bizarre Kate Upton and Justin Verlander's marriage really is.
Kate Upton and Justin Verlander's relationship timeline is hazy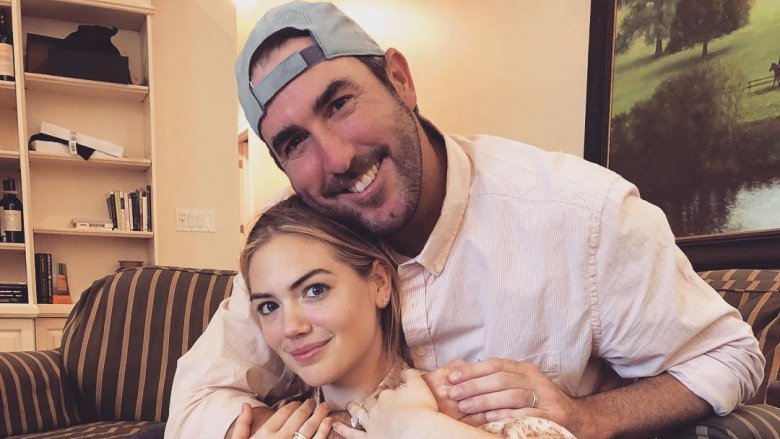 Kate Upton and Justin Verlander's mad dash to the altar is a bit tricky to chronicle, especially since these two kept much of their on-again, off-again relationship very hush-hush. In fact, at one point it seemed like this married pair wasn't going to go the distance.
In June 2013, Us Weekly reported that Upton was all about "Dancing with the Stars" pro dancer Maksim Chmerkovskiy. When asked about their romance, Chmerkovskiy told Us Weekly: "She's an amazing person … We have an incredible time together, and, you know, I definitely didn't see that coming and I think neither did she." Chmerkovskiy probably didn't see their breakup coming, either.
In December 2013, People reported that Upton and the dance pro were done-zo, and by January 2014, she was spotted watching a Detroit Flyers game with her former flame, Verlander. Now that they've tied the knot, let's hope all this secretive relationship fickleness is behind them.
Upton waited until the Met Gala to reveal their engagement
Most couples announce their engagements with a flurry of phone calls to close friends and family, a cutesy post on social media, and maybe even an announcement put out by their team — but not Kate Upton. Instead, the supermodel decided to just show up at the 2016 Met Gala and wait for the crowd of photographers to announce her news. She must have known that the rock on that all-important finger would be hard to miss.
"I'm really excited," Upton told E! News. "He asked me right before [baseball] season started so we've been keeping it on the down low for quite a while." Making this big reveal even more unusual: her husband-to-be wasn't even by her side for the special announcement, although it was reported that he helped design the engagement ring himself. The jeweler, Anita Ko, told People, "Justin and I collaborated on creating the most perfect one-of-a-kind ring that is rare and of exceptional quality, just like their love." Still, Upton attended the huge celeb soiree solo, wearing a one-shoulder glittering gown that couldn't outshine the dazzling rock on her hand.
The proposal was super awkward
During an interview with "The Tonight Show Starring Jimmy Fallon," Kate Upton explained how hilariously awkward Justin Verlander's proposal was, thanks in large part to her strange internal discourse. "He gets down on one knee and he pops open the ring box," she told Fallon. "In my mind I was like, 'Don't look at the ring. He's going to think you're materialistic." Instead, she kept telling herself to "just look in his eyes" and "listen to what he's saying." But, like a comedy of errors, Upton's efforts backfired because after Verlander stopped talking and she said "Yes," he said, "Did you not like the ring? You didn't look at it once." Doh!
Us Weekly estimated the custom Anito Ko sparkler was approximately 8-carats (with one expert saying the rock cost somewhere in the range of $1.5 million), so it's kind of confusing as to how in the world Upton was able to not stare at it!
Kate Upton and Justin Verlander strategically schedule their intimate moments
Baseball season can be long and grueling, beginning with spring training in late February and culminating with the playoffs, which — if the team's really lucky — can sometimes last until early-November. We're sure Kate Upton expected that life with an athlete would pose some scheduling challenges, but who knew it would actually impact her man's performance off the field?
On an episode of "Watch What Happens Live," a fan asked if Upton and her then-fiancé, who was playing for the Detroit Tigers at the time, preferred to get frisky before or after his games. The blonde bombshell didn't hesitate. "There's no sex before a game — absolutely none," she said.
It makes sense that Justin Verlander may want to save his energy for throwing strikes, but Upton then revealed that their post-game antics were not what she expected. "What I've just found out is, if he plays too well, there's no sex after, either." No celebratory romp? Nope. She said, "He's exhausted. It's kind of a buzzkill for me."
They were part of the celebrity photo hack
We don't know how many couples take naked photos of themselves, but we do know that most couples don't have to deal with sharing those photos worldwide. In 2014, the private accounts of Kate Upton and Justin Verlander — along with scores of others — were hacked and very intimate photos were leaked online for billions of people to potentially view. An L.A.-based artist even wanted to exhibit their photos as part of a gallery called "No Delete." The artist's justification for displaying such an intrusion of other people's privacy? "We share our secrets with technology," they said. "And when we do, our privacy becomes accessible to others." This strange spectacle was extremely trying for the couple, so it's no surprise that Upton admitted that she often considered deleting her social media accounts altogether.
Verlander tried to keep the focus on baseball. "I'm not going to comment on my personal life," he said from the clubhouse before a game (via USA Today). "I never have, and I never plan on it. I keep my personal life personal … I don't want to take any focus away from this team and what we're trying to accomplish. We're in the middle of a pennant race."
Upton eventually opened up about the debacle. "It was very difficult," said told the Evening Standard. "It's an invasion of my privacy and it's not OK. It's illegal. People don't have a right to look at those photos or to judge them."
Kate Upton told off Major League Baseball
In November 2016, Kate Upton was a bit ticked off when her then-fiancé did not win the 2016 American League Cy Young Award, which honors the best pitcher in the league. According to E! News, the annual accolade is decided by the Baseball Writers Association of America. Upton thought her man deserved the award over Boston Red Sox pitcher Rick Porcello, so she took to Twitter to unleash on Major League Baseball. We repeat: she told off her boyfriend's bosses in a big way.
"Hey @MLB I thought I was the only person allowed to f**k @JustinVerlander ?! What 2 writers didn't have him on their ballot?" she tweeted. Do you hear that noise? That's the sound of our jaws dropping! What did Justin Verlander think? Was he mortified? Annoyed with her? Upset that she was fighting his battles for him?
None of the above. "I think his first reaction was a little bit surprised that I had already sent [the tweets], but overall he loved it," she told "Watch What Happens Live." That's cool that Upton's got Verlander's back, but we can't help but wonder if her sour grapes did more harm than good. Let's just point out that he failed to nab the award in 2017, too.
Kate Upton and Justin Verlander's mortgage came before marriage
It's not unusual for a couple of lovebirds to play house together before they wed, and sure, that means sharing the rent or mortgage, as well as deciding on which décor will stay and which will go. What is unusual, however, is plunking down $5.25 million before it's official. Kate Upton and Justin Verlander said "We do" on a pricey piece of real estate in 2016, nearly a year before their wedding. According to the Los Angeles Times, the pair bought a five-bedroom, six-bathroom abode in the gated community of Beverly Crest. With 5,706-square-feet of living space available, the couple had more than enough room to Netflix and not chill before and after baseball games.
As of 2022, this home was on the market for double what they paid for it several years before. Their new digs are in Florida, a 4,600-square foot ranch-style dwelling, which is the latest addition to their real estate portfolio (they boast property in Houston as well).
A family member blew up their spot
Oh, Grandpa. In October 2012, Justin Verlander's grandfather, Richard Verlander Sr. who was 87 at the time, was contacted by Celebuzz and asked to discuss his grandson's dating life. The patriarch of the family was more than happy to gush about it. "I heard he has been on dates with a Sports Illustrated girl," Richard said. "I saw a photo — she's beautiful. They make a good looking pair because he's a good looking man too."
The idea of Justin's grandpa unknowingly dishing to a gossip website is pretty funny, and the baseball player and his family had a good laugh about it, too. When asked about his pa-pa's bold statement, Verlander told USA Today, "I'm not confirming or denying anything," before adding with a laugh, "I'll leave that to my grandfather. God bless him."
The MLB superstar then addressed the situation on a more serious note. "I never thought I'd have to prepare my grandfather for the media," he said.
Kate Upton and Justin Verlander almost missed their own wedding
After leaving the Tigers and signing with the Houston Astros, Justin Verlander found himself on a winning squad that was inching closer and closer to competing in the World Series. He and his future bride knew there was the remote possibility that their November 4, 2017 wedding date in Tuscany, Italy would be cutting it close if the Astros made it to game seven of the series.
So sure enough, that's exactly what happened. The couple recapped the nail-biting experience on "The Tonight Show starring Jimmy Fallon." "Everybody's in Italy, everyone's at the venue," Kate Upton said. "We had an event that night and everyone's texting us like, 'Your wedding's so pretty, wish you were here.'"
"We got taken around our wedding via Facetime," Verlander said. The Astros won game seven and took home the pennant, and Upton and Verlander did, in fact, make to their own wedding just in time.
This married couple really likes to drink
Throwing a few back does not a weird relationship make, but considering this is a relationship between a professional athlete and a supermodel — two careers that require one's body to be in tip-top shape — their unabashed love of booze is kind of weird. Kate Upton dished one story to ESPN: "It was my birthday, and he had probably like his worst game ever, and no one had any idea how he'd respond to his worst game ever. He vented to me in the car and was like, 'I am going to get blackout drunk.' So a bunch of us went out and got blackout drunk!"
And when they started planning their 2017 wedding, it seemed like they had liquor and partying on their minds once again. Justin Verlander told E! News that the varying schedules of his MLB buddies made it difficult to plan a bachelor party, so he was considering having three different events. That's a whole lot of potential blackoutedness (totally a word, right?)
Upton reportedly gave him the green light for his multiple parties, perhaps because she was really looking forward to her own shindig. "I really want to go to Mexico and have so much tequila!" she said, noting that she also knows a great remedy for hangovers: "A nice tequila, no sugar."
Kate Upton and Justin Verlander's 'high-pressure' baby-naming process
Kate Upton announced that she and her husband, Justin Verlander, were expecting their first child in a July 2018 Instagram post. Less than five months later, they welcomed their sweet baby girl, Genevieve Upton Verlander, into the world. Aww! Isn't that the cutest name ever? It's just too bad the baby-naming process was a source of an immense amount of drama for the couple.
Upton dished out all the dirt when she confirmed that she and Verlander had issues coming up with a name in an interview with Extra TV. "Genevieve" was the supermodel's "favorite," and Verlander was aware of that. But still, all heck broke loose after their daughter was delivered. "It's so high-pressure," Upton said. "We were going back and forth, even in the hospital we were going back and forth, and Justin had some real name-commitment issues." Things got so tense that Upton actually "left [Verlander] to fill out the paperwork." She added, "I was like I can't deal with that right now."
It's not like they didn't have months to decide on a name, which is why this disagreement seemed like a bit of a silly thing to argue about. But we're sure Upton was so grateful Verlander went with her top choice instead of picking a name that's completely wacky. Crisis averted!