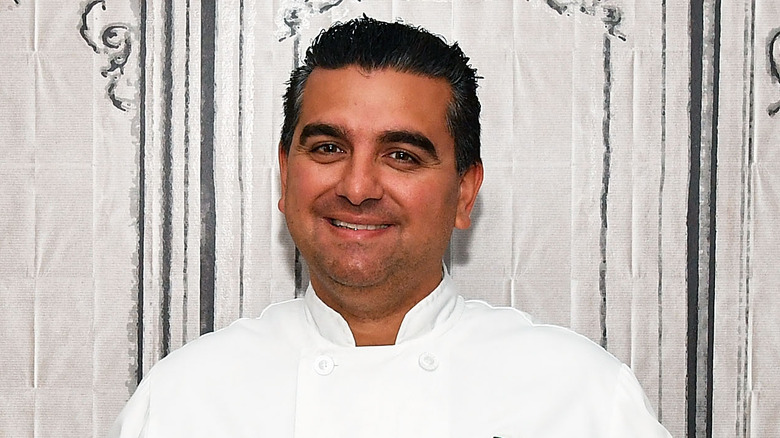 Buddy Valastro, also known as the "Cake Boss," was a household name for close to a decade, due to his fame on TLC's Cake Boss. A master cake baker, decorator, and owner of Carlo's Bakery, Valastro and his staff have whipped up thousands of wedding cakes, specialty cakes and Italian pastries (per Carlo's Bakery) in front of the camera since the show's premiere in 2009. With award-winning designs under his belt, the series gained multiple spin-off shows and best-selling books for Valastro, including "Cake Boss: Next Great Baker," "Buddy's Bakery Rescue," the launch of his best-selling first book, "Cake Boss, Stories and Recipes from Mia Famiglia," and "Baking with the Cake Boss: 100 of Buddy's Best Recipes and Decorating Secrets."
It seemed like everything was going great for Valastro and the show, but shortly after 2017, he seemed to disappear. So, where has he been? And what has he been up to these past few years? Mashed has all the tea for you.
The passing of Buddy Valastro's mother led to a two-year hiatus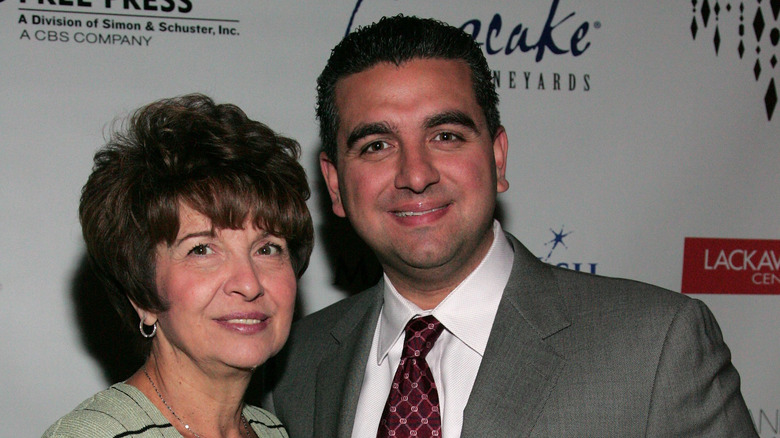 On June 22, 2017, Valastro's mother, Mary Valastro, lost her long-fought battle with ALS, also known as Lou Gehrig's disease. Mary had appeared in the show during its early seasons, but retired after her diagnosis in 2012, the same year Buddy started the Momma Mary Foundation in her honor (per Women's World). After her passing, Valastro struggled to return to the famed bakery located in Hoboken, New Jersey (per People Magazine). This led to a two-year hiatus for the series.
"I haven't been back to Hoboken since she died and I know that when I go there, I'll definitely break down," he told People. "That place has got so much history and that was my mom's spot, that was her store."
In the year before her death, Mary lost almost all of her motor skills, relying on a wheelchair and a handicapped van to continue her visits to the bakery. She ended up passing from complications of pneumonia, one of the leading causes of death in ALS patients.
"The day she passed was so mixed," Valastro told People a year after her passing. "It was a mixture of sadness and relief because she wasn't really living at the time. This disease is horrible and it takes a toll on you, and she wasn't that firecracker she always was."
Buddy Valastro took time to focus on his health and weight
In 2018, Valastro wowed all of us when he began showing off a slimmer figure. Using the Optavia program, a diet program owned by the company Medifast, Buddy took his health into his own hands, as we all should, and was able to lose 35 pounds through eating six small meals a day.
The program provides coaches and community member to help dieters meet their goals. With each meal plan comes the company's prepackaged "Fueling" meals, meant to fill you up, while also maintaining your weight loss (per Optavia). The TV star and bakery owner was adamant about how much better he was feeling, even telling People Magazine about it.
"I'm not doing it because I'm trying to look good, I'm doing it to feel better. I feel so much better now. But when you do lose weight, you feel good, you do look better, and you know, your clothes fit," he told the magazine at the time. "I'm not the sensitive type — people could call me fat, they could call me skinny. I don't really care. I did it for me. Even at my heaviest I was always comfortable with myself."
Cake Boss moved to Discovery family in 2019
After it's two-year hiatus, the show did return, but made a home on a different network. In 2019, "Cake Boss's" ninth season premiered on Discovery Family, a smaller network than the previous TLC. It followed Valastro and his crew just as previous seasons did, but allowed for a more kid-friendly audience. While "Cake Boss" made the move, Valastro also made a place in Food Network, starring in "Buddy vs. Duff" and "Buddy vs. Christmas."
The show's 10th season premiered in 2020 and the move did cause some confusion around each season's numbering. Technically Discovery Family's season 10 for the show would be considered season 15 for TLC. It's uncertain why there was a change in numbering, but season 11 (or 16) has just premiered on Discovery Family and is set to follow more of the Cake Boss and his team's shenanigans as they create delicious and creative cakes and desserts.
Buddy Valastro is running multiple companies and restaurants
In addition to his famed TV shows, Valastro is running multiple businesses and restaurants, including Carlo's Bakery's multiple new locations across the United States. In 2013, he opened Buddy V's Ristorante in Las Vegas. The Italian restaurant now has two more locations in Bethlehem, Pennsylvania and McAllen, Texas (per Buddy V's Restaurants). When he's not baking a decadent dessert or a mouthwatering dish, he's running Cakehouse Media in partnership with television producer Art Edwards.
The two first teamed up to produce "Cake Boss" in 2008 and after much success with the series, launched their own production company in 2014 (per Cakehouse Media). They have now produced 12 shows together on Food Network, TLC, Recorde Rede, and YouTube, including "Bake You Rich," Cooks Vs. Cons," and of course, "Cake Boss."
Buddy Valastro also owns his own pet treat and baking items line under the name of Buddy Valastro Foods. The line contains pet treats, as well as non-pet items like cake mix kits, and buttercream icing. The idea for pet treats came when Valastro noticed his family dog, Baci, watching intently as Buddy Valastro whipped up goodies for his wife and kids in their home. He wanted to create treats that would be just as tasty and safe for his pup and started Buddy Valastro Pets, his pet treat line from the company.
All in all, Valastro has kept busy with his businesses we'd say, creating work in multiple industries.
Buddy Valastro suffered a tragic bowling accident
Recently, the cake mogul suffered a tragic bowling accident, in which he impaled his hand in 2020. After his first surgery to repair the damage done, Valastro posted a photo of himself in a hospital bed and full cast on his arm, stating "I was involved in a terrible accident a few days ago…What do you think of my new accessory?"
Valastro's representative told ET that the accident happened due to a malfunction with the bowling pinsetter (per Yahoo! Life). When he tried to clear the bowling pin from the mechanism, his hand got lodged and compressed inside the machine. He was unable to dislodge his hand, so a metal rod slowly impaled his right hand between his ring and middle finger. His brother-in-law Joey Faugno, a licensed EMT and firefighter, ran in to help during the scene (per Today). A saw had to be used to remove a part of the mechanism to free Valastro.
"I thought I was going to faint, I looked at my hand and there was blood everywhere and I was stuck, the rod going back and forth because the machine goes back and forth," Valastro told Savannah Guthrie of Today. "Something told me to stay calm. My whole family worked together, my son Buddy, my son Marco, and within five minutes they were able to take the bolt out, cut me off the machine, and I was actually in my driveway before the ambulance even got there."
The injury caused nerve damage and uncertainty
The injury caused Valastro severe nerve damage in his hand, leading to the uncertainty that he would ever be able to bake again. At the time, he stated his hand strength was at about "10 or 15 percent of the strength that I used to have." Valastro went on to tell Entertainment Tonight that the recovery for nerve damage was a waiting game. "It's just really gonna be a matter of time to see exactly what comes back with the nerve too." The baker said his fingers were "numb" and "stiff", and "…we'll see what happens."
Valastro had undergone emergency surgery to remove the rod and help stabilize his wound, followed by an operation by an orthopedic surgeon after the incident (per Today). He was told the healing process could take between nine months and a year, due to having to reconnect multiple nerves (per Newsday).
"I have a thing with my hands. If I get a paper cut on my hand, I'm pissed off. My hands to me are my lifeline of everything I do," he told People a month after the initial incident. "And I wonder, 'Am I ever going to do what I used to be able to do?'"
After five surgeries, about 75% of his strength is back
Buddy Valastro has had multiple surgeries to repair his hand since the injury that took place in September 2020. When his fifth surgery took place in April, Valastro seemed a lot more optimistic about his healing. In an appearance on Rachael Ray's talk show, he told the host he is finally starting to feel like himself again, calling the surgery a "huge sucess" (per USA Today).
"Now I definitely have a lot more of my mobility back, so I can make a whole fist, I can make all my fingers straight, and I've got about 75% of my strength back," he stated. To prove it, he made a fist and straightened his fingers to show the degree of improvement he's made (per Fox News).
Despite the progress, Valastro still remains in physical therapy in hopes he will continue gaining more strength in his hand.
TLC ran a special on Buddy Valastro's recovery
TLC ran a special in December following Valastro and his family as they spoke about the incident and Valastro's recovery moving forward with real-time footage. Ahead of the special, the star posted a few clips from the special, including home security footage showing the moment his family members rushed outside the house to seek help from Valastro's brother-in-law and licensed EMT and firefighter Joey Faugno.
"It's a long, emotional journey, from Valastro's multiple surgeries, to his family anxiously waiting at the hospital, to grueling physical therapy, and to his first days back at the job," the press release states (per People).
The special sees the Cake Boss in a vulnerable state as he deals with his injury, with a clip from the special seeing the baker return to the famed Carlo's Bakery and struggle to cut and ice a cake. It's a heartbreaking moment to watch, but admirable as we see the star continue to push forward and do his best to get back to his normal self again.
Buddy Valastro is back and working at Carlo's Bakery
Despite his struggles in the beginning of his return to Carlo's Bakery, Valastro is back and creating a variety of decadent desserts, including strawberry cake, Cookies and Cream Tsunami Cake, Rainbow Surprise Cake, pizza and more.
Recently, he invited supermodel Gigi Hadid for a fun-filled day of cake decorating at the bakery (per People). Valastro shared a cute selfie of the two wearing matching culinary jackets that read "Buddy" in red script with the bakery's name on Instagram. He captioned the photo, "You may know @gigihadid as a world famous supermodel but she's also the sweetest person ever and one amazing cake decorator too! She will always be a part of my famiglia @carlosbakery and a friend for life!
Hadid shared photos of her own from the day, captioning them "Best. Day. Ever. Somethin coming soon from CAKE BOSS @buddyvalastro & his biggest fan / newest @carlosbakery intern." Could she be hinting at a possible appearance on one of Valastro's shows? Time will only tell. Until then, we're happy to see the Cake Boss himself back at it and doing well at Carlo's Bakery.
Buddy Valastro has been enjoying time with family
Family has been a huge importance to Valastro from the beginning. It's well-known that Buddy Valastro had stepped up for the family business at 17-years-old when his father, Buddy Sr., passed away. So of course, he's put a lot of time into focusing on one of the most important things to him — his family. Since his injury, Buddy has praised his wife, Lisa, and kids multiple times for their help, even stating he's grown closer to his wife since the accident.
"My wife has been amazing. She's been a trooper," he told People. "We're going on 20 years now, and I think that we kind of checked all the boxes. But after you have an injury like this, and your wife helps you dry you out of the shower, that crosses another level. You get to really know each other, and love each other and be there for one another."
Not everything has been surrounding his injury though. Valastro has been seen simply enjoying his family as he always has. From dancing and singing along to Journey's "Don't Stop Believin'" to enjoying his yearly birthday cake from his wife to taking the time to remember his parents, Valastro has taken time to create memories with his family that will last forever. More recently, he celebrated his daughter Sofia's high school graduation and acceptance into the University of Delaware, as well as his son Marco's 8th-grade graduation.
Buddy Valastro is starring on Buddy vs. Duff
Buddy Valastro is currently facing off against master baker Duff Goldman for the third season of Food Network's "Buddy vs. Duff."
"This past year has been life-changing for Buddy and Duff; Buddy suffering a horrific injury to his dominant hand, and Duff welcoming a daughter and becoming a first-time father. These momentous events have given them a newfound appreciation for life and family –- in addition to a stronger motivation to prove their incredible talents with the best cake designs these bakers have ever created in order to break their tie in this fierce cake competition," Food Network President Courtney White stated in a press release.
This season will see the two bakers face-off with ancient world-inspired cakes, dream car cakes equipped with lights, engines and hydraulics, a feast of savory foods made entirely of cake, as well as design cakes showcasing a bug's world, pirate ship cakes, and more. This will all lead up to the two-hour season finale when Buddy and Duff will be tasked with creating monster cakes and someone will take home the prize.
Goldman won the king of cake in season one and Valastro took home the crown in season two, so it will be interesting to see who takes it all this season. We know we'll be watching!