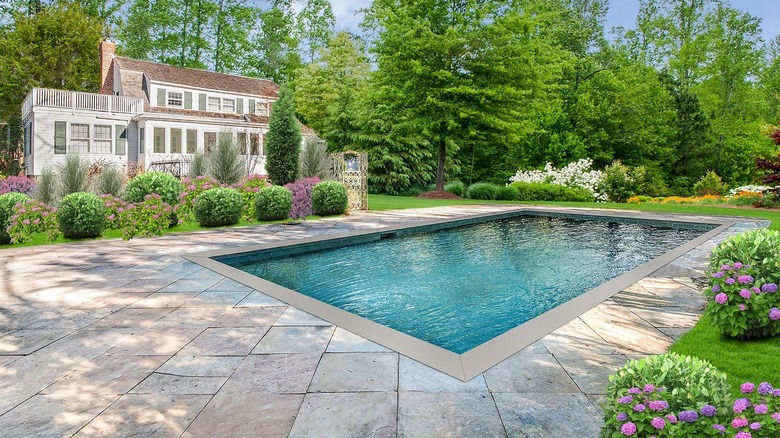 With its quaint villages, high-end shops and restaurants, relaxed attitude, and stunning beaches, the Hamptons have long been the getaway for the rich and famous. However, in a post-Covid-19 world, the New York escape has become more expensive than ever, perhaps paving the way for only the most A-list celebrities. Vanity Fair said that many locals, including self-proclaimed "one-percenters," are starting to become fed-up with insane restaurant bills, groceries, and even Uber rides in the Hamptons.
But for some of the most well-known celebrities in the world, money is no object, and their Hamptons homes provide the perfect dose of relaxation after a rough week on the job in nearby New York City. These celebrities have snagged amazing beach houses, many of which have their own pools, wine cellars, huge garages, colorful gardens, and guest houses for lucky visitors. Here are some of the best in one of the most exclusive areas on the planet.
Brooke Shields' colorful yet approachable Southampton home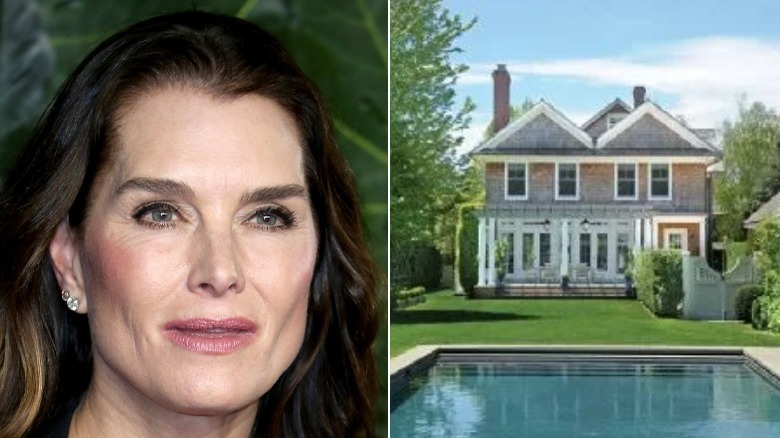 Most celebrities enlist professional interior designers to style their homes, but not the stunning Brooke Shields. The star, who has been in the spotlight for decades, clearly has her own penchant for decorating, judging by the colorful pad in Southampton that she bought for a little over $4 million in 2013. According to Page Six, Shields' home is outfitted with her mother's vintage furniture and other nostalgic items that she found at secondhand stores. Then, Shields brought history to life by filling the space with glam touches, like a hot pink armchair in the living room and lots of florals.
However, despite Shields' colossal wealth and beautiful Hamptons retreat, her home looks surprisingly approachable. Her living room has pale blue walls adorned with nature photographs, a refinished vintage wood coffee table, and many books. Her family room has the same nature, with pale yellow walls, gray chevron armchairs, a plush white rug, and a glass coffee table. A bulletin board lined with family photographs is on one of the walls. Shields' kitchen is all white with a subway tile backsplash and stainless-steel appliances, all of which are dotted with colorful additions like a yellow teapot and bright blue salt and pepper shakers.
Neil Patrick Harris's stately East Hampton pad that once housed a sex club
Having been married for nearly a decade, Neil Patrick Harris's life is (likely) far removed from that of a high-end sex club. But that didn't stop the star from buying a stately mansion in East Hampton that was the setting for sex club parties prior to hitting the market. He bought it for $5.5 million in 2017. Per New York Post, however, it seems to be quite the tranquil estate thanks to its 13 acres, tennis court, a pool surrounded by lush lawn, historic onsite barn, and plenty of privacy.
Harris and his husband, who have two kids, picked up the two-decade-old property in 2017, said Architectural Digest, and they got a deal on it, too. Although it initially hit the market for $6 million, Harris paid $500,000 less for the rustic home at 400 Hands Creek Road. It features exposed wood beams, floor-to-ceiling windows, several fireplaces, and even a hot tub on the roof. It has more than 5,000 square feet of space. But despite its regal ambiance, Harris and his family seem to have made themselves feel right at home here. The star of "How I Met Your Mother" has shared tons of laugh-worthy photos of his clan sharing memories and smiles inside the house throughout the years.
Alec Baldwin's East Hampton rustic-chic farmhouse that dates back to the 1700s
Alec Baldwin is known for his extensive real estate portfolio, but one of his oldest properties is still his rustic-chic East Hampton farmhouse dating back to the 1700s, which the star picked up long before he even knew his wife, Hilaria Baldwin. Elle Decor said that although Baldwin was still in his bachelor days when he bought the two-story pad, it has still proven to be enough room for his family of nine. However, unlike other massive estates, this farmhouse is still full of personality and the Baldwins' personal style.
Almost entirely floored with dark hardwood, the home has an ideal mix of old and new with touches like a vintage barn door right underneath a glittering chandelier. And although it's stately and traditional in some aspects, like the living room's beige and wood tones, there are also personalized details like a painting of Hilaria sitting atop the living room's limestone fireplace. The Baldwins' primary bedroom mixes beachy blue and white tones, including royal blue armchairs and a blue paisley ottoman. Their bedroom has its own fireplace, too, adding yet another sense of coziness to the white-outfitted space. The Baldwins' kids' rooms feature pastels, like pale purple and yellow, as well as more reclaimed furniture and plush couches and chairs.
Robert Downey Jr.'s whimsical East Hampton windmill home
Robert Downey Jr. has a one-of-a-kind personality, and his Hamptons home, built around a historic faux windmill, is just the same. According to Behind the Hedges, he bought the Edward DeRose Windmill Cottage in East Hampton, a whimsical copy of a famous windmill, in 2017 for $1.5 million less than the listing price at $10.5 million. Located on two acres, it also includes a lush property surrounded by greenery and different types of manicured trees. The property also has a deck off the primary bedroom, a separate onsite home for visitors, an area for playing tennis, and a colorful garden.
It's also an ideal home for Downey Jr. since its foliage and acreage offer tons of privacy. While it's secluded, it's also not far from town, which is a plus since he and his wife share two young kids who like to explore (via Architectural Digest). Inside, the abode is full of whimsical décor. That includes character paintings and glass orbs in the living room next to a dark gray fireplace wall, surrounded by a U-shaped couch with colorful striped pillows. The kitchen has unique rainbow wood floors as well as a pink breakfast nook, all under a wood ceiling and orb lighting. The walls are lined with gold in the dining room and feature a focal blue gemstone chandelier.
Elie Tahari's nearly $40 million masculine Sagaponack estate
There are a lot of beautiful homes in the Hamptons, but not many of their price tags can match that of Elie Tahari's, which originally hit the market in 2017 for $45 million. But per Observer, after no reasonable offers came to fruition, the world-famous fashion designer took $6 million off his fully-renovated home right on the beach in Sagaponack. Although it doesn't appear that Tahari has offloaded his home to a new buyer, he's sure to make a profit whenever a new owner comes to light. Tahari paid a mere $12 million for the mansion on 2.5 acres nearly three decades ago, and in 2017, he garnered $800,000 from a summer rental tenant.
With 4,500 square feet, Tahari's estate includes three bedrooms, a flowing kitchen with top-of-the-line appliances and marble details, amazing ocean views, and a deck off the primary bedroom, offering sights of the entire first floor. There are also many masculine touches, like exposed wood beams, gray and brown tones, and lots of steel pieces of décor. Outside, this paradise fit for a king gets even better. There's a huge pool, an outdoor dining area ideal for entertaining, and lots of space for getting a great Hamptons tan. It's also all very private, surrounded by towering trees and shrubbery to keep out any unwanted guests.
Ina Garten's charming East Hampton escape, where she films 'Barefoot Contessa'
For anyone that's a fan of "Barefoot Contessa," Ina Garten's home is more than a beach getaway. It's also where the food expert films episodes of her show thanks to the separate building on her property, dubbed "The Barn." People said that to no one's surprise, the kitchen is the star of the show in the house. It features the best appliances available on the market today, tons of space, and classic white and black details. However, Garten's guests likely enjoy the dining room much more, tucked away behind French doors. Here, there's a massive wood table where Garten serves her classic American dishes.
Garten's living room is equally cozy with its glass candles, beige drapery, and lots of white florals. The floor-to-ceiling windows also let in lots of natural sunlight. But for a real hideaway, Garten and her husband, Jeffrey, head to the study, which has shelves full of music, books, and — of course — cake stand décor (because you can never be too far away from the kitchen in her home.) Outside, there's also space for entertaining with stone seating, as well as a fire pit for those chilly Hampton nights. This is also where Garten's garden is, which she frequently features on Instagram.
Jerry Seinfeld's East Hampton home on 12 acres with a 22-car garage
"Seinfeld" fans will remember the episode where Kramer gets busted for nabbing lobsters in the Hamptons. But little do fans know, the home where that episode takes place is actually right around the corner from real-life Jerry Seinfeld's home in East Hampton. He bought it for $32 million more than two decades ago after Billy Joel listed it in 2000. Haute Residence said that the house on a dozen acres includes two pools, a barn, a home for visitors, and even an area for playing baseball, ideal for Seinfeld's young children.
Seinfeld has his own "toys" here, too. The comedian is an avid car collector, and he keeps 22 of his cars at his Hamptons home. His Porsche collection rivals some of the biggest on the planet. He also has a much more unlikely toy — an espresso machine that costs more than some cars at a whopping $17,000, per Architectural Digest. All of these cars, the baseball diamond, pool, and even espresso machine likely come in handy for the millionaire comedian. Seinfeld and his wife are quite the entertainers and often invite friends and family over for gatherings.
Ramona Singer's classy Southampton getaway with a piano lounge
Three decades ago, "Real Housewives of New York" celeb Ramona Singer made quite the winning investment. According to The Sun, she picked up a Southampton home for just $875,000 with former beaux Mario Singer. These days, the six-bedroom mansion totaling 7,000 square feet is worth way more. Singer has listed the house at 39 Pheasant Close South for $160,000 for just a month's summer rent (via Out East). However, that price hasn't gone unprompted. Despite the home's age, Singer has completely revamped the pad over the years and it remains completely up-to-date. As if you could expect anything else from a RHONY alum.
Plus, this mansion has lots of details that make it stand out from the Hamptons crowd. These include a colossal 1,000 square foot primary bedroom, an entertainment room, a stunning grand piano in the foyer, lakeside views from the pool area, and courts for playing both tennis and bocce ball. And, in very un-RHONY fashion, Singer's estate is all class. Light wood floors and lots of white fill the home, especially in the kitchen, which is super minimalist. All of the bedrooms, with cool pastel tones mixed with gray, ooze relaxation — perfect for a housewives' post-screaming match. The 120-bottle wine fridge certainly doesn't hurt, either.
Jill Martin's whimsical Southampton mansion where she films her show
As a fashion expert, you can bet that Jill Martin's Southampton estate is all style — and it is. It's been that way ever since Martin bought the 5,400 square foot home for $3.7 million in 2016. Per Behind the Hedges, a traditional shingled brown façade hides lots of eclectic, but not overbearing, touches, like a driftwood table in the living room flanked by a floral chair. There's also a Barbie-themed pool float in the outdoor pool. However, amazingly enough, Martin decorated the home on a strict budget. After she bought the centrally-located six-bedroom paradise, she was out of cash. So, she took to local nearby shops to outfit the place, as well as her own QVC line that she launched at roughly the same time as the home closing.
These days, Martin's unabashedly girly Hamptons house comes in especially handy because she films "Shop Today with Jill Martin" there. This means if you see Martin selling kitchen appliances, she's likely in her own kitchen, or if you see her selling lawn furniture, she's likely in her own backyard. And yup, that includes her iconic "Jungle Room," which is lined with leaf-themed wallpaper and other green touches. Of course, there are also many other celebrity-worthy touches here, too, said The Southampton Press, like a saltwater pool, private movie theater, enormous kitchen, and area for storing wine.
Richard Gere's century-old Hamptons estate that he sold to Matt Lauer
It's been a while since Richard Gere enjoyed the stardom he was known for in the 1980s and 1990s, but he is still doing pretty well. In 2016, he sold his circa-1900 Hamptons estate for a whopping $33 million to Matt Lauer. Nimvo reported that the home, which is called Strongheart Manor and measures 12,000 square feet, sits on over six acres of land and has nostalgic, tasteful touches. Those include dark wooden floors, several stone fireplaces, subdued colors, and cozy couches.
Outside, Strongheart Manor gets even better. It's almost entirely surrounded by dense foliage, giving Gere the privacy that a star like himself requires. It also sits lakeside, giving residents and visitors amazing views as well as a tranquil garden path to reach the lake. There's also a huge deck outfitted with yet another stone fireplace as well as a dining set, perfect for entertaining. Also for guests, a visitor's home is on the property adjacent to the manor. However, despite this 12-bedroom mansion's star appeal, it wasn't easy for Gere to sell it. When it entered the market three years prior to its sale, Gere listed it for $30 million more than it would eventually sell for.
Katie Couric's seven-bedroom East Hampton pad that was designed by her sister
With a long-running career, Katie Couric has been one busy woman pretty much forever. Luckily, she also has a $6.3 million mansion in East Hampton with an eye-catching blue façade to decompress at. The Daily Mail said that Couric's Hamptons escape, within walking distance from the beach, has seven bedrooms among its 7,000 square feet and two stories. And when it comes to the house's relaxing ambiance — it's adorned with light blue walls, a pool surrounded by a lush garden, and lots of white and beige tones — Couric has her own sister to thank for decorating.
Couric's sister, Clara Couric Batchelor, helped the star make the home look its very best when she first bought it. Not that it wasn't gorgeous when Couric closed on the place. She told Cottages & Gardens that she loved its large rooms, convenient location between downtown and the beach, and bright interior. These days, it also has lots of family heirlooms, including those from Couric's late husband, as well as lots of flowers. The colorful florals provide perfect pops of color throughout the neutral-toned home, such as in Couric's completely white kitchen or her white-walled living room with white couches.
Betsey Johnson's refined Southampton home that she listed for $2 million
We all expected fashion designer Betsey Johnson's home to be furnished entirely with hot pink and leopard print, but it turns out that's not the case. Although her four-bedroom East Hampton home at 25 Grape Arbor Lane has plenty of whimsical details, they've all been outfitted in a traditional, classy Hamptons style. According to Curbed Hamptons, Johnson listed her 2,900 square foot abode for sale for $2 million in 2015. It includes touches like floral wallpaper, vintage paintings, fluffy rugs, pastel yellow walls, exposed wood beams, and other refined touches.
It was all tucked away behind an equally stately façade, which sits between towering trees and has a "Secret Garden"-esque pool hidden behind a wrought iron gate. There's also a separate garage that can fit two cars, over 1.5 acres of land, and a stone patio. It's also located on a secluded street just minutes from local beaches. So what made Johnson want to pack up from this picturesque Hamptons escape? She moved to California to reside closer to family members, said 6sqft. However, despite its former celebrity owner and beautiful style, it still took over a year to sell, said StreetEasy, and did not hit its asking price.
Tory Burch's refined yet chic brick-lined Southampton estate
Tory Burch is known for her timeless taste, and her Southampton estate — which is known as Westerly and dates back almost 100 years — epitomizes that style. Per Architectural Digest, Burch bought the enormous 15,000 square foot home with a stately brick facade in 2008. It's also one-of-a-kind. Westerly has one of the biggest square footages in the village, and its stately style lacks the laid-back attitude many other local homes have.
However, the home is still very much "Burch," and for anyone with a Tory Burch bag or pair of classic flats, the pad is instantly reminiscent of her brand. Although it's clearly refined with its white walls, expansive green lawn, Georgian-style details, and crystal chandeliers, there are also many fun, chic touches here. These include a black-and-white checkerboard floor, paisley patterned couches in front of a roaring fireplace, a pink oriental rug in the wood-lined library, and gray patterned wallpaper in the sunroom. There's also tons of greenery and florals throughout to give this historic home new life.
Billy Joel's Sagaponack mansion that he sold for $20 million
For seven years, Billy Joel was the owner of an estate in Sagaponack that literally couldn't have been closer to the beach. However, Nimvo reported that in 2014, Joel decided to bid farewell to the relatively new abode (it was built in 1994.) He put the 5,500 square foot place on the market and sold it a few months later for a little under $20 million. With its floor-to-ceiling windows and private beach area, it's a must-have for any millionaire Hamptons fan since ocean views abound here. There are also several fireplaces throughout the home, two kitchens, a room just for producing music, and a two-vehicle garage.
However, we could see why Joel would want to unload this pad. There's little privacy, which isn't ideal for a star as big as Joel. Anyone could walk up to his home from the beach or one of the nearby neighbors' houses. Also, many of the neighbors' homes are much bigger than Joel's — even double the size. In addition, the layout is outside of the norm since the bedrooms are on the first floor (to maximize the beach views) while the kitchen and living area is on the second floor.