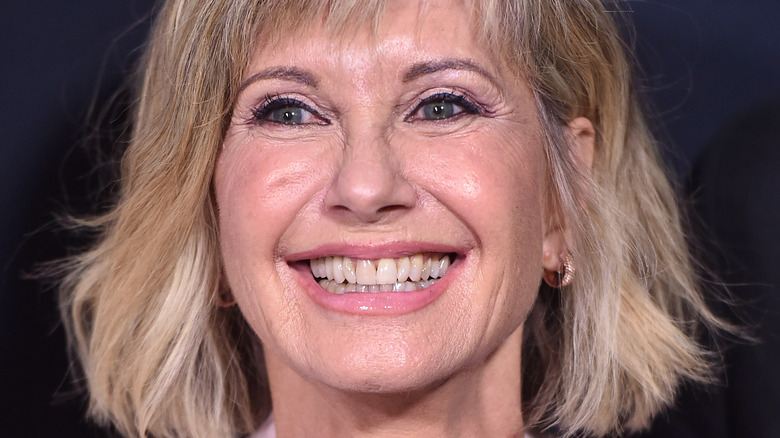 We may receive a commission on purchases made from links.
This article references suicide and substance abuse.
Chances are, you know exactly two things about Olivia Newton-John right off the bat: she was "Summer Lovin'" sensation Sandy Olsson opposite John Travolta's Danny Zuko in the 1970s blockbuster film "Grease," and she was a fitness music icon in the early '80s with her peppy anthem "Physical." Those facts are true, but there's a lot more to the Australian actress and singer than meets the eye. Her sunny smile concealed a lengthy history of personal struggles that were collectively so tragic it's hard to believe a single person could experience so much trauma.
From a complicated relationship history to family struggles, as well as recurring health issues, Newton-John experienced a lot. However, she somehow seemed to maintain her sunny disposition throughout. The star died in August 2022, and not surprisingly, the tributes poured in, from those who worked with her and those who only knew her from her music and movies. Keep on scrolling to learn more about Olivia Newton-John's dark and tragic past.
Olivia Newton-John's boyfriend vanished, literally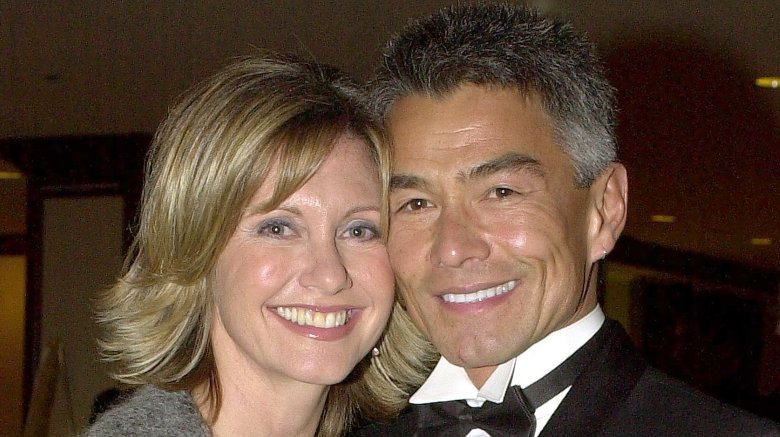 Unlike her famous on-screen counterpart, Olivia Newton-John had a hard time finding that special someone to be as "Hopelessly Devoted" as her fictional Danny Zuko. She and her husband of 10 years, actor Matt Lattanzi, divorced in 1995 amid rumors he was unfaithful.
Her subsequent long-term boyfriend, Patrick McDermott, literally ghosted her. McDermott and Newton-John dated for nine years before he vanished in 2005 after embarking on a fishing trip in San Pedro, California. According to the Daily Mail, McDermott was reported missing roughly a week later when he failed to show up to a family event. He was never seen nor heard from again until several years later when he was rumored to have been spotted in Mexico, allegedly having secretly fled to the country (potentially with a new German girlfriend) to escape a large amount of debt. The U.S. Coast Guard's official determination was that McDermott was lost at sea during that fateful voyage, but suspicions that he faked his death persist.
It's all speculation, of course, but for Newton-John, the inexplicable heartache still looms large. "I don't think I will ever really be at peace with it," she told Australian Women's Weekly (via MindFood Magazine).
A man died in Newton-John's house
What started out as a dream home became a house of horrors for Olivia Newton-John and her second husband, natural health businessman John Easterling. The couple purchased the luxurious waterside mansion in Florida's Jupiter Inlet County in 2009, and after owning the home for four years, they decided to put it on the market. They reportedly hired a contractor to oversee extensive renovations that would increase the value of the sale.
The man they hired for the work, 41-year-old Christopher Pariseleti, reportedly died by suicide in one of the property's bedrooms while Newton-John and Easterling were away, according to CNN. The shocking incident caused prospective buyer Rosie O'Donnell to pull out of the sale. Newton-John and Easterling had so much trouble selling the home that they even brought in an exorcist to cleanse it of any lingering spirits. In 2015, the $5.5 million listing was taken off the market. In January 2016, the Miami Herald reported it was finally sold to a Swedish advertising executive for $5 million cash.
If you or anyone you know is having suicidal thoughts, please call the National Suicide Prevention Lifeline at 1-800-273-TALK (8255).
Her daughter grappled with anorexia and addiction
Olivia Newton-John's daughter, Chloe Rose Lattanzi (her only child with her first husband), suffered from an eating disorder as a teenager. In a 2013 interview with Entertainment Tonight, a 27-year-old Lattanzi said she was embarrassed by her past. "It's just really sad because I was just a little girl, and now I look at it and I look like a walking skeleton." At one point, Lattanzi admitted to weighing only 90 pounds at 5 feet 6 inches tall.
Lattanzi said the anxiety of being a celebrity's child fueled her anorexia and substance abuse. "Fame totally messes you up," she told the Daily Mail in 2013. "I don't blame my mother for my problems, but I would never want to be famous or raise a child of my own around the cult of celebrity. It ruins lives."
Interestingly, Lattanzi has followed in her mother's performance footsteps and appeared alongside Newton-John on Dave Audé's 2015 single "You Have to Believe," a remix of her "Magic" single from the "Xanadu" motion picture soundtrack. In October 2015, Lattanzi credited her fiancé, martial artist James Driskill, for helping her make a full recovery.
If you are struggling with an eating disorder, or know someone who is, help is available. Visit the National Eating Disorders Association website or contact NEDA's Live Helpline at 1-800-931-2237. You can also receive 24/7 Crisis Support via text (send NEDA to 741-741).
If you or anyone you know is struggling with addiction issues, help is available. Visit the Substance Abuse and Mental Health Services Administration website or contact SAMHSA's National Helpline at 1-800-662-HELP (4357).
Olivia Newton-John's clothing business failed
There are plenty of actors and singers who've triumphed as entrepreneurs in other industries. Just look at what the Jessicas — Simpson, Alba, and now Biel — have done with their product lines. For a while, Olivia Newton-John enjoyed great success with her Koala Blue sportswear line. Founded in 1982, the business ballooned from a successful flagship shop on Melrose Avenue in Hollywood to 49 locations across the globe, including stores in Australia, France, Japan, and Canada.
The company was hit hard by the economic downturn in the early '90s and had to file for bankruptcy protection in 1991. "We expanded too fast," Newton-John told People magazine, "and when the recession hit, we really got hurt" (via news.com.au). The failed business venture was yet another unfortunate twist in the Grammy-winner's sad saga.
Newton-John is still dabbling in work outside of the limelight as a children's book and cookbook author.
She lost loved ones to cancer
Olivia Newton-John had it particularly tough in 1992. Her 5-year-old goddaughter died from cancer, followed by her father, and then, just two weeks after losing her dad, Newton-John was diagnosed with breast cancer. "It was all at once. Everything just came at me," she told People. "You can't help but feel despair at some point. It's overwhelming."
The music star underwent a partial mastectomy, breast reconstruction, and chemotherapy, and became cancer-free for more than 20 years. She founded the Olivia Newton-John Cancer Wellness and Research Centre in Australia. However, cancer dealt another blow to Newton-John's family in 2013. Her older sister, Rona Newton-John, died from brain cancer in May 2013 — on their late mother's birthday, no less.
Reflecting on her life's challenges, Newton-John said on "Today," "I'm a much stronger person than I realized. Sometimes you need to be confronted with things before you really know your potential" (via The Breeze).
Olivia Newton-John had cancer again
In May 2017, Newton-John revealed that she was again diagnosed with metastasized breast cancer at the age of 68, which caused her to postpone her U.S. and Canadian tour schedule so that she could seek treatment. According to a statement from her inner circle to People, Newton-John felt positive that she would be back to her long-lived business of entertaining the masses by August of the same year. "I decided on my direction of therapies after consultation with my doctors and natural therapists and the medical team at my Olivia Newton-John Cancer Wellness and Research Centre in Melbourne, Australia," the singer-actress added of her treatment plans.
Her daughter, Chloe Lattanzi, echoed the same optimism in a statement to People, saying, "My mom and best friend is going to be fine! … Cancer is the disease of our generation and it is part of my and my mother's quest to beat this insidious monster." Lattanzi added that as part of Newton-John's treatment regimen, she would be using cannabidiol oil, along with a mix of alternative remedies and modern medicine. No doubt, Newton-John's decades of experience living with this disease on behalf of herself and others gave her a solid foundation from which to inform her treatment decisions going forward.
Her undercover hospitalization
In August 2019, Olivia Newton-John revealed that she was secretly admitted to her own cancer center the year before, when her stage IV breast cancer metastasized to her sacrum. She was hospitalized for three weeks, sneaking around wearing a beanie and a face mask, and called it her most frightening experience with the disease because it'd affected her bones. "It was a challenging year because I broke my sacrum and I had to learn to walk again and everything," Newton-John told Entertainment Tonight. "But I am strong and I am back and I'm feeling good and loving every minute."
While speaking with "60 Minutes Australia" around that time, the singer-actress said, "We know we're gonna die at some point … we don't know when it is. When you're given a cancer diagnosis or a scary honest diagnosis, you're suddenly given a possibility of a time limit … So every day is a gift, particularly now."
Newton-John went on to explain that she tries not to look at cancer as a fight: "I think that sets up that kind of feeling in your body of you're battling something strange inside you. I let it go and tell it to leave and talk to my body to heal itself and don't try to make it that." She added, "Because that takes up your whole life and your whole being."
Newton-John and her daughter rarely discuss her cancer
Olivia Newton-John and daughter Chloe Lattanzi revealed to "60 Minutes Australia" that they rarely spoke about the "Grease" star's illness. Newton-John said it's difficult to talk about it with Lattanzi, explaining, "She's my daughter … she's part of me."
Meanwhile, Lattanzi said that she never broaches the topic unless Newton-John wants to do so. When she was a child, she learned of her mother's initial cancer diagnosis from a classmate because Newton-John hadn't told her about it. Explaining that she knew her mother didn't want her to stress about the disease when she was so young, Lattanzi added that when Newton-John had cancer for a third time, she didn't like strangers knowing about the illness and constantly reminding her mother that she was sick.
"Her illness helped me heal my illness," Lattanzi said of her own issues with substance use, adding, "I knew I needed to be — I wanted to be — bright and happy and available and around for my mom when she was struggling with this. I thought I was okay, but I wasn't. I was still struggling with severe depression and whatever. I faced it head on." Lattanzi added, "It's kind of like, 'Oh, can't run anymore … This is a really finite, black and white thing you're looking at. There's no more sort of running away anymore from your pain. Deal with it. She needs you.'"
Jane Seymour recalled her being in pain
Olivia Newton-John and Jane Seymour had one of the most endearing celebrity friendships that went back decades to when Seymour was roommates with Newton-John's late sister, Rona. According to People, Rona had also been a patient of Seymour's father, which all just seemingly proved that the two famous women had been destined to meet. Seymour even gushed to Access in 2019, "We are very, very close … I would never be without her; I am hopelessly devoted to her."
With that said, it makes sense that Seymour would remain by Newton-John's side to the very end. The former Bond girl went on "Good Morning Britain" to share their final moments together, where Newton-John had taken time to appreciate life. Seymour recalled, per Mirror U.K., "She just kept saying, '[look] at this hummingbird, look at the sky, look at nature' … She just grabbed every single moment."
While Newton-John managed to keep her positive outlook even in her final days, Seymour knew she had been suffering for a long time. "About three years ago … I just thought this was the last time I was going to see her. She was skeletal and frail," she said. Yet, Seymour added that Newton-John held on as long as she could for those she loved. Although Seymour is of course saddened by Newton-John's death, she explained, "She was in so much pain and those of us who knew her at the end, we didn't want her to go, but it wasn't a life for her anymore."
The singer almost lost her daughter
It appears that Olivia Newton-John always had a strong connection to her daughter, Chloe Lattanzi. After giving birth to Lattanzi in 1986, the "Grease" star had even reportedly stepped away from her Hollywood career for a bit to focus on being her mother. You could say that Newton-John was extra grateful for her only child. "I remember when I was pregnant with Chloe, and I was close to losing her," she revealed on "A Life of Greatness" podcast, per Daily Mail. Newton-John recalled then turning to God and making a pact for her life. "I went to bed and asked God to save her and if he did, I would say the Lord's Prayer every night for the rest of my life and so I have," she said.
Lattanzi seemingly returned the favor years later, by asking fans for prayers when her mother was suffering back issues in 2017, which turned out to be cancer. According to People, Lattanzi took to her Instagram to write, "I love u mama … Will all of u send healing prayers for my mamas back please." She added, "I believe in the power of positive thinking and energy."
It's clear Lattanzi had felt that special bond with her mother, and following Newton-John's death in August 2022, she paid tribute to her by sharing photos of them together throughout the years. Just days before, Lattanzi had also gushed about her mother in another Instagram post, writing, "I worship this woman. My mother. My best friend."
Olivia Newton-John looked forward to death
While many fans were shocked by Olivia Newton-John's passing, it seems that death was something the Australian superstar had been thinking about ever since she was diagnosed with cancer. Yet she somehow managed to keep it positive, telling the "A Life of Greatness" podcast in 2021, per Daily Mail, "I've had experiences with spirits and spirit life. I believe there is something that happens." She was apparently comforted by that too, adding, "I think all the love will be there. I'm sort of looking forward to that."
It's evident that Newton-John had a beautiful spirit of her own, even using her last request to help others. In a statement posted on Instagram, her family wrote, "In lieu of flowers, the family asks that any donations be made in her memory to the [Olivia Newton-John Foundation Fund.]" It appears Newton-John wanted to continue to make a difference long after her death through her nonprofit organization, which supports research into plant medicine and cancer.
In Newton-John's last Instagram post, she shared a touching photo of her and her husband, John Easterling, who then sadly had to announce her death just days later. Yet, perhaps he can be comforted with that fact that Newton-John had been a true inspiration to countless fans who watched her overcome so many tragedies. A year before her death, Newton-John told Australian Women's Weekly, via Now to Love, "I want to pass on something good and something valuable that's going to help people." Mission accomplished.