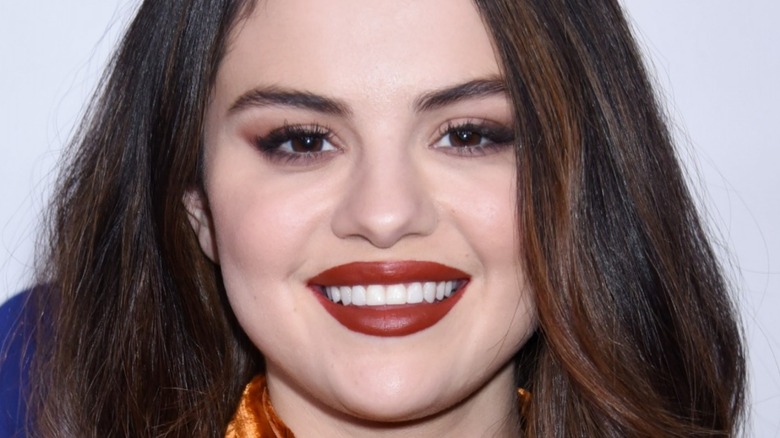 Selena Gomez became a Disney Channel star at a young age, established a fruitful acting and singing career, and once ranked as the most-followed person on Instagram. But her transformation from child star to superstar has been fraught with tragic circumstances, and the "Only Murders in the Building" actor has faced more than her fair share of health-related struggles over the years. She told Elle in 2021, "Every time I went through something, I was like, 'What else? What else am I going to have to deal with?'" And while the pop star makes her wellness a top priority, she recognizes it's a lifelong journey. "[A]nyone who knows me knows I will always start with my health and my well-being," she said in a 2018 chat with Harper's Bazaar. "There won't be a day when I'm like, 'Here I am in a pretty dress—I won!'"
But through it all, she remains strong and has found purpose in the challenges. "'You're going to help people.' That's really what kept me going," she said in Elle. Let's take a closer look at the medical conditions Selena Gomez has experienced over the years.
She reportedly had blood pressure issues as a teen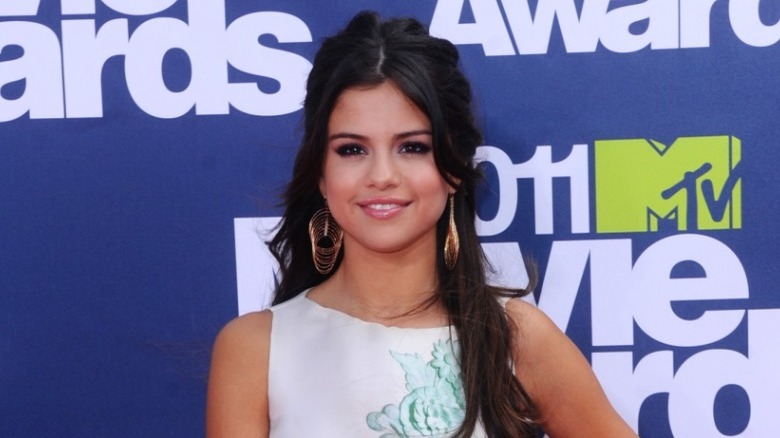 Selena Gomez had her first spell of health problems in 2011. She was hospitalized after experiencing a severe headache and a bout of nausea during a "Tonight Show" appearance. Media outlets immediately began speculating on the reasons why. TMZ reported at the time that she was being tested for blood pressure issues and retrospectively, there was likely truth to this report. As per Healthline, high blood pressure can be an early sign of lupus-related kidney inflammation, which Gomez would later be diagnosed with. In a 2019 interview with the "Giving Back Generation" podcast (via USA Today), she stated, "I have lupus and deal with kidney issues and high blood pressure."
Gomez, who was 18 at the time of the hospitalization, was quick to bounce back. A few days after she fell ill, she tweeted, "Feeling much better now," and let her fans know that she was looking forward to performing at an event later that day that was rescheduled due to her health scare. Per the Los Angeles Times, when a reporter at the event asked her about her hospitalization, she replied, "I'm fine. I was just very malnourished, so I was low on iron and exhausted." But looking back, this incident may have been her first warning signs of more serious issues to come.
Selena Gomez announced her lupus diagnosis in 2015
In 2015, Selena Gomez spoke about her lupus diagnosis publicly for the first time, although in truth she had been dealing with the symptoms for years. The "Wolves" singer had taken an extended break from working in 2013 and 2014 but she had kept the reason for her hiatus secret. This led tabloids and gossip bloggers to speculate that she was struggling with drug or alcohol use. In an interview with Billboard, she set the record straight. "I've never had a problem with drinking," Gomez said. "I was diagnosed with lupus … That's what my break was really about. I could've had a stroke."
In a 2017 interview with "Today," Gomez said she initially didn't scale back on her demanding career following her diagnosis. "I kind of ignored it, to be honest, because it wasn't something that maybe really I wanted to accept," she recalled.
Lupus is a chronic autoimmune disorder, meaning it falls under the category of conditions that cause the immune system to mistake healthy cells for abnormal ones, leading your own body to attack itself, per WebMD. According to The Lupus Foundation of America, the symptoms of lupus vary from person to person since it has the capability of affecting multiple organs and systems within the body. Though the symptoms of lupus can be managed to some degree, a cure has yet to be developed. As Gomez told Ellen DeGeneres, "You'll have it forever. It's kind of one of those situations."
Her lupus was first treated with chemotherapy
During her downtime in 2013, Selena Gomez went through chemotherapy in an effort to treat her lupus. As the media jumped to conclusions regarding the reason for her absence from the spotlight, she was busy undergoing treatments for the autoimmune disease — something she wanted to keep out of the public eye at the time. However, her efforts to maintain some level of privacy were met with speculation and criticism. She said in an October 2015 interview with Billboard, "I wanted so badly to say, 'You guys have no idea. I'm in chemotherapy.' But I was angry I even felt the need to say that." When the same outlet asked a few months later about her decision go public with her diagnosis, she said, "It was time to use my platform to help."
Chemotherapy is a treatment that uses chemicals to kill cells in the body, per MayoClinic. While it's typically thought of as a cancer treatment, chemotherapy can also be used for autoimmune disorders. Dr. Andrew Wang from the Yale School of Medicine explained to Health.com, "The thought is, if you can stop the rapidly dividing phase, you can get rid of the autoimmunity." While the treatment is used for both cancer and autoimmune disorders, its use for autoimmune disorders is a much less intense experience. As Dr. Amr Sawalha said to Health.com, "Rather than killing the immune cells, we suppress them enough that they stop attacking organs and tissues of the body."
Anxiety and depression led to multiple hospitalizations
Selena Gomez has opened up about her mental well-being and her treatment center stays in a number of interviews. In 2016, she canceled over 30 tour dates mid-tour and checked into a psychiatric facility in Tennessee. In a statement provided to People following the tour cancelation announcement, the singer shared that she'd struggled with her mental health, noting it could be a side effect of lupus.
The following year, Gomez said in Vogue, "Tours are a really lonely place for me. … My self-esteem was shot. I was depressed, anxious. I started to have panic attacks right before getting onstage, or right after leaving the stage." She stayed at the treatment center for 90 days where she partook in various forms of therapy. "It was one of the hardest things I've done, but it was the best thing I've done," she told the magazine.
In 2018, Gomez sensed she again needed help, so she sought treatment at another facility. At the time, a source told ET, "She did this to ensure she continues on a good path." That same year, Gomez noted in Harper's Bazaar that she believes her mental health journey is far from over. "I've had a lot of issues with depression and anxiety, and I've been very vocal about it, but it's not something I feel I'll ever overcome," she said. "I think it's a battle I'm gonna have to face for the rest of my life."
If you or someone you know needs help with mental health, please contact the Crisis Text Line by texting HOME to 741741, call the National Alliance on Mental Illness helpline at 1-800-950-NAMI (6264), or visit the National Institute of Mental Health website.
A friend donated a kidney to the pop star
In 2017, Selena Gomez required an organ transplant. "My kidneys were shutting down," she said on "Today." According to the Lupus Foundation of America, lupus can lead to the inflammation of the kidneys, a condition called lupus nephritis, which can in turn lead to kidney failure. Gomez told Savannah Guthrie that the wait for a new kidney could be as long as ten years, and the circumstances started to feel especially dire.
Luckily her close friend, actor Francia Raísa, was a match and was eager to help. "I am beyond grateful that God would trust me with something that not only saved a life, but changed mine in the process," Raísa wrote on Instagram. The transplant certainly did save Gomez's life. "My arthritis went away. My lupus, there's about a 3 to 5% chance it'll ever come back. My blood pressure is better. My energy, my life has been better," the singer said on "Today."
In a later interview with W, Raísa shared that there were some complications following the procedure. "They had to take [Gomez] into emergency surgery and get a vein from her leg and build a new artery to keep my kidney in place. She could have died," Raísa said. In 2018, Gomez was hospitalized for low white blood cell count, which can be a side effect of a kidney transplant, per Elle.
The star was diagnosed with bipolar disorder in 2020
In 2020, Selena Gomez opened up about her bipolar diagnosis to Miley Cyrus on her Instagram Live show "Bright Minded: Live with Miley Cyrus." The "Wizards of Waverly Place" star shared that she saw the diagnosis as a blessing in many ways because her bouts of depression and mental health struggles were no longer a total mystery. She also encouraged others not to be afraid to seek out help, even if it seems intimidating. "When I know more information, it actually helps me. It doesn't scare me once I know it," she told her fellow Disney Channel alum. Gomez recalled being scared of thunderstorms as a kid, but once she learned more about them, her fear dissipated.
Though the deep depressions that come along with this disorder can be difficult to manage, Gomez feels she has a better handle on her condition thanks to a solid treatment plan. "I do the necessary things. I see a therapist. I have tons of workbooks like a nerd. I write music. I try to take what's going on and turn it into something beautiful in the best way I can," she said in a 2022 ABC News interview. Unsurprisingly, a stronger understanding of her own mental health has been a positive turn for Gomez. "I've probably been the happiest I've ever been," she shared.
If you or someone you know needs help with mental health, please contact the Crisis Text Line by texting HOME to 741741, call the National Alliance on Mental Illness helpline at 1-800-950-NAMI (6264), or visit the National Institute of Mental Health website.
She wants to raise lupus and mental health awareness
Pop superstar slash makeup magnate slash actor Selena Gomez keeps busy with her career, but she finds time to help others diagnosed with lupus. Per People, she'd raised over $500,000 for the Lupus Research Alliance by 2017, and that same year, the organization honored her at their annual gala. She's also promoted the LRA's ManyOne Can volunteer-based initiative.
In addition to raising awareness for lupus, Gomez uses her platform to boost the effort to destigmatize mental health conditions. According to Page Six, the pop star told the crowd at a White House Mental Health Action Forum event, "Bringing attention to mental health through media or just by talking about your journeys can help." Gomez believes access to mental health care should be easily accessible for everyone, and it's one of the reasons she decided to create Wondermind. In 2022, she launched the mental health platform with her mom, Mandy Teefey, and Daniella Pierson. As of this writing, their primary service is a newsletter that covers various mental health matters, per the website. As they shared with Entrepreneur, they plan to expand to podcasts, book publishing, and streaming.
Speaking of her makeup line, Gomez started a mental health initiative through Rare Beauty in 2021 called Mental Health 101. The website includes resources as well as information about the Rare Impact Fund.
If you or someone you know needs help with mental health, please contact the Crisis Text Line by texting HOME to 741741, call the National Alliance on Mental Illness helpline at 1-800-950-NAMI (6264), or visit the National Institute of Mental Health website.