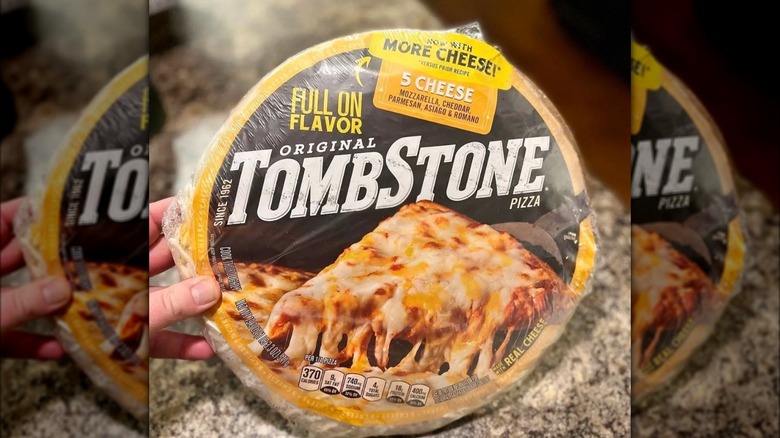 Frozen pizza fans, this one is for you. Brought to us first in the 1950s, frozen pizza has long been a staple of the American ice box. Whether popped in the oven on a night you're too tired to cook, eaten as a meal when you've run out of groceries, or devoured upon arrival home after a night out, it's likely you've had a reasonable amount of frozen pizza over the course of your lifetime.
But don't be ashamed. You're not the only one. In fact, over 203 million Americans purchased frozen pizza in 2020, according to Statista. Granted that was the year the COVID-19 pandemic hit, but nevertheless, people love frozen pizza.
One of the country's most popular frozen pizza brands is Tombstone, one known for both its tasty pizza and its one-of-a-kind name. One of the oldest frozen pizza brands in the country, Tombstone has been feeding us pizza-loving Americans for 60 years now, but there's still a lot to learn about the brand. Here's the untold truth of Tombstone pizza.
Tombstone pizza was founded in 1962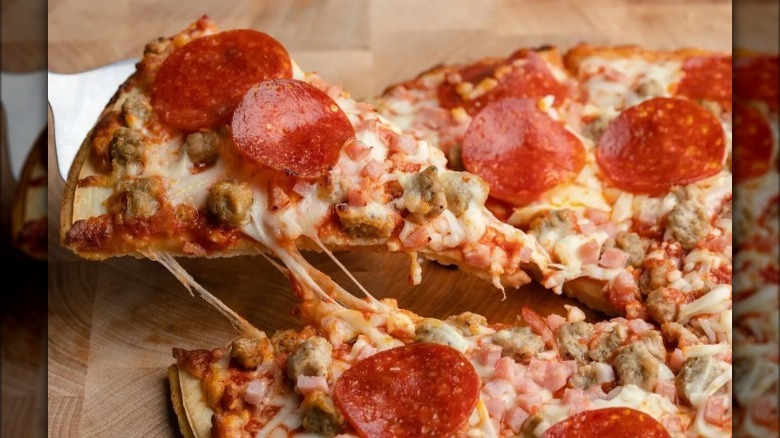 Tombstone pizza has been in business since 1962, and like many businesses, it's gone through multiple iterations. The frozen pizza company was started by brothers Joseph Simek and Ronald Simek. The two lived in Medford, Wisconsin and were operating a bar called The Tombstone Tap, per its website.
And why such a morbid name, you ask? The bar was located right outside a cemetery because, well, something has to go next to a cemetery. It might as well be a bar. Looking to increase revenue, the Simek brothers decided to start selling pizza.
After an unfortunate accident, Joseph was left with a broken leg, per his obituary, but it proved to be a blessing in disguise because he then had time to perfect the recipe, resulting in pizza that raked in customers. People were taken with Tombstone pizza and business majorly increased. In just a few short years, the brothers were dishing out around 2,000 pizzas a day.
Tombstone originally delivered pizza in a Cadillac
Tombstone pizza, originally sold as a bar snack, was selling remarkably well, and nearby restaurants started noticing. Looking to get their own slice of the pie, neighboring eateries purchased frozen pizza from Tombstone, per Funding Universe, and by 1963 it was available all over the region.
To get its pizza to hungry customers, Tombstone utilized what resources it had. As noted in The Tombstone Story, the Simek brothers used their 1959 Cadillac as their delivery vehicle.
This unique delivery method didn't last long, though, and by 1966 the brothers took out a loan for $5,600 to purchase a refrigerated truck for pizza delivery. Tombstone's growth happened quickly, and by the late 1960s the company had built its own manufacturing plant to produce pizzas on a larger scale and at a quicker rate, per Reference for Business. Within 15 years, Tombstone had gone from homemade pizzas sold at a single location to a national operation with products appearing in both small and major retailers across the country.
Nestle owns Tombstone
In the United States, conglomerates rule, and it's hard to find a brand that isn't owned by one major corporation, and that includes Tombstone. Though it operated for many years on its own, after surpassing $100 million in revenue, per the Federal Reserve Bank of Minneapolis, major food companies in the United States were interested in the Wisconsin-based pizza maker. In 1986, just two years after hitting that major revenue mark, Tombstone pizza was acquired by Kraft, as stated in Joseph Simek's obituary.
Because there always seems to be another large party interested, Kraft did not retain ownership of Tombstone for too long, and eventually sold the pizza brand to Nestle. Perhaps best known for its chocolate, Nestle is a major corporation that owns a catalogue of other brands, including Gerber, Cheerios, Nespresso, Hot Pocket, and, in case you were worried it doesn't know anything about frozen pizza, DiGiorno.
The costs of both sales were left undisclosed, but judging by current data, purchasing Tombstone was good for both Kraft and Nestle, as frozen pizza is a multi-billion dollar industry in the United States. People love pizza.
It's had multiple slogans
What's a business without a good slogan? Sure, a business is much more than its marketing, but you can't deny the power of a good slogan, and for quite some time Tombstone pizza was known for just that. Customers associated Tombstone with good pizza, but they also recognized the uniqueness of its name, and the brand capitalized on that.
For many years, Tombstone's slogan was the grim phrase, "What do you want on your Tombstone?" It was stated in commercials that featured a man opting for his toppings on his Tombstone pizza rather than a suggesting touching tribute to be inscribed on his epitaph.
Though the slogan was catchy and loved by many, the company had an ad agency review the catchphrase to ensure it wasn't offensive, as did many brands in the early 1990s, per The New York Times. Tombstone ended up changing its slogan nearly a decade later, opting for the decidedly less macabre phrase, "Shoulda had that Tombstone," per Ad Age.
When the company first introduced a tagline, though, it had nothing to do with death. Per Nestle, the pizza brand's first slogan was, "The Italian pizza with a western name."
Tombstone doesn't sell as well as it used to
There are hundreds, if not thousands, of frozen pizza brands in circulation today, making it difficult to stand out in the field, but once upon a time, Tombstone was the top provider of frozen pizza in the country, per Post Crescent.
This appellation didn't last, though, as other frozen pizza brands took the top spot. In 2017, per Statista, Tombstone's sister brand DiGiorno led sales in the United States, reaching over $1 billion in revenue.
Clearly, Wisconsin-made pizza is popular throughout the country, and in Tombstone's case, it could be due to its variety of flavors.
The frozen favorite comes in a total of 11 different flavors, including five cheese, pepperoni, four meat, and supreme. Its flavors are fairly unremarkable, though, its most unique being garlic bread pepperoni. Tombstone doesn't have a great nutritional value, either, its sodium reaching 570 mg for a five-cheese pizza and its cholesterol at 30 mg. And since more Americans are concerned with their health now than they were 20 years ago, per Pew Research, that could account for the surge in other frozen pizza brands' popularity, though it's hard to say for certain.
Tombstone might soon be made healthier
Rejoice, though, if you're one of the Americans who's more concerned about your health, because your favorite frozen pizza may soon be a bit healthier. Tombstone's parent company Nestle has been working with the French company NIZO on a special project.
The company, as told by Food Navigator in 2022, shared that it's been searching for a healthier cheese for its frozen pizza, and it just may have found it. Its item replicates Edam, a semi-hard Dutch cheese that's often used atop frozen pies. Nestle claims the taste of this new cheese product is the same as Edam, and it behaves nearly indistinguishably, the latter of which is particularly exciting to anyone who's ever tried to melt non-dairy cheese. "We successfully developed a fat-reduced cheese-making process that increased the moisture/protein ratio to that of full-fat cheese," a NIZO employee shared.
No word on the exact plans for this product, but a Nestle representative said, "We will be visiting our vendors to share this new process openly, and look forward to transitioning to the fat-reduced cheese for our pizza ranges in Europe." If the product goes over well in Europe, perhaps it'll make its way across the Atlantic and onto our Tombstone pizzas in the United States.
Tombstone has had limited edition flavors
What food brand hasn't had a limited edition flavor? It's a staple of American foods, and a great marketing tactic to boot. And sometimes they're so successful, limited editions surpass their expiration dates and remain a permanent part of the menu.
Not all limited edition flavors are good, though, and Tombstone knows that well. We appreciate a bold attempt at a unique flavor, but some simply flop, like Tombstone's Bratwurst and Diablo flavors. Per Food Processing, these flavors appeared in 2015, and as one Nestle employee said, "These bold and unique new flavors were created with fun in mind, so you can spend less time prepping your meal and more time enjoying it." Unsurprisingly, these two flavors did not make it past their limited edition stage. RIP Bratwurst and Diablo pizzas.
Some of Tombstone's limited edition attempts have been a little more fun and a lot less … interesting. In 2012, to celebrate what we assume is Tombstone's favorite holiday, the brand re-released its Halloween pizzas. The pizzas weren't uniquely flavored, but rather featured illustrations of spooky characters biting into pizza on its labels. It also gave away coupons and other special items to lucky customers who interacted on the Tombstone Facebook page.
Tombstone might be a good investment
Investment experts will tell you that the best companies to invest in are ones that sell commodities that will be purchased no matter what the economic climate looks like, and for many people that includes cheap frozen pizza. This is apparently such a sound investment that Investment U curated a list of frozen pizza brands that would be wise to invest in, and among the list is Nestle, the parent company of Tombstone.
Other brands include Papa John's and Dominos, but the outlet says that Nestle is a wise investment due to its rising stock price, which increased by 97% over the past five years. There's always money and death, and that statement might extend to Tombstone pizza.
Frozen pizza has been popular for decades, and its sales only continue to increase. In 2020, the frozen pizza market pulled in over $16 billion in worldwide sales, per Statista, and it's projected to surpass $23 billion in 2027. If you've got some money to spare and are a fan of pizza, perhaps Nestle is the stock to invest in. But please remember we are not investment experts.
Tombstone pizzas have been involved in a car accident
Alexa, play "It's Raining Men" by The Weather Girls. While you're listening, imagine the lyric "men" replaced with "pizza" and you have the visage of an Arkansas highway in August 2017. Per the Arkansas Democrat Gazette, a Nestle delivery truck was transporting DiGiorno and Tombstone pizzas, and the driver was involved in an unfortunate car accident. This resulted in thousands of pizzas being displaced all over the road.
Though this sounds like an anomaly, it isn't. It's common enough that an Arkansas Department of Transportation representative shared with the outlet that cleaning the mess, "takes forever and a day, but our crews known what to do in that situation." We presume the protocol does not include taking the pizza home for themselves.
As the pattern seems to go, every few years another pizza truck is involved in an accident. In early 2022, per NBC Connecticut, Big Green Truck Pizza was rear ended. However, since Big Green Truck Pizza is a pizza food truck and not a delivery truck, the crash did not leave pizzas all over the road. Neither people nor pizza was injured.
Tombstone pizza has been involved in litigation
If there's anything Americans love more than frozen pizza, it's litigation. And Tombstone has been involved in its fair share, as has nearly any major brand in the United States that's been around since the 1960s and prior.
One of these lawsuits came about in the early 2000s when Kraft Foods Inc., the former parent company to Tombstone, sued Schwan's Sales Enterprises Inc., another popular frozen food brand, claiming that Timothy Cauley, a former employee of ACNielsen, a market research firm, had shared confidential information with Schwan's after learning it while consulting for Kraft. Per the Chicago Tribune, Kraft claimed these trade secrets could have potentially damaged its sales. The two sides settled, though the terms of the settlement were never publicly disclosed.
Tombstone's litigation days have been behind it for a while now, though, and aside from another lawsuit in 2001, the brand hasn't been involved in much legal action since. Its new parent company, however, has.
In 2013, three of Nestle's frozen pizza brands — DiGiorno, Stouffer's, and California Pizza Kitchen — were accused of not removing trans fat, which is, according to the suit filed, "a toxic carcinogen," as reported by ABC News. The plaintiff was seeking $5 million in damages, but per Top Class Actions, the case was dismissed by the judge. If you're using this former plaintiff's standards, Tombstone might be the healthiest choice among Nestle's frozen pizza options.
Tombstone pizza has been recalled in the past
The frozen pizza game is not easy, and between lawsuits and recalls, Kraft was well aware of that when it had ownership of Tombstone. Just a year before Nestle acquired the brand, Kraft Foods Global Inc. had to recall several frozen pizzas, including Tombstone, due to failing to list an ingredient on the label, as reported by Natural Products Insider.
Only a handful of states, mostly in the Midwest, were affected by this recall, but the business could have suffered even still. Per Investopedia, product recalls can result in billions of dollars of lost revenue, and if not adequately seated financially, businesses can face closure. Recalls can also temporarily damage brands and permanently damage products.
Recalls in the food industry are particularly damaging for another reason: food waste. With the cost of food continually rising and the threat of major shortages looming, consumers worry that the increase in food recalls will only exacerbate food waste.
A recent frozen pizza recall comes from a Florida-based company, Ready Dough Pizza Inc., which had to recall over 10,000 pounds of pepperoni pizza. For reference, the average American consumes 23 pounds of pizza per year, as told by South Florida Reporter. That particular recall could've met over 400 Americans' average yearly pizza consumption.