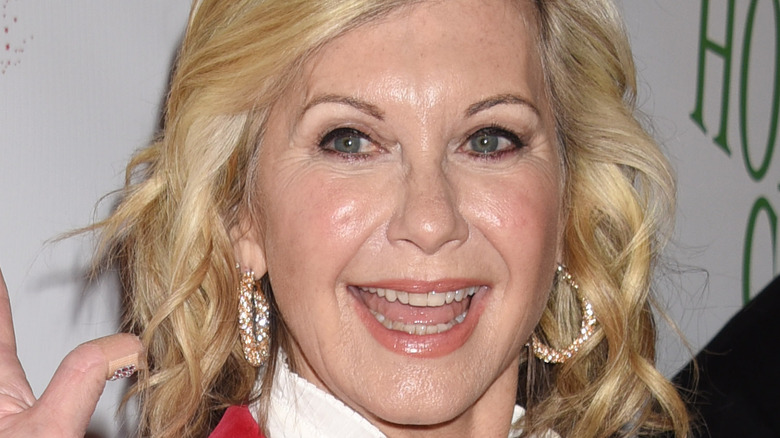 Most people would probably agree that Olivia Newton-John was nothing short of an icon. Most of us probably remember her as the woman who gave us Sandy, the wide-eyed girl next door in "Grease," who sang songs like "Hopelessly Devoted to You" and "Summer Nights." After shooting to worldwide fame after the film's release, she went on to appear in other musical films like "Xanadu" and "Two of a Kind." Alongside her acting career, Newton-John became a household name thanks to her music career. With groundbreaking singles like "A Little More Love" and "Physical," she established herself as one of the iconic pop artists of the 1980s.
After a hugely successful career, everything changed for Newton-John in 1992 when she was diagnosed with breast cancer. For the next three decades, she became an advocate for cancer research while continuing her acting and singing career and raising a daughter. The actor-singer died in August 2022 after three decades of dealing with cancer. Her "Grease" costar John Travolta wrote on Instagram, "You made all of our lives so much better. Your impact was incredible." It's certain that Newton-John will be remembered forever as an iconic actor and singer. Read on to learn more about her incredible journey from Australia to the pinnacle of Hollywood.
She spent her childhood in England and Australia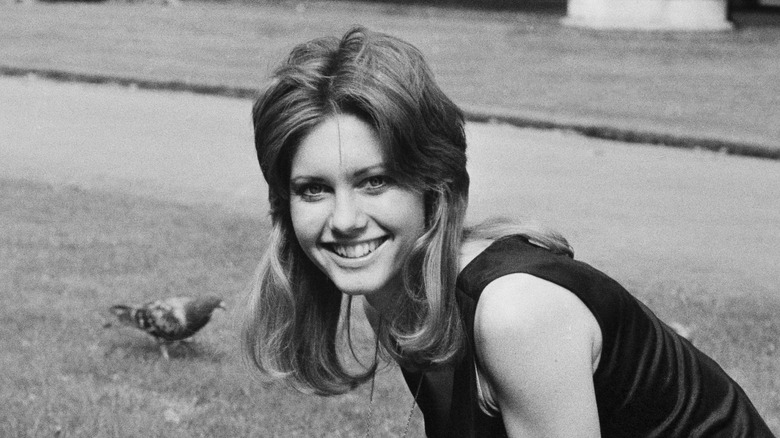 Olivia Newton-John was born in Cambridge, England in 1948. Her father was a professor of German literature and her mother was the daughter of Nobel Prize-winning physicist Max Born (via CNBC). When she was 5, her family relocated to Australia. While the young Newton-John remained a British citizen, she became a cultural Aussie. "My education was in Australia, and I always felt I was Australian even though my passport was British," Newton-John told Interview Magazine.
As a young child in Australia, Newton-John developed a fascination with animals. In fact, for several years, she had aspirations of becoming a vet. "When I was a young girl, I was so crazy about animals that I wanted to do something associated with them, and I thought of being a vet," she said (via Interview Magazine). However, she soon gave up the idea when she realized it would involve going to medical school. She also considered becoming a mounted policewoman, but eventually gave that up, too. "I love animals," she explained. "They give so much to you and demand so little. And you can trust them."
Eventually, Newton-John made her own "zoo" filled with pets at her home in California.
Olivia Newton-John got her start with an Australian singing contest
Even though Olivia Newton-John had dreams of working with animals, she soon found herself in the world of performing. In her teens, she began singing at local cafes. Then, at just 15, she took part in Johnny O'Keefe's Sitmar talent show. After 10 weeks, she won after a final performance of "Everything's Coming Up Roses." The prize was £150 (around $200) and a return trip to England. As Newton-John told The Sydney Morning Herald at the time, she planned on finishing her high school degree before taking the trip. However, she ended up dropping out of school, much to the disappointment of her parents, and moved to London (via the Daily Mail).
Around the same time, Newton-John teamed up with her friend, a singer named Pat Carroll. Eventually, the pair moved to the U.K. together, but Carroll eventually had to leave due to visa issues (via The Conversation). This left Newton-John, who had a U.K. passport, alone to pursue a solo singing career — and soon, her career had taken off.
Her singing career took off in the '70s
Olivia Newton-John's singing career began to take off when her 1971 cover of Bob Dylan's "If Not For You" reached No. 25 on the Hot 100 list (via Billboard). Her next big hits came in 1973 with several country-pop singles like "If You Love Me (Let Me Know)," which reached No. 2. She won her first Grammy in 1973 for the song "Let Me Be There." The following year, her album, "Long Live Love," featured the song "I Love You, I Honestly Love You," which reached No. 1 and earned her two Grammys that year — she was officially a pop star (via CNBC).
Of course, her climb to the top of the pop world wasn't simple. "When I first went in and started singing with [her friend and singing partner] Pat, there wasn't much opening for contemporary stuff unless you had a record, so you had to sing cabaret," she told the show "Countdown" in the '70s. "And from cabaret, it went to recording and it changed again. I've tried to grow and stretch a little bit each time I've made an album … and getting braver and braver hopefully." And of course, as her career went on, she did continue to expand her sound and explore new genres.
Olivia Newton-John represented the UK in Eurovision in 1974
Olivia Newton-John's fame continued to grow in the '70s, when she was chosen to represent the U.K. in the 1974 Eurovision contest, the famous competition that sees singers from every European country competing in an extravagant televised show. While Newton-John had hoped to sing her song "Angel Eyes," the audience voted for her to sing "Long Live Love" in the final competition. Ultimately, ABBA won the competition with their song "Waterloo," while Newton-John came in fourth place.
As Newton-John later told the Daily Telegraph, competing had been "terrifying" and "dreadful" because she didn't much like the song. "The viewing audience voted for the song and it was my least favorite," she said (via AussieNet).
As the competition's host Terry Wogan later admitted, he had assumed that Newton-John's Eurovision appearance would mark the end of her career. "I remarked that it would be a major blow to her career," he wrote for the Daily Mail. "She immediately went to Hollywood to star opposite John Travolta in 'Grease.'"
She landed her career-defining role in Grease in 1978
Instead of being the beginning of the end of her career, Eurovision was only the start for Olivia Newton-John. In 1978, she landed the coveted role of Sandy in the movie adaptation of the Broadway musical "Grease."
According to John Travolta, who played her love interest, Danny, in the film, he had recommended her to the casting directors for the part. "They were desperately looking for a Sandy," he told People. "I said, 'There is only one person that should play this role and it's Olivia Newton-John… She's every guy's dream.'"
While Travolta was convinced that Newton-John was the perfect choice, she wasn't so sure about her own abilities. "I asked if I could do [a screen test] to see if I could carry it off," she told Interview Magazine, adding, "I said, 'If I don't like myself, I won't want to do the movie.'" Apparently, Travolta was there cheering her on the whole time. "He didn't even know me, but he had seen me on television, and thought that I was the right girl to play the part."
After Grease, Olivia Newton-John became a superstar
After the huge success of "Grease," Olivia Newton-John became more famous than ever. For her, the magic of "Grease" was hard to pin down. "I don't think anyone could have imagined a movie would go on almost 40 years and would still be popular and people would still be talking to me about it all the time and loving it," she told CNN in 2017 (via the Daily Mail). "It's just one of those movies. I'm very lucky to have been a part of it. It's given so many people pleasure."
But while "Grease" brought her new levels of fame and countless career opportunities, it was the friendships that stuck with her. "'Grease' was a life-changing experience that I'm reminded of constantly," she once told The Guardian. "The best thing I took from it is lifelong friendships — John [Travolta] and I are still mates to this day."
Her single Physical became a worldwide sensation
In 1981, just three years after the mind-boggling success of "Grease," Olivia Newton-John released her iconic album "Physical." As the Daily Mail noted, this double-platinum pop album and its smash hit titular single were hugely successful, helping her steer away from her doe-eyed Sandy persona into more edgy pop star territory. This was a new era for the singer.
Funnily enough, Newton-John was initially terrified of releasing "Physical." "Two of the things I was most afraid of – Sandy and 'Physical' – were two of my biggest successes," she told "Today" in 2019. "I had an anxiety attack about, 'Oh I just don't think I should put this out, I've gone too far this time.'" The song was more risque than anything she'd previously done, and it was banned in Utah — but it was also a massive success that marked a big turning point in her career.
Olivia Newton-John made a pact with God to save her daughter in 1986
In 1984, Olivia Newton-John married the actor Matt Lattanzi after meeting him on the set of "Xanadu" (via Hitc). Two years later, she had her daughter, Chloe Lattanzi — but her pregnancy wasn't easy. "I remember when I was pregnant with Chloe, and I was close to losing her," she told the podcast "A Life of Greatness" (via the Daily Mail) in 2021. "I went to bed and asked God to save her and if he did, I would say the Lord's Prayer every night for the rest of my life and so I have." It seems that her experience of almost losing her child changed her approach to spirituality for life.
"Motherhood changed me in the best of ways," she told The Guardian. "Suddenly there was a being there that was more important than me, and that person was my responsibility. It's difficult to articulate the unconditional love that you have for your baby."
In 1992, she was diagnosed with breast cancer
Olivia Newton-John's life changed in 1992 when she received a breast cancer diagnosis. "The diagnosis came the same weekend my father died of cancer, so you can imagine the shock," she wrote later. What followed was many years of operations, chemotherapy, and breast reconstruction. "The whole experience has given me much understanding and compassion, so much so that I wanted to help others going through the same journey," she wrote.
In an interview with "Today," the singer explained that her experience with cancer taught her the importance of staying positive. "I think, you know, what you think creates your reality. So it's a decision. You have to make that decision," she said. "You can be a victim, or you can be a winner and enjoy your life."
Newton-John ended up founding the ONJ Center to help facilitate cancer research with a focus on plant-based healing, and to offer support for other cancer patients. "My dream is that one day, the ONJ Center will be only about wellness, and we will no longer need cancer centers because cancer will be a thing of the past," she wrote.
Olivia Newton-John's boyfriend of nine years disappeared in 2005
Olivia Newton-John's first marriage ended in 1995 (via People). Soon after, she began dating the cameraman Patrick McDermott. The pair were together for nine years, until McDermott strangely vanished while fishing in California. His body was never found and, in a bizarre twist, a private investigator reportedly discovered proof that he had faked his death and started afresh in Mexico (via CNBC).
Despite the speculation and rumors, Newton-John tried to keep her private life private. "It's very much a mystery and speculation has been rife, and I choose not to buy into the speculation," Newton-John told ABC News at the time. "This is such a personal thing for me and his family, and we've chosen not to talk about it because it's an ongoing investigation."
For Newton-John, McDermott's strange disappearance was more than unsettling, and she never fully recovered. "I don't think I will ever really be at peace with it," she allegedly said in a 2016 interview. "I think there will always be a question mark" (via Mirror).
She spent lockdown at home in Malibu with her husband
The COVID-19 lockdown in 2020 was life-changing for all of us. But for Olivia Newton-John, it was an especially trying time. Because of her cancer diagnosis, she had to be careful to observe lockdown rules closely. As she told Reader's Digest, she spent much of 2020 and 2021 staying at home in Malibu with her family to avoid catching the virus — but she actually kind of enjoyed it. "I feel guilty for saying it, but I've actually enjoyed not being able to go anywhere," she said. "My life has always been about being on planes and traveling and staying in hotels, so to be in one place for almost a year has been blissful" (via Hello!). Apparently, she spent much of her time cleaning out the house, making bread, and doing crafts. "I haven't been bored for one second," she said.
However, while Newton-John was vigilant about the pandemic, she and her family reportedly refused the vaccine. During an interview with the Herald Sun, Newton-John was asked if she'd had the vaccine. "Not at this point, no," she replied. Her daughter, Chloe Lattanzi, went on to say "real medicine is what comes from the earth."
Olivia Newton-John became interested in natural medicine
Amid Olivia Newton-John's ongoing cancer complications, she went into remission twice. According to the actress, her healthy plant-based lifestyle was largely responsible for her long-term health, despite her diagnosis. In fact, as she told "Extra," she and her husband became increasingly interested in exploring natural medicine alternatives.
For a while, she said, she was "totally" vegan. However, by 2021, her main natural medicine was "usually cannabis drops." "There's a lot of research going on with healing through diet and through cannabis," she said. "Luckily enough, I married a wonderful man who's a plant medicine man who worked in the Amazon for many years … and he's growing me marijuana." Apparently, the pair even planned on running experiments to discover whether cannabinoids could not only help patients manage pain, but also cure cancer permanently. "That's my dream," she summed up.
She died in 2022 after years of having breast cancer
On August 8, 2022, Olivia Newton-John died at her home in California. Even though she had been dealing with cancer for three decades, she was still coming to terms with the idea of death. However, as she told the "A Great Life" podcast in 2021, she was ready to accept it when it came. "We all know we're going to die, but I think we spend our lives in denial," she said. As for her thoughts on what comes after death, Newton-John explained that she did have a spiritual side. "It's extremely personal, so it's hard to put into words," she said. "I feel that we are all one thing, and I've had experiences with spirits and spirit life. I believe there is something that happens. I hope the energies of the people you love will be there. I think all the love will be there. I'm sort of looking forward to that, not now, but when it happens" (via Mirror).
It goes without saying that Newton-John left behind a legacy thanks to her iconic role in "Grease," her long singing career, and her three decades of advocacy for cancer research. She will, without a doubt, be remembered by millions for years to come.