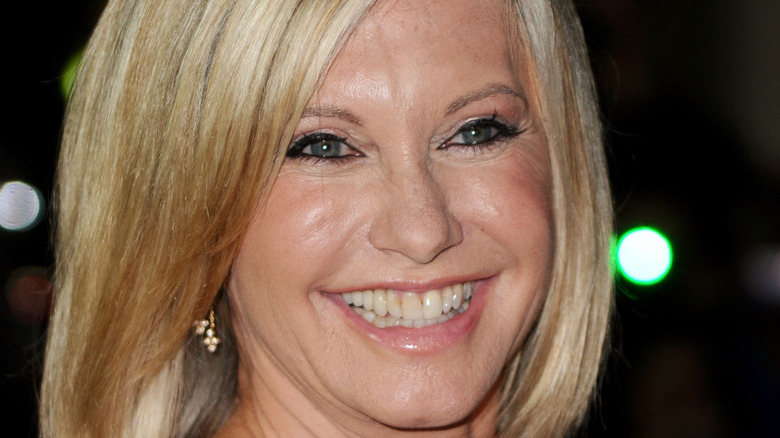 Olivia Newton-John died at age 73 on August 8, 2022, but her legacy lives on. The accomplished actor and singer gained recognition after she released the hit song "Let Me Be There" in 1973. The single peaked at No. 6 on Billboard Hot 100, providing a glimpse into Newton-John's future success. The musician went on to star in the iconic 1978 movie musical "Grease" alongside John Travolta. This made Newton-John a household name and opened up more opportunities for acting roles. Although the multi-talented star was known for her celebrity status, she was also a mother, a wife, an activist, and a breast cancer awareness advocate. While an official cause of death has not yet been released, as of this writing, Newton-John was first diagnosed with breast cancer in 1992. After a period of remission, the star revealed that the cancer had returned in 2017.
The actor's husband, John Easterling, took to her social media accounts to announce her tragic death with a somber message. "Dame Olivia Newton-John (73) passed away peacefully at her Ranch in Southern California this morning, surrounded by family and friends," Easterling wrote in part on his late wife's Instagram. "We ask that everyone please respect the family's privacy during this very difficult time."
The untold truth of Olivia Newton-John reveals how impactful her legendary career was.
Olivia Newton-John viewed her breast cancer diagnosis as 'a gift'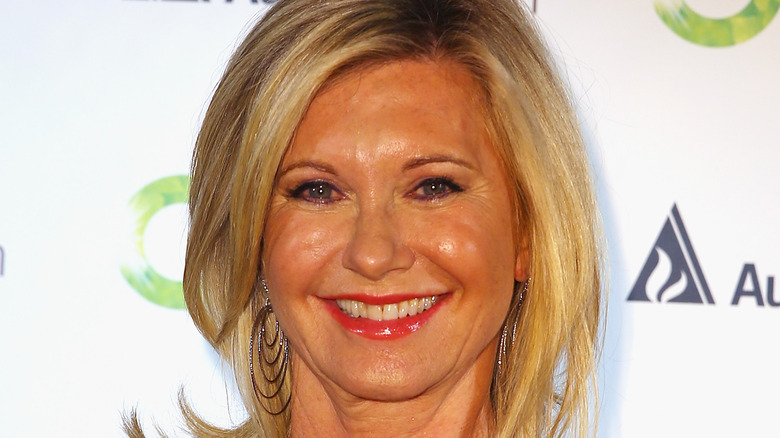 Olivia Newton-John was very transparent about her breast cancer diagnosis over the years. It seemed that no matter how difficult the actor's journey became, she made an effort to help other cancer patients. In fact, she started the Olivia Newton-John Foundation with the goal of funding research for plant medicine as a cancer treatment. The "Grease" actor also contributed to the cause by helping to fund a cancer wellness and research center in Australia. The facility is now named after the star.
Newton-John appeared to live life to the fullest despite her cancer diagnosis. In 2020, the "Twist of Fate" singer spoke to The Guardian about how she managed to remain so optimistic. "I don't know what I would be without it now," she said of her diagnosis. "I see it as my life's journey. It gave me purpose and intention and taught me a lot about compassion. It has been a gift. I don't wish it on anyone else. But for me, it's been important in my life."
She also spoke about learning to navigate life day by day. "Listen, I think every day is a blessing," Newton-John told The Guardian. "You never know when your time is over; we all have a finite amount of time on this planet, and we just need to be grateful for that."
The late actor's daughter followed in her footsteps
Olivia Newton-John shared a close bond with her daughter, Chloe Rose Lattanzi, and their relationship was well documented over the years. After Newton-John's passing, Lattanzi shared a series of photos to Instagram that proved she and her mother were inseparable. The pictures included moments from Lattanzi's childhood as well as her own career in entertainment. That's right, the actor and musician is following in her famous mother's footsteps.
Lattanzi actually began her acting career alongside Newton-John in the 1994 movie "A Christmas Romance." The young star played the daughter of her mother's character in the film, naturally. Back in 2000, Newton-John spoke to People about sharing the screen with her young daughter. "It was tough because she was learning this is not a game; it's hard work and the hours are long," the mother said.
Newton-John also played an important role in Lattanzi's music career. The actor collaborated with her daughter on two songs, including "You Have to Believe" in 2016 and "Window in the Wall" in 2021. "You Have to Believe" was likely especially sentimental to the mother-daughter duo because it was a reworked version of Newton-John's song "Magic" from the soundtrack of her movie "Xanadu." Newton-John spoke about recording music with her daughter in a press release for "Window in the Wall." "I've always enjoyed singing duets more than singing on my own and when I first heard this song, I knew immediately that I wanted to sing it with my daughter Chloe," the late musician shared.
Olivia Newton-John almost passed on her role in Grease
It's hard to imagine that any actor besides Olivia Newton-John could have taken on the role of Sandy in "Grease," but it turns out that the star almost wasn't our Sandy. The actor revealed that she nearly turned down the role during a 40th-anniversary screening of "Grease" hosted by the Academy of Motion Picture Arts and Sciences in 2018.
"I really wasn't sure I wanted to do the movie because I'd made a movie before in England, which was a musical, and it didn't work, so I was very frightened about doing a movie," she explained during a Q&A session at the event. The actor went on to reveal that her co-star and longtime pal, John Travolta, helped convince her. "Then they sent John to meet me, and who could say no, right? This gorgeous guy walks up my driveway, these bright blue eyes, and he was so sweet and melted me and he talked about it," the star continued.
Newton-John was also fearful to take on the role because of her age, as Sandy, of course, was only a high school student. "I said, 'But I'm 29 years old. How can I be 18?'" the actor recalled. "I look back, I can't believe I was thinking that. But anyway, it's all relative, right girls?" Newton-John went on to share that Travolta talked her through this concern by reminding her that none of the actors were as young as the characters they were playing.
Why her chemistry with John Travolta never resulted in a relationship
Olivia Newton-John and John Travolta's chemistry was undeniable, so "Grease" fans were likely disappointed to find out that the co-stars' on-camera romance never resulted in a real-life relationship. As previously mentioned, the pair were there for each other from the beginning — even after the camera stopped rolling. They clearly cared for each other, so why didn't they date? Newton-John offered an explanation on an episode of Mamamia's "No Filter" podcast decades later.
"We were both with other people when we were filming, and I think, respectfully, we just didn't happen," the actor — who was seeing her boyfriend and manager, Lee Kramer, at the time — revealed. "I think it was good, because I think it kept the tension there and the chemistry. It might have been a real disaster had we decided to date, or we had a falling out or something. So, I think it was just as well it didn't happen. But we're still great friends."
For his part, Travolta revealed how he felt about his co-star during a joint Q&A in 2019, where he confirmed that there was in fact sexual tension between him and Newton-John on set. So, it sounds like the co-stars just met at the wrong time.
Olivia Newton-John's ex-boyfriend went missing
Olivia Newton-John's relationship with ex-boyfriend Patrick McDermott took a bizarre and saddening twist in June 2005 when McDermott vanished while on a fishing trip with friends. The couple had been together for nine years and split just before McDermott left for his trip. Authorities searched for McDermott along the California coast where he was last seen, but it was ultimately concluded that he had drowned, per the New York Post.
However, this story got even stranger when reports speculated a few years later that McDermott faked his death to escape debts of over $30,000, which included thousands in child support payments. According to The Courier-Mail, private investigators allegedly found McDermott alive in a small village in Mexico in 2009, as previously reported by the New York Post. It was even claimed that the cameraman sent investigators voice recordings to prove he was alive. This was allegedly part of an arrangement where investigators agreed to leave McDermott alone if he confirmed he was still living. Of course, none of this information had been directly confirmed by the cameraman himself.
Years after McDermott's disappearance, Newton-John revealed to Australian Women's Weekly magazine that she was still grieving the loss. "I think there will always be a question mark," the actor admitted (via the New York Post). "… I don't think I will ever really be at peace with it."
The singer-actor's career began during her childhood
Like many of Hollywood's biggest stars, Olivia Newton-John kicked off her career in entertainment as a child. She began exploring her potential to become a musician as a teen, but only after moving on from her dream of becoming a veterinarian.
"When I was a young girl I was so crazy about animals that I wanted to do something associated with them, and I thought of being a vet," Newton-John said while speaking with Interview magazine in 2011. "But then again, I figured I had to go to medical school and science wasn't a good subject for me, so I dropped the idea pretty soon and thought maybe I could be a vet's assistant." When the star realized she couldn't be a veterinarian, singing was her next choice, explaining, "Suddenly, this singing career came along and I had to make that decision."
Newton-John joined a singing group with three other girls at only 14 years old. "They were sweet girls who lived to sing (like me), so we started a singing group that we called the Sol 4," she wrote in her "Don't Stop Believin'" book, which was released in 2019. "Our wardrobes consisted of denim jeans, hessian jackets, and black turtlenecks." After exploring her talents in Sol 4, a 15-year-old Olivia Newton-John tried her luck on a talent competition show, per Vogue. This landed her several acting gigs.
Olivia Newton-John was an animal rights activist
As previously mentioned, Olivia Newton-John had a soft spot for animals — so you probably aren't surprised to hear that animal rights activism was one of the star's many passions. During an interview with Be Chewy, the actor reminisced on her childhood memories of rescuing animals. "We lived in a university and my father was a professor, and I used to rescue them all the time," she said. "And my mother said I was always bringing home strays. Stray dogs, stray cats, and I remember as a little girl, seeing a guy being abusive to a horse with a cart, and I went up and grabbed the reins and yelled at him. … I must have been under 10." The star added, "So, yeah … I always adored them."
Newton-John was so serious about animal activism that it even impacted her career at times. When the star went on tour in the '70s, she canceled her stops in Japan because of the dolphin hunts that occur in the country each year. The "Grease" actor had been a spokesperson for the Australia for Dolphins organization, so this controversial practice likely pulled at her heartstrings. Newton-John was also a very vocal supporter of Animals Asia, an organization dedicated to ending bear bile farming. Just months before her death, she shared a tweet explaining why she was so passionate about the charity's efforts, noting in part, "I cannot abide cruelty to animals."
The Grease star wasn't a fan of Grease 2
Olivia Newton-John and John Travolta infamously didn't reprise their roles in 1982's "Grease 2." Instead, the film featured new characters played by a new group of actors, including then-budding star Michelle Pfeiffer. The sequel did not win critics over, but it did later become a cult classic. For her part, Newton-John turned down the opportunity to be a part of the "Grease 2" cast, per Vogue. At the time, she was more interested in an offer to star in the 1980 film "Xanadu." This project was also a musical, like "Grease," as well as a commercial disaster, like "Grease 2."
Although "Xanadu" wasn't as successful as Newton-John had probably hoped, it seems that she still wouldn't have joined the cast of "Grease 2" if given the opportunity again. During an appearance on "Watch What Happens Live" in 2016, the actor was asked what she thought about the sequel. With a laugh, she simply replied, "Not a lot." Explaining that she vaguely recalled how she and Travolta had been approached to join the project, Newton-John noted, "Then it didn't happen, and I didn't think it was going to happen, and then they made it with other people."
Olivia Newton-John was always close with John Travolta
"Grease" ignited Olivia Newton-John's friendship with John Travolta in the '70s, and the pair remained close through the decades. In 2019, Travolta spoke to Us Weekly about keeping in touch with his former co-star over the years. "We were together not that long ago, about three months ago, and we text each other all the time," the actor said. He also revealed that he adorably made an effort to go support Newton-John while she was touring. "It's wonderful. … If I go to see her in her show, we go backstage and hang out, and I watch the show and all that," Travolta continued. "If I go to see her personally, we usually have dinner and catch up. And recently we've been talking about trying to do something together."
In 2021, Newton-John gushed about Travolta's ongoing support. Calling him "a lovely, sweet man," she explained to the outlet that the "Saturday Night Fever" star made sure she was comfortable on the set of "Grease" — he even purposely ruined a tape to give her the opportunity to reshoot a scene.
Travolta was one of the many celebrities who shared a tribute following Newton-John's death, and his message was one of the most touching due to their close bond. "My dearest Olivia, you made all of our lives so much better," he wrote on Instagram. "Your impact was incredible. I love you so much. We will see you down the road and we will all be together again. Yours from the first moment I saw you and forever! Your Danny, your John!"