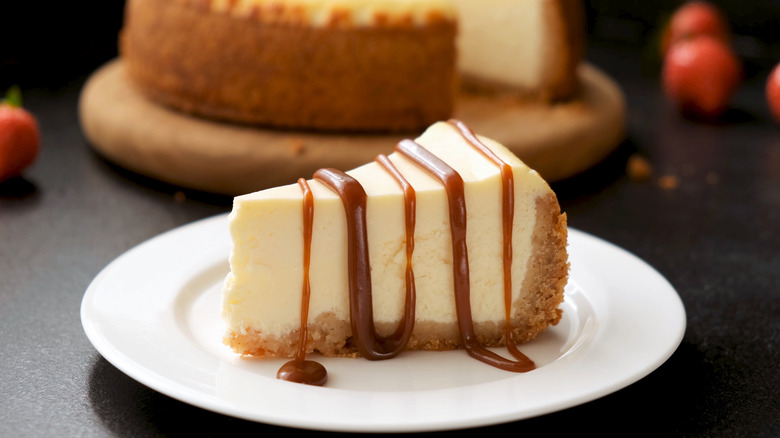 Coast to coast, cheesecake is one of those incredible desserts that seem to unite just about everyone in the United States; from the thin graham cracker crust to the generous layer of dense, creamy filling, it's the perfect minimalistic dessert. Although we might think of cheesecake as more of a modern thing, it actually might date back 4,000 years, and although you can tinker with the toppings, the basic premise stays the same. While you can certainly make a glorious cheesecake from the comfort of your home, there are also tons of places in the States where you can step straight into cheesecake nirvana.
Our picks cover the classics with traditional toppings and preparations, plus some weirder and wonderful takes on this iconic dessert. So whether you like your cheesecake sweet, studded with treats, or even packed with alligator (we're totally serious!), there's the perfect pie for you on our rundown of best cheesecakes.
Eileen's Special Cheesecake: Dulce de Leche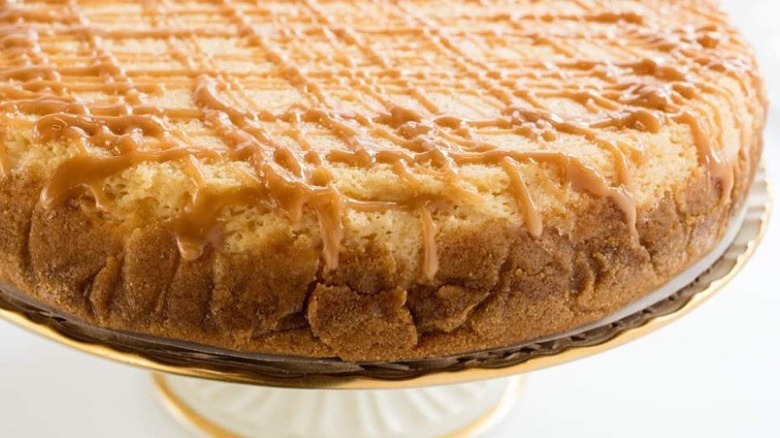 Eileen's Special Cheesecake is a New York City legend. Even the humble plain cheesecake takes on a brand new life at Eileen's. Each mouthful is buttery, flavorful, and completely complemented by a graham cracker crust. Insider lauded Eileen's Special Cheesecake as being a must-stop destination near Little Italy, and although Food & Wine recognized it for making one of the best cheesecakes in the United States, the spot still maintains its local charm.
You can't go wrong with any of the offerings at Eileen's, but the Dulce de Leche Cheesecake proudly stands in a class all of its own. Eileen's traditional cheesecake gets a luxe makeover with delicate strands of dulce de leche. The lattice pattern is beautiful to look at and even better to eat because each bite is perfectly balanced with the good stuff. It's a remarkable example of how a simple additional ingredient can take cheesecake to flavor heaven.
Hope's Cheesecake: Apple Crisp
Hope's Cheesecake in Gulf Shores, Alabama, is a friendly, warm, local shop full of bakers with decades of baking knowledge. As such, you know that they know a thing or two about seriously good small-batch cheesecakes. Hope's Cheesecake uses extremely simple, high-end ingredients and fresh lemon juice to craft the perfect cheesecake with the right balance of tang and sweetness. According to Only in Your State, Hope's Cheesecake proudly displays a map of all of their international visitors, proving that this humble little Alabamian shop has a global following.
One of the top sellers is the Apple Crisp Cheesecake. This cheesecake has several things going for it. First, you have Hope's Cheesecake's amazing base, which provides a velvety contrast to the apple crisp's textured and crumbly topping. Then, you have the crisp itself, buttery, delicious, and packed with autumnal flavorings. It's a sweet riff on an apple pie.
Eli's Cheesecake Company: Confetti Cheesecake
At Chicago, Illinois' Eli's Cheesecake Company, each cheesecake is both a work of art and a perfectly executed blend of flavors and textures. According to the Chicago Tribune, Eli's Cheesecake Company has been delighting the residents of Chicago and beyond for 40 years, and it first started off as a steak restaurant. After Eli's steak got mixed reviews, the owner decided to spotlight dessert, centering on thick slices of delicious cheesecake. Today, Eli's Cheesecake Company doesn't get mixed reviews at all. According to their socials and review sites, people love them.
One of the top cheesecakes and arguably one of the most whimsical of the bunch, Eli's Cheesecake Company's Confetti Cheesecake combines a butter cookie crust with homemade yellow cake. Then, they add in special birthday cake cheesecake and top the whole thing off with vanilla mousse and a generous handful or two of sprinkles. It's a celebration that echoes Funfetti cake frosting in a grown-up and fun way.
Chef Joe Rocco's Cheesecakes: Strawberry Cheesecake
Chef Joe Rocco's Cheesecakes in Catonsville, Maryland, has some exciting and inspired renditions of cheesecakes — Santa Monica Daily Press made special note of the Orange Creamsicle and Red Velvet Cake — but the reason why cheesecake lovers flock there has a lot more to do with the classics. Chef Joe Rocco's Cheesecakes does the classics beautifully, with expertly executed cheesecakes, light graham cracker bases, and simple toppings that make the whole thing sing.
The Strawberry Cheesecake is the perfect example. Rich, fabulous cheesecake meets slightly tart strawberries and a heady glaze for a bright burst of flavor that will remind you of your childhood summers. This is a true treat for cheesecake purists, with each bite full of plump, ripe strawberries, sauce, and the dense cheesecake itself. It's a reminder that sometimes you don't have to break out the fancy tricks to make a darn good cheesecake.
The CakeRoom Bakery: Nutella Cheesecake
Cakeroom Bakery in Washington, D.C., is an excellent little venue for all manner of different cakes, but it's a charming little spot for cheesecake lovers. According to Metro Weekly, owner Fadi Jaber has a special love for Nutella, and that shines through beautifully in one of his best signature creations, Nutella Cheesecake. This particular cheesecake marries traditional flavors with a heavy and delicious hit of creamy Nutella for a fantastic combination in every bite.
Named as one of USA Today's ten best destinations in the nation's capital, Cakeroom Bakery is a feast for the eyes as well as the palate. Jaber and his team make everything from scratch and try their best to create a homestyle, welcoming atmosphere. So whether you opt for a whole cake or a tantalizing thick slice of the good stuff, you're bound to find the right treat to satisfy your sweet tooth at Cakeroom Bakery.
Cheesecakes by James: Banana Caramel Pecan Cheesecake
As he told Patch in 2021, James Sankey survived a shooting in Chicago to reinvent himself as the "M.A.D. baker" of Joliet, Illinois, churning out tons of delicious and off-the-wall cheesecakes for hungry locals and tourists. Sankey's reputation as the M.A.D. baker is well-deserved, and he's not afraid of shying away from unconventional flavor combinations. Additionally, according to his website, Cheesecakes by James, Sankey makes his tasty pies to order, catering to his customer's imagination.
As Joliet's answer to Willy Wonka, Sankey's Banana Caramel Cheesecake is an over-the-top but perfectly balanced thing of absolute beauty. Traditional cheesecake meets fresh, sliced bananas, and a whole lotta caramel sauce drizzled over the entire thing. It's like the best parts of bananas foster, plus that crave-able, dense, creamy cheesecake that Sankey is famous for. So if you're looking for a refreshing change from standard cheesecakes, call James and have him whip one up for you.
7ate9 Bakery: Red Velvet Cheesecake
Red velvet cake is already one of the most perfect desserts on the planet, so leave it to Boston bakery and local fave 7ate9 Bakery to amp it up with a cheesecake twist that adds the perfect amount of moisture to the red velvet while still keeping that traditional flavor profile. According to Edible Boston, 7ate9 Bakery makes full size, medium, and mini cakes using exceptional ingredients like premium chocolate and local finds. Although they do seasonal offerings, there are some perennial favorites that are always on the menu. Their Red Velvet Cake Cheesecake is one of them.
This towering dessert consists of two thick layers of cheesecake nestled between two additional layers of red velvet. The presentation is nothing short of stunning, and you'll get both crumbly cake and creamy cheesecake in each bite. Top the whole thing off with icing, and you easily have one of the best cheesecakes in the United States and maybe even the world.
Fireman Derek's Bake Shop: Cookies & Cream Cheesecake
Fireman Derek's Bake Shop in Miami, Florida, is easily one of the best bakeries in the entire Sunshine State, with two locations both bound to send you straight back to your hazy childhood memories of snacking on treats in your grandma's kitchen. Although many of Fireman Derek's Bake Shop's cakes, cookies, and pies change seasonally, there are a few menu mainstays that keep hungry tourists and locals coming back again and again.
One of these beauties is the shop's Cookies and Cream Cheesecake. For this particular gem, the team at Fireman Derek's Bake Shop swaps out a traditional graham cracker crust for crushed Oreo cookies and studs the entire cheesecake with plenty more generous chunks of chocolate and cream-filled Oreos. Even more cookie pieces grace the top, and the whole glorious cheesecake gets a touch of white chocolate for a cohesive, full-on experience.
Analia's Cafe: Baklava Cheesecake
Analia's Cafe in Frederick, Maryland, serves on-point Greek food and a special cheesecake dessert that ties together a classic sweet treat from the sun-drenched Mediterranean nation and a New York City favorite. The baklava cheesecake is a clever fusion of flaky, honey-coated baklava and velvety cheesecake. The key lies in the contrast. Flaky filo dough contrasts with the cheesecake and honey-soaked nuts for a refreshing crunch in every bite. Although the baklava is center-stage, the cheesecake is far from an afterthought. It's rich, creamy, and has just the right amount of sweetness.
Analia's Cafe's baklava is a very big deal; Frederick News Post once declared, "It is the Meryl Streep of desserts: the best." The cheesecake adds another dimension, elevating an already wonderful dessert to the next level with an interesting texture and complementary flavors. So if you like your cheesecake turned up to 11, check out Analia's Cafe.
Modern Love: Peanut Butter Candy Bar Cheesecake
Modern Love offers gourmet vegan dining in both Omaha and New York City. While the swanky eateries draw in crowds of customers for sophisticated, nuanced savory vegan food, some sweet surprises are lurking on the menu as well. For example, the Peanut Butter Candy Bar Cheesecake is a dairy and guilt-free slice of chocolate goodness with a rich topping and plenty of crushed peanuts perched around the edge. You can even get it topped with some dreamy coconut whipped cream. Every bite sings with the two classic flavors, peanut butter and chocolate, and it's a huge step up from your traditional vegan desserts.
Per the Omaha World-Herald, although the menu differs slightly between the Omaha and Big Apple locations, the Peanut Butter Candy Bar Cheesecake is a perennial favorite on the East Coast and in the Midwest. Even non-vegans will want to give this cheesecake a try.
Kitty's Cheesecakes & More: Cinnabon Cheesecake
Kitty's Cheesecakes & More in Ferndale, Michigan, specializes in wacky and wonderful cheesecakes infused with unexpected ingredients. The top items are whimsically named and fresh; as noted in Click on Detroit, they created a Prince-inspired grape-flavored Purple Rain Cheesecake or the decadent Sweet Potato Cheesecake. Kitty's Cheesecakes & More is an excellent boutique cheesecake shop with outstanding presentation and flavors that drip with nostalgia.
Although all of their dense and lovely cakes are incredible, one that stands out is the Cinnabon Cheesecake. It's got a crumbly, classic graham cracker crust topped with a thick cheesecake layer with actual chunks of cinnamon roll tucked inside. Texturally, it's a winner, but what brings it to the next level is the delicate cinnamon roll piece topping and a light drizzle of icing on the top. Every bite is the perfect fusion of cheesecake and cinnamon roll, and it will take you straight back to your teenage glory days of scarfing down Cinnabons at the mall.
The Celia Jacobs Cheesecake Experience: Black Forest Cheesecake Bites
Some of the best cheesecakes in Austin, Texas, don't originate in a five-star restaurant kitchen. Instead, they come out of a bakery on wheels. The Celia Jacobs Cheesecake Experience promises and delivers just that; a full-on foodie experience of delicious cheesecake bits in familiar and unconventional flavors. Although you can go with childhood fave flavor combos like peanut butter and jelly, the real star is a cheesecake rendition of an old-school cake; Celia Jacobs Cheesecake Experiences' black forest cheesecake bites.
Each bite bursts with an excellent ratio of rich, complex chocolate flavor and bright cherry for a sophisticated treat that elevates the humble black forest cake to something modern and fun. According to Hoodline, The Celia Jacobs Cheesecake Experience is an Austin must-visit. It has nearly perfect ratings on Yelp, plus 50 unique flavors, excellent service, and a cool and funky vibe.
Jacques-Imo's: Shrimp and Alligator Sausage Cheesecake
For one of the most unique cheesecakes on our list, head to New Orleans, Louisiana, for a thick slice of Jacques Imo's famous shrimp and alligator sausage cheesecake. Although going the savory route might seem slightly counterintuitive to cheesecake purists, it's worth taking the culinary leap. Jacque Imo's legendary decadent and meaty cheesecake is packed with Crescent City's signature flavors with richness from the alligator and a briny zing from the shrimp. It's even good enough to get a nod in USA Today's 10 Best for sheer ingenuity, style, and deliciousness.
According to NOLA.com, Jacques Imo's has been serving up inspired takes on New Orleans cuisine since 1996. The restaurant attracts locals and foodie tourists alike through a smart mix of traditional flavors, interesting techniques, and spot-on cooking know-how. The alligator cheesecake is one shining example of this; something familiar and off the charts inventive at the same time.