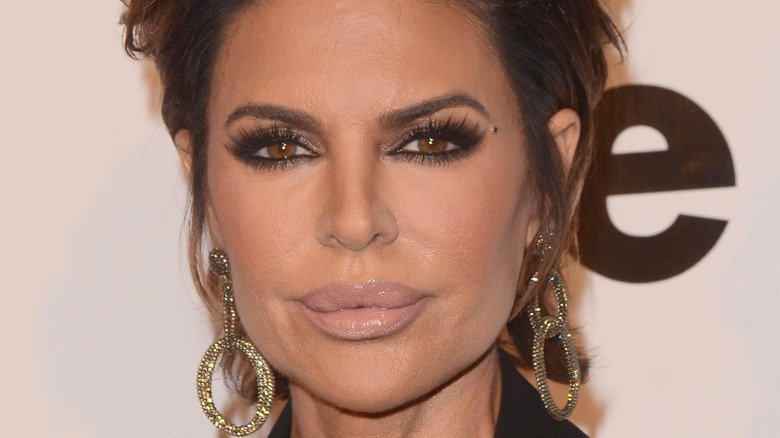 Lisa Rinna is as unforgettable as her signature hairstyle, her "Own It" catchphrase and her ability to dish on every bit of drama that doesn't involve her own. She is unapologetically herself, and season after season, she returns as a staple on the "The Real Housewives of Beverly Hills" franchise to give fans the tea straight from her infamously plumped lips. Her family is well known around the Hollywood Hills, with her husband Harry Hamlin famous for starring in roles on "Mad Men" and her daughters, Amelia Gray and Delilah Belle modeling for the likes of Tommy Hilfiger and Alexander Wang.
But unbeknownst to some, Rinna made a name for herself long before Bravo started cutting her checks. She hustled hard for her Beverly Hills reputation, earning accolades for her roles on soaps and even performing on "Dancing With The Stars." She's as unforgettable as her head-to-toe leopard outfits, and to quote Rinna — you better believe we're going to talk about it. We're giving you all the juicy secrets of the "Housewives" star, and just like her, we're not holding back. Grab a drink, because we're about to spill this tea. This is the untold truth of Lisa Rinna.
She posed for Playboy when she was pregnant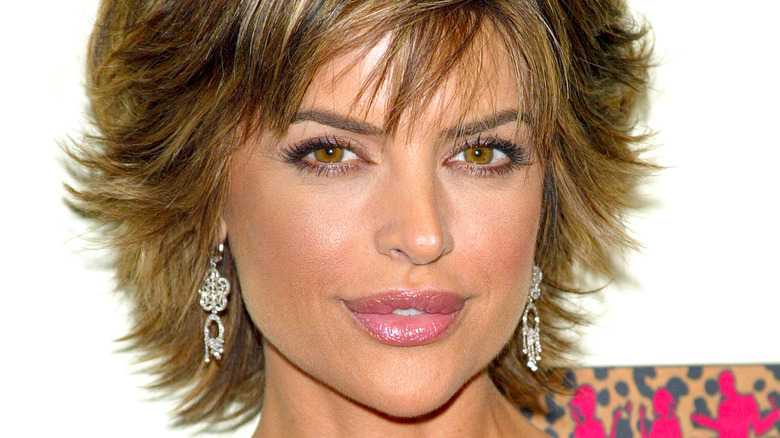 There are a lot of things women who are six months pregnant with their first child are doing, like buying diapers, taking birthing classes, and preparing for motherhood. If you're Lisa Rinna, you become the first pregnant woman ever to pose naked for Playboy. How about that for milestones? Rinna shocked the world when she stripped down for the September 1998 cover and ten-page spread of the infamous magazine.
In what was dubbed the "mother of all pictorials," Rinna made motherhood the new sexy. She spoke to CBS News at the time about the controversial decision to bare it all. "Not only does it take pregnancy to a new level, it takes Playboy to a new level," Rinna continued, "It shows where we are in society for Playboy to show a woman pregnant and naked."
In true Rinna fashion, her decision to share not one, but two Playboy covers via Instagram couldn't be complete without throwing shade at a former castmate. In 2020 during an episode of "The Real Housewives of Beverly Hills" Kyle Richards commented on Denise Richards' stepped-up glam to which Richards fired back in a confessional "I don't think these b****es know I've been on every f***ing magazine cover you can possibly imagine that they would want to be on." Rinna responded via Instagram writing in a since-deleted post shared by Daily Mail, "Well S**t….. I only got me two of the covers that we'd all want to be on. DANG," wrote Rinna. What's a good "RHOBH" fight without Rinna to throw some serious shade?
She's a soap star
Long before she was holding court as a "Housewife", Lisa Rinna became a household name on "Days of Our Lives" in the early 1990s. The actor played the role of Billie Reed on the soap on and off since 1992, making occasional re-appearances after retiring from her full-time role in 1995. Rinna even came back for the "Days Of Our Lives: Beyond Salem" a five-episode revival that aired on Peacock in 2021. Whereas "The Real Housewives" franchise might grant flexibility for skipping filming during sick days, "DOOL" was a different story, according to Rinna. "I mean, I would have to be on my deathbed to not show up for work. Like, that is just ingrained in you when you're working as an actor on a soap opera," she told Today.
The celeb isn't the only "RHOBH" star to launch an acting career on "DOOL." Rinna has a serious bond with castmate Eileen Davidson, who is also a star of soaps, appearing for decades on "DOOL", as well as "The Young and the Restless." She also joined Rinna for the "Days Of Our Lives: Beyond Salem" revival. Davidson told ShowBiz Cheatsheet that she was more than happy to join the series after learning from an Executive Producer that Rinna was a part of it. "[He] followed up with a text and said, 'Oh, by the way, Lisa Rinna is in it.' I was like, 'Oh my God, it's gonna be fantastic.'"
Drake is a big Lisa Rinna fan
There's one achievement that no other "Housewife" can compete with Lisa Rinna on, and it's got nothing to do with acting. Rinna sparked jealousy amongst her castmates of "The Real Housewives of Beverly Hills" when it was revealed in the 2021 season that Drake follows the actor-turned-housewife on Instagram. Much to the surprise of her castmates, Rinna was oblivious about the whole thing. "I mean, I didn't know Drake followed me," she recalled during the episode. "His name is, like, Champagne Papi or something."
Castmate Crystal Minkoff joined the frenzy posting a boomerang from the episode on Instagram and captioning it "Not me feeling disappointed that Drake still isn't following me," she continued "Where you at @champagnepapi??" "RHOBH" Housewife Kyle Richards took it a step further, posting a bikini pic from Mexico and captioning it "Like my hat? #thirstythursday," tagging both Drake and Rinna. Unfortunately for Minkoff and Richards, "Champagne Papi" has yet to follow any other housewife.
She's been in the circus
Lisa Rinna has plenty of drama to juggle on "The Real Housewives of Beverly Hills," which is fitting — since the actor has actually been in the circus. The "Days Of Our Lives" actor is a jack of all trades, and she can even walk the tightrope. She can credit this skill to her time in the early 90s on "Circus of the Stars." The annual television special was produced by CBS and showcased celebrities performing circus-type acts. In this photo shared by Bravo, Rinna is seen on one foot, balancing on the tightrope.
In a Youtube clip of the episode, a young Rinna decked out in costume stands atop another performer's shoulders as they both balance on the rope. She demonstrated her ability to climb on her partner's shoulders, and balance on him as he balances on the rope. She also shows off her multifaceted expertise as she rode along the thin rope on a bicycle. Now that is quite the resume, Lisa.
She turned her love of wine into a business opportunity
Lisa Rinna not only throws wine at other castmates on "The Real Housewives of Beverly Hills," she sells it too! After teasing a wine label launch in years past, Rinna posted on Instagram about her new collection. The photo showcases a simple backdrop with the words "RINNA WINES." The "RHOBH" star captioned it, "The new French Wine Collection people will most definitely be talking about. By @lisarinna." Her castmate Dorit Kemsley commented on the post writing "Can't wait Rinna! It's so good!"
Rinna invited her fellow "Housewives" to try out her Rose as well as her Brut on Season 12 Episode 13. "I'm putting myself in a very vulnerable situation," she explained during the episode. "Because, you know, these b****es could go hard and really tear it apart." But it seems the ladies had plenty of good things to say about the bubbly — or they had on rose-tinted glasses. "Oh my god, that is good," Dorit Kemsley commented during the tasting, while Sutton Stracke added, "This rosé that they've made is perfect for what I like. I like a really pale rosé." Garcelle Beauvais followed up with, "I normally don't like brut, but this is good."
Rinna Wines officially launched its official page on Instagram and Rinna posted a photo on her own account announcing that Sparkling Brut Rose and Brut are the first to launch from Rinna Wines.
She's not afraid to call out her producers
Lisa Rinna lost her beloved mother and Bravo fan-favorite Lois in 2021, and her grief was relived in an episode of "Real Housewives of Beverly Hills." Lois was often seen chiming in on various episodes with tidbits of hilarious wisdom, earning her a reputation as a loveable mother and grandmother. "The world loved her and to be able to have shared her with the world is a great gift. I hold that very close to my heart," Rinna shared during the episode.
But Rinna had a lot more to say following the episode's premiere, writing in since-deleted Instagram stories about the lack of grace by Bravo producers for only giving the event one episode. Page Six posted the screenshots where Rinna wrote "Lois deserved and deserves much more," she continued. "Shame on everyone."
That's not the first time Rinna called out Bravo producers. In 2021, the actor shared via an Instagram story that producers missed an opportunity by omitting footage of castmate Ericka Jayne screaming at a member of the production. Screenshots of the since-deleted stories were obtained via Twitter, with Rinna writing "Dang it…I wish they had shown the screaming fight between the producer and Erika last night on the show in La Quinta," adding "Bravo Bravo F***ing Bravo" with three crying laughing emojis at the end. For those not keen on "Housewives" lingo, saying "Bravo" repeatedly during filming is a way castmates have asked producers not to air a scene. Which, to their dismay, usually doesn't work.
She's a great dancer
If you follow Lisa Rinna on Instagram, then you are no stranger to her famous dance moves. The actor frequently posts video clips of her getting groove on, and we can't help but to admit how her moves can put the rest of us to shame. She even posted a clip during a "RHOBH" trip to Aspen where she can be seen dancing in castmate Kyle Richards' daughter's room. Richards poked fun at the post commenting "Alexia's room will never be the same," to which Alexia commented back that the room was changed "for the better."
Rinna certainly has a decorated resume, including being a part of the Season 2 cast of "Dancing With The Stars." The dancer made it almost all the way, being eliminated just before the finale. Rinna's dance partner on the hit show Louis Van Amstel reunited with the housewife on the revival "Days of our Lives: Beyond Salem" where he played the role of auctioneer during the second episode of the series.
She's a huge Harry Styles fan
It's no question that Lisa Rinna is a huge fan of heartthrob Harry Styles. Rinna frequently posts videos dancing to the musician's hit songs, and it seems the feeling is mutual! During the Season 11 reunion episode, it was revealed that Styles is a big fan of the ladies of Beverly Hills, even binging episodes during quarantine. So basically, he's just like the rest of us. "He actually asked some of us for a birthday video," Dorit Kemsley revealed during the episode. In screenshots obtained by Capital FM, the One Direction star can be seen DMing Rinna and wishing her a happy birthday.
Rinna made it clear at the time that she was not a big fan of her daughter Amelia's relationship with much older boyfriend Scott Disick. She opted instead for the fashion model to date the "Watermelon Sugar" singer. "Why can't it be Harry Styles? Why the f*** is it Scott Disick," she revealed during an episode at the time. Well, we'd wonder as well, but it seems Styles is a bit preoccupied cozying up to Olivia Wilde.
She feuded with the Dubai Housewives
What's better than a feud on "The Real Housewives of Beverly Hills"? A feud that crosses international borders, that's what! Lisa Rinna stepped up her smack-talking game when she called out the new spinoff series "The Real Housewives of Dubai." It all started when "RHOBH" star Diana Jenkins commented on an Instagram post that was making fun of Jenkins, writing "It must be fun being a Black content creator" (via Daily Beast). On "Watch What Happens Live," host Andy Cohen asked the only black Beverly Hills cast member Garcelle Beauvais what she thought of the Bosnian-native's comments on the post she replied that Jenkins was "uneducated." When Rinna defended Jenkins in since-deleted comments on Jenkin's Instagram (via Daily Beast), she was called out by fans for being racist. "We fight on our show," she wrote. "If we fight with Garcelle, we are, all of a sudden, called a racist," Rinna continued "If you are just so triggered by our show — and a lot of you pu***es are — go watch Dubai."
Well, the ladies of Dubai didn't receive that comment very well. "RHOD" cast member Lesa Milon tweeted "She does not want this heat, we're not BH .. we will drag her from right up off that doctor's table to the desert!" Supermodel and "RHOD" cast member Chanel Ayan also chimed in tweeting "Rinna Africa called and they want their lips back! Keep Dubai out of your mess and your mouth." Yikes, we love a good "Housewives" dragging.
She was on reality TV once before
Before "The Real Housewives of Beverly Hills" called, Lisa Rinna had her debut on reality television alongside her long-time hubby Harry Hamlin. Fans may recall the short-lived docu-series "Harry Loves Lisa" which was a six-episode series that premiered on TV Land. What's even more surprising is that former "RHOBH" cast member (and sometimes frenemy) Denise Richards made appearances, as well as current cast member Garcelle Beauvais.
The series was a cheesy take on the ins and outs of family life for Hamlin and Rinna, including parenting their two daughters, visiting psychics, and even marriage counseling. Fans can clearly see the "opposites attract" theme at play during the episodes, with Rinna being vastly different from her "Mad Men" husband. While their reality series didn't last long, their marriage sure stands the test of time! Rinna and Hamlin have been married for over 20 years, and if Rinna's Instagram is any indication, they are more in love than ever before.
She almost didn't do the show
Lisa Rinna joined "The Real Housewives of Beverly Hills" in Season 5, but viewers may be surprised to know that she was almost an OG cast member. According to People, Rinna made the shortlist for the show but was ultimately axed by Bravo ringleader Andy Cohen. "Lisa Rinna had been on so many reality shows, it just seemed like a parody to me," he said. "For me, it needed to be about real women. I didn't think we should have an actress, and I didn't think any of them should be famous."
And while the outspoken "Rinna Beauty" mogul finally made it on the franchise in Season 5, her husband's concerns almost had her turn down the role completely. Rinna spoke to Oprah Winfrey in a preview clip shared by ET about her husband even threatening divorce if she chose to do the show. "He comes back to me in like two days, and he said, 'You know, I've thought about it, I've done some research,'" Rinna said at the time. "Harry, being a really, really smart businessman himself, said 'It's a good thing, it'll work for you, you should do it.' So I did it." And boy did she. She also launched a successful makeup line and is getting a taste (literally) for the wine market. If Rinna has an idea, she goes for it. The business-savvy housewife doesn't mind if you like her or not, she is going to "Own It" and then sell it to you!
She was on Broadway
Lisa Rinna had already graced the Broadway stage in a lead role long before she was dancing in her underwear to Harry Styles. Rinna and her husband Harry Hamlin played the roles of Billy Flynn and Roxie Hart in the classic long-running "Chicago" in 2007. Prior to joining the Broadway cast, Rinna had played the role of Roxie Hart for the national tour production of the famous musical. It's no denying their offstage chemistry was easily transported into the fictitious characters they played, so much so that the pair even extended their Broadway stay a week longer than planned.
Surprisingly enough, Rinna isn't the only Bravo Housewife to play in the hit Broadway musical. Her castmate on "The Real Housewives of Beverly Hills," Ericka Jayne, donned the role of Roxie Hart in 2020, but her run was unfortunately cut short due to covid cancellations. Kandi Buress of "Real Housewives of Atlanta" took on the role of Matron "Mama" Morton in 2018 and Nene Leakes, a former "RHOA" cast member, played the same character in 2015.
She gets a fat check for being on the show
It's clear that Lisa Rinna knows how to market herself. She was a star long before Bravo producers came knocking on her door, so how much is the actor really worth? According to Celebrity Net Worth, Rinna's net worth tops out around $10 million. And while she has multiple businesses to attribute some of that wealth to, Bravo cuts her the biggest check for her role on "The Real Housewives of Beverly Hills." While Bravo doesn't openly discuss salaries, it's reported that Rinna rakes in around $500,000 per season.
The "RHOBH" star has done so well, she's even caught up to her husband in overall net worth. Harry Hamlin had been a prominent member of Hollywood's elite before he met Rinna, with his roles in "Clash of the Titans," and "L.A. Law," the latter landing him three Golden Globe nominations. According to Celebrity Net Worth, he's worth $10 million, making the pair a powerful Hollywood duo with multiple businesses and accolades between them.
She's a college dropout
Lisa Rinna's climb to the top was anything but traditional. While her friends were being shipped off to college, she had different aspirations for her future, and felt she wasn't cut out for school. In Season 10 of "The Real Housewives of Beverly Hills" Rinna recalled her short-stint at college in conversations with her daughter Amelia. "Here's what happened at Emerson. I got in, and five days in I was so homesick I thought I would die," Rinna recalled. The "Days of Our Lives" star tried getting a degree closer to home, but ended up dropping out entirely at just 18. According to the Los Angeles Times, Rinna quit her university and moved out of her parent's house after being rejected for an acting course. "I just wanted to be famous and was going to do whatever I had to to get there," said Rinna. The actor landed small commercials and modeling jobs, before finally making her way to LA and landing her launching role on "DOOL."
But just because Rinna may have the resources to support her daughters in every way possible, she made it clear she won't be doing them any favors. Rinna threw shade at the college admissions scandal involving Lori Laughlin in Season 10 Episode 2 when she joked with her daughter Amelia. "…because I'm not going to put you on a rowing machine and take a picture of you and say that," Rinna quipped.