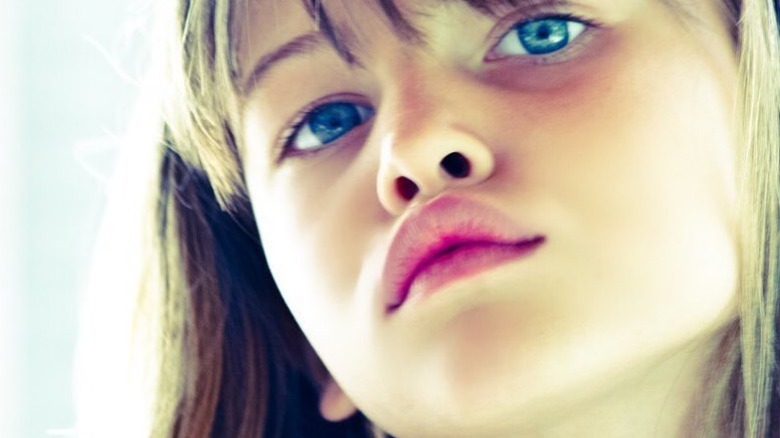 History is filled with fairytales about beautiful children — some of whom were even given names based on their appearance, like Snow White and Sleeping Beauty. And cinema is filled with icons like "National Velvet" star Elizabeth Taylor and "Miracle on 34th Street" actress Natalie Wood. Then there are the adorable little gals of musicals, like Aileen Quinn of 1982's "Annie" and Shirley Temple, America's sweetheart, who inspired a delicious sparkling cherry grenadine drink.
There isn't a shortage of beautiful children in the recent past, either. But whatever became of some of our favorite child stars? Many of them grew up to continue their careers in acting or modeling. Some took other paths, or at least chose to amble beside (rather than glide down) the red carpet. But the children listed below have gone on to do great things — in or out of the spotlight. Read on to find out what ever happened to some of the prettiest kids in the world.
Tami Stronach turned to dance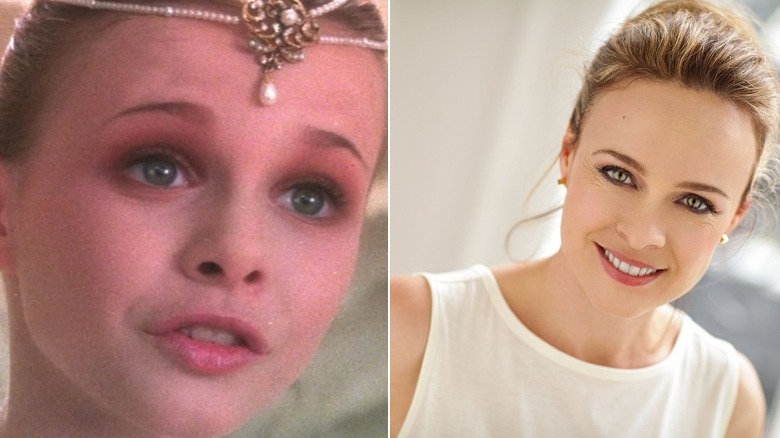 Most people will remember Tamara (Tami) Stronach as the mournful, beautiful "childlike empress" in 1984's "The NeverEnding Story" — she who sat weeping in her crumbling ivory tower, while encouraging the young Bastian Balthazar Bux (Barret Oliver) to rebuild his own "neverending story" with his own imagination. But what has she been doing since helping to save the kingdom?
According to her official website, Stronach has turned her attention primarily to the art of dance. In addition to being the co-founder of Tami Stronach Dance, she runs a rather fascinating family entertainment company called Paper Canoe. One of her most recent projects, based out of New York as part of an event sponsored by the New York Czech Center, is called Sense, which seeks to cross and connect light, sound, and music. All of which sounds very fantasy-like, and perhaps akin to the moral of "The NeverEnding Story" in some ways.
In fact, in a 2017 interview with HuffPost, Stronach even said that her "Paper Canoe" project was partially inspired by the film. So it's safe to assume that we can expect some wondrous new projects from her in the future.
Julia Winter left Hollywood to pursue a bigger dream
Tim Burton's 2005 adaptation of "Charlie and the Chocolate Factory" is beloved by many fans of the whimsically macabre director's work. And one of its most memorable figures is undoubtedly Veruca Salt, who was played by 11-year-old Julia Winter. Winter's performance garnered positive reviews from many critics. And, as evidenced by interviews she did at the time, she had a great time making the movie. But aside from a handful of promotional documentaries she did to promote the film, Winter did not go on to work in show biz.
Instead, she returned to her native Sweden, and began studying at the Karolinska Institutet in Stockholm to become a doctor. She can be seen here as an adult. Yes, the video is in Swedish, which makes it difficult to understand without subtitles (or unless you speak the language, of course). Nevertheless, it's great to see that little Veruca turned out to be a good nut, after all.
Jodelle Ferland never stopped acting
In 2005, Jodelle Ferland broke into cult film stardom as little Jeliza-Rose, heroine of Terry Gilliam's surreal fantasy-horror film "Tideland." As it turned out, having a corpse (Jeff Bridges) for a father, a series of bizarre circus-like neighbors for friends, and her fingers adorned with talking Barbie doll heads paved the way for future endeavors.
Ferland would go on to star in the 2006 horror film "Silent Hill"; she did a very non-gothic, upbeat and ebullient interview with Ellen DeGeneres about the movie later that same year. She also starred in the 2007 horror film "The Messengers" (produced by "Evil Dead" legend Sam Raimi) and 2012's horror blockbuster "The Cabin in the Woods." She was also in "The Twilight Saga: Eclipse." Nowadays, Ferland stars as Olive in the "Darken: Before the Dark" TV series, which she was recently interviewed about. She's also been known to make appearances at Comic-Con events.
Emily Browning is a familiar face in entertainment
Emily Browning, who played Violet Baudelaire in 2004's "Lemony Snicket's A Series of Unfortunate Events," is a household name. The Australian actress got her start at a very young age, appearing, as a child, in several TV dramas, including the 2000 sci-fi children's show "Thunderstone" and the 2001 miniseries "Blonde," based on the life of Marilyn Monroe. Then came her breakout role in 2002's "Ghost Ship," followed by "Unfortunate Events." And the rest was history.
As an adult, Browning has appeared in mainstream movies like 2011's "Sucker Punch" and 2014's 3D action flick "Pompeii," as well as Julia Leigh's poetically surreal arthouse film "Sleeping Beauty." The latter, a notable departure for Browning, is about a high-class service that pays beautiful young girls to sleep for hours under rather disturbing circumstances. She was also cast in the show "American Gods," which was adapted from Neil Gaiman's novel. Browning is also a singer who has worked with bands like Belle and Sebastian, and she's contributed to various film soundtracks.
Daveigh Chase has countless iconic roles to her name
It's hard to tell which role the young Daveigh Chase is most famous for. Horror aficionados know and love her as the spectral demon-child Samara in 2002's "The Ring." Others remember her as little Samantha Darko (it's impossible to forget her ultra-cool "Sparkle Motion" dance moves) in 2001's "Donnie Darko." She's also beloved for voicing Lilo in the 2002 Disney film "Lilo and Stitch," and for voicing Chihiro in 2001's anime hit "Spirited Away."
Chase's childhood roles may be iconic, but the Las Vegas-born actress has plenty of adult roles to her credit, too. She appeared in 2009's "S. Darko," the sequel to "Donnie Darko," in which she reprised her role as a less sparkly and more intense (but still unforgettable) Samantha. She had a foray in TV with a role in the HBO series "Big Love," and she starred in the 2015 Lifetime thriller "Killer Crush," playing a psychotic med school student. In 2016, she returned to the horror genre with the film "Jack Goes Home."
Rachel Hurd-Wood is more than Peter Pan's lady love
English actress Rachel Hurd-Wood got her start in 2003's adaptation of "Peter Pan," playing a mesmerizing Wendy Darling. She went on to appear in movies like 2005's "An American Haunting" and 2009's "Dorian Gray," but, as of this writing, her most memorable role was in "Perfume: The Story of a Murderer," based on writer Patrick Süskind's 1985 historical fantasy novel of the same name. Hurd-Wood plays Laura, the story's primary muse, whose enticing scent eventually leads to her being made into a species of perfume.
Hurd-Wood has also done a lot of other film and television work, and done her share of interviews for various movies. She became heavily involved in charity events, as well, participating in a variety of fundraising endeavors. She's also talked about the experience of being in Nepal while filming the 2014 movie "Highway to Dhampus." But to many fans, she'll always be Peter Pan's innocent companion and true love.
Nicola Peltz checked into the Bates Motel
Child actress Nicola Peltz made her film debut at the age of 11 in the Christmas comedy "Deck the Halls." Two years later, she appeared in writer T. Sean Shannon's "Harold," a comedy inspired by Shannon's work on "Saturday Night Live." Her major breakthrough, however, came a few years later, when she starred as Katara in M. Night Shyamalan's adaptation of "The Last Airbender" (based on the anime series of the same name). But what has she been up to since then?
Nowadays, she's known for playing the pivotal (but ill-fated) Bradley in the A&E series "Bates Motel." Others might know her as Tessa Yeager in "Transformers: Age of Extinction." She also works as a fashion model, and has been in a number of Hollywood films. Peltz has come a long way from her early beginnings — still as beautiful, and her career shows no signs of slowing down.
Ella Purnell found a home with Miss Peregrine
Young Ella Purnell's big break came when she appeared in 2010's "Never Let Me Go." She was cast as young Ruth, whose grown-up version was played by Keira Knightley, and indeed, her uncanny resemblance to Knightley is still evident today.
As an adult, Purnell is surely best known for starring as Emma Bloom, the underwater-breathing girl, in Tim Burton's "Miss Peregrine's Home for Peculiar Children." She also appeared as a teenage Angelina Jolie in 2014's "Maleficent." Purnell later appeared as Winston Churchill's secretary in the 2017 drama "Churchill," and can be seen talking about said role in this video interview. In 2018, Purnell was cast in the Starz series "Sweetbitter," about a young girl who comes to the Big Apple to pursue her dreams; in an interview with Collider, she recalled flubbing her audition for the role — but still getting the part!
Kaia Gerber made a big splash on the modeling scene
It was pretty much destined that Kaia Gerber would grow up to be gorgeous, given that her parents are Cindy Crawford and Rande Gerber. The model made her professional debut in 2010, when she appeared in an ad campaign for Versace Kids at the tender age of 10, according to an article in The Telegraph. But after causing a bit of a controversy given that she wore an especially short skirt, Crawford decided that her daughter should wait until she was older to model (via The Hollywood Reporter). Honestly, that was probably for the best.
Indeed the break didn't impact Gerber's career at all, as she returned to professional modeling in a big way when she was 16. That year, she did her first runway show for Calvin Klein, and hasn't slowed down ever since, according to an interview with Vogue Italia. Now Gerber can be found everywhere that's anywhere, like on the cover of Vogue magazine, walking the runway in the finest couture, and being honored by the British Fashion Council. Clearly Gerber is on fire!
Gigi Hadid became a top model and influencer
Gigi Hadid has been a model for her entire life, as she started working for Guess Baby when she was just 2 years old, according to her since-removed Guess profile. Then, after a hiatus, Hadid returned to modeling in 2011 when she was a little bit older and a little bit wiser. By 2012, she was the official face of Guess, which is an accomplishment in and of itself. But for Hadid, that was just the beginning.
After Hadid walked her first runway in 2014, everything changed at a fairly rapid pace. She was rocketed into super-stardom, quickly becoming one of the most famous and in-demand models in the entire world, according to Vogue Arabia. She's a darling of Donatella Versace and the It girl for multiple brands, including Prada and Victoria's Secret. Oh, and you can find her on pretty much every magazine cover that's out there. Additionally, Hadid has nearly 50 million Instagram followers, and is one of the biggest influencers on all of social media. To call her accomplishments impressive is an understatement, as she's a force to be reckoned with.
Lindsay Lohan's ups and downs led to her designing her very own island
When Lindsay Lohan's career began its ascension, she was one of America's favorite gingers. After early appearances in commercials like this advertisement for Jell-O (talk about simpler times), Lohan went on to score her breakout movie role in "The Parent Trap" as Hallie Parker and Annie James in 1998. Following that, she starred in the much-beloved "Mean Girls" in 2004, alongside comedy greats Tina Fey and Amy Poehler, and her star was definitely on the rise.
But Lohan was troubled, which put a dent in what could have been. After being arrested multiple times for possession of narcotics, DUI, and a misdemeanor hit-and-run, Lohan became was seemingly blacklisted by directors and became fodder for tabloids, according to an article in Variety. Clearly she wasn't doing very well.
But Lohan isn't done, even though she's relocated to Dubai and has become quite the hospitality mogul. She has a reality show on MTV called "Lindsay Lohan's Beach Club," and is designing an island she calls "Lindsay Land," which is a pretty impressive undertaking. Additionally, Lohan hopes to return to acting someday, and she dreams of working with Martin Scorsese and Steven Spielberg.
Thylane Blondeau keeps her modeling career separate from her personal life
French-born model Thylane Blondeau's modeling career began quite early — when she was 4 years old, to be exact. Seven years later, her parents and representatives garnered controversy by allowing her to appear in an ambiguously disquieting Vogue shoot; the then 10-year-old Blondeau (widely dubbed "the most beautiful girl in the world" by the press) lounged against satin sheets in stiletto heels and decidedly adult makeup. Blondeau's mother, fashion designer Véronika Loubry, defended the shoot.
Since then, Blondeau's appeared to actually be very happy working in the industry. In an interview with Teen Vogue, she reiterated her enthusiasm for modeling, while also pointing out that her career and her personal life were distinctly separate entities. "My friends and I don't talk about it [my modeling] a lot," she said. "It's kind of my secret garden. But my family is very happy for me." On her 16th birthday, Blondeau became the Brand ambassador of L'Oréal Paris; she also maintains an active Instagram presence.
Parker McKenna Posey became a mom
Parker McKenna Posey found fame as the adorable Kady Kyle on "My Wife and Kids," and starring opposite the likes of Damon Wayans and Tisha Campbell, who played her onscreen parents, naturally left a major impression on the youngster. Posey continues to act to this day, with a recurring role in "A House Divided" and three separate projects set to drop in 2022 or soon thereafter. Elsewhere, the former child star boasts a considerable following on social media, with over one million Instagram followers at the time of writing.
In May 2021, Posey confirmed she'd welcomed her first child, a daughter named Harley, alongside partner Jay Jay Wilson. "My biggest blessing thus far!! I love being your Mommy," the actor captioned the sweet post. Although she's come a long way since "My Wife and Kids," in an interview with Schon magazine, Posey admitted she's still figuring out who she is. Becoming a mother was obviously a big part of that journey for her, but no matter what happens, the actor is committed to pushing forward no matter what.
Working since she was young took a toll on Raven-Symone
Being a child star is one thing, but being the titular character of the show that made you must take a toll. During a chat with People, Raven-Symoné said, "I believe in therapy. I believe in the couch. I have been guarded my whole entire career because of what I've been taught to do, because of the people around me, because of my childhood."
Thankfully the actor, who initially came to prominence playing Olivia on "The Cosby Show" before fronting mega-hit "That's So Raven," and who started co-hosting "The Talk" in 2019, has a strong support system around her. Her wife, Miranda Pearman-Maday, especially makes a difference. In a 2016 interview with Teen Vogue, Symoné acknowledged knowing she was gay since the age of 12. It took her years to come out publicly, out of fear that her whole career would be over.
The "Cheetah Girls" star waited until college to fully embrace who she was, and immediately felt more at peace. Her career, meanwhile, has only gone from strength to strength, with Deadline confirming in late 2021 that adult spinoff "Raven's Home" had been renewed through Season 5.
Zendaya isn't ashamed of her Disney kid past
Being known by just one name means you've really made it. Zendaya Coleman, who burst onto the scene opposite Bella Thorne in Disney's "Shake It Up," is now such an icon in her own right that she no longer needs a last name. However, despite the fact that Zendaya has seamlessly transitioned into more adult fare, the stunning star isn't ashamed of where she came from. During Variety's "Actors on Actors" series, Zendaya acknowledged to "Promising Young Woman" star Carey Mulligan that she's appreciative of getting her start in Disney.
Likewise, the actor made it clear she's only ever looking to prove what she can do to herself, never anybody else. Zendaya told Vogue Australia of her career trajectory thus far, "I had a very clear vision of what I wanted to do. I had a very good sense of self and I think I also took a lot of lessons just from being in the industry for so long." The youngest best actress in a drama Emmy winner in history still feels like she's got plenty more to achieve, though. However, as she reasoned to Harper's Bazaar UK, "As long as I'm staying creative, I'm happy."
Tia and Tamera Mowry remain just as close as their onscreen counterparts
Working together might ruin certain relationships, but Tia and Tamera Mowry, of "Sister, Sister" fame, are just as close as ever. In fact, when the former child stars were kept apart during the COVID-19 pandemic, they found it completely unbearable. As Tia, whose married name is Mowry-Hardrict, admitted to Entertainment Tonight, their eventual reunion was incredibly emotional. Both are still working actors, but they notably took a break to gain some real-life experience before tackling Hollywood as adults.
As Mowry-Hardrict informed Vibe, "Tamera and I grew up naturally; we didn't force anything in society. We didn't make any announcements that said, 'Look at us we're adults.'" Instead, they focused on their education, studying together at Pepperdine University. As a result, the sisters managed to stay grounded. These days, as Glamour notes, they're married with children, run several businesses, and have even written books.
As Tamera, whose married name is Mowry-Housley, argued to Huffington Post, their parents deserve credit for keeping them on the straight and narrow: "They're really proud of what we do, but they have no interest in Hollywood, so they weren't living vicariously through us."
Jaleel White had some tough times on Family Matters
Jaleel White and Steve Urkel were once interchangeable but, as the now-grown actor divulged in 2021, it wasn't always a family atmosphere on the "Family Matters" set. During an appearance on "Uncensored," via EW, White shared that the adult actors were all under the impression it was their show and, when his character became the focus, they didn't take it well (especially since Urkel was only supposed to be a guest star, originally). Moreover, White's father had to step in after he was picked on by his cast mates for agreeing to appear as his character's female cousin, Myrtle Urkel, in drag. "They let me know I was not doing our race a service by putting on that yellow dress," he revealed. White's dad even had to come to his son's defense.
Thankfully, things improved as the seasons wore on, and White credits his co-stars with teaching him about the business. The actor has since diversified his slate, per The Hollywood Reporter, in an effort to prove he's more than just Urkel. However, White did reprise his most famous role for Cartoon Network holiday special, "Did I Do That to the Holidays? A Steve Urkel Story."
Sydney Park's passion for acting has only grown with time
Most of the kids on this list got their start acting, but Sydney Park took a different route. As a profile in Nylon notes, Park became the youngest comedian to ever perform at the Hollywood Improv, where her mom was working at the time, taking the stage at the tender age of six. A born performer, she subsequently auditioned for "America's Got Talent" as the adorable Syd the Kid, but didn't make it to the finals because a talent scout spotted her and cast the precocious youngster in "That's So Raven."
Park has done a ton of high-profile stuff since but, as she told Vogue Singapore, "There are so many mixed babies out there who don't see themselves represented on TV or in the media or in film. Being able to have that light and have this platform has made me very choosy and very picky about roles, what I do, what I say, what I put out on social media." The "Walking Dead" star feels a responsibility to be a voice for her generation, and to also pave the way for others who will follow in her stead.
Spy Kids was just the beginning for Alexa Vega
Alexa Vega has been acting since she was four, as a profile in Complex notes, but her breakout moment undoubtedly came with Robert Rodriguez's "Spy Kids." Thankfully, although Vega always knew she wanted to be in front of the camera, having a normal family and attending regular school helped keep her grounded. "I don't know life any other way, and I love it. You always hear these stories of people who grew up in Hollywood and they're like, 'We lost our childhood.' But I was very fortunate. Sure, there were long days on set, but as a kid, I knew that about the work," she shrugged.
Although Vega struggled to find her footing in high school, especially when it came to making genuine friends, she wouldn't change a thing about her trajectory. Vega and co-star Daryl Sabara reunited in 2021 for the "Spy Kids" 20th anniversary, per Insider, and reminisced about essentially growing up on set. The actor combined her name with husband, fellow former child actor, and "Picture Perfect Mysteries" co-star Carlos PenaVega's when they got married in 2014. Per Us Weekly, the happy couple has since welcomed three children.
Vaneza Leza Pitynski gamely reprised the character that made her name
"The Brothers Garcia" might have been all about the lovable central trio, but young Vaneza Leza Pitynski managed to make a major impression despite all the testosterone flying around. Pitynski played Larry's long-suffering fraternal twin sister, Lorena, on the hit show, throughout its run, from 2000 to 2004. In the years since, the actor has stuck with television, with a recurring role in "Fatherhood," in particular. However, in 2022, she returned to the role that made her famous, by reprising Lorena in the HBO Max reboot "The Garcias."
In an interview with Temple of Geek, Pitynski confessed she fell out of love with acting after the Nickelodeon hit initially wrapped, so "The Garcias" felt like a homecoming of sorts. In fact, the former child star shared, "It's weirdly familiar. So much of me has been intertwined into who Lorena is." Deadline confirmed production was underway in July 2021, with many of the original show's cast-members primed to return. The reboot picks up with the Garcia kids as full-grown adults, taking a family vacation alongside their own children.
Christian Serratos moved on to bigger and better things
"Ned's Declassified School Survival Guide" was a major moment for its talented ensemble cast, as well as those of us watching at home — the news the beloved show would not be rebooted truly crushed us — but for Christian Serratos, who played Ned's longtime crush, Suzie Crabgrass, it was only the beginning. As PopSugar notes, she was just 14 years old on the show. The talented performer went on to appear in the "Twilight" movies, and had a recurring role in "The Walking Dead."
Moreover, she played iconic singer Selena Quintanilla in "Selena: The Series." As a profile in Elle details, Serratos was drawn to the part because she felt so connected to Quintanilla. "I grew up admiring her, dreaming about whether I [would] ever have the opportunity to meet her, or play her, just wanting to feel connected to her in some way," the actor explained. These days, she's similarly focused on family, and loves traveling everywhere with her husband, musician David Boyd, and their daughter, Wolfie.