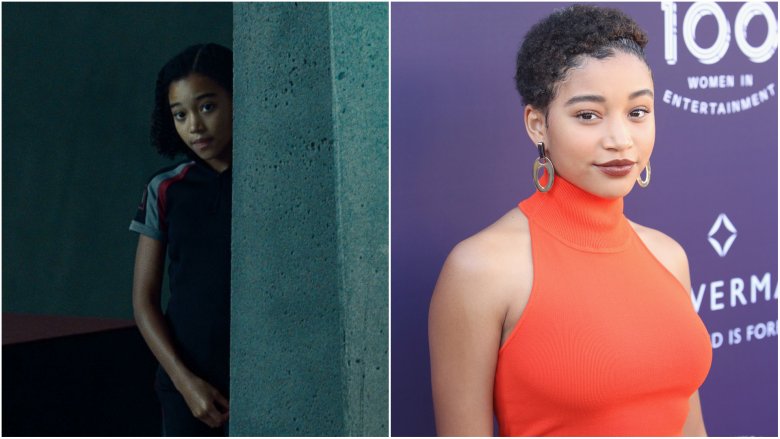 When The Hunger Games was released in 2012, Amandla Stenberg's name was first heard in the media because some fans were upset that a black girl was playing Rue, the young competitor who befriend's Jennifer Lawrence's Katniss Everdeen, despite that fact that Rue is described in the novel as having dark skin. It was a weird and unfortunate controversy, but 13-year-old Stenberg came out of it looking great, releasing a statement that took the high road while standing her ground not just as an actor, but as a fan of the books herself.
The Hunger Games wasn't Stenberg's film debut—that came in 2011, when she played the younger version of Zoe Saldana's character in Colombiana—but it definitely raised her profile. Sadly, Rue dies in the first film, so Stenberg didn't return for any of the Hunger Games sequels; in fact, it took her a while to return to film acting at all. Now that she's back, she's a lot more grown up, so if you haven't been following her career you might not have even made the connection. With that in mind, here's a quick tour of Amandla Stenberg's impressive post-Hunger Games career.
Sleepy Hollow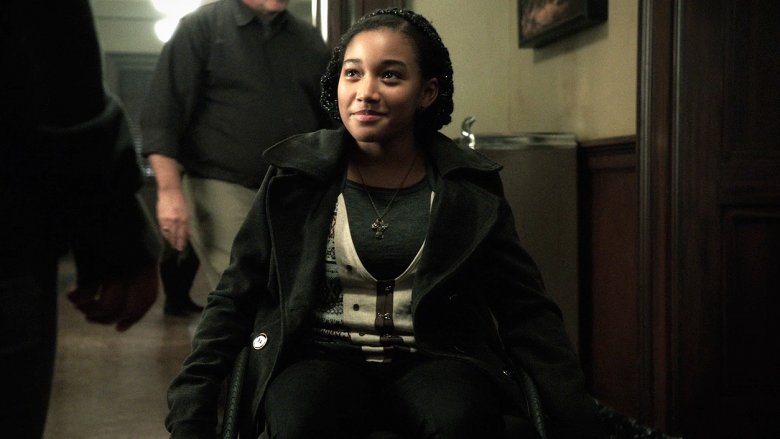 In the wake of the attention she got for The Hunger Games, Stenberg had a recurring role in the first season of Sleepy Hollow, the supernatural drama that ran for four seasons on Fox starting in 2013. She played Macey Irving, the 13-year-old daughter of local cop Frank Irving and lawyer Cynthia Irving. She appeared in four episodes, but was most prominently featured in "Vessels," in which a demon pursues and then possesses her in its pursuit of a Bible that once belonged to George Washington. Ultimately the demon is expelled by the show's heroes, and Macey is unharmed. Stenberg, however, moved on to other pursuits, and Macey never reappeared after Season One.
Mr. Robinson
Stenberg's next TV role was on Mr. Robinson, a short-lived sitcom vehicle for Craig Robinson, a breakout star of NBC's The Office. Robinson played a music teacher, and Stenberg played Halle Foster, one of his students. The show was originally intended for the 2013-2014 TV season, but only six episodes were made and they eventually aired on NBC in the summer of 2015. Despite the presence of Robinson, Stenberg, and Frasier star Peri Gilpin as the school principal, Mr. Robinson was poorly reviewed and has already been largely forgotten. Fortunately, this has allowed both Robinson and Stenberg to move on to better projects, so fans of both should probably be grateful they haven't been stuck on a mediocre sitcom for the past few years.
Niobe
One of Stenberg's most surprising roles isn't as an actor at all, but as a comic book writer. Since 2015, she has collaborated with co-writer/publisher Sebastian A. Jones and artist Ashley A. Woods on a series called Niobe. The title character is a warrior woman in a fantasy setting who's half human and half elf, and also black. Stenberg has said she identifies with the character's multiracial identity, being of black and Danish ancestry. "I was drawn to give voice to Niobe and co-write her story because her journey is my journey," she said in a statement to the Huffington Post. "I connect to her mixed racial background and quest to discover her innate powers and strengths, to learn who she truly is." The original 2015 series was entitled Niobe: She is Life, and a new series came out in 2017 with the more ominous title Niobe: She is Death. Her work on the comic was an early sign that Stenberg would soon become known as more than just an actor.
Social Scene
Over the past couple of years, Stenberg has become known as part of a group of millennial celebs who were constantly seen together in both social and collaborative spaces. In the Spring of 2015, she hung out with Rookie Magazine founder Tavi Gevinson, Willow Smith (daughter of Will Smith and Jada Pinkett), Mad Men actress Kiernan Shipka, and musician Lauren Turk. The photos posted to their Instagram accounts created so much FOMO that articles were written about it. In 2016, she appeared in a perfume campaign for fashion designer Stella McCartney alongside the musician Grimes, model Kenya Kinski-Jones (daughter of Quincy Jones and Nastassja Kinski), and Lola Leon (daughter of Madonna). She was photographed in the front row of a Mark Jacobs fashion show (seen above) with Kiernan Shipka, singer Andra Day, Pretty Little Liars star Ashley Benson, and actress Odeya Rush. All of these connections may seem shallow and inconsequential to older generations, but in this social media age, when young people in particular follow the movements of celebrities as if they know them, the importance to one's career of running with a cool crowd should not be underestimated.
LGBT Superstar
In January 2016, Amandla Stenberg posted a video to the official Teen Vogue snapchat, which she then reposted to her Tumblr. In the video she casually and very eloquently comes out as bisexual, while talking about the need for greater representation in media. A couple of months later, Stenberg also came out as nonbinary, meaning she doesn't identify as a man or a woman. She stated on Tumblr that she was comfortable using they/them pronouns, but later expressed a desire not to have those pronouns used outside of "the Tumblr realm" as that could confuse producers and negatively impact her acting career (hence our use of she/her pronouns in this article). This coming-out process not only brought Stenberg into the LGBTQ community, it introduced her to many people as a surprisingly thoughtful and self-aware teenager, whose thoughts about herself and the world around her display a wisdom beyond her years.
Beyoncé: Lemonade
Another prominent appearance Stenberg made during this period was in Lemonade, the 2016 HBO special that added visuals to the newly-released Beyoncé album of the same name. What starts as Beyoncé's very personal story of wrestling with her husband's infidelity gradually widens its scope until it becomes a tribute to the strength of all black women. Amandla Stenberg appears late in the film, in a rural setting, alongside musicians Zendaya, Ibeyi, and Chloe x Halle—as well as Beyoncé herself, of course. Although Stenberg (like most of the performers) has no lines in Lemonade, her unique look and expressive face make her appearance a memorable one.
As You Are
Stenberg played a major role in As You Are, an indie drama set in the early 1990s. The main focus of the film is the relationship between two teenage boys, played by Owen Campbell and Stranger Things star Charlie Heaton. Stenberg plays a teenage girl who becomes their friend and then becomes romantically involved with both of them, although it soon becomes clear that the boys' primary romantic interest is in each other. As You Are premiered at the 2016 Sundance Film Festival, and eventually got a limited theatrical release in February 2017. Although the film wasn't widely seen, it provided Stenberg with her first live-action film role since The Hunger Games, and displayed how much she'd grown as an actor.
Everything, Everything
In 2017, Amandla Stenberg had her first starring role in a major motion picture, the romance Everything, Everything, based on a young adult novel by Nicola Yoon. Stenberg plays Maddy, a teen girl suffering from an immune disorder that makes it impossible for her to leave her house. She falls in love with a boy named Olly (Nick Robinson) who moves in next door, and their relationship leads to her learning more about herself, the outside world, and her family's secrets. The film received mixed reviews, but exceeded expectations at the box office, which is a good sign for Stenberg's future career. Not only that, she also recorded a song for the soundtrack, a cover of "Let My Baby Stay" by Mac DeMarco.
Upcoming movies
As of this writing, Amandla Stenberg has roles in three upcoming movies. In Where Hands Touch she plays a multiracial teen trying to survive in Nazi Germany. The film is written and directed by Amma Asante, and costars Abbie Cornish and George MacKay. The Darkest Minds, an adaptation of Alexandra Bracken's young adult sci-fi novel, stars Stenberg as Ruby, a teen with mysterious superpowers living in a future where most of the world's children have been wiped out by a disease, and the rest are mutating in strange ways. Gwendoline Christie and Mandy Moore also star. In The Hate U Give, Stenberg plays Starr Carter, a teen who witnesses her unarmed friend's shooting by a white police officer, and must deal with the problems that arise when she's asked to tell the truth about the incident. The Hate U Give is based on a 2017 novel by Angie Thomas, which was inspired by the Black Lives Matter movement.
Amandla Stenberg is still only 19, and on the verge of becoming a major movie star, even as she's also an outspoken activist with an interest in writing and making music. With what will hopefully be a very long career ahead of her, it's impossible to imagine the heights she might reach.