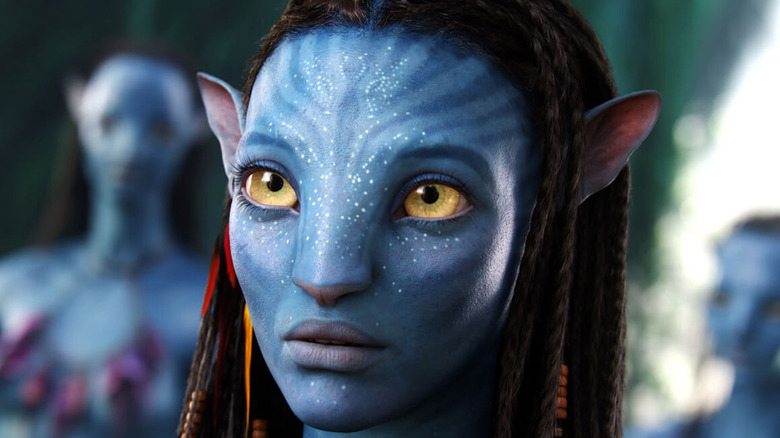 It has become something of a common refrain that although James Cameron's "Avatar" became a phenomenon, revolutionized filmmaking and still tops the all-time global box office, it has been all but forgotten. Such claims began as the smoke cleared on the late '00s 3D fad, as people began predicting Cameron's next effort ("Avatar" sequels) would be a bomb. Just as they had predicted with "Titanic"; just as they had predicted with "Avatar."
Now, the first of these sequels, "Avatar: The Way of Water," is on its way to theaters. And if there's one thing cinematic history has taught us, it is this: Don't bet against James Cameron.
The actors of the "Avatar" franchise, however, have a bit more knowledge of what it's like to be attached to a film that arrives DOA in theaters. Folks like Sam Worthington, Zoe Saldana, Michelle Rodriguez and Kate Winslet have certainly known the joys of triumphant opening weekends in the name of franchises like "Avatar," "The Fast and the Furious," "Titanic" and "Guardians of the Galaxy," but their bittersweet careers have been counterbalanced by such audience-repellent fare as "Terminator" sequels and Uwe Boll films.
Below, a breakdown of flicks from "Avatar" actors that were not well-received by either critics or audiences — and which these days, they can only hope won't play out again when the Na'vi return to the silver screen.
Terminator Salvation (Sam Worthington)
Worthington was once the "it boy" of Hollywood, but much like Gerard Butler and Orlando Bloom before him, his breakthrough role was followed by a succession of career choices as ill-advised as eating gas station sushi.
From "Clash of the Titans" to "Man on a Ledge," "Cake" to "The Titan," Worthington has been in more poorly-reviewed films than well-reviewed ones; none was a more high-profile bomb, however, than "Terminator Salvation" (which predated "Avatar" by several months), another in an endless pile of forgettable sequels undertaking the Sisyphean task of trying to use CGI to recapture the screen presence of Arnold Schwarzenegger circa 1991.
"Salvation" was the 2009 film directed by McG, best remembered (if at all) for being the one where Christian Bale went bonkers on the director of photography. Worthington played a half-human half-Terminator experiment named Marcus Wright; the first PG-13 entry in a traditionally R-rated series, the underperformance of "Salvation" killed two proposed sequels. Ensuing reboot attempts like "Terminator Genysis" and "Terminator: Dark Fate" have not fared much better. For decades, filmgoers watched Skynet try to take down John Connor and his crew; "Terminator Salvation" may have done the trick.
Nina (Zoe Saldana)
It feels like every A-list actor eventually gets their biopic, and often, it's the road to Oscar buzz. But while Jamie Foxx got "Ray," Joaquin Phoenix got "Walk the Line" and Kristen Stewart got "Spencer," Zoe Saldana got bogged down by arguments over whether her skin was dark enough.
Saldana signed on in 2012 to play legendary singer Nina Simone. A movie about Simone would seem like something of a slam dunk, since the late singer was not only an important artist who lived a fascinating life, but also a troubled soul whose dramatic possibilities would seem like ripe fruit for an actor of Saldana's talents.
Almost immediately, there was heavy backlash against the casting. Much of it revolved around protestations over a prosthetic nose and Saldana's skin being lighter than that of Simone. A 2012 blog post broke down such objections, and it was accompanied by petitions and public objections. Simone's estate, and her daughter Simone Kelly, would in turn disown the project and its casting; when the film's first trailer was released, the Simone estate tweeted at Saldana: "Please take Nina's name out of your mouth. For the rest of your life. Hopefully people begin to understand this is painful. Gut-wrenching, heartbreaking, nauseating, soul-crushing. It shall pass, but for now."
After lengthy delays, the film received a small release in 2016, and the heavy make-up used to make Saldana look like Simone — especially after years of dissection and protestations — made audiences uncomfortable, to say the least. As it turned out, the problematic casting was but a microcosm of even greater problems with the film, which critics almost universally hated; it currently resides at 2 percent fresh on RottenTomatoes.
"I should have never played Nina," Saldana would say in 2020. "I thought back then that I had the permission because I was a Black woman. And I am. But it was Nina Simone, and Nina had a life and she had a journey that should be honored to the most specific detail, because she was a specifically detailed individual … I should have tried everything in my power to cast a Black woman to play an exceptionally perfect Black woman."
Band of the Hand (Stephen Lang)
Among the many statues which "Avatar" picked up throughout its 2009/2010 awards season was Stephen Lang's Saturn Award for best supporting actor for his work as the villain Colonel Miles Quaritch. In contrast, Lang's second feature film "Band of the Hand" was only nominated for a single award: the 1986 Stinkers Bad Movie Award for worst picture (it lost to "Howard the Duck").
Lang's casting as a Native American named "Indian Joe" Tegra, who trains a group of delinquent teens to fight against Miami's drug dealers, likely wouldn't fly today (Lang is not Native American). But beyond the racially insensitive casting, "Band of the Hand" was so poorly made that it's one of the rare films to hold a 0% rating on Rotten Tomatoes. Not even a theme song written and performed by Bob Dylan, with backing from Tom Petty and the Heartbreakers, made the flop worth seeking out.
Deal of the Century (Sigourney Weaver)
While Sigourney Weaver is a legend, her six-decades-long career has yielded some duds as well. 1983's "Deal of the Century" is the worst-reviewed in a string of '80s hits that ranged from "Ghostbusters" to "Working Girl."
Directed by William Friedkin (stepping outside his comfort zone) and putting Weaver alongside Gregory Hines and Chevy Chase in their prime, "Century" is an action-comedy in the vein of "Spies Like Us," "Running Scared" and "The Survivors."
The film details inept arms dealers competing to sell their wares to a South American dictator, and Weaver plays Catherine DeVoto, the widow of a character played by a standout Wallace Shawn. While the film undoubtedly has its issues, the presence of its stars goes a long way.
Ultimately, critics were disappointed with the comedy's convoluted storytelling. Roger Ebert wrote, "By the evidence, 'Deal of the Century' seems to have had one of two problems. Either it was filmed without a finished script, or it was originally a lot longer, and this is a version without some crucial narrative links."
BloodRayne (Michelle Rodriguez)
In the early 2000s, Uwe Boll was the most hated director in the world. The German filmmaker had alternated between lousy adaptations of popular video games and tastelessly offensive attempts at sociopolitical commentary; combined with an extremely confrontational attitude towards critics and common theories that he made his films intentionally bad to exploit German tax loopholes, it's easy to understand how he became an internet "villain."
Nonetheless, his movies attracted a wide variety of talented actors — who were often then put in the awkward position of defending him while doing press. The height of these days might have been "BloodRayne," a 2005 dud based on the video game of the same name.
The film cast Michelle Rodriguez as a vampire hunter, alongside other notables like Michael Madsen, Meat Loaf, Udo Kier, Ben Kingsley and Kristanna Loken (coming off 2003's "Terminator: Rise of the Machines"). The film was most notable, perhaps, for a distribution fiasco that somehow entangled actor Billy Zane in plans to put the film in theaters; when "BloodRayne" opened in far fewer theaters than planned, Boll sued Zane and the distribution company.
Regardless, "BloodRayne" was never going to be a blockbuster; the 2006 Razzie Awards in 2006 recognized that with nominations for Boll's directing, screenplay, as well as the cast and film itself.
The Mod Squad (Giovanni Ribisi)
Just like his "Avatar" co-star Lang's "Band of the Hand," Giovanni Ribisi's worst-reviewed film, "The Mod Squad," is an action flick about juvenile delinquents who end up working with the law to avoid jail terms. Based on the classic 1968-1973 TV drama starring Peggy Lipton, Michael Cole and Clarence Williams III, Ribisi was cast as Cole's Pete Cochran, one of the delinquents-turned-undercover cops.
"Squad" was a dud from the jump, quickly plunging into the same chasm as "The Avengers," "Thunderbirds," "Lost in Space," "The Beverly Hillbillies," "Car 54, Where Are You?" and other ill-advised turn-of-the-century translations of half-remembered TV shows. It was nominated for the worst screenplay Razzie and four Stinker Awards.
A box office failure that grossed only $13.2 million on a $50 million budget, "Mod Squad" director Scott Silver would never direct another feature film ever again — but he did keep writing screenplays, yielding far more successful films including "8 Mile," "The Fighter," and "Joker."
The Hottie and the Nottie (Joel David Moore)
At the height of Paris Hilton's powers, Hollywood greenlit a film called "The Hottie and the Nottie." Like "Cool as Ice" and "Young Einstein" before it, by the time the movie had been filmed and pushed into theaters, it was already a punchline.
"Nottie" might just be one of the worst films of all time; Hilton plays a "hottie" who refuses to date until her "nottie" friend also finds somebody. In theory, the film was a comedy — but ultimately, its parade of mean-spirited characters, gross-out nonsense and offensive plot points yielded fewer laughs than "Dead Man Walking."
Richard Roeper was particularly scathing in his assessment of the actors, saying, "Nobody in this movie should really have a career in movies." Joel David Moore, who played the film's male lead Nate Cooper (and won the Razzie for worst onscreen couple along with Hilton), must be grateful that James Cameron didn't feel the same way about his acting abilities, casting him as Dr. Norm Spellman in the "Avatar" movie series.
Robocop 3 (CCH Pounder)
As anyone who has ever seen "The Shield" can attest, when somebody writes good dialogue and worthwhile storylines for CCH Pounder, nobody is better. Then there's "RoboCop 3."
With Paul Verhoeven and Peter Weller long gone from the franchise at this point, Pounder signed on to play a rebel leader named Bertha Washington in a small role in the threequel. Although comic-world icon Frank Miller was credited with co-writing the film, his input was minimal; Miller's original treatment would, however, be later adapted into graphic novel form.
"RoboCop 3" effectively killed the once-promising franchise for the next two decades. A 2014 reboot attempt seemed to do even more harm, as RoboCop was last seen selling fried chicken. CCH Pounder, meanwhile, survived the film just fine, and has continued to navigate one of the most impressive supporting careers of the past several decades with work in series like "NCIS: New Orleans" and, of course, the role of Mo'at in "Avatar" and the sequels to come.
Captivity (Laz Alonso)
An infamous "torture porn" movie that tried to cash in on the success of the "Hostel" and "Saw" movies under the watchful eye of 2-time Oscar nominee and once-highly-regarded "The Killing Fields" filmmaker Roland Joffe, this Elisha Cuthbert vehicle came to represent the very worst of an already-despised genre.
The flick cast Cuthbert as a fashion model, abducted and brutally tortured. Laz Alonso, who played the Na'vi Tsu'tey in "Avatar" and is probably best recognized as Mother's Milk from "The Boys," played a detective in the film.
Ultimately, audiences rejected the film's reliance on grotesque shock value over any actual scares or psychological complexity. Even the film's producer Courtney Solomon, whose production company After Dark Films initially pushed for extra extreme content, ultimately ended up describing its graphic violence as "overkill."
A Kid in King Arthur's Court (Kate Winslet)
Winslet wowed arthouse moviegoers with her striking lead performance in Peter Jackson's "Heavenly Creatures" in 1994. In 1996, she earned her first Oscar nomination for best supporting actress in "Sense and Sensibility," and a year later, she was one of the "kings of the world" with the record-breaking blockbuster "Titanic" (she reunites with director James Cameron as the Na'vi diver Ronal in "Avatar: The Way of Water").
While such films marked one of the strongest starts for any actor's career, around the same time as all these success stories, Winslet also appeared in one of the worst-reviewed Disney movies of all time: the 1995 flop "A Kid in King Arthur's Court."
Loosely based on Mark Twain's "A Connecticut Yankee in King Arthur's Court" (which the studio previously adapted into "Unidentified Flying Oddball" in 1978), "A Kid in King Arthur's Court" follows a nerdy young boy who travels back in time to Camelot and impresses the Knights of the Round Table with his "magic" from the future. Winslet played Princess Sarah, the daughter of King Arthur. She's not the only big name star to have this flop on her resume — Sarah's love interest, Sir Kane, was played by Daniel Craig.
The Last Airbender (Cliff Curtis)
Audiences might never know the full story of why and how M. Night Shyamalan's adaptation of the beloved "Avatar: The Last Airbender" animated series went so horribly wrong, but with its questionable casting decisions, terrible writing, and underwhelming special effects, it's a movie that practically the entire fandom wishes never existed.
Curtis was cast as Fire Lord Ozai, who was given a more visible role in the movie in contrast to being hidden in the shadows throughout the show's first season. The film's decision to cast the Fire Nation with darker-skinned actors of assorted ethnicities (Curtis is Māori) while casting white people to play the three main heroes was a source of significant controversy.
Random Hearts (Edie Falco)
Edie Falco's worst-reviewed movie is, fortunately for her, extremely easy to forget; her character of Janice is a very minor supporting player in "Random Hearts." Sydney Pollack's high-profile adaptation of the novel of the same name by Warren Adler mainly focused on Harrison Ford as policeman Sergeant William "Dutch" Van Den Broeck and Kristin Scott Thomas as Congresswoman Kay Chandler, who discover that their spouses, killed in a plane crash, were having an affair.
"Random Hearts" was filled with talented actors and had some potentially interesting ideas, but more than anything else, critics found the 135-minute movie to be deadly boring and overlong. Marc Savlov from the Austin Chronicle described the experience of watching it as "Something akin to viewing dead grass not growing." Audiences weren't any kinder to the romantic drama; those who saw it gave it a C- on CinemaScore's audience polling, and given its low box office returns, few even bothered to see it.
Gentlemen Broncos (Jemaine Clement)
As the co-creator of "Flight of the Conchords" and "What We Do in the Shadows," Jemaine Clement has established himself as one of New Zealand's brightest comedic talents. He joins the cast of "Avatar: The Way of Water" as the marine biologist Dr. Ian Garvin, one of the film's new human characters. It says something about his acting ability that even for the absolute worst-reviewed movie he's appeared in, 2009's "Gentlemen Broncos," he still earned an Indie Spirit Award nomination for best supporting male.
But even Clement's performance as pretentious science fiction author Dr. Ronald Chevalier isn't enough to make this unfunny comedy from "Napoleon Dynamite" creators Jared and Joshua Hess worth watching. "Timing, good jokes and characters you can laugh with and at [are] all mostly missing from 'Gentlemen Broncos,'" wrote Manohla Dargis in The New York Times. It's one of the rare movies where reviews were so bad it actually got pulled from theaters before its intended wider release (via CinemaBlend).
Babylon A.D. (Vin Diesel and Michelle Yeoh)
Vin Diesel has starred in many a questionable action movie, and Michelle Yeoh's immense talents were poorly served by Hollywood for years. It turns out that, according to Rotten Tomatoes, the worst-reviewed movie in both actors' filmographies is one and the same. "Babylon A.D." brings you two "Avatar: The Way of Water" stars for the price of one bad movie.
Based on the French novel "Babylon Babies" by Maurice Georges Dantec, "Babylon A.D." stars Diesel as a mercenary trying to bring a girl known as Aurora (Mélanie Thierry) from Europe to New York City in a dystopian future. Yeoh plays Sister Rebeka, Aurora's guardian and a member of the new Noelite religion. Director Mathieu Kassovitz disowned the finished film as "pure violence and stupidity" — and given how harshly the action scenes were criticized, it seems to be a failure, even by those standards.