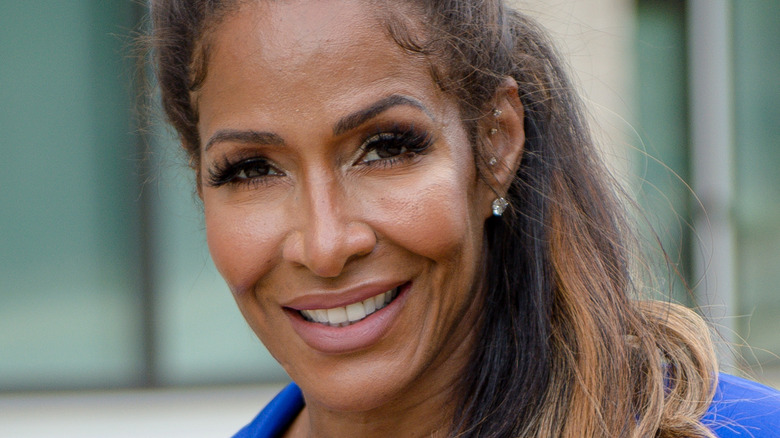 Watching Bravo's "Real Housewives" franchise guarantees explosive amounts of drama, lessons in social etiquette, and plenty of killer fashion moments. Since the first episode of the reality show premiered in 2006, countless housewives across the country have given viewers a sneak peek into their luxurious lifestyles. One of the best parts about watching the show is seeing the extravagant mansions and over-the-top living spaces the housewives call home. Often worth millions, these palatial homes feature enviable zip codes and amenities.
While many of the reality stars live in undeniably beautiful homes, there are a handful of peculiar living spaces featured on the reality show that are worthy of a second look. From strange architecture and design choices to tacky decorations (we're talking taxidermized fish and church confessionals), some of the housewives' abodes are downright bizarre, according to Bravo. Get your popcorn ready because we're counting down the oddest homes to ever grace the "Real Housewives" series.
Carlton Gebbia has a confessional in her home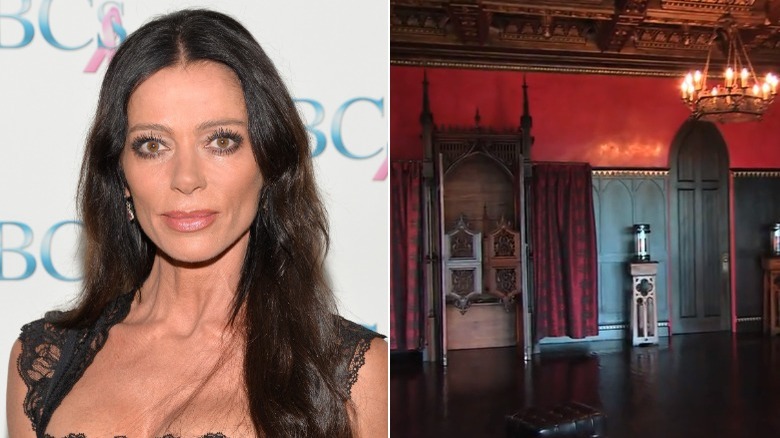 Carlton Gebbia might have only been on "The Real Housewives of Beverly Hills" for one season, but she certainly made her mark. The British mom of three was known for her Wiccan faith and a major feud with fellow housewife Kyle Richards. One of the most memorable aspects of Carlton's time on the show was her Gothic-style mansion. Carlton designed the 15,000-square-foot castle from head-to-toe, incorporating her spirituality and unique aesthetic with religious iconography like crosses, altars, and even a church confessional booth. Stepping inside is like taking a trip from Beverly Hills back to the Middle Ages or a Games of Thrones scene, with dragon accents and mosaic pieces around every corner. Plus, there's also a hidden burlesque room and a party room with rubbed-gold inlaid ceilings.
The other housewives certainly had much to say about Carlton's home on the show, including Kyle who commented that the mansion made her want to "get the Ouija board out," per Carlton's Bravo blog. The cabinet of dolls in the living room also freaked out housewives Kim Richards and Joyce Giraud, which they called "killer dolls." Whether you find Carlton's home a spooky witch house or cool castle, there's no denying that it's one-of-a-kind.
Sonja Morgan's townhouse is lacking in TLC
If you've ever seen an episode of "The Real Housewives of New York" you're probably familiar with Sonja Morgan's infamous townhouse. Entering Sonja's Manhattan townhouse is like taking a step back in time — and not necessarily in a good way. Her home seems to constantly be in need of some TLC, whether it's the broken elevator, brown ice, or plumbing issues. While there are some amazing features, including five floors, a balcony, landscaped garden, custom mosaic floors, and beautiful views over New York City, the furnishings look like they haven't been replaced in decades and parts of the home are simply dated and dirty. And who can forget the piles of dog poop in the backyard from Season 10?
Perhaps this is part of the reason why Sonja has not been able to sell the townhouse, despite having it on the market for eight years, according to the New York Post. Sonja herself refers to the home as an emotional and financial drain, and has tried to repeatedly find a buyer. Hopefully the remodel she did will help her finally be rid of the townhouse.
Yolanda Hadid has a stunning glass fridge
Yolanda Hadid's Malibu mansion was arguably one of the most gorgeous homes featured on "The Real Housewives of Beverly Hills," featuring beautiful ocean views, an infinity pool, six bedrooms, and enviable closet space. However, there was one bizarre detail that garnered a lot of attention from viewers: her glass refrigerator. The walk-in fridge had a glass door, which made it possible to see how all of the items inside (including Yolanda's signature lemons) were perfectly organized.
The too good to be true fridge put normal fridges to shame thanks to its insane height, cleanliness, and mesmerizing produce displays. It even had its own Twitter account with over 15,000 followers and was written about by the likes of W magazine. Many of the housewives fawned over the fridge when they visited Yolanda's home for the first time, including Lisa Rinna who stepped inside and took pictures. Pretty good for an inanimate object!
Lisa Vanderpump's front door is totally transparent
Lisa Vanderpump's lavish Villa Rosa is one of the most popular homes featured on "The Real Housewives of Beverly Hills" series, known for its breathtaking views, pink and white color palette, and of course, impeccable closet bursting with designer couture. However, upon closer inspection, there are some bizarre details in Lisa's home that are worth investigating. First of all, the mansion features a floor-to-ceiling front glass door and entryway (meaning her home is completely open to prying eyes), as per Bravo. While the star does have a security gate at the end of her driveway, it's still a bit unusual for the front of a home to have no privacy.
Another feature worth mentioning is the swan-filled moat at the entrance, where LVP's two swans, Hanky and Panky, swim around. Perhaps this over-the-top detail serves to prepare Lisa's guests for the luxuriousness of Villa Rosa's interiors, which include a mini house in the backyard for Lisa's mini horses. Designed by Mohamed Hadid, the pink house ensures the horses live in the lap of luxury. Being one of LVP's pets sure has its perks.
Shereé Whitfield's home took five years to complete
While Shereé Whitfield's unveiling of her Atlanta mansion, referred to as Chateau Shereé, was worth the wait, the lead-up to completion was filled with bizarre construction delays. Before the mansion was finished on Season 9 of "The Real Housewives of Atlanta" on IMDb, it was under construction for over five years. And even at the housewarming party, guests were greeted with wires on the wall and a basement still undergoing construction. Shereé has dealt with a number of public financial problems over the years, so it's understandable that it took longer than usual to build her dream home. She definitely was not spending those five years picking out paint colors.
Chateau Shereé became a running joke with other housewives on the show. For example, housewife Kenya Moore drew attention to the lengthy construction period when she tweeted, "Maybe she start paying her bills she's be living in #chateaucharade by now." Luckily Shereé eventually proved the haters wrong and moved into her lavish pad in 2017.
Teresa Guidice's mansion had truly bizarre features
Often referred to as one of the ugliest homes in New Jersey, Teresa Giudice's McMansion is utterly bizarre. From the gaudy decorations, including wings on the front doors, to the overwhelming amount of competing design details, the home could seriously use some help from an interior designer. The sprawling 12,000-square-foot home is decorated from head-to-toe in marble, granite, and onyx, and nothing makes sense. For example, the chandelier in the entrance foyer is placed on the left instead of the center of the ceiling, and the so-called "great room" is so large that it just feels empty and hollow.
The good news is that Teresa loves her home. According to InTouch, the housewife thinks the mansion is inviting, warm, and elegant. And surprisingly she's not the only one: Teresa put the Towaco, New Jersey home up for sale in 2020 and found a buyer for just under the asking price of $2.5 million.
Luann de Lesseps bought a round house in the Catskills
Luann de Lesseps has lived in many different homes over her years spent on "The Real Housewives of New York," including a townhouse in the city and a mansion in the Hamptons. One of her more recent living spaces is a unique, mid-century modern retreat in the Catskills. Countess Luann bought the upstate riverside home for some much-needed peace and quiet, according to Bravo.
While beloved by Luann, the round house is not for everyone due to its eccentric, circular design and isolated location. Other housewives had plenty of comments to make about the odd home on the show, including Dorinda Medley who said it was "in the boondocks" and Bethenny Frankel, who was shocked by the awkward placement of a kitchen in one of the guest rooms. Housewife Tinsley Mortimer was definitely not seeing the round house through rose-colored glasses when she said, "If anything would drive me to drink, it would be to live up here full-time." Ouch!
Heather Dubrow's palatial mansion is beyond huge
Heather Dubrow holds the honor of owning the most expensive home on all of the "Real Housewives" series. Dubbed the Dubrow Chateau, the palatial Orange County mansion is a whopping 22,000 square feet and includes a movie theater, champagne room, a ballroom seating area, LEGO table, limestone floors, and smart toilets that wash, dry, heat, and massage. Basically anything you could ever wish for in a home is here.
While Heather's home is undeniably fancy, there are a few bizarre things that come along with living in a space this large. First of all, the mansion is so spacious that it's impossible to hear anything when you're inside. As reported by Bravo, Terry Dubrow says he can't even hear when his kids are having a party in the home. If the family needs to find each other, they send a text. Heather also had a champagne doorbell installed in her closet, so if she ever wants a glass while getting dressed she just presses a button.
Alex McCord kept it real in a Brooklyn brownstone
As an original New York housewife, Alex McCord appeared on the show's first four seasons. While the rest of the housewives lived in Manhattan, Alex kept it real in a Brooklyn brownstone with her husband, Simon McCord, and their two sons. In the first season, viewers were shocked to see that the townhouse was under construction and has unfinished floors when Bethenny Frankel stops by for a visit. The couple gave the home some major renovations during the second season, completing a kitchen, basement, living space, and installing beautiful wood flooring.
Once the remodels were completed, Alex invited the other housewives over for a party, as per IMDb. However, the girls were less than thrilled about having to make the trip over to Brooklyn. And after seeing the renovations, they had no shortage of negative opinions. Bethenny calls the house "bordello and gothic," probably due to the red and black living room color scheme.
Jennifer Aydin's mansion has house haters
Perhaps no housewife has received as much negative critique of her home than "The Real Housewives of New Jersey" star Jennifer Aydin. The criticism comes mainly from fans who call her mansion big and tacky, according to People. But even Andy Cohen, the show's producer, has thrown shade at Aydin's home in the past, commenting on how the large home is on a small lot and supposedly close to a highway. The negativity got so bad that the star took to Instagram (via Bravo) to tell people to stop messaging her nasty comments.
So why all the hate? Aydin's giant house, which she refers to as the "Palace of Paramus," has 16 bedrooms, plenty of over-the-top, ornate furniture, and chandeliers from China. The regal decorations are truly a bit much. While far from cozy, the mansion eventually get a makeover from Z Gallerie and it's a definite upgrade. Hopefully Aydin's home will only get better from here on out.
Mary Cosby has been accused of 'high-class hoarding'
One never knows what to expect from Mary Cosby from "The Real Housewives of Salt Lake City." The church pastor is a true wildcard. Not only is she married to her step-grandfather, but the star has no filter when it comes to speaking her mind. The quirky star's Salt Lake City mansion is also raising eyebrows due to its unique decorations and furnishings. The home boasts green carpeting that looks very similar to grass, a rainbow throne, and assortment of mannequin heads scattered across different rooms, per Bravo.
When fellow housewife Whitney Rose received a tour of Mary's bedroom and closet, she was shocked by the overwhelming clutter of clothes and designer goods, calling it "high-class hoarding." Mary admitted that almost every room in her massive, 20,000-square-foot house was filled with clothes. Luckily Mary announced that the green carpet is definitely on its way out the door, along with other big renovation plans.
Dorinda Medley has a seriously bizarre room in her home
Dorinda Medley's Blue Stone Manor has been the setting for many infamous housewife meltdowns and dramatic showdowns on "The Real Housewives of New York." While the Berkshires home is always cozy and hospitable, one of its guest rooms has been called the number-one strangest room on the series by producer Andy Cohen. According to Bravo, the house's fish room is a sight that must be seen to be believed. Why is it so bizarre? Maybe because the dark green walls are covered with taxidermized fish. There's also a garish purple bed spread and general creepy atmosphere that makes it feel straight out of a horror movie.
Plenty of dramatic fights have started over the fish room, including an explosive blow-up with Luann de Lesseps who refused to stay in the room. The other housewives also found the controversial sleeping space less than desirable. Luckily for them, Dorinda remodeled the fish room in 2020 following damage from extensive flooding. Looks like there's no more sleeping with the fishes for these ladies.
Gizelle Bryant caught shade for her fixer upper
Word on the street is that Gizelle Bryant from "The Real Housewives of Potomac" has some pretty bizarre stuff going on with her Maryland home. Gizelle is no stranger to criticism when it comes to her choice in home décor. In the past, fans and fellow housewives like Karen Huger have called her home's theme "Ronald McDonald" because of the lurid red and gold color palette, as reported by Bravo.
However, this isn't the only shade Gizelle is catching over her home. After the star purchased a fixer-upper in 2019, she began renovations to make the Maryland property move-in ready. As part of this process, Gizelle built up an area of the home called the "West Wing." As the lengthy remodel process dragged on, housewife Candiace Dillard wrote that Gizelle was trying to "make a tear-down look like a home." Robyn Dixon also commented on how odd the home's exterior looked with the addition, as if two separate houses were being put together.