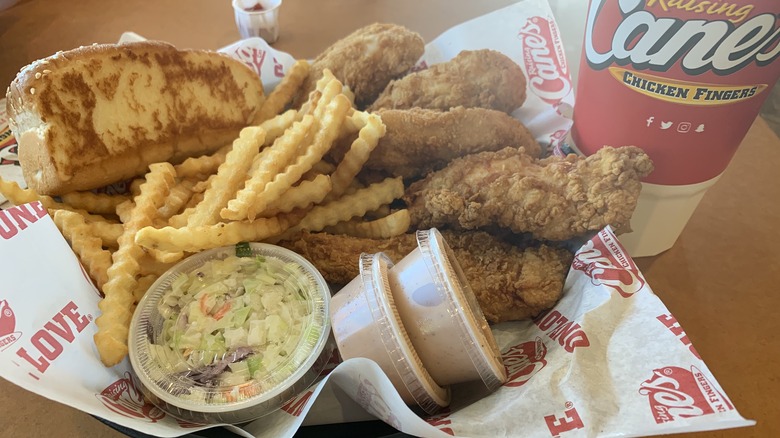 Whether or not you've been to a Raising Cane's Chicken Fingers, you've probably heard of the fast-growing chain, their tasty chicken, and their much-loved sauce. But no matter how many times you've feasted on their offerings, you probably don't know the story of the quick-serve chain. Turns out, the history behind Raising Cane's Chicken Fingers is about as long as the line at the drive-up at any suburban location.
It starts humbly enough. Founder Todd Graves and original business partner, Craig Silvey, submitted a business plan for a chicken finger restaurant while attending Louisiana State University. The instructor said it would never work, the pushing of one product, and gave the project the worst grade in the class.
Most college students would get discouraged from such a bad mark. Many don't then go on start a famous chain of chicken tender restaurants resulting in an intense fan base, worldwide locations, food awards, and opportunities to participate in the community.
Such is the tale of Raising Cane's Chicken Fingers.
Raising Cane's original name was supposed to be Sockeye's Chicken Fingers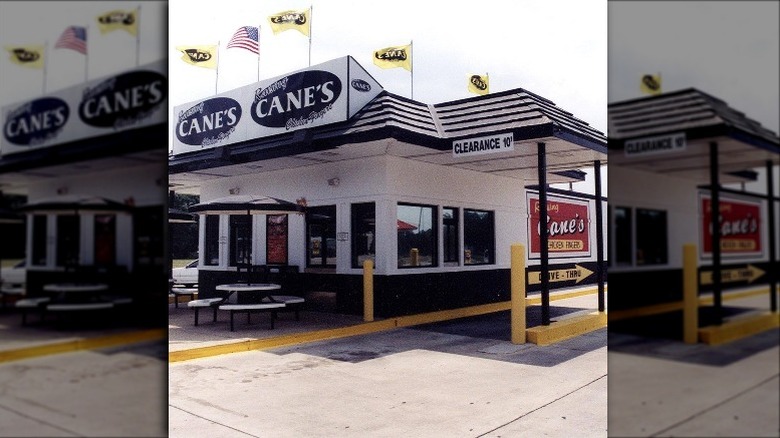 Raising Cane's Chicken Fingers is enough of an abnormal name for an international fast food chain specializing in tenders. But in the very early days, the company was streaming toward an even more unusual moniker — Sockeye's Chicken Fingers. The reasoning behind this is noble enough. To raise capital for the first Raising Cane's location, founder Todd Graves worked a series of hands-on, blue-collar jobs.
A 2013 interview with New Orleans Living Magazine (covering culture in the city where Graves was actually born) says Graves put in long hours at an oil refinery and on an Alaskan fishing boat.
This is confirmed on the Raising Cane's website. In Graves' own recounts (seemingly), he worked 90-hour weeks as a boilermaker in a refinery, which was followed by a temporary move to Alaska, where he spent 20 hours a day fishing commercially for sockeye salmon. After earning enough money in the Last Frontier, Graves returned to Louisiana and got an SBA loan to start the restaurant.
The eatery was to be named Sockeye's Chicken Fingers for the type of fish with which he had recently spent so much time. That is until a friend spoke up, convincing him to name the eatery after his dog, Raising Cane.
The first ever Raising Cane's is called The Mothership and it attracts visitors
In the mid '90s, Raising Cane's Chicken Fingers founder Todd Graves and a small crew set to work in constructing the first location. On Highland Road in Baton Rouge was the ideal building, a former bakery at the entrance to Louisiana State University.
During the reconstruction, the crew found a hidden mural of the bakery's logo, which then inspired the Raising Cane's logo. It's also the reason why the interior of every location sports the restaurant's logo somewhere as if it were just discovered behind a brick wall.
The first location was opened on August 28 in 1996 to immediate fanfare, causing the crew to stick around till 3:30 a.m. Which is funny, since the closing time for this location is still 3:30 a.m. Thursday through Saturday (2 a.m. other days).
Now with more than 500 locations worldwide, this site is referred to as The Mothership, meaning the Highland Road location is the "founding ship of the fleet of Raising Cane's" — which is how they put it. Now, The Mothership is something of a tourist draw in Louisiana's capital city, even listed as an attraction on the Visit Baton Rouge website.
They're on their third Cane
Despite the mega chicken chain's original (almost) handle, the sockeye salmon, the restaurant was thankfully named for founder Todd Graves' Labrador retriever who was kicking around the construction site of the original location.
The original Raising Cane mascot was a friendly, yellow lab — and is now referred to as Raising Cane I. After the pup eventually passed, Graves' wife, Gwen, pulled the ultimate Christmas morning surprise — a yellow lab puppy. They named her Raising Cane II, and she became a certified pet therapy dog. She spent her time visiting children's hospitals with mom (i.e. Gwen) and probably brother and sister (Todd and Gwen's two human kids). She even had her own Instagram account.
Raising Cane II died in 2016, but her legacy was soon followed by Cane III. The new Raising Cane's mascot debuted during the 2018 Louisiana's Washington Mardi Gras in Baton Rouge — where the local news station said, "Graves held the little guy up in true Lion King fashion."
The fingers at Raising Cane's have actually won awards, and so have fans
Since the beginning, Raising Cane's Chicken Fingers has specialized in one thing — chicken tenders. This was a tough concept for some to swallow, especially in the land of Cajun cuisine and on the turf of Popeyes Louisiana Kitchen. Even the founder Todd Graves never thought anyone would eat the stuff except college kids.
But for others, the concept was literally very easy to swallow. These people are called Caniacs.
So why so much hoopla over chicken? Such a wave of passionate poultry fans emerged most likely because of the product itself. As the billboards claim, the marinated, chicken breast tenderloins are hand battered by staff (or "Bird Specialists") — then fried in canola oil.
The founder, franchise, and food have won countless awards, including "Best Chicken Tenders" from The Fasties — the fast food awards show started this year by Thrillist. But even the Caniacs have claim to some (non-physical) award. Raising Cane's was recognized as having the "Most Loyal Guests" in the fast-casual segment in Technomic's 2018 Consumers' Choice Awards.
But those award-winning fingers don't do it alone. They are side-kicked by crinkle fries, coleslaw, Texas Toast, and another gem of the menu — Cane's Sauce.
The Cane's Sauce is super easy to make at home
Raising Cane's scored another award at Thrillest's inaugural fast food-ranking event. The creamy, coral-colored Cane's Sauce took home the bronze from the "Best Dipping Sauce" category.
Cane's Sauce is careful to follow the old fast-food troupe — vats of it are made using a secret recipe. In fact, only sworn-to-secret general managers know the recipe.
But fear little. For those in the intersection of Caniacs and home cooks, Cane's Sauce seems pretty easy to make at in your own kitchen. Copycat recipes of the special, plastic-cupped sauce are all over the internet. Raising Cane's own website describes the sauce as being tangy with a bit of heat. Or that's what home cooks can shoot for when whipping up a home-kitchen batch.
Most recipes call for the same five ingredients: mayonnaise, ketchup, Worcestershire sauce, black pepper, and garlic salt — though it's easy to find online debates arguing instead for garlic powder. One recipe recommends a heavy sprinkle of Tony Chachere's Creole Seasoning — just to give it that Louisiana touch.
In the end, your DIY Cane's Sauce should look pink and peppery, as if you just scored a cup from the drive-thru.
There's seriously a place called Raising Cane's River Center
After reading all about the humble beginnings of Raising Cane's Chicken Fingers — the industrial fishing boats and renovating an old bakery — it's hard to imagine something like the 10,000-seat Raising Cane's River Center. Well, that and it's a ridiculous name, even if we are fingers fans. But you know, it's no KFC Yum! Center or Sleep Train Arena.
The complex, complete with the Raising Cane's River Center Exhibition Hall, is located in downtown Baton Rouge — where else? Formerly the Baton Rouge River Center and Riverside Centroplex, the complex was named for the fast-food franchise in 2016, and according to The Advocate, "Raising Cane's will pay the city-parish more than $3.87 million for the sponsorship over the next decade."
That means for a full 10 years, ticket stubs for car shows, comedy tours, sports events, concerts, and more will sport the Raising Cane's River Center logo. And we can only assume you can score some chicken tenders at concessions.
Texas Raising Cane's locations tried to influence the NBA
Sticking with sports, there was a time in the summer of 2013 when Texas Raising Cane's locations, specifically in the Dallas-Fort Worth metro area, were wooing Dwight Howard to sign with the Dallas Mavericks basketball team. (For the unfamiliar, Howard is a center with the NBA who's currently playing for the Los Angeles Lakers.)
Raising Cane's had six electronic billboards going, directly addressed to Howard, stating things like "Bring Dwight the Big D." It was also without question that he'd be treated to free chicken tenders for life if he signed with the Mavs. This was the idea of Adam Reed, still the Regional Director of Marketing for Raising Cane's, who said, "[Howard] will be welcome to come by any of our (20) local restaurants to enjoy seriously delicious chicken fingers at any time, on us, for the rest of his life."
Howard was not, however, brought to the Big D — instead hooking about 250 miles southeast to play for the Houston Rockets. This is probably because, as one journalist pointed out at the Dallas Observer, "Paying for fast food isn't a major concern for someone who'd be making $22 million per year, after all."
Raising Cane's is mega-popular in the Middle East — here's why
The first international location of Raising Cane Chicken Fingers opened in 2015 in Kuwait City. Before opening in the capital city of Kuwait, founder Todd Graves and his team spent a good amount of time sourcing products and ensuring that everything on the menu was halal friendly. That means the food, as well as its handling, preparation, and storage, is in compliance with Islamic law.
Following the success of the Kuwait location, Raising Cane's began sprouting up in Bahrain, Saudi Arabia, and the United Arab Emirates.
In a 2018 interview, a University of New Orleans Economics Professor Dubb Lane commented on Raising Cane's popularity in the Middle East. Since pork is out of the question in the Muslim diet, chicken is more accessible, he says. "I think chicken in particular is more attractive in that part of the world," Lane said.
However, don't expect to spot the fast food chain's iconic mascot — Raising Cane — at many of these international locations. Therefore, you better sport your own doggy gear.
The Raising Cane's gear is actually decent
As far as chicken fingers-focused fast food joints go, Raising Cane's has some decent accessories. On the website, the Space Cane Tee is a hot item. The screen-printed front depicts serious-faced yellow lab, complete with a Raising Cane's kerchief and intergalactic background. And at $10 a pop, or $12 for the long sleeve, we have to admit its reasonably priced.
Currently, another T-shirt with a nostalgic retro design is up for grabs, as well as a plain cap and choice of red or black koozie. Pretty styling.
Expanding our search, eBay is full of plush Cane toys. And while there's not much fan art on Etsy, there are some interesting selections for resale on Poshmark. Of course, bootleg Raising Cane's is found around the internet — including a T-shirt of a close-up combo.
Lemonade is pretty important to Raising Cane's
In the summer of 2019, Raising Cane's Chicken Fingers hosted a very specific event — Lemonade with a Cop at the Surprise, Arizona location. The event starred the Surprise Police Department for two hours on the evening of July 9, and involved live music, Cane's prizes, of course chicken fingers and free lemonade. Oh, and the chance to chat up a cop and meet rescue dogs.
"Community involvement is extremely important to everyone at Raising Cane's and Lemonade with a Cop is the perfect opportunity to bring the community together," said area leader of restaurants Laz Amanatidis in a press release.
That's not the only kid-friendly stuff Raising Cane's pushes that involves lemonade. The Lemonade Day program teaches kids how to start, own, and operate their very own business — which happens to be an adorable lemonade stand. Families can sign up their little entrepreneurs on the Raising Cane's website, where parents can even access the Lemonopolis Digital Learning Platform.
Raising Cane's has been giving back during the pandemic
Throughout the COVID-19 pandemic, Raising Cane's kept all but a few dozen of its 500 restaurants open — meaning only 33 locations without a drive-thru were temporarily shut down. This is because founder Todd Graves rebuffed the idea of laying off any of Raising Cane's 23,000 employees.
In fact, a press release from May 11 announced the fast-food chain was beginning to hire 5,000 new crew members and distributed $2 million to its current workers to make up for reduced hours during the health crisis.
In addition, Graves and Co-CEO & COO AJ Kumaran didn't take a salary when sales were down, even canceling a company trip to Cancún, Mexico.
One of the few, aforementioned closed Cane's locations was in downtown Baton Rouge — where employees volunteered to make face masks instead of chicken fingers. Crew members had sewing stations set up 6 to 10 feet apart, resulting in about 100 masks daily. About 1,000 masks were donated to Our Lady of the Lake Children's Hospital and another 1,000 to New Orleans health care workers.
The founder appeared on The Secret Millionaire
By most accounts, the founder of Raising Cane's, Todd Graves, seems like a fairly nice guy. From forgoing his 2020 salary to avoid layoffs during the COVID-19 pandemic (via Inc.), to buying 50,000 lottery tickets to share with Raising Cane's employees during the Mega Millions jackpot in July 2022, the company's CEO is known for acts of generosity. Fans of reality series "The Secret Millionaire" are now aware of his giving nature, too, after his appearance on the show's first season (via Raising Cane's).
On his episode, Graves visited the South Plaquemines parish in Louisiana, where he was to live undercover in an impoverished neighborhood. After spending a week in a community devastated by Hurricane Katrina, Graves and his wife, Gwen, donated almost $400,000 to the community to assist with its recovery.
According to the Raising Cane's website, Graves and the company remained active in the parish well after the episode aired. Not only have more than 100 Raising Cane's employees volunteered there, but Graves also established the Cane's Plaquemine Parish Relief Fund to provide continual financial support.
People were unhappy with a 2020 Reddit AMA
Social media provides the average person an opportunity to directly engage with the rich and famous, but this incredible connectivity is built upon mutual trust — mainly, that some con artist isn't impersonating a celebrity. Catfishing does more than just discourage discourse between parties, though. It can have real life ramifications, too. That's what Raising Cane's CEO Todd Graves found after an imposter Reddit AMA caused a bit of a stir in 2020 (via Business Insider).
Based on the answers given by "Graves" during the AMA (meaning "ask me anything"), it's not entirely clear what caused the uproar. Sure, the lie was undoubtedly scandalous, but what exactly outraged commenters is hard to determine. Either way, the backlash pushed the company to issue a staunch denial, insisting the Reddit account in question was never owned or operated by Graves.
Given the nature of online interactions, it's fairly obvious why every single Reddit AMA has the potential to go off the rails. But when a bad faith actor decides to pretend they're a famous person for kicks and giggles, as the unknown assailant did to Todd Graves several years ago, it can't help but go off the rails.
Raising Cane's got into a legal battle with Bob Marley's family
It's not hyperbolic to say thst Bob Marley preached a more authentic message of peace and love than anyone else in music history. Of course, the late, great reggae artist's desire for a harmonious world didn't mean he was willing to share his artistry without proper credit. His family certainly felt that way, given the lawsuit filed by his estate in 2013 against Raising Cane's for the restaurant's "One Love" slogan (via WAFB-9).
The enduring popularity and unquestionable brilliance of Marley's song "One Love" notwithstanding, it's difficult to understand the exact thought process here. After all, Raising Cane's had been using the slogan for more than a decade before the lawsuit was filed, even filing for a trademark on the phrase in 2002.
In the end, both parties came to an agreement in 2014, according to The Advocate. The details weren't publicly disclosed, but as of 2022, the company was still able to utilize the One Love phrase on its website.
Its secret sauce recipe has been the source of speculation
"What's in the sauce?" may not be as disturbingly amusing as Brad Pitt's infamous wailing in "Seven" about the contents of a certain box, but it's an interesting question asked of many famous restaurants. While we all know about McDonald's special sauce by now, it's far from the only such condiment to earn adoration from the public — alongside some serious speculation. The Cane's sauce certainly fits this bill. Though DIY recipes for Raising Cane's signature condiment are widely available, the exact mix remains a trade secret — hence the uproar in 2015 when an alleged ex-employee released the recipe to the world (via Chron).
The scandalous social media reveal went viral, prompting a response from the company that claimed only general managers knew the recipe. Though the user first doubled down and claimed to reveal further restaurant secrets, they eventually admitted they had never worked at Raising Cane's in the first place (via Chron). The wider public may never know the recipe but, if you're dying for the truth, your best chance is to grab a job application and work to become a Raising Cane's general manager.
Some corporate employees moved into kitchens in 2021
While the true toll of the COVID-19 pandemic remains to be seen as its impact moves forward, some aspects, like the continuing restaurant labor shortage, can be analyzed in the present. It's no secret that the so-called Great Resignation has left many fast food restaurants severely understaffed. This, in turn, led to some drastic choices — such as Raising Cane's decision to shift 250 corporate employees to front-line kitchen roles in 2021 (via Daily Mail).
Though the restaurant claimed it had added 5,000 jobs in the prior year, it still found itself struggling to fill kitchen roles by October 2021. So, as Raising Cane's co-CEO AJ Kumaran told CNN, it was "all hands on deck." Roughly one-third of the company's corporate employees became fry cooks and cashiers to help offset the labor shortage.
With "no playbook on how to get through" the situation, as Kumaran told CNN, the choice to use corporate employees in these roles wasn't made lightly. But with few other options on the table, Raising Cane's did what it had to do.