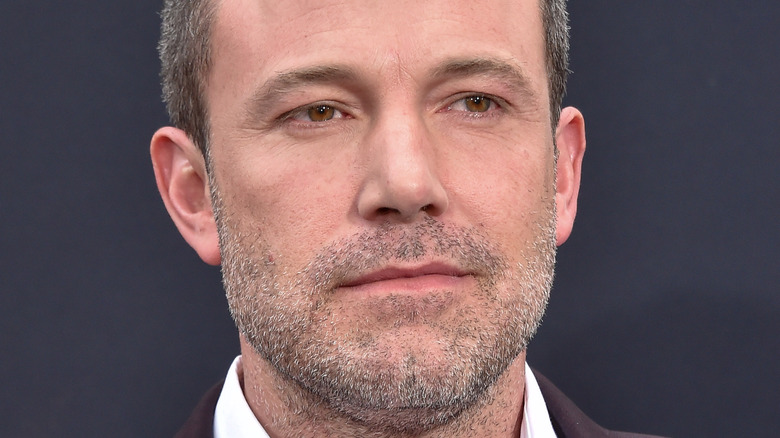 The following article contains references to addiction, suicide, and mental health issues.
Ever since his Oscar win with BFF Matt Damon in 1998, Ben Affleck has been a mainstay of our screens — both the cinematic and smartphone variety. Granted, his prevalence in the media hasn't always been due to his success as an actor (or lack thereof — "Gigli," anyone?). Two incarnations of Bennifers — thanks to Mmes. Lopez and Garner — left Affleck fighting off the paps and having to defend himself amid relentless media scrutiny. But if Ben Affleck is anything, he's a Hollywood success story. Despite appearing in a number of flops, such as his stint as the Caped Crusader in the ill-fated "Justice League," he has cultivated a serious career as both an actor and, indeed, a director thanks to Oscar-winner "Argo."
And though Affleck appeared to be, by his own admission, a "cavalier, insincere, callow frat guy" on the outside, this was anything but the case; the A-lister was secretly grappling with some major personal demons. As he told The Wall Street Journal, "I am very lucky in my life in that I have benefited from second chances, and I am aware that other people don't even get first chances. I've had second chances in my career. I've had second chances as a human being."
Thanks to Bennifer 2.0, Affleck has hopefully found some happiness and respite from his myriad tragedies, socking it to the critics of both his career and love life. How do you like them apples! Get the Kleenex ready as we unveil the tragic details about Ben Affleck.
Ben Affleck's dad struggled with alcoholism
Ben Affleck was born to intellectual parents and grew up in a rough working-class area of Boston, per the Daily Mail. His mom, Chris Boldt, is a Harvard-educated teacher, while his father, Timothy Affleck, holds communist beliefs and taught him about the importance of altruism, per The Wall Street Journal. Despite Timothy's strong sense of justice and egalitarianism, he had his demons.
Speaking with People in 2000, Ben described his dad as having "a severe, chronic problem with alcoholism." Indeed, he told Barbara Walters that his father spent all day drinking, which caused immense strife for the youngster. However, in time he was able to reflect on the turmoil that led to Timothy's addictions. "The older I've gotten, the more I recognize that my dad did the best he could," Ben told The New York Times.
As the actor explained to The Wall Street Journal, his dad had potential, but lost it all to drinking excessively. Accordingly, Timothy hated the rich due to his own unfulfilled aspirations and instilled this animosity into his son (Ben admitted that he himself felt this same resentment when he was younger). Eventually, his dad was able to get sober and became an addiction counselor, as the actor told the Daily Mail. Nevertheless, being raised in a discordant household had serious ramifications for the younger Affleck. "Having such serious addiction issues has a major impact — it colors who you are and becomes part of you," he conceded.
If you or anyone you know is struggling with addiction issues, help is available. Visit the Substance Abuse and Mental Health Services Administration website or contact SAMHSA's National Helpline at 1-800-662-HELP (4357).
His parents divorced when he was just 12
As a young boy, Ben Affleck witnessed his parents' toxic relationship, which culminated in their divorce when he was just 12. When his parents called it quits, Affleck admitted to feeling glad at first. "To be honest with you, the marriage was so bad that I remember feeling relief," he told Barbara Walters. The family struggled financially in the aftermath — Affleck's mom, a teacher, earned $28,000 annually, as the actor revealed to Entertainment Weekly.
Thereafter, he had to navigate life without his dad in his life. What pained Affleck the most as a child of divorced parents, as he revealed to Howard Stern (via TheThings), was grappling with the notion that his dad may have hated him. "It's very difficult to understand, as a child, you are kind of programmed to [believe] your parents are right," he reflected. With the absence of a father figure to guide him from adolescence to adulthood, Affleck felt helpless, having to "trial-and-error [his] way towards manhood," per The Wall Street Journal. Speaking with Mosaic, he said that while he conceded that the divorce was the right decision, he nonetheless felt immense pain in the aftermath.
Soon, the problems Affleck experienced at home began to manifest at school; he stopped taking schoolwork seriously and his grades suffered, per The Hollywood Reporter. "I was a bit of a f*** up. … I was having issues around my dad and my mom, and things just weren't that stable," he admitted, adding, "I just lost focus and stopped caring."