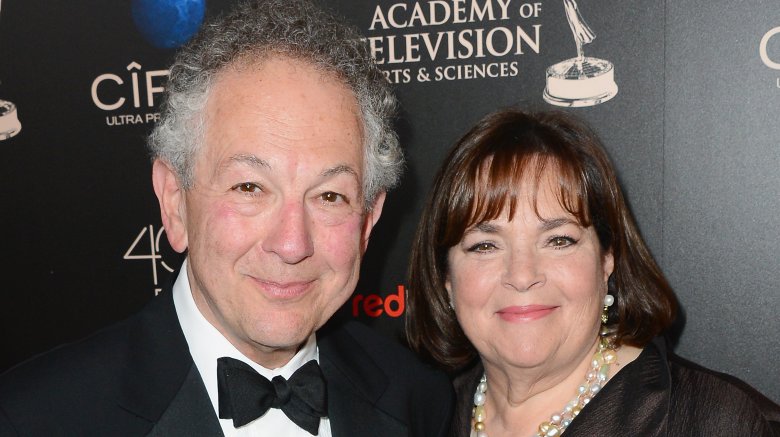 Ina Garten and her husband, Jeffrey, have got all the top celeb couples — like Beyoncé and Jay-Z, Tom Hanks and Rita Wilson, and Chrissy Teigen and John Legend — totally beat.
Celebrity food personality and bestselling cookbook author Ina Garten, and her husband of nearly 50 years, Yale professor Jeffrey Garten, are #couplegoals for the hardcore Food Network fan. After first laying eyes on each other (and never looking away) in the early '60s, these two have lived a love story for the ages, and, if you've ever seen a photo of them in one of Ina's cookbooks or seen them on TV adorably fawning all over each other, you know that these two are the real deal and the very model of what a marriage ought to be.
But all of that could just be posing for the camera, prompted by a healthy PR machine. It would seem, however, that looks are not deceiving. Every last chapter of Ina and Jeffrey's life together shows they are in it for the long haul and will forever be into one another. Here are some of the stranger things you didn't know about the delightful, love-fueled-and-filled entity that is the Gartens.
Living a teenage dream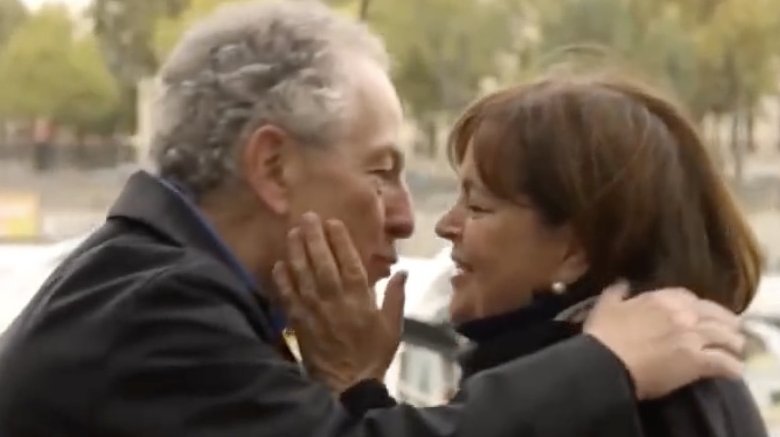 When Ina Garten was 15 years old, she and her parents visited her brother, who was studying at Dartmouth College — where Jeffrey Garten also happened to be matriculating. "Unbeknownst to me, Jeffrey and his roommate were in the college library studying as I walked by outside. Jeffrey just happened to look up at that moment. He asked his roommate, 'Who's that girl?'" Ina Garten wrote in her cookbook Cooking for Jeffrey (via The Knot).
Strangely, the roommate did know that girl — it was Ina Rosenberg, a girl from his tennis club back home in Connecticut — and he had a date with her that night, set up by Ina's brother. Jeffrey went for it anyway and got Ina's address. Soon Ina "received a beautiful handwritten letter in the mail … with a photograph of the most adorable guy I'd ever seen."
And when you know, you know. "I met Jeffrey when I was 15, and I have to say, I just knew he was the one. He's kind, he's smart, he's funny, and he takes very good care of me. He's wonderful," Ina Garten told NBC's Today in 2018.
An awkward first date
Despite falling in love at first site, Jeffrey and Ina had a first actual date that was more than a little awkward. A few months after their initial meeting, Ina, by then 16, asked Jeffrey to come visit her in Connecticut. Then she suggested they visit an establishment in Port Chester, N.Y. "I was sixteen and I tried to take him to a bar in a state where you couldn't drink until you were eighteen," Garten recalled in Cooking for Jeffrey (via The Knot).
Why would she do that, seeing as how she was underage? "I'd never actually been to a bar, but I figured that's where a college guy would expect to go, right?" she wrote. The bouncer wouldn't let her in because she wasn't 18, so instead she and Jeffrey "drove to a coffeehouse in Westport, Connecticut, and happily had a very good time."
Ina said she later asked Jeffrey how she earned a second date after the lackluster first one, to which, he responded, "I decided you needed taking care of." Oh, that Jeffrey.
Locking down a lover
Another motivating factor for Jeffrey Garten to ask out Ina Rosenberg again was that he was obviously falling madly in love. While people got married younger in the good old days, Ina and Jeffrey were shockingly young when they got hitched. When Jeffrey and Ina made their love state-official in 1968, he was 22-years-old and she was only 20. But it's worth mentioning that the couple were together for nearly five years before they tied the knot.
The ceremony took place at Ina's parents' home three days before Christmas. "It was a perfect day for a wedding," she told People in 2017. "Right in the middle of the ceremony, it started to snow." Swoon.
When she answered Vanity Fair's "Proust Questionnaire" in 2016, Ina Garten said that her "greatest regret" was "not marrying Jeffrey sooner." If your biggest mistake isn't locking down the love of your life as quickly as possible, then you have led a charmed life.
Mr. and Mrs. Garten go to Washington
Lots of Food Network personalities have interesting, non-food-based pasts. Valerie Bertinelli enjoyed top-billing on Hot in Cleveland, for example, and Sandra Lee invented a popular home curtain system. Ina Garten, however, worked in a field about as diametrically opposed to making high-end comfort food as you can get: She worked for the feds. In the 1970s, Ina Garten served as a budget analyst in the Office of Management and Budget, specifically in the realm of nuclear energy policy. That's a federal position, and she served in two presidential administrations, under Gerald Ford and Jimmy Carter.
Not to be outdone, Jeffrey Garten contributed his expertise in economics to four presidential administrations: Richard Nixon, Gerald Ford, Jimmy Carter, and Bill Clinton. For the latter, Garten was the undersecretary of commerce for international trade, focusing on emerging markets. So, they've both been close to the room where it happens. Isn't it nice when couples have things in common?
A risky career change
Ina Garten may be one of the most famous names in American food, but she didn't go to culinary school and she isn't a chef. She made her mark because she had a love, passion, and knowledge for the culinary arts, coupled with opportunity.
By 1978, she'd burned out on working in nuclear policy and was ready to make a major career change. "I have to do something different," she recalled feeling to CBS Sunday Morning. According to Good Housekeeping, Garten also had a good side hustle going flipping houses (long before it was the subject of half of the programming on cable TV), and it was about then when she saw a classified ad about a small, full-service specialty foods store — the Barefoot Contessa — for sale in the Hamptons.
"I felt very bad for Ina," Jeffrey Garten told CBS Sunday Morning, "and I said, 'let's go look at it.'" A little bit of encouragement was all she needed to take such a big leap: "Jeffrey just said, 'if you love doing it, do it.'" Her cooking career and her assumed identity of "The Barefoot Contessa" were in play. Despite not having any prior experience in the food world, she ran the store for nearly two decades.
Doubting his darling
After re-inventing and running the Barefoot Contessa for years, Ina Garten published her first cookbook, the cleverly titled The Barefoot Contessa Cookbook, in 1999. She was invited onto Today for an interview with Matt Lauer to promote it. While she would soon become a TV fixture, Jeffrey Garten later told Food Network that he did not think his wife's broadcast debut would go well. But not because she wasn't ready or not good enough — just because of bad timing.
Ina was scheduled to appear on Today immediately after an outdoor performance by legendary disco diva Donna Summer as part of the show's summer concert series. "I thought, 'Oh my gosh, Ina's going to follow this?' I was heartbroken for her." But Ina handled the cameras the way she's handled the cameras ever since, coming across as cool, collected, and engaging. "You just forgot that Donna Summer was there," Jeffrey said.
Absence makes the heart grow fonder
Both Jeffrey Garten and Ina Garten have enjoyed extremely successful and busy careers in their respective lines of work. While Ina ran a store and parlayed it into a career as a TV personality and author of 11 cookbooks, Jeffrey Garten became one of the world's foremost minds on business, finance, and international trade. In 1995, he was named the dean of the Yale School of Management. He held the position for ten years before stepping down, but he remains on staff as an instructor with the title of Dean Emeritus. According to his Yale profile, he has also worked on mergers and acquisitions in the private sector, written a monthly column about global business for BusinessWeek, and found the time to write six books on economics.
All of this is to say that the Gartens don't see each other too much during the week. Ina stays in East Hampton working on her career as a food icon, and Jeffrey hangs out at Yale up in New Haven, Conn. According to NBC's Today, they check in with each other often and write one another love notes while they're away.
Surprise — you live in Paris now!
Together, Jeffrey and Ina have lived a shared life of seemingly boundless love, romance, and whimsy. For Jeffrey, it all culminated on one very special day, which, in an interview with Food Network, he called the "single best moment in his life with Ina."
It went down in May 2002, when Jeffrey took a red-eye flight from New York City to Paris and then grabbed a cab to the city's Seventh Arrondissement. There, he said, he stood in front of a building he'd never visited in any of his many memorable trips to the City of Light with his wife, and Ina buzzed him up to an apartment. This was a little place in Paris that Ina had purchased a year earlier and extensively remodeled … all without ever showing Jeffrey a single picture or revealing any details.
"The secret to a happy marriage is that he trusted me," Ina told Food Network. "I wanted it to be a surprise." When Jeffrey entered their place for the first time, French music was playing and there were hot croissants waiting in the kitchen. "She had made everything so warm and so beautiful. Within five minutes, I felt like I'd lived there forever," Jeffrey said.
No PTA meetings for this pair
Both Jeffrey and Ina Garten are in their 70s now, so the opportunity for them to have children, at least biologically, has passed. For whatever reason, it's notable when prominent married couples don't procreate, and, while it's a couple's personal and private business whether or not they choose to have kids — or are physically unable to do so — the Gartens are aware that they're going to get asked why.
Long ago, Jeffrey and Ina consciously made the decision together to not start a family, or rather, make theirs larger. "We decided not to have children," Ina Garten said on The Katie Couric Podcast in 2017. "I really appreciate that other people do and we will always have friends that have children that we are close to but it was a choice I made very early."
And she has no regrets. "I really felt, I feel, that I would have never been able to have the life I've had," she explained.
The secret is in the chicken
Viewers of Ina Garten's shows know that, when she and Jeffrey reunite each week, they often dine on a roast chicken. At least for that reason, the roast chicken is a very important dish to the woman who makes great food for a living … and she thinks it should be an important dish for just about everybody, too.
In 2017, Ina told Time that the first thing anyone should learn how to cook, in addition to coffee, should be a "roast chicken." It's a special meal she enjoys with her husband, but it's also apparently a special meal that can land a person a spouse. In 2018, Ina Garten told NBC's Today that she "met some young women at Glamour magazine and they told me they call the roast chicken in my first book, The Barefoot Contessa Cookbook, 'Engagement Chicken,' because they found that every woman in the office that made it for their boyfriend was engaged within 24 hours."
It may have even worked for the Duchess of Sussex, Meghan Markle. "There is nothing as delicious (or impressive) as a perfectly roasted chicken," Markle told Good Housekeeping in 2016. "If you have an Ina Garten-level roasted-chicken recipe, it's game changer."
Guess that's how Markle snagged Prince Harry — and how Ina's kept Jeffrey happy for decades.