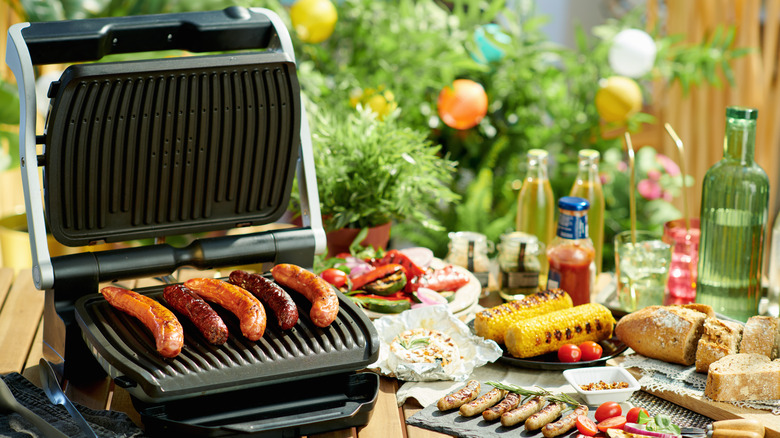 We may receive a commission on purchases made from links.
The convenience of electric grills is nothing short of glorious. While it's true that grilling over an open flame adds major flavor, it's also true that cooking with fire is more expensive, time-consuming, and requires extra space. Whether you're dealing with inclement weather, struggling to maintain the perfect temperature, or flying through bags of charcoal and tanks of propane, traditional grilling presents a wide range of unpredictable challenges. The beauty of using an electric grill is that you can easily sidestep all of these troubles. Simply plug it in and you can have a hot and delicious meal ready in a matter of minutes.
Because electric grills come in a surprisingly diverse assortment of models, there are plenty of different features to take into consideration. Whether you're looking for a flat top grill to cook larger meals, something smaller for single servings, or a design cleverly equipped with a removable stand, there's a top-notch electric grill here that's ready to simplify your life in the kitchen. We've done most of the work for you by creating this useful list of recommendations — all you have to do is take a peek at what all of these outstanding models have to offer and decide which one best suits your needs.
How we selected products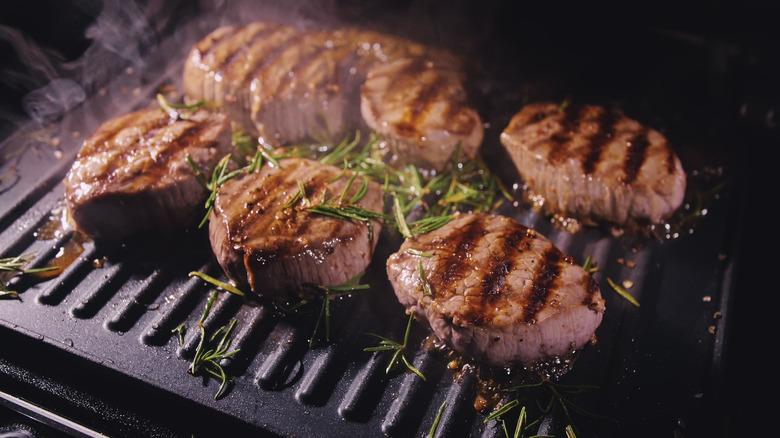 In order to provide you with the best options on the market, we've taken the time to carefully evaluate countless electric grills. One of the most important factors during our decision process was the assessment of customer reviews, since user feedback often provides the kind of insights we need to get an accurate and comprehensive idea of a product's value. The vast majority of these products have been rated several thousand times, often from customers with verified purchases, so we know that these reviews are honest reflections of the electric grill's true performance.
Of course, there are other elements that we've taken into consideration during the selection process. We've made sure to include a wide range of price points in an effort to provide options for everyone regardless of their budget size. On the list below, you'll find electric grills that are well-designed yet affordable, but you'll also find higher-end options that offer special features. Rest assured, if you're on the hunt for an electric grill, there's bound to be one on this list that will leave you thoroughly impressed. Here are the best electric grills of 2022.
Best overall electric grill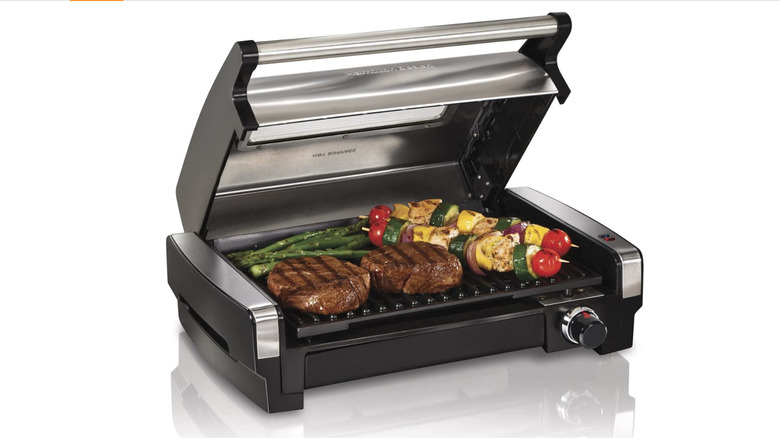 If you're looking for a high-quality electric grill that has it all, it's hard to beat this model from Hamilton Beach. With the capacity to cook up to six servings of food per cooking session, this stainless steel electric grill has a sleek aesthetic that's bound to give your kitchen a touch of style. It has a built-in window centered on the top of the lid to maximize visibility throughout the cooking process and it can cook food at 450 Fahrenheit, making this a great choice to sear steaks or fresh tuna filets.
Did we mention this electric grill has more than 16,000 glowing reviews? Its non-stick grill plate sears consistently picturesque grill marks on everything it touches. The removable ceramic grill plate and extra-large removable drip tray make cleanup a breeze. The bottom line: Between its skillful design, practicality, and effective performance, there are many reasons to love this grill.
You can buy the Hamilton Beach electric grill with viewing window on Amazon for $95.
Best budget electric grill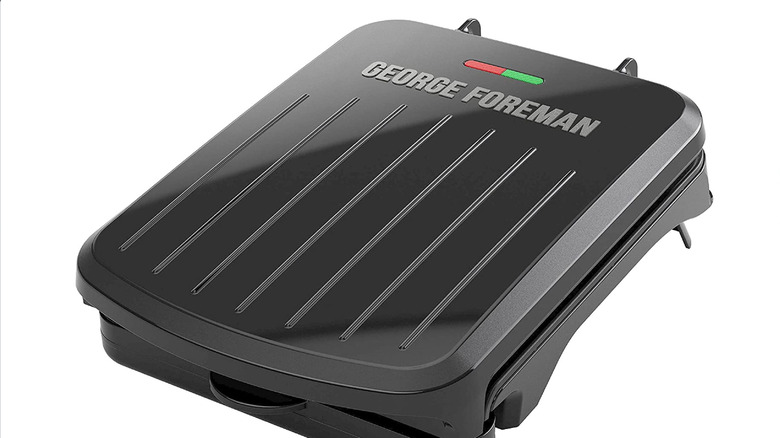 New kitchen appliances can be pricey. Luckily for you, we hunted down some great deals, including this George Foreman 2-serving electric grill for only 17 bucks. What's cool about this electric grill is that it's also designed to function as a panini press, which is a remarkably versatile tool that can do a whole lot more than just press sandwiches — like cook up a delicious batch of crispy bacon.
Another useful design feature of this electric grill is how compact it is. At just over 10 inches long, this model is a great choice for anyone with limited counter space in the kitchen. Once the lid is closed, the back side of the grill is actually designed to be stable and level enough to be flipped up and positioned vertically for discreet storage and space-saving. Even though this electric grill is modest in size, it still has enough space to cook two solid servings of food at once. The angle of the grill is adjustable so that you can tilt it forward into a subtle slope for tasks like draining fat drippings. With its durable non-stick coating and easy-to-use design, it's no wonder this electric grill has more than 15,000 reviews singing its praises. This is definitely one deal that you don't want to miss out on.
Purchase the George Foreman 2-serving electric grill on Amazon for only $17.
Best versatile electric grill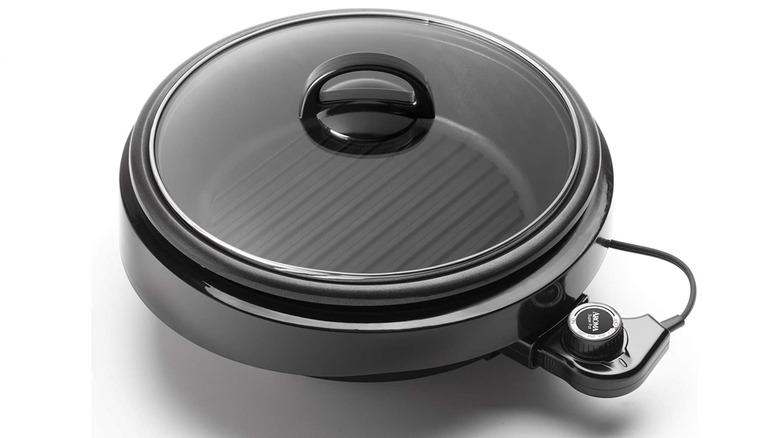 Electric grills offer a high level of convenience, but some models take it a step further. This versatile electric grill from Aroma has a three-quart cast aluminum grilling pot that's shallow enough to easily grill meats and vegetables, but also deep enough to cook up pot roasts or batches of soups and stews. With a high-quality tempered glass lid that sits snugly over the top of the grill to effectively seal in moisture, this electric grill also comes with a user-friendly temperature dial so you can easily and quickly make adjustments to your liking.
The grill plate comes with ridges that slightly elevate your food to allow excess fat and drippings to collect below, which can help your food maintain a crispier texture. With a capacity for three quarts of food, this electric grill has enough space to easily cook dinner for family and friends. With this grill, you can easily sear some delicious steaks or burgers, but you can also simmer some of your favorite bowl-centric dishes like chili or chicken tortilla soup. We're all about any tool in the kitchen that can pump out tasty food and make life easier, and that's exactly what this electric grill is capable of. Once you give this model a try, you'll never look back.
You can buy the Aroma electric grill on Amazon for $40.
Best mini electric grill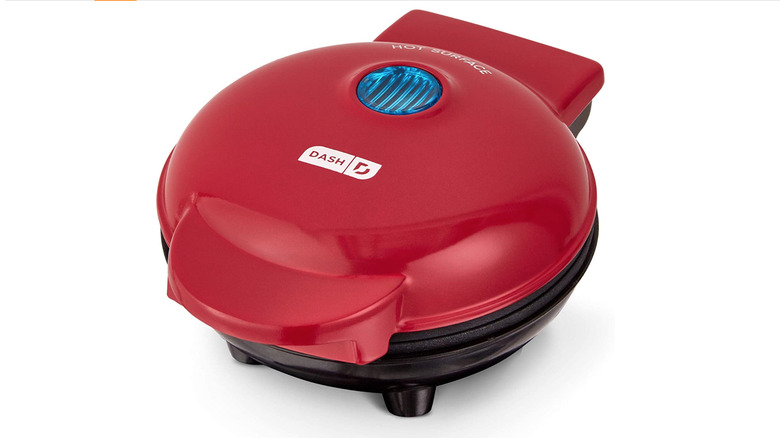 Not everyone has the luxury of a spacious kitchen. Beyond issues of space, a hefty electric grill that can cook large servings may not be the best fit for those who mostly just prepare smaller meals for themselves. According to CNN, preparing smaller meals might be a good habit to get into, since eating smaller portions can be a great way to improve your health. Depending on your lifestyle and circumstances, a mini electric grill might be just what you're looking for. And it doesn't get much more compact than this electric grill from Dash, which has a cooking space of just four inches across and weighs only one pound.
Even though this electric grill is designed to be on the smaller side, it still has enough space to cook a burger, press a panini, grill vegetables, and prepare other single-serving portions. It's also easy to clean thanks to its dual non-stick cooking surfaces and even comes with a recipe book to spark some inspiration. With non-slip feet, this electric grill will stand firmly in place to stabilize the cooking surface. All things considered, despite its modest size, this mini electric grill still packs a punch.
Purchase the Dash mini electric grill on Amazon for $13.
Best electric grill for outdoors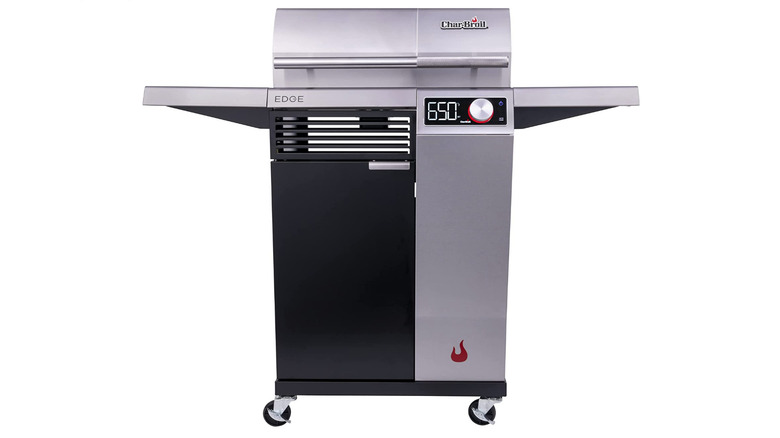 Most electric grills tend to be on the smaller side, but some models have similar proportions to grills that require gas or charcoal. This model from Char-Broil has a massive cooking area for an electric grill, with 270 square inches of space. All you have to do is plug it in and you can hit your desired temperature in about 15 minutes.
This electric grill has a digital interface to control the temperature, which allows you some extra precision because you can easily reach the exact level of heat that you're looking for. This model also has a convenient auto-clean function that burns off debris and automatically shuts down when it's done — doesn't get much easier than that. This grill can hit up to 700 Fahrenheit and its durable anodized aluminum cooking grate has a protective layer to guard against corrosion. Did we also mention that this deal comes with free expert assembly?
You can buy the Char-Broil electric outdoor grill on Amazon for $800.
Best tabletop electric grill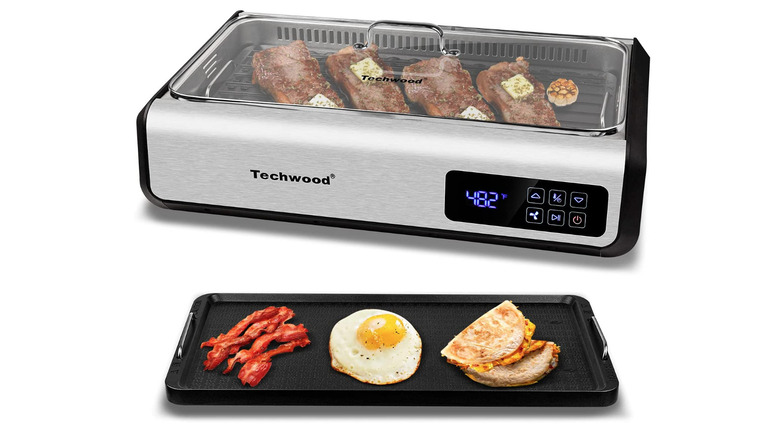 Cooking meals together on a tabletop grill is a fun and interactive way to cook. Korean barbecue is a great choice for a more collaborative cooking experience, since diners often cook meat together at the tabletop, sharing plates of freshly-grilled cuts of meat like pork belly. This electric grill is perfect for the tabletop, with a rectangular design that can easily cook enough food for a small group. This model is efficiently designed to reduce smoke and comes with a drip pan below the grill that you can add water to in order to decrease fumes and splatter.
Another useful feature is the double-sided grill grate, which offers a flat griddle on one side and a grill with raised ridges on the other. This is especially helpful because it allows you to cook different types of foods all on the same appliance: While the flat side is great for pancakes and bacon, the ridged side of the cooking grate is ideal for grilling cuts of meat. If your food clearly needs a little more time to cook, just slide the glass lid over the top to seal in the heat. With a user-friendly LCD touch screen, adjusting the settings on this electric grill couldn't be any easier. If you're looking for an electric grill that can fit nicely on a tabletop and cater to a collective dining experience, this is one of the best out there.
Purchase the Techwood electric grill on Amazon for $148.
Best electric grill for hot pot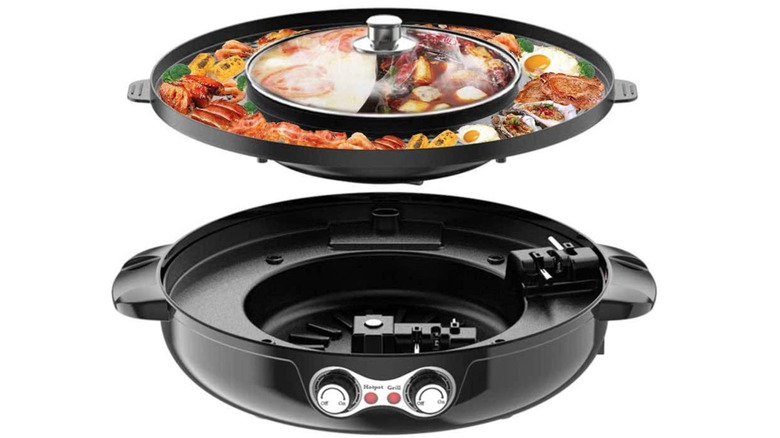 For those unaware, hot pot is a communal style of cooking that involves adding freshly-grilled meats, vegetables, and starches to a simmering pot of broth that everyone shares together. It's a unique dining experience that's truly fun and absolutely delicious. If that sounds right up your alley, this electric grill from 4Yang makes it easier than ever to whip up a batch of hot pot from the comfort of your own home.
This electric grill is cleverly designed with a circular cooking surface around the perimeter of a pot that's situated in the center of the grill. This layout makes it easy to add grilled shellfish, chopped vegetables, and other ingredients to the pot because it's all connected and contained in the same appliance. There are dual temperature settings for the hot pot and the grill so that you can adjust each of them accordingly depending on your preferences. This electric grill's aluminum alloy pipes allow it to heat up quickly and evenly. There's no doubt that this grill will upgrade your cooking game, but don't just take our word for it. After hundreds of customer reviews, this model has a nearly perfect rating of 4.5 stars.
You can buy the 4Yang electric hot pot grill on Amazon for $137.
Best electric grill for raclette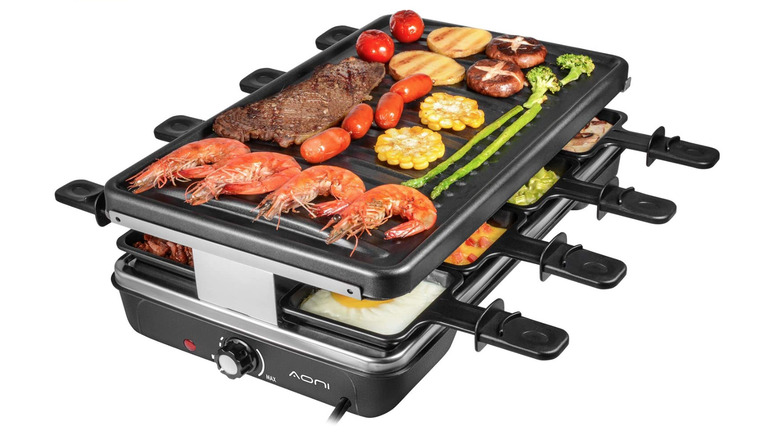 If you're new to the wonderful world of raclette, allow us to enlighten you. Simply put, raclette is a creamy type of cheese that's melted down and spread over different ingredients like meats, breads, and vegetables. There are plenty of restaurants out there that offer raclette, but why not save a few bucks and give it a shot at home? This electric grill from Aoni is the perfect model to set you up for that.
This electric grill comes with eight mini pans situated underneath the cooking surface so that you can add raclette and keep it warm and melted while you grill up other ingredients above it. With 135 square inches of cooking space, this model is more than capable of handling dinner for a small group. Its temperature dial is easy to operate and the grill plate is removable and safe for the dishwasher, making cleanup a breeze. All in all, this electric grill does a great job at delivering consistently impressive results. If you've never had a raclette dinner party, it's about time to change that.
Purchase the Aoni electric grill on Amazon for $75.
Best electric flat top grill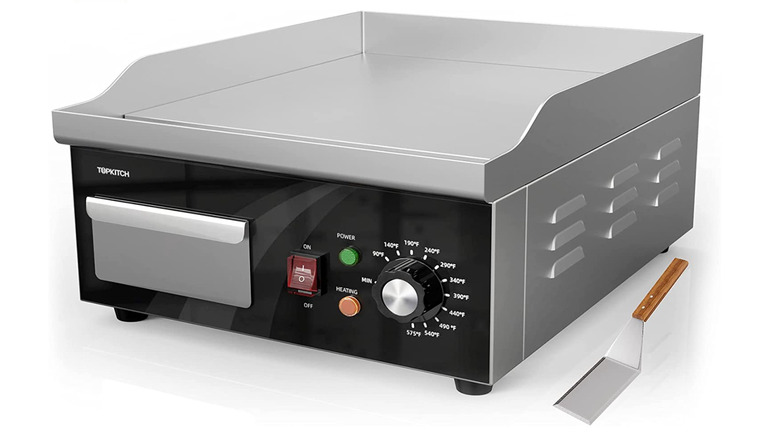 There's no doubt that flat top grills are handy and practical, especially when you want to cook a larger batch of something. Rather than having to cram everything into a pan, a flat top grill grants you much more open space, making it a great tool for cooking for a crowd. This electric flat top grill from Topkitch offers 238 square inches of cooking space and a level of versatility that you're bound to appreciate.
Made with durable stainless steel and capable of reaching up to 575 Fahrenheit, this model is also equipped with nine air vents to help disperse heat. It has welded splash guards all around the perimeter to keep your food contained and prevent any messy spillage or splatters. There is a grease tray placed underneath the grilling surface that's removable for your convenience. A narrow port on the flat top provides a place to drain fat and debris. Whether you're cooking pancakes, omelets, quesadillas, or anything else that typically requires a little more space to cook, this electric flat top won't let you down.
You can buy the Topkitch electric flat top grill on Amazon for $160.
Best standing electric grill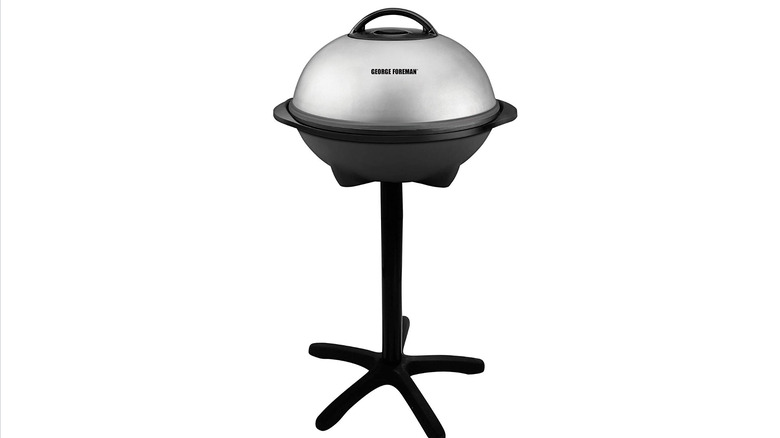 What makes this electric grill unique is its removable stand, which allows you to easily prop it up outside or set it on the kitchen counter or a table top indoors. With a capacity to cook for a party of 15 and over 240 square inches of cooking surface, this model is a great choice for anyone who likes to share big meals with a group of people. Its durable grill plate also has a non-stick coating and a subtle slope to drain off any excess liquids and fats during the cooking process.
The adjustable temperature dial on this model is extremely easy to use and can be moved on a scale from one to five. Because this grill is so spacious, you can cook everything from shish kebabs to steak fajitas with ease. Its domed lid does an efficient job of trapping in the heat, which can help your food retain more warmth and moisture. Still not convinced this is a safe bet? Consider the fact that after more than 15,000 reviews, this electric grill has earned an impressive 4.5 stars.
Purchase the George Foreman electric standing grill on Amazon for $130.
Best lidded electric grill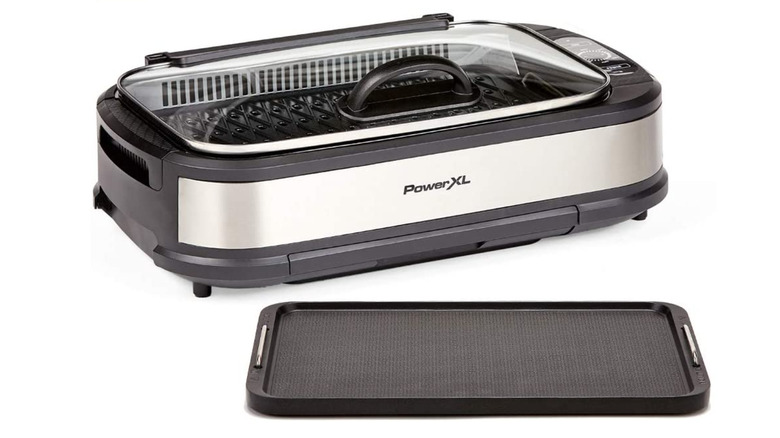 This electric grill comes with plenty of useful features, like the convenient hinges on its tempered glass lid, so that you easily lift it up or set it down. This model is also equipped with a fan that can capture and filter smoke, which cleans the air above the grill and makes cooking much more pleasant. The non-stick grill plate is double-sided, with a flat griddle on one side and a ridged surface on the other to provide some extra versatility.
With a one-touch LED control panel, this electric grill can reach temperatures up to 450 Fahrenheit and also has a removable drip tray. The cooking surface is 240 square inches, which is more than enough to fit several generous servings, such as six burgers or four steaks at a time. The griddle is also removable and dishwasher safe to simplify cleanup. If you're looking for an electric grill that's high-quality and consistently reliable, look no further.
You can buy the PowerXL electric grill from Amazon for $116.
Best electric grill with warming rack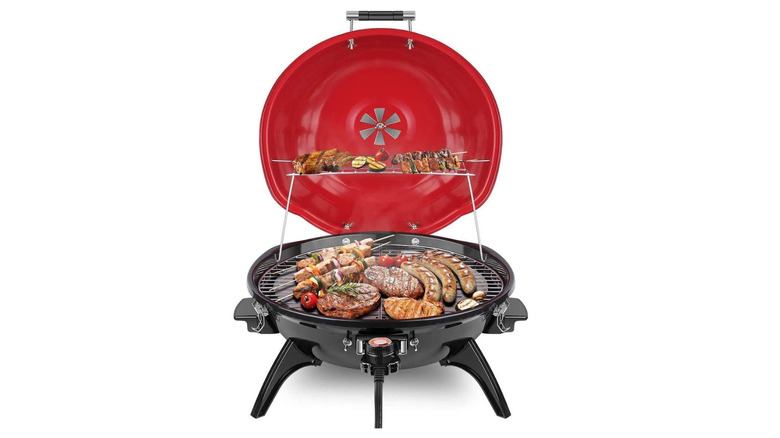 Whether you're toasting up some hamburger buns or just need some indirect heat for anything else you're cooking, warming racks can really come in handy. Yet, for some inexplicable reason, many electric grills aren't designed to include a warming rack. Fortunately for you, this smartly-designed model from Techwood is.
With 240 square inches of available cooking surface, this electric grill has plenty of space to cook large meals for groups. There are handles on each side of the grill to help with portability and four sturdy legs to assist with stabilization. There's also a vent on top of the lid that allows you to adjust the amount of heat inside of the grill when the lid is closed. From cooking a whole chicken to grilling up more than a dozen burgers at once, this electric grill can deliver impressive results. Convenient and well-designed, this is a solid deal that won't let you down.
Purchase the Techwood double-layer electric grill on Amazon for $100.