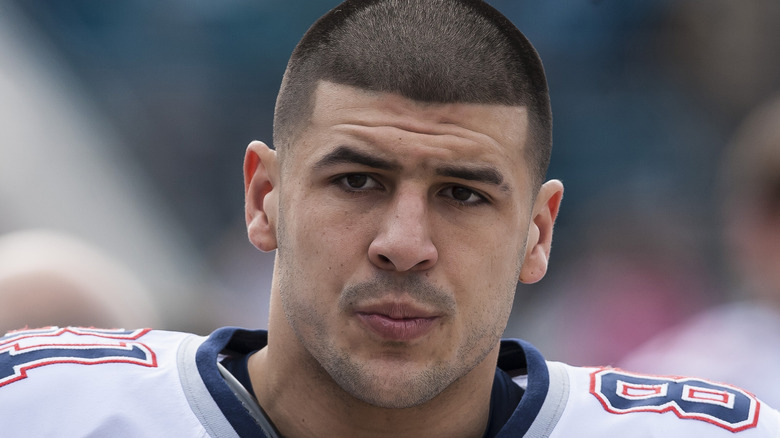 The following article mentions murder, domestic abuse, and suicide.
It's hard to hear the name Aaron Hernandez and not think of tragedy. The Bristol, Connecticut, native had been a star football player for the New England Patriots when he was arrested for the murder of semi-pro football player Odin Lloyd in 2013. Hernandez was found guilty two years later and sentenced to life in prison. He was also allegedly tied to multiple other shootings and even indicted in a separate double homicide of which he was acquitted in 2017. Just days after that acquittal, Hernandez committed suicide in his prison cell. Per NPR, following his death, researchers who studied his brain found he had Stage 3 CTE.
While Hernandez's downfall and death is tragic all in itself, and during all of this, he had a devoted fiancée, Shayanna Jenkins-Hernandez (they never married but she legally changed her name), with whom he shared a daughter. Jenkins-Hernandez remained loyal to Hernandez during his trials, even when she had to testify against him. When it came to her allegiance to Hernandez, Jenkins-Hernandez told Oxygen, "This is someone you love … I wasn't going to let him experience it alone." She added, "I was going to stick by his side every step of the way."
And stick by him she did. Here are the tragic details about Aaron Hernandez's fiancée, Shayanna Jenkins-Hernandez.
If you or anyone you know is having suicidal thoughts, please call the National Suicide Prevention Lifeline by dialing 988 or by calling 1-800-273-TALK (8255)​.
A rocky relationship with Aaron Hernandez
Aaron Hernandez and Shayanna Jenkins-Hernandez may have had a toxic relationship from the beginning. According to the Daily Mail, the two started dating when they were only in middle school and their problems began once Hernandez got popular for playing sports. During Hernandez's trial, Jenkins-Hernandez recalled, "There were a lot of girls trying to get his attention. We had some issues we had to work through throughout high school." However, the two managed to stay in touch when Hernandez went away to college in Florida, and she eventually relocated with him when he got signed to the New England Patriots.
While the couple went on to get engaged and welcome a daughter, Avielle, in 2012, their relationship reportedly could be volatile. For example, as TMZ reported at the time, Jenkins-Hernandez called the police on Hernandez in 2013 after he punched a window during an argument. According to TMZ, neighbors reported other domestic disturbances as well.
Yet, Jenkins-Hernandez was seemingly willing to do anything to make it work. "I made a decision that if I was going to move back in with Aaron, I was going to have to kind of compromise on his behavior and that included infidelity and everything that came along with it," she said. Local affiliate NECN reported that one of those infidelities was even with their child's babysitter. She explained, "You can't tell a grown man what to do."
If you or someone you know is dealing with domestic abuse, you can call the National Domestic Violence Hotline at 1−800−799−7233. You can also find more information, resources, and support at their website.
She believes Aaron Hernandez was innocent
Although Aaron Hernandez was found guilty of murder, his fiancée, Shayanna Jenkins-Hernandez, believes he was wrongfully convicted. In 2015, Hernandez was sentenced to life in prison for the murder of Odin Lloyd, which was something Jenkins-Hernandez said she didn't see coming. She told "Dr. Phil" in 2017, "It was a shock to all of us. We were definitely leaning more toward an innocent verdict." Jenkins-Hernandez has stated she believes Hernandez did not have a hand in the crime whatsoever. "He may have been at the wrong place, wrong time, but I don't think … what is said to be out there is actually accurate," she said.
Jenkins-Hernandez also had to deal with her own legal issues at the time, since she was charged with perjury in the same murder investigation. While she may have wanted to initially protect her fiancé by not revealing too much, CBS News reports that her charges were eventually dropped when she finally cooperated with his trial. Yet, even when on the stand, she remained pretty mum. Per CNN, she explained, "I learned to keep my mouth shut in certain situations," adding, "There was no reason for me to ask any questions."
Years after Hernandez's death, Jenkins-Hernandez has continued to defend him. When asked on "GMA" in 2020 if she thought he was innocent, she replied, "Yes, of course I do. I'd be a cold person to leave someone that had nobody at all."
Aaron Hernandez's suicide didn't add up to her
Shayanna Jenkins-Hernandez faced more hardship when her fiancé, Aaron Hernandez, died by suicide in prison. "At first I thought it was a hoax. I thought this was some cruel person playing a trick on me," she recalled on "Dr. Phil." His death left her in shock, especially since she had just talked to him on the phone the night before and as far as she was concerned, nothing seemed amiss. "The feedback I was getting from our last talk had nothing to do with any suicidal thoughts," Jenkins-Hernandez said in the aforementioned interview (via USA Today).
In fact, Jenkins-Hernandez felt that nothing about Hernandez's suicide made sense, which apparently made her question everything she was told by prison officials. She explained on "Dr. Phil," "I don't think this was a suicide, knowing him." She continued, "I felt like we were looking so bright. We were going up a ladder to a positive direction." Because of that, Jenkins-Hernandez said she wanted to do her own investigation into Hernandez's death, and felt more could have been done to save him. "None of it is very believable to me. Not the findings, not the investigations," she said
Jenkins also felt that Hernandez's suicide note didn't sound like him nor did it give her answers. Jenkins told ABC News, "The letter he wrote to me was weird. It didn't refer to me as babe or something more intimate. It kind of leaves me not having closure."
If you or anyone you know is having suicidal thoughts, please call the National Suicide Prevention Lifeline by dialing 988 or by calling 1-800-273-TALK (8255)​.
Questions about Aaron Hernandez's personal life
It was obviously hard for Shayanna Jenkins-Hernandez to lose her fiancé, Aaron Hernandez, and finding out after his death that he may have had a secret life must've only added to the hurt. According to reports, Hernandez may have been romantically involved with other men since middle school, while he was with Jenkins-Hernandez. Hernandez's former schoolmate, Dennis SanSoucie, made those claims in the 2020 documentary, "Killer Inside: The Mind of Aaron Hernandez" (via Daily Mail). "We had shared some sexual activity together … but we didn't want anyone to know," he stated. After the doc was released, Hernandez's brother said on "Dr. Oz" that the football player came out to their mom the day before he died.
An inmate named Kyle Kennedy also said he was involved with Hernandez. Kennedy said in "Aaron Hernandez: Jailhouse Lover Tells All" (via Us Weekly), "He used to tell me he wanted to marry me." That had to be difficult for Jenkins-Hernandez to hear not only because of the cheating, but because, as she said on "GMA," she wished he was open with her about his sexuality. "If he did feel that way … I would not have loved him any differently," she said. "Although I have a child with Aaron, I still can't tell you how he was feeling inside."
Shayanna Jenkins-Hernandez is estranged from family
Aaron Hernandez's murder trial took a toll on Shayanna Jenkins-Hernandez's relationship with her sister, Shaneah Jenkins. Hernandez was found guilty of murdering semi-pro football player Odin Lloyd, who was Jenkins' boyfriend. Before that, the sisters had been close growing up, according to the AP. Even when Jenkins began dating Lloyd in 2012, she would stay at her sister's home when she visited him in Massachusetts. When there, Jenkins told the court that she and Jenkins-Hernandez would do things just the two of them while Hernandez and Lloyd hung out at home, and that they occasionally went out all together.
The sisters' relationship completely changed though when Jenkins-Hernandez chose to support her fiancé over her sister. Their hostility was apparently on full display during the trial when they sat on opposite sides of the courtroom and refused to speak to each other. During Jenkins' testimony, Jenkins-Hernandez crossed her arms and audibly sighed. Per the Daily Mail, when she took the stand, she confirmed, "We're estranged."
But Jenkins-Hernandez doesn't speak to Hernandez's family either. She said on "Dr. Phil" in 2017, "The last time we had an encounter was at the funeral … We just don't see eye to eye." While she didn't give an exact reason, she suggested that Hernandez's family could have done more for him. She said, "No one stood by his side but me. That's where my frustrations lie."
Shayanna Jenkins-Hernandez is sad for her daughter
While Shayanna Jenkins-Hernandez was devastated over Aaron Hernandez's life sentence and subsequent suicide, she had to be strong for their daughter, Avielle. However, Avielle was too young to understand what prison was, having only been born in 2012; Hernandez was arrested in 2013 and sentenced in 2015. Jenkins-Hernandez recounted on "Dr. Phil," "It was her normal, so she knew no different. … She was very much a daddy's girl." Perhaps because of that, Jenkins-Hernandez decided against explaining Hernandez's incarceration to Avielle. "I won't tell her until she decides to ask or if she asks. She thought Daddy was at work," Jenkins-Hernandez said.
Yet Jenkins-Hernandez did feel that it was important for her daughter to understand that her father had died so she could have closure. She said on "Dr. Phil," "I allowed her to view her father's body in private just us and say our last goodbye." Once Avielle was able to grasp that, they dealt with her emotions. "Some days she's sad, some days she cries and I hold her and make sure she's ok," Jenkins said.
While Hernandez left a note for Avielle, Jenkins-Hernandez didn't seem to think it helped, telling Dr. Phil, "As far as the content, very vague, very short. Nothing seemed very personal." However, she'll help Avielle remember her dad in a positive light. She said on "GMA," "I would describe her father as a loving individual who obviously loved her."
If you or anyone you know is having suicidal thoughts, please call the National Suicide Prevention Lifeline by dialing 988 or by calling 1-800-273-TALK (8255)​.
Reliving all of the trauma
In 2020, Shayanna Jenkins-Hernandez's painful past was revisited when Netflix released the docuseries "Killer Inside: The Mind of Aaron Hernandez." While Jenkins-Hernandez didn't want to be part of the project, she ended up having to still deal with it since it brought her family back into the spotlight. "I wanted to leave it in the past and let my daughter grow without her having … bad memories to look back on," she explained on "GMA."
Yet personal things about Jenkins-Hernandez's family were featured, including phone calls between Hernandez and their daughter, Avielle. "It's just again, very hard to hear especially with my daughter, hearing sacred…those are things as a mother you want to keep to yourself," she said. Because of that, Jenkins-Hernandez reportedly felt that the whole thing had just caused more heartache.
The docuseries also led to Jenkins-Hernandez being criticized online for how she acted during the trial and on their private prison phone calls. One person even tweeted, "She deserves a Oscar for 'Best Female Actress.'" Although Jenkins-Hernandez said she received some sympathetic messages, she ended up taking a break from social media in 2020. She explained in a post, "I have tried to read every message sent on IG and through email (positive and negative). The amount of support and positive energy is again unreal! I'm sure you will all understand how imperative it is to take some time away from social media."
The father of her second child's past crimes
Shayanna Jenkins-Hernandez moved on with another man after Aaron Hernandez's 2017 death, and by 2018 was expecting a baby. While Jenkins-Hernandez didn't include the father in the pregnancy announcement she wrote on Instagram, Radar later reported his identity as amateur boxer/bar owner Dino Guilmette, whom she reportedly met on Long Island.
While starting a family with Guilmette seemed like a fresh start for Jenkins-Hernandez and her daughter, Avielle, Guilmette is a convicted felon. According to the Daily Mail, Guilmette not only pled guilty to felony assault with a dangerous weapon when he was 18 years old, but was charged with assault and resisting arrest in 2005. That same year, he also filed for bankruptcy for the first time, before doing so again in 2014. Guilmette seemingly had a bad reputation in his home state of Rhode Island. In fact, fellow amateur boxer Louis Savastano once told WPRI, "He's just a bully around town. Big tough guy."
However, you could say that Jenkins-Hernandez has a fraught past too, which Guilmette was apparently willing to look past. He told Radar, "​​I didn't care one bit. There are a lot of ugly comments out there. I don't listen to them." He was also happy to blend families with Jenkins-Hernandez. "I'm going to have my hands full but I'm happy about it," he said to Radar. "She will have two sisters. I have another daughter from a previous relationship."
Shayanna Jenkins-Hernandez still misses Aaron Hernandez
Shayanna Jenkins-Hernandez continues to grapple with the pain of missing her late fiancé, Aaron Hernandez. Although years have passed since they were together, Jenkins-Hernandez has indicated on her Instagram that her feelings for him haven't changed. In April 2022, she shared a photo of them kissing, writing in the caption, "You left this world , but not my heart."
Jenkins-Hernandez's feelings for her late fiancé even made headlines in 2021, after she posted a tribute to him on the fourth anniversary of his death. It was clear that she was still in mourning. She wrote, "The loss hasn't gotten any easier … I still hurt . I still cry . I still wonder why." She continued, "Avielle and I continue to talk about you and keep your presence alive." That appears to be true too, since she's made it a point to include Hernandez in family milestones, like Avielle's birthday. In a birthday post for their daughter, she wrote, "Daddy is looking down on you and will continue to guide you forever!"
While their relationship is shrouded in tragedy and pain, Jenkins-Hernandez continues to have love in her heart for Hernandez. She said on "Dr. Phil," "He's to me, a great guy, the love of my life, the father of my child. … They want to make him out to be this monster, and he's not."
If you or anyone you know is having suicidal thoughts, please call the National Suicide Prevention Lifeline by dialing 988 or by calling 1-800-273-TALK (8255)​.