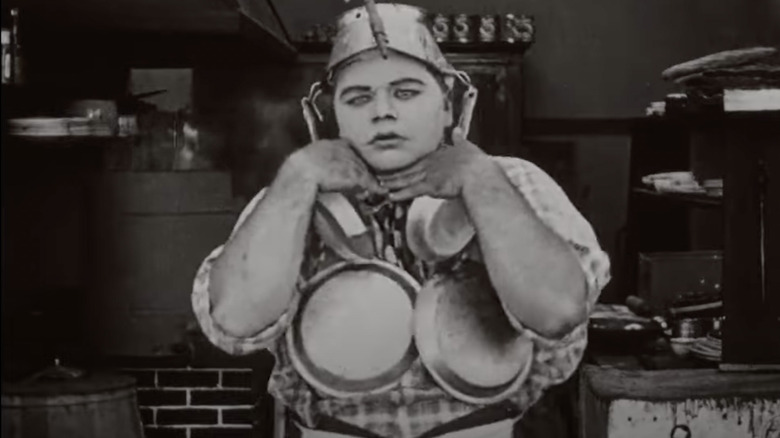 Warning: The following article includes allegations of physical abuse and sexual assault.
The trial and conviction of Harvey Weinstein brought a microscope down over the rich and powerful in Hollywood. Long whispered rumors and backroom gossip filled courtrooms and newspaper headlines, which sparked necessary debates about abuse of power and money among the elite. In Weinstein's case, the rumors and gossip were corroborated by testimony and evidence, which led to a 23-year prison sentence for the producer. Since then, dozens of well-known actresses including Gweneth Paltrow, Selma Hayek, and Rose McGowan have come forward to accuse Weinstein of sexual assault. The scandal shook Hollywood and its fans, but Weinstein wasn't the first man in the movie industry to spark a scandal.
By 1914, Roscoe Conkling Arbuckle, lovingly called "Fatty" due to his 300-pound frame, was a silent film sensation on par with Charlie Chaplin. Audiences loved Arbuckle's physical comedy and versatility, which led to Paramount offering the comedian a $3 million deal (the equivalent of almost $50 million today) in 1921. The film star was riding high, and with the release of another film under his belt, there seemed to be no end to his success in sight. However, this would soon prove to be untrue.
On September 5, 1921, to celebrate the release of his newest film, "Crazy to Marry," Arbuckle, fellow actor Lowel Sherman, and film director Fred Fishbeck threw a party in a San Francisco hotel. It was a decision that the actor came to regret after it resulted in the mysterious death of a young woman — and his film career.
The accepted facts
Virginia Rappe was a successful model, fashion designer, and up-and-coming actress. By 1916, at the age of 21, she was earning $4,000 a year ($66,000 today) from her dress designs. The young woman's fiance, film director Henry Lehrman, introduced her to Arbuckle, and according to Leo Guild in The Fatty Arbuckle Case, the movie star was smitten with her and referred to her as "The loveliest woman of them all." As fate would have it, on September 5, 1921, Rappe was also in San Francisco and ended up at Arbuckle's party in room 1220.
According to The New Yorker, Arbuckle was wearing pajamas, a bathrobe, and slippers when Rappe arrived at the hotel room, soon followed by her friend Maude Delmont and agent Al Semnacher. Despite prohibition being in full swing, the hotel room was full of alcohol and tipsy guests, but there are conflicting accounts of how much, if any, alcohol Rappe consumed. At some point, she walked into Arbuckle's adjoining private room, 1219, to use the only available bathroom. Shortly after, Arbuckle walked into the same room and locked the door.
When the door opened again, Delmont and Zey Prevost walked into the room to find Rappe moaning, screaming, and ripping her clothes off. Rappe spent 3 days in the hotel, in terrible pain, being treated with morphine. Five days later, Virginia Rappe was dead from a ruptured bladder and Fatty Arbuckle was accused of manslaughter. The events of that night in the hotel would be the subject of 3 criminal trials.
Arbuckle's version
As reported by The New Yorker, Arbuckle initially told police he was never alone with Rappe, but changed his story during the first trial. According to Greg Merritt in his book Room 1219: The Life of Fatty Arbuckle, the Mysterious Death of Virginia Rappe, and the Scandal That Changed Hollywood, the film star said he had no idea Rappe was in his room when he walked in and locked the door. He only became aware of her presence when he walked into the bathroom and found her lying on the floor, holding her stomach. He picked her up, placed her on a bed, and gave her a few glasses of water. Then, he went to use the bathroom, and when he came back, Rappe was rolling around on the floor, crying, and moaning in pain. He walked out of the room to get Delmont, and when they walked back into the room, Rappe was ripping off her clothes. Curiously, Arbuckle admits he participated in this:
"I went over to her and she was tearing on the sleeve of her dress, and she had one sleeve just hanging by a few shreds – I don't know which one it was – and I said, 'All right, if you want that off I will take it off for you.' And I pulled it off for her; then I went out of the room."
Arbuckle walked back into the room later to find Rappe laying nude on the bed with a piece of ice on her body. Delmont was also rubbing ice on the back of her neck. When he questioned Delmont about this, she told him to leave them alone. Arbuckle admits he responded by telling her to shut up or he would throw her out the window.
Arbuckle paid for another hotel room for Rappe and had a doctor called to come care for her. He assumed she was drunk and that she would recover after some rest.
Other witnesses
Rappe's friend, Maud Delmont, reported the incident to police, and her version of the event differed quite a bit from Arbuckle's. According to Guild, after Rappe and Arbuckle stayed inside his room for a while, she got worried, and knocked on the room door. Even though she knocked and pounded on the door, she got no response from Arbuckle, so she went to the hotel's front desk for help. The hotel's assistant manager, H.T. Boyle, came to the room and insisted Arbuckle open the door, which he did.
As reported by PBS, Delmont claimed that Arbuckle opened the door wearing Rappe's hat and a "Fatty Arbuckle smile," and Rappe was screaming, "I am dying, I am dying. He did it." According to Guild, Delmont claimed Arbuckle threatened to throw Rappe out of the window if she didn't stop screaming. Delmont told police the movie star had raped Rappe and that the heaviness of his weight had ruptured her insides. However, Delmont's account was discounted by the prosecution because she was accused of running a brothel, had committed bigamy, and admitted to drinking at the Arbuckle party.
Guild states that Zey Prevon and Delmont both pounded and kicked on Arbuckle's door, but he didn't open it until the hotel's assistant manager ordered him to. According to PBS, Prevon testified that she and Delmont found Rappe fully clothed, moaning, "I am dying. I am going to die." Prevon claimed Arbuckle responded by telling her to be quiet or he'd "throw her out the window." The New Yorker reports that Prevon claimed she was intimidated by the prosecution during the first trial and recanted her initial testimony during the second trial.
Physical evidence
After her mysterious death, Rappe's body was examined by two doctors, Dr. William Ophüls and Dr. Shelby Strange. Dr. Ophüls performed the original autopsy, where he found bruises on her right arm and thighs, but found no evidence of sexual assault. However, he concluded that Rappe died from a ruptured bladder caused by "external force" and "manslaughter." Guild states that Dr. Strange also noted the bruises in a second autopsy and agreed that Rappe died from a ruptured bladder caused by an external force.
The bruises cited by both doctors can be seen online in morgue photos of Rappe. These photos clearly show dark bruises on the woman's right arm, right leg, and right eye. The marks on Rappe's body certainly didn't work in the movie star's favor, but none of the injuries could be directly linked to Arbuckle. If Arbuckle's story is true, the injuries could have been self-inflicted when Rappe was tearing at her clothes. Also, the party was full of people who came and went through the night, so any of them could have harmed her. While the cause of death, a ruptured bladder by external force, might seem like a damning piece of evidence, the prosecution couldn't link that to Arbuckle either.
In the first two trials, Arbuckle's lawyers argued that the rupture of Rappe's bladder was the result of a long-term chronic illness called cystitis. This strategy was very hit and miss. The first trial ended with a hung jury who were deadlocked in a 10 to 2 vote for acquittal. In the second trial, a 9 to 3 guilty vote resulted in another hung jury.
After two hung juries, Arbuckle's lawyers distanced themselves from the chronic illness theory and relied on character assassination.
Final verdict
In the last trial, Arbuckle's lawyers claimed Delmont was a well-known brothel owner, who procured women for rich men, and then accused the men of rape. Whether or not any of these accusations are true is anyone's guess at this point. Arbuckle's legal team also blamed the rupture of Rappe's bladder on alcoholism, venereal diseases, and a botched abortion, even though there was no hard evidence for any of those arguments. However, it was the 1920s, and blaming a woman's death on alcohol and promiscuity was a winning strategy.
In the final trial, Arbuckle was found not guilty of manslaughter, but many questions remained about what happened in the hotel room. Why did Arbuckle initially say he was never alone with Rappe at the party? What caused the bruises on Rappe's right arm, leg, and eye? Why did the defense have to demean the victim and witnesses in order to win their case? If Rappe's bladder burst due to a sexually transmitted disease or lifestyle choice, why didn't the doctors find any evidence of venereal diseases or alcohol abuse during the autopsies? Did the prosecution intimidate Zey Prevon to bully her into testifying against Arbuckle? Was Delmont a madam who was attempting to blackmail Arbuckle?
One hundred years later, these questions remain, and will likely never be answered.
The end of Arbuckle's career
According to PBS, the unanswered questions surrounding Rappe's death continued to haunt Arbuckle. After the scandal, the film world distanced itself from the disgraced star, and Arbuckle's movies were banned for months. Even after the ban was lifted, the mysterious death and trials left audiences with a sour taste in their mouths for the former star, and his later performances weren't successful.
Realizing his time as a star was over, Arbuckle started working behind the camera as William B. Goodrich and directed dozens of shorts throughout the mid-1920s to the early 1930s. In 1933, Arbuckle made a series of successful shorts for Warner Brothers, which earned him a contract for a full-length film with the studio. Before he had the chance to rehabilitate his image, Arbuckle died from a heart attack at the age of 46. Despite his best efforts, Fatty Arbuckle never recovered from the scandal, and his name is forever linked with the death of Virginia Rappe.
The mystery surrounding Rappe's death and the trials of Fatty Arbuckle continue to inspire books, blogs, and youtube videos, all of which attempt to get to the truth of the hundred-year-old mystery. It's a frustrating case for amateur sleuths because every piece of evidence can be easily contradicted by other evidence. The star witnesses, Maude Delmont and Zey Prevon, were discredited by rumors of brothels, blackmail, and witness tampering, which are all claims no one is able to prove or disprove now. In fairness, no one has ever been able to prove that Arbuckle raped or injured Rappe either.
Only two people will ever know what happened behind that locked door, and they're both gone. All that is known for sure about that night is that it resulted in the end of Virginia Rappe's life and Fatty Arbuckle's career.