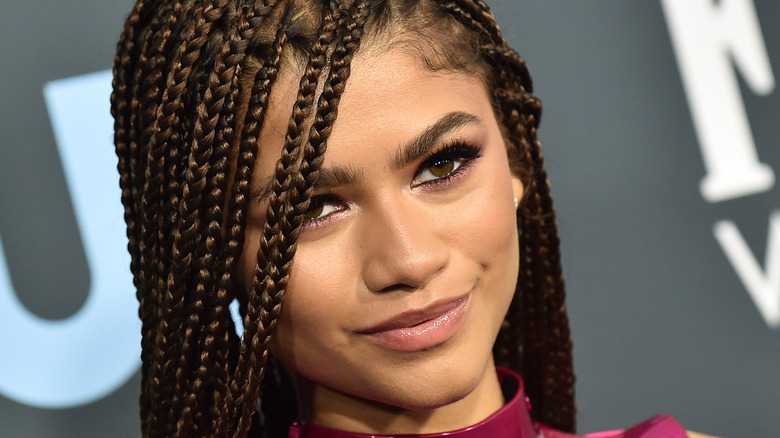 Whether you're following her career or not, it's impossible to miss Zendaya. With nearly 150 million followers on Instagram and over 21 million on Twitter (and counting!); features in countless fashion magazines, and advertisements with Valentino, Lancome, and Covergirl, starring roles in feature films and television shows; the actor is everywhere.
It may seem like Zendaya has just recently stepped into this intense spotlight, but the star has been steadily ascending for years. Strategic and smart, Zendaya has carefully chosen roles and seized opportunities to bolster her career. "I tried to watch how everybody else did it, and I tried to do my own thing. And just staying true to who I am. If I'm not feeling it, it's not going to happen," she told Variety of her meteoric rise to fame.
From starting her career in earnest at 13 years old to amassing dozens of credits as a working actor, Zendaya has taken an ambitious path. This is the transformation of Zendaya.
Zendaya was shy as a kid
Zendaya, born Zendaya Coleman, grew up in the Oakland area of California. An introverted child, the multi-hyphenate knew that she wanted a career in the entertainment industry. And despite struggling with severe shyness as a kid, Zendaya made her dreams come true by breaking in as a child.
"I wouldn't try anything. I always had this fear of failing and not doing so well," she told Elle about her childhood, noting that she had to overcome her fears in order to create the career and life she has now. According to Zendaya, she grew up in "not the nicest" area, yet the future star's parents did everything they could to ensure their daughter made it to auditions in Tinseltown. "My mom stayed in Oakland because she had two jobs: teaching, and working at the California Shakespeare Theater at night. Those two jobs paid for all of our car trips back and forth for the year I was auditioning," Zendaya recalled. After she began modeling for companies like Macy's and Old Navy, per her biography, she eventually landed a starring role on a Disney show.
Her family knew she was a star, so the Colemans packed up and moved to Hollywood, rather than continuing to commute from Oakland, in order for their daughter to achieve her dreams. It was a gamble that clearly worked. "Luckily I had parents who were like, 'You know what? We believe in you," she told Glamour.
She starred in Shake It Up
Zendaya's first major role was in 2010 at just 13 years old. The actor booked a starring role on the Disney Channel original television show "Shake It Up," where she acted opposite Bella Thorne. By the time she landed this role on Disney Channel, Zendaya had started going mononymously, dropping her last name for a singular stage name. "I [dropped my last name because I] just thought it was cool, like Cher or Prince," she told Allure.
Not only was Zendaya navigating a major move and the throes of childhood stardom, she was navigating life as a teenage girl, as well. "I was 13, and it was just me and my dad in an apartment in downtown L.A. It was very difficult because I was dealing with all the pivotal girl moments. I remember getting my period and him not knowing what to do. It was a weird transitional phase," she shared in an interview with Glamour.
Whenever she could, Zendaya ensured she wasn't missing out on some crucial moments for a tween girl. As she shared with British Vogue, the budding star refused to kiss one of her "Shake It Up" costars on camera. "I remember … being like, 'I'm not gonna do this. I'm going to kiss him on the cheek because I haven't been kissed yet so I don't want the kiss to be on camera.'"
Zendaya almost won Dancing With the Stars
Though she's now pickier about her opportunities, as a teenager, Zendaya took any chance to prove her skills. In 2013, Zendaya was asked to join the cast of "Dancing With the Stars," and she cemented herself as a multitalented star while competing alongside partner Val Chmerkovskiy. Judges were continually impressed with her dancing skills, and she ended up placing second, losing to country music singer Kellie Pickler and partner Derek Hough.
Judges weren't the only ones impressed by the 16-year-old, the youngest competitor in the show's history. The professional partners were stunned by her talent, too. "Zendaya, I think, flourished on the show and then became who she is now, [which is] a freaking icon," Jenna Johnson gushed to Us Weekly. And as Chmerkovskiy told Entertainment Tonight, "I wanted this to be such a huge moment for her. She worked so hard, and I really wanted her to lift that trophy and jump-start her career. And she didn't lift the trophy and I felt heartbroken about that."
"Dancing With the Stars" is not for the faint of heart, as Zendaya told B96 in Chicago. "It's probably the hardest thing I've ever done … It was a lot of pressure." But if any 16-year-old was equipped to handle it, it was Zendaya, as evidenced by her second-place finish.
She had a short music career
If you're familiar with Zendaya's work, you've likely heard her sing. The star has a clear penchant for music, and in 2013, her self-titled debut album premiered, spawning hits like "Replay." Unfortunately, her professional singing career was short-lived, and aside from some collaborations and music video cameos, "Zendaya" is all she has to show from her time as a recording artist.
"I think the [music] industry takes a little bit of passion away from you. It sucks you dry a little bit. What I thought I wanted, it's not what I want anymore, [especially] when I think about what I had to deal with in the music industry," she told Paper Magazine about her experience. "If anyone asks my number one advice, for [the entertainment] industry in general but mostly the music industry, it's look over those contracts, every single word, and don't sign anything that isn't worth it to you. You are worth more than they will say that you are."
Zendaya's biggest contribution to the music industry since "Zendaya" has been her work with Labrinth, the English singer and producer who's responsible for the music on "Euphoria." The Emmy-winning musician has collaborated with Zendaya on pieces like "All For Us" and "I'm Tired," both of which were featured on the show. Perhaps Zendaya isn't finished in this arena. "I still love making music … being able to work on the finale song for 'Euphoria' was fun," she told Allure.
Zendaya returned to Disney Channel
After putting her singing career on hiatus, Zendaya returned to the acting scene with Disney, starring in their 2015 series "K.C. Undercover," in which she played a genius in a family of spies. Though the show was not met with critical acclaim, as Disney series often aren't, it did run for 75 episodes and was a fan-favorite for its four-season tenure.
Returning to Disney wasn't easy for Zendaya. "I think a lot of people look at me in a certain way because I've been on the Disney Channel a long time," she told Variety in 2017. The actor, determined not to carry with her the stereotypical Disney child star image, fought for creative control while filming "K.C. Undercover." Thanks to her own advocacy, Zendaya served as a producer of the series, a skill she was wise to hone at a young age, as this opened her to more opportunities later in her career.
A major factor in Zendaya's return to Disney Channel was much bigger than her own career. "When I left Disney, there weren't any families of color on the channel. I thought that was a big reason why I wanted to come back. I think I've successfully made a show that not only allows for representation but sees girls in a powerful and strong position," she said.
Zendaya turned into a movie star
In her attempt at total world domination, Zendaya took the official dive from Disney darling to bona fide movie star when she was cast as Michelle in "Spider-Man: Homecoming," starring Tom Holland as the titular superhero. "It was nice to play a character who wasn't a damsel in distress but actually very smart, quirky, different and outspoken," she told Variety.
It's rare for a Disney star to shed their affiliation with the brand. Stars like Selena Gomez, Miley Cyrus, and Demi Lovato have managed to do so, but some like Hilary Duff and Emily Osment are still associated with the Mickey Mouse ears. Zendaya, however, has managed to elude her Disney image, and did so with the help of some of her other movies, too, like "The Greatest Showman," "Dune," and "Malcolm and Marie."
Zendaya didn't just take any role that came along, though. A sought-after actor, Zendaya was offered plenty of roles while with Disney and after, but she only took those with substance. "They usually feel very one-dimensional in the sense that there's not a lot of layers to them … It would have been great and it would have been fine, but I wouldn't have grown at all," she told GQ of her selection criteria. "I would much rather have one line in a great movie than be the lead of a s****y one," she declared to Variety.
She became a literal fashion icon
In addition to her unbelievable talent, Zendaya is known for her striking fashion sense. The actor has dominated red carpet after red carpet with her impeccable taste, and fans all over the world have fawned over her stunning looks. Whether she's promoting her work or attending the Met Gala, Zendaya is showing up and showing out.
Fashion is a major part of Zendaya's identity, too. "Another thing that I feel like helped me create an avenue and a lane of my own that was outside of Disney Channel was fashion," she told Issa Rae. And as is typical for Zendaya, her road to becoming a fashion icon was strategic. "I would show up to s**t I had no business being at just so I can get the look."
Soon enough Zendaya was attending events she certainly had business attending, and in 2021 she was honored with the CFDA Fashion Icon Award, becoming the youngest recipient of the prestigious appellation that's been given to women like Rihanna, Beyonce, and Naomi Campbell. Before she received this award, Zendaya worked with an array of legendary fashion names, including Tommy Hilfiger. The actor worked as a brand ambassador for the fashion house, a position that earned her clout in the industry. "Fashion is more than just wearing cool clothes. It's a way to celebrate self-expression and individuality, which is extremely empowering," she told Vogue of her relationship with fashion.
She's very tall
Zendaya is recognizable in any room due to her status, but also her stature. The actor stands at 5'10", and it's affected her career in more ways than one. "I'm skinny, and I'm tall, and I'm lanky, and for some people that could be a negative thing," she proudly declared to BCK back in 2014, reminding other young girls to embrace their frames.
Zendaya is also noticeably taller than her "Spider-Man" costar Tom Holland, who reaches just 5'8", and she worried it would affect their audition. "I was worried because he's so much shorter than me," she explained. "I was like, 'Damn it! It's going to be weird because I'm super tall.' But then we ended up doing the audition sitting. So that was good," she told Variety.
When she's not fretting over the fate of a role, Zendaya embraces her height. The stunner isn't afraid to wear heels and confidently towers over others. "I always tell my fans that people are going to comment on your height regardless, so you might as well be as tall as possible and look good doing it!" she gushed to People.
Zendaya owns her own mansion
After scoring roles in some popular and lucrative films, as well as starring in some of the biggest television shows for children and young adults in the past century, Zendaya's built quite the net worth. The actor is worth an estimated $20 million, per Celebrity Net Worth, and she began using it early into adulthood. The actor moved into her own mansion when she was just 20 years old.
Moving into her own home was a major step for Zendaya, one that signified more responsibility than just what comes with taking care of a house. "I had grown up — I moved out, and it was time for me to be the sole voice in my career and make my own choices. I just had too many people I was trying to please, too many opinions, and I was constantly talked out of following my gut and my instinct … I grew up really, really fast," she told Elle.
Despite being one of the most famous women on the planet, Zendaya still feels grounded at home. When asked by Vogue where she feels most at home, Zendaya simply replied, "At home," adding, "my dog makes me feel most at home."
She's dating Spider-Man
After starring in "Spider-Man" with him, Zendaya and Tom Holland took their on-screen romance off-screen and started dating. The pair had met long before acting in a movie together, though, and their chemistry was strong enough to spark dating rumors before they officially became a couple. "He says when we first met it was super awkward because he went for a handshake and I went for a hug. But I don't remember that. I thought it was cool," she told Variety of their first interaction.
The two have a sweet relationship and always talk about each other in high regard, whether it be via social media or in an interview. "Happiest of birthdays to the one who makes me the happiest," Zendaya posted on Instagram for Holland's birthday. "An incredible achievement for the most incredible person," Holland gushed on Instagram when Zendaya won the CFDA Fashion Icon Award. Aside from the occasional post and interview, the two are fairly private about their relationship.
She's an Emmy-winning actor
One of the most popular shows on television in 2022 was HBO's "Euphoria." The show follows Zendaya's character Rue, a teenage drug addict, as she copes with substance abuse while simultaneously navigating high school. The show has been controversial since its inception in 2019, and many critics claim it inaccurately portrays the life of high schoolers.
While those criticisms may be valid, what all viewers can agree on is the talent displayed by the young cast, particularly Zendaya. The star not only leads the cast but serves as an executive producer alongside the show's creator Sam Levinson, as well as rapper Drake. To date, the show has been nominated for 25 Emmy Awards and has taken home three, most notably Zendaya's Outstanding Lead Actress in a Drama Series. "People actually saying I did a good job at my craft … it's like, 'Damn, I did work hard. I'm glad you see that,'" she told Elle.
Playing Rue, an emotionally deep character with a dark past hasn't been easy for Zendaya, but it's paid off. "I think 'Euphoria' taught me a lot about myself. It made me more confident in my own abilities, because I doubted myself a lot." If predictions are correct, Zendaya will have another reason to trust her abilities. As of this writing, critics have the actor slated to win her second Emmy in 2022.