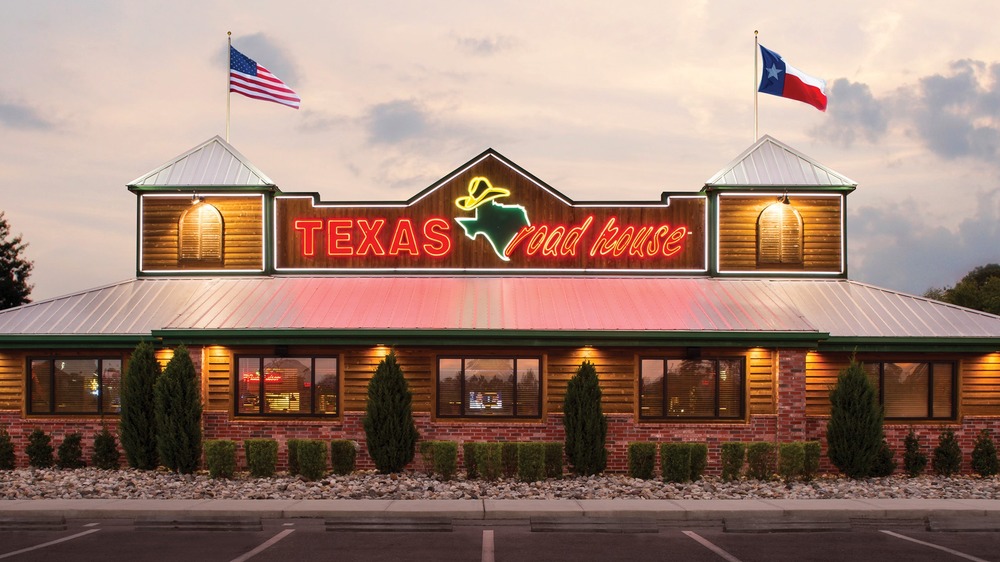 Despite getting its start in Indiana, Texas Roadhouse has fans all over the country and beyond looking to get their fix of the Lone Star State. The restaurant first opened in 1993 and has since grown to hundreds of locations in almost every state. The menu offers a range of Southern cuisine, from Texas-sized steaks and ribs to chicken, fish, and burgers, plus a long list of sides and appetizers.
There are a lot of things to love about Texas Roadhouse, including the free and seemingly never-ending baskets of fresh-baked rolls, which are pretty much everyone's favorite thing about the restaurant. However, according to the confessions of many unhappy diners (and some employees), there are a few items on the menu you should avoid at all costs. Some of them may be damaging to your health, and others just aren't worth the money. We've got the scoop on what Texas Roadhouse menu items to avoid.
Texas Roadhouse's Cactus Blossom is a greasy mess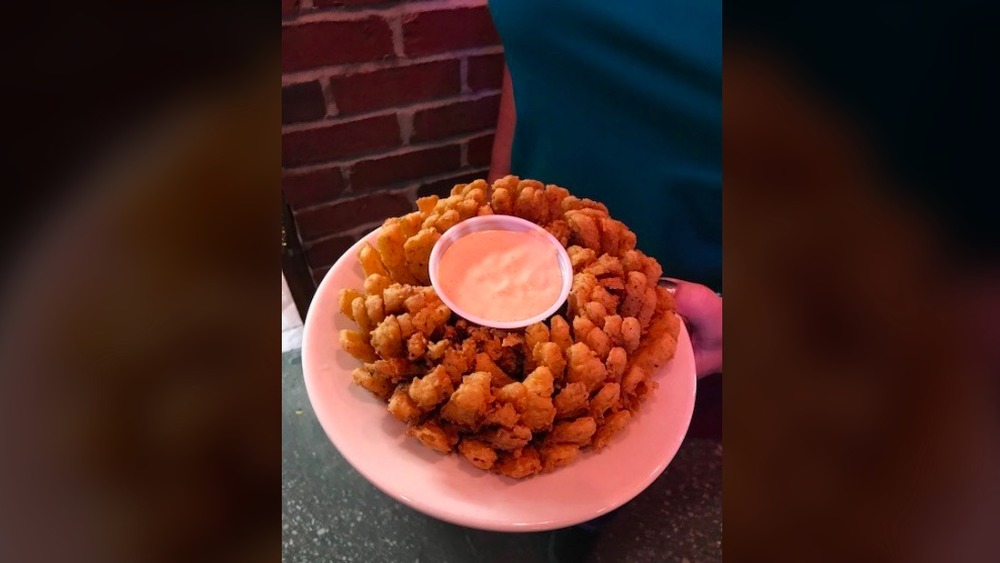 One of the first things you'll come across when browsing the menu at Texas Roadhouse is the Cactus Blossom appetizer. The restaurant describes it as a "Texas-sized, golden-fried onion with Cajun sauce for dipping." However, some customers would describe it more as a greasy mess. One diner on Yelp called it "disappointing" saying her Cactus Blossom was "soggy" and "stuck together in huge clumps." Another diner lamented on Facebook that their Cactus Blossom was "greasy and cold."
The Cactus Blossom also happens to be one of the most unhealthy items on the menu at Texas Roadhouse. Including the dipping sauce, the fried appetizer contains 2,250 calories. That's approximately equal to your recommended calories for the entire day, according to the FDA. Not to mention, it boasts 135 grams of fat and 5,000 milligrams of sodium. Your arteries have been warned.
Stay away from Texas Roadhouse's chicken fried steak
Texas Roadhouse serves up steak in all kinds of ways, but that doesn't necessarily mean it nails it every time. Some diners are not happy with the restaurant's chicken fried steak entrée. Texas Roadhouse calls its take on this classic Southern recipe the Country Fried Sirloin and describes it as "hand-battered, fresh-cut sirloin served crispy and golden, topped with cream gravy." While that sounds like it could be delicious, many say this dish does not live up to their expectations.
In fact, one Texas Roadhouse customer took to Tripadvisor calling it the worst chicken fried steak they had ever had. Another diner on Yelp described the entrée as "barely edible," calling it "nothing but a chewy mess," adding that "the grease was old and the gravy tasted horrible." And if that doesn't ruin your appetite, another reviewer went as far as to say it "tasted rancid" and confessed that they sent it back for another item.
Texas Roadhouse's ribs leave something to be desired
When you think of Texan cuisine, barbecue ribs probably aren't too far down on the list of things that come to mind. So you'd think this menu item would be a highlight at Texas Roadhouse. But according to some very unsatisfied customers, that's simply not the case.
The restaurant says its ribs are "slow cooked with a unique blend of seasonings and our signature BBQ sauce." That sounds great, but according to an Iowa diner on TripAdvisor, the "sauce itself was just average and the ribs were very fatty." Another diner from Oklahoma City describes the ribs as "burnt and overcooked and inedible." A Michigan diner called them "terrible," saying quite bluntly, "if you want ribs DO NOT EAT HERE!"
If that's not enough, it's also worth noting that a full slab of ribs will cost you a whopping 1,450 calories and more than 100 grams of fat (via Nutritionix).
Texas Roadhouse's bread pudding is the ultimate diet destroyer
If you're really looking to destroy your diet, look no further than Texas Roadhouse's dessert menu. Specifically, the bread pudding. It's only available at select restaurants, and it is likely the single most unhealthy item that Texas Roadhouse makes.
Bread pudding is another classic Southern staple, usually made from old bread that's soaked in a custard and topped with a sweet sauce of some sort, according to Southern Living. Texas Roadhouse's version is made from the restaurant's famous rolls and drizzled with caramel sauce. Unfortunately, that small plate of sweet, sticky goodness comes out to 2,050 calories. You're also looking at more than 300 grams of carbohydrates and a startling 264 grams of sugar. To put that in perspective, the American Heart Association recommends men have no more than 36 grams of added sugar per day and women have no more than 25 grams.
Texas Roadhouse's 20-ounce bone-in ribeye is also super unhealthy
Texas Roadhouse is known above all else for its hand-cut steaks. The restaurant boasts that each location has its own butcher who hand-cuts every steak. However, not all cuts of beef are created equal, and this holds true at Texas Roadhouse.
The restaurant's 20-ounce Bone-in Ribeye is one that you might want to avoid. It's one of the most unhealthy steaks on the menu, coming in at 1,480 calories and more than 100 grams of fat. And even if you're not watching your waistline, you still might be disappointed. Texas Roadhouse claims that its ribeye is "juicy, flavorful" and "served on the bone for extra flavor." But not everyone agrees. One diner from Louisiana said in a Tripadvisor review that the ribeye tasted like it "must have come from a very old cow," saying it was tough and not very tasty either.
Texas Roadhouse's beef tips will probably disappoint you
If you're not up to tackling a whole steak for dinner, Texas Roadhouse also offers a plate of loaded beef tips on its menu. Listed as one of the restaurant's Country Dinner plates, the beef tips are described as "cuts of steak with sautéed mushrooms, onions, brown gravy, and sour cream." All of that comes served over your choice of mashed potatoes or seasoned rice. However, it might be better to just choose something else. According to Eat This, Not That!, registered dietitians say to stay away from this item, calling it the most unhealthy combo on the menu due to its outrageous amounts of sodium and saturated fat.
According to some customers, the beef tips may not even be worth it as a cheat meal. A diner in Kansas who ordered the entrée called his meal "completely disappointing," in a review on TripAdvisor, adding that "everything was over salted." Another reviewer on Restaurant Guru said the beef tips were "horrible" and said the last time they ordered them, they "only got [three] chunks of meat."
Don't expect Texas Roadhouse's fish and chips to be fresh
This shouldn't come as a huge surprise for a restaurant that specializes in all things beef, but another thing you probably want to avoid at Texas Roadhouse is the fish. The chain actually serves up several seafood dishes, but they may not be very fresh or taste very good.
In particular, the fish and chips plate, which is only offered at select Texas Roadhouse locations, is one to stay away from. If you're expecting a plate of fresh, crispy fish, prepare to be disappointed. One diner in Boston did not mince words in his Tripadvisor review, saying the fish and chips "come swimming in a tide pool of grease so deep you could drop a line in it." He also added that the fish tasted like it was "clearly frozen at some point" and "well beyond its consume-by date." Another diner in Seattle lamented "the fish and chips were both so salty, I had to peel off the batter on the fish."
Texas Roadhouse's employees don't recommend the porterhouse T-bone steak
If you're looking for the best, freshest steak you can get at Texas Roadhouse, then whatever you do, don't order the porterhouse T-bone. You might like the looks of this "23 oz. Texas-sized 23-oz. steak," but even the employees will tell you to stay away from this one. In fact, a California diner said in a Yelp review that when they tried to order the porterhouse at Texas Roadhouse, the waiter kept pushing for them to order a ribeye instead. That can't be a good sign, but it turns out there's a reason for it.
Texas Roadhouse claims that its butchers hand-cut every single steak that's served up at its restaurants. However, according to the confessions of some employees, this may not actually be true. Some Texas Roadhouse servers admitted on Reddit that the chain's porterhouse T-bone steak is oftentimes not hand-cut in-house but is rather shipped to the restaurants frozen. One employee said, "my managers have always told me not to suggest the Porterhouse T-Bone steak … it's generally considered our not-so-good steak." And according to Yelp, a customer who did manage to order the steak called it mediocre and said parts of the meat were tough.
Texas Roadhouse's burgers are apparently not great
Texas Roadhouse may be known for its beef, but it seems the burgers leave something to be desired. The chain offers up a few different burger options, including a bacon cheeseburger and a Smokehouse Burger that's topped with mushrooms, onions, and barbecue sauce. Unfortunately, even all those toppings may not be enough to mask the less-than-great taste of Texas Roadhouse's burgers.
A customer in Connecticut declared in a Tripadvisor review that they will "never have a hamburger at Texas Roadhouse again" after being served what they described as "two very well done hockey pucks seasoned with way too much salt." Um, no thank you. Another diner in New York called it the worst hamburger they had ever had. Other reviews of the burgers at Texas Roadhouse call them bland, flavorless, and overcooked.
Bottom line — if you're in the mood for a good burger, there are plenty of better options out there than Texas Roadhouse.
Texas Roadhouse's prime rib is a major letdown
Getting the chance to have a prime rib can feel like a cause for celebration. This large and fatty cut of steak is decadent and filling and serves as the centerpiece of many a holiday dinner table. However, the prime rib at Texas Roadhouse is anything but impressive according to many unhappy diners.
Several reviews from Tripadvisor paint a grim picture. One review called the prime rib "disappointing," adding, "imagine chewing on your shoe, tough and full of fat." Not exactly appetizing. But just wait, it gets worse. Several other customers from restaurants around the country expressed their displeasure with the prime rib, with one reviewer on Tripadvisor saying they "took one bite … and gagged. The meat was rancid. Absolutely disgusting." And yet another diner in Maryland ventured to order the prime rib, but "took one bite and spit it out."
Avoid Texas Roadhouse's free peanuts
One of the most notable snacks at Texas Roadhouse isn't even on the menu. Part of the chain's long-standing casual vibe is the barrels and buckets of peanuts sitting around the restaurants, free for anyone to dig into. Unfortunately, it's for that reason that many say you should avoid those peanuts at all costs.
A Texas Roadhouse employee on Reddit warned that the peanuts are a hub for germs, pointing out how many people stick their hands into the peanut containers every day without washing their hands. Another server commented that peanuts left on tables often get put back in the barrels. You never know what you'll find when you grab some peanuts to snack on at the start of your meal. One customer in Chicago wrote on Tripadvisor that they were munching through a bag of peanuts while waiting to be seated and found "a half-eaten lollipop stick with peanut shell stuck to it."
Texas Roadhouse's loaded baked potato is a fatty, salty side dish
One side dish you'll find at nearly every steakhouse is a baked potato. It's for good reason. Steak and potatoes are a perfect pairing, offering complementary flavors and textures that make for an all-around deliciously filling meal. According to WebMD, baked potatoes are also packed with nutrients, including potassium, calcium, fiber, and iron, and have proven to help reduce inflammation and improve digestion.
But if you order Texas Roadhouse's loaded baked potato, all of those nutritional benefits get overshadowed by unhealthy toppings. The loaded baked potato comes with butter, sour cream, bacon, and cheddar cheese. Combined, these toppings tack on 275 calories and 25 grams of fat. A plain baked potato only has 380 calories and 13 grams of fat. Maybe most troubling is the baked potato's salt content. Served plain, it contains 1,950 mg of sodium. The toppings add on an additional 440 for a grand total of 2,390 mg. According to the Food and Drug Administration, the recommended daily value of sodium is less than 2,300 mg per day. Texas Roadhouse's loaded baked potato puts you over that number all by itself. High-sodium diets have been shown to cause high blood pressure, which can lead to serious health conditions, such as heart disease and stroke. Skip this dish and your doctor will thank you.
Texas Roadhouse's loaded sweet potato is a dessert masquerading as a side dish
Sweet potatoes can be an even more nutritious option than their white potato counterparts. According to Healthline, the sweet variety has slightly fewer calories than a normal potato while providing more fiber, calcium, and vitamins A, B6, and C. Texas Roadhouse's loaded sweet potato, however, could never be described as anything close to nutritious.
The problem with this loaded version of the side dish is that, in reality, it's more of a dessert. The once-nutritious sweet potato comes topped with honey cinnamon caramel sauce and a layer of marshmallows. These two toppings combine for nearly 400 calories as well as 19 grams of fat, 57 grams of carbohydrates, and almost 50 grams of sugar. All this comes in addition to the 350 calories, 9 grams of fat, 62 grams of carbohydrates, and 19 grams of sugar already found in the sweet potato. Yes, you're reading that correctly — the toppings alone have more calories than the potato itself, and more than twice the sugar content. Eating too much sugar can have a wide variety of negative effects on both your mental and physical health.
Sweet potatoes are flavorful enough to stand on their own without any sugary toppings. If you want to save yourself some empty calories, order your sweet potato plain or with just butter.
Texas Roadhouse's mac & cheese isn't worth the money
Another classic and delicious steakhouse side dish, the mac & cheese will likely be calling your name when you see it on a Texas Roadhouse menu. But there are two compelling reasons you should skip it.
Firstly, as undeniably delectable as mac & cheese is, it's not particularly good for you. Texas Roadhouse's version clocks in at a whopping 380 calories. That's the second-most of any side dish on the menu — only the Caesar salad has more. It also contains 18 grams of fat, 11 of which are saturated fat.
Maybe you've decided that you're going to indulge at Texas Roadhouse and calorie counting isn't important to you. Fair enough, but there's another reason to bypass the chain's mac & cheese: You can make the exact same dish at home. You see, instead of whipping up its own mac & cheese from scratch, Texas Roadhouse sells the Kraft variety of this fan-favorite dish. It doesn't try to hide this fact — the Kraft name is right there on the menu. Several diners posting on Tripadvisor were none too pleased about this fact.
Even if you're a Kraft Mac & Cheese aficionado, your money will go a lot further if you simply pick up a box at the grocery store instead of forking over the extra cash at a restaurant. Plus, don't we go out to eat to get something we can't make at home?
Texas Roadhouse's frozen strawberry margarita is a sugary sinkhole
A steak dinner isn't the same without a cold beverage, which is why you'll find so many drink options on the Texas Roadhouse menu. As painful as it may be, the one you should skip is the frozen strawberry margarita.
The 18-ounce version of this cocktail will set you back a bone-chilling 520 calories. Along with the raspberry and mango varieties, that's the most of any drink on the Texas Roadhouse menu (This is without the optional tequila kicker, which tacks on an additional 60 calories). For context, most of the chain's chicken dishes have fewer than 500 calories. With the same calorie total, you may be asking, "Why avoid strawberry over the other flavors?" Well, clearly, none of the three are particularly good options, but strawberry separates itself from its fruity counterparts by having more carbohydrates and sugar: 85 and 77 grams, respectively.
Saying no to the temptation of a frozen strawberry margarita can be a tall task. But fear not, there are less-damaging ways of getting your drink on at Texas Roadhouse (We're not here to ruin your good time after all). Simply switching to a rocks margarita, for example, cuts the drink's calorie, carbs, and sugar totals nearly in half. And there are always cocktail and wine options to choose from, as well.