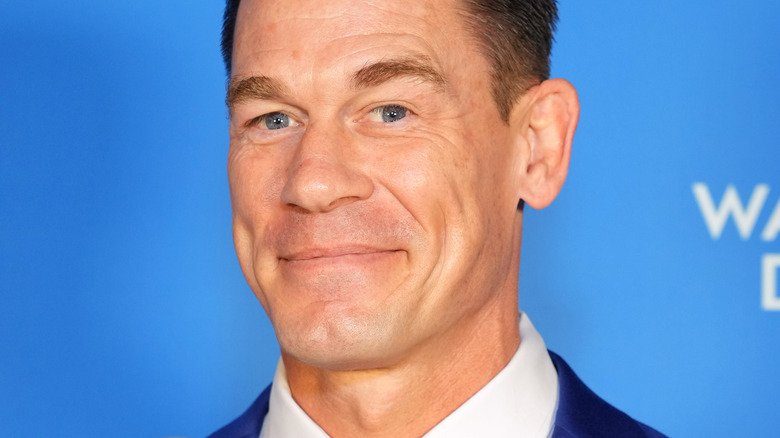 From the much-anticipated Sting vs. The Undertaker match to Hulk Hogan and Ric Flair never locking horns at a "WrestleMania," there are many "What If's" that have plagued WWE lore. Another "What If?" question that continues to haunt wrestling fans is WWE's refusal to turn John Cena heel. Although a younger Cena did portray the villainous character of the Doctor of Thuganomics, he never embraced the dark side during the peak of his popularity between 2005 and 2017 — a period that saw him capturing 13 WWE Championships and three World Heavyweight Titles.
To the credit of WWE's creative team, Cena not turning heel wasn't for a lack of trying. During his recent appearance on the "Cheap Heat" podcast, former head writer of "WWE Raw" Brian Gewirtz lauded WWE for pulling the trigger on a Roman Reigns heel turn, which led to host Peter Rosenberg asking if he ever made a pitch to WWE's previous face of the promotion heel.
"Yes," Gewirtz responded emphatically. "For sure. There was a time we all did … We did push plenty of times for John to turn heel, and there was a lot of reasoning going into it." Gewirtz also revealed that former WWE CEO Vince McMahon was "tempted … but ultimately, there was like the merch [sales] and everything John does." Cena, too, was on board — telling writers, "Alright, listen, you want to turn me heel? If that's what Vince says you guys want me to do, I'll do it. But just so know, I will go full boar heel."
Why Vince McMahon had a change of heart
Brian Gewirtz emphasized why John Cena didn't want go through with a half-hearted heel turn. "He was like, 'There won't be none of that like, oh, he's a fun heel, he's a cool heel, he's winking at the audience, heel.' He is going to go full heel, that's what he wants to do, which would have been awesome," said the former head writer of "Monday Night Raw" on "Cheap Heat."
When Cena made his intentions to go full-throttle heel known, Vince McMahon had a change of heart. "I think Vince was like, 'John is basically captain of the ship here,'" revealed Gewirtz. He also addressed "the issues of who would [Cena] work with? Who would replace him as the top babyface?" on top of the "merchandise and everything else John does off-screen." Seeing as the former WWE CEO "didn't want to pull the trigger," Gewirtz believes, "In [McMahon's] mind, I think he's like, 'I made the right decision because John has been the standard bearer.'"
Gewirtz then drew the parallel between Roman Reigns and Cena through McMahon's eyes. "[McMahon] was like, 'I need Roman to be this guy.' But, Roman is Roman, and John is John." The writer also recalled that "two months after the Sufferin' Succotash [promo]," there was an attempt made "to have Roman tell stories, because I was consulting WWE at the time, and when I saw Sufferin' Succotash on the script, I was sending out flare gun signals like, 'No, don't have him say that.' But ultimately, yes, they did pull the trigger on Roman … and he's been amazing."
John Cena has previously confirmed heel turn plans
In previous interviews, John Cena confirmed that WWE had already prepared merchandise for his heel turn during his two-year-long feud with The Rock in 2012 and 2013, with the plan that he would portray the villain in the "WrestleMania 28" main event. During his appearance on "The Pat McAfee Show" in January, Cena revealed he told Vince McMahon, "If we do it, I have to be the opposite of virtue. I have to be pure evil and we have to go all in.'"
"From a believability standpoint … people always see me in uniform, go figure that," said Cena. "If you didn't see me in a suit in WWE, you saw me in a ball cap, t-shirt, jean shorts, sneakers … because what I want people to know that what they see is somebody can relate to." Ultimately, as confirmed by Brian Gewirtz on the "Cheap Heat" podcast, Cena's unwillingness to portray a semi-bad guy forced McMahon to call an audible.
In 2021, Cena teased returning to WWE as a heel while citing Reigns' ascension into a "very marketable and definitive star" in an interview with Chris Van Vliet. He would eventually return as a babyface, however, and take a loss to The Tribal Chief at "SummerSlam" in August 2021 — failing to capture his 17th world title in the process. With his Hollywood career showing no signs of slowing down, the likelihood of wresting fans ever witnessing a full-blooded Cena heel turn grows improbable with each passing year.