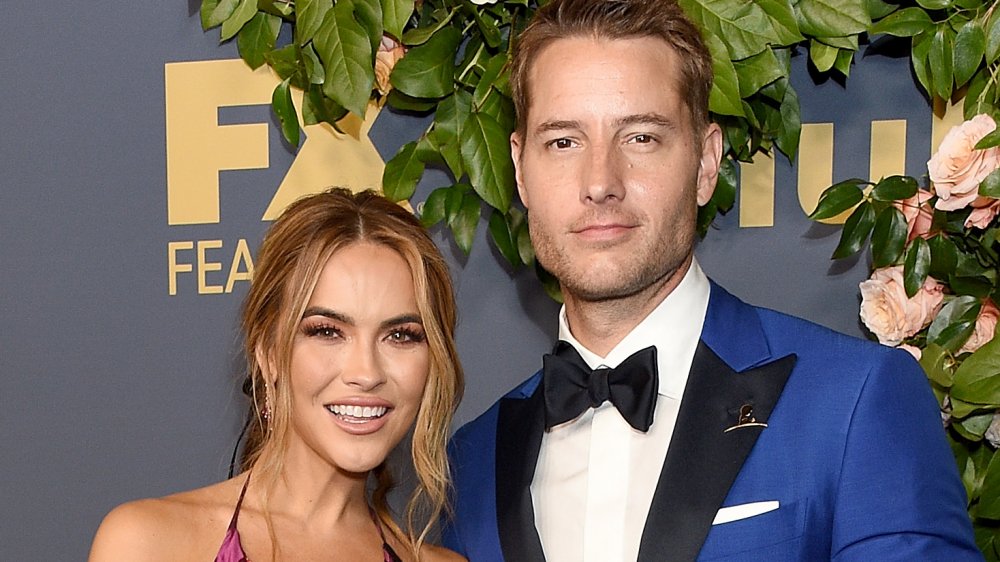 This Is Us star Justin Hartley was thrust into the spotlight thanks to his role as Kevin on the hit NBC show. However, the actor's personal life unfortunately hasn't been quite as perfect as his on-screen success: Hartley filed for divorce from his wife of just over two years, Chrishell Stause (who appears on Netflix's Selling Sunset), in November 2019. Despite looking loved-up during public appearances and in Instagram posts in the months before the split, Hartley claimed that the couple's separation date was as early as July 8 of that year, which has since become a point of contention between the exes. Not to mention the fact that Stause allegedly learned that her husband had filed divorce papers when it was reported by TMZ. Yikes.
Prior to the headline-making breakup, Hartley and Stause always seemed smitten with one another. In January 2018, they discussed married life with Entertainment Tonight, with Stause saying, "Honestly, the strange thing is, I don't know if this is good or bad, but it doesn't feel that different … Our life is already so settled and amazing. It had more focus on it, but as far as when we go home, everything is the same."
But now that there appears to be trouble in marital paradise, join us as we take a look at why Justin Hartley and Chrishell Stause got divorced.
Justin Hartley reached a new level of fame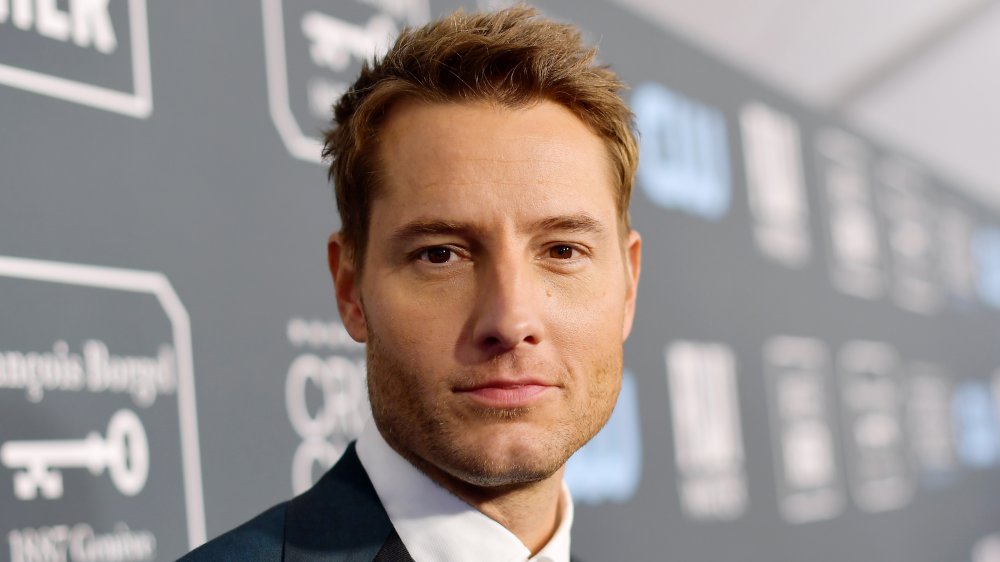 Thanks to the popularity of This Is Us, Justin Hartley's career has simply skyrocketed. Prior to landing his role as Kevin Pearson, the actor was no stranger to the spotlight, having booked recurring and regular gigs on shows like Smallville, Mistresses, and The Young and the Restless. But it's impossible to deny that, since landing his starring role on NBC's pinnacle family drama, Hartley has begun to book roles bigger than ever before. For instance, his appearance as a stripper in A Bad Moms Christmas allowed fans to truly admire the actor's physique and comedic timing. And with upcoming roles in big screen movies, such as The Exchange, Hartley is sure to secure even more fans.
All that said, a source cited by People in December 2019 claimed that Hartley's burgeoning career was probably responsible for his change of heart about married life. "He's reached a new level of fame thanks to the show and he doesn't want to close many doors right now," the insider alleged. "And that's not necessarily the path Chrishell is looking to take." The source also revealed that "Chrishell is still reeling" from the split, which is hardly surprising given the quick nature of the divorce.
Chrishell Stause was ready to start a family
If Justin Hartley's successful career was one of the reasons the actor filed for divorce after two years of marriage, then differences of opinion regarding starting a family might have contributed to the split, too. According to a source cited by People, "[Chrishell] thought babies would happen soon after they got married, but it just hasn't worked out." Meanwhile, another insider elaborated to the publication, "Chrishell is really ready to just settle down and be a wife and stay-at-home mom."
However, it should be noted that Hartley already has a daughter from his previous marriage to actress Lindsay Korman. So, perhaps the actor was content with having one child? The This Is Us star hit the red carpet with his then-15-year-old daughter, Isabella Justice Hartley, at the Critics' Choice Awards in January 2020, and it's clear that he's passionate about successfully co-parenting his kiddo with Korman. "My daughter's very self-sufficient and very smart," Hartley told Us Weekly in September 2019. "She's very resourceful, so I'm thankful that that's the case [and] I get a lot of help from my ex-wife." For her part, when asked if she was hoping to start a family with Hartley that May, Stause told the media outlet, "We don't know [when] yet … I have a stepdaughter, so we've got our hands full with high school."
It looks like babies just weren't on the cards for this celebrity couple.
Justin Hartley and Chrishell Stause may have been having problems for a while
If various reports are to be believed, Justin Hartley and Chrishell Stause weren't as happily married as fans were led to believe. After news of the celeb couple's divorce broke in November 2019, a source told People that Hartley and Stause had "been having trouble for a while." However, another insider suggested to the publication that Stause was blindsided by the split, revealing, "Yes, they'd had some problems, but she certainly never thought he would just go and suddenly file for divorce, and not even try to save things."
While it would seem that Hartley sadly found the exes' supposed problems insurmountable, it's still not totally clear why the This Is Us star filed for divorce from Stause, at the time of this writing, considering he'd simply cited irreconcilable differences. But for whatever reason, sources allegedly close to the former couple have continued to suggest that Stause and Hartley's love story wasn't the fairy tale romance it might have seemed. As a source cited by People alleged, "In many ways, they're somewhat fundamentally incompatible."
Did Justin Hartley take this marriage seriously?
Having been married for eight years to actress Lindsay Korman, Justin Hartley had already experienced marriage, before the former couple called it quits in 2012. Apparently, Hartley's previous marital experiences might have influenced his relationship with second wife, Chrishell Stause. According to a source cited by People, "Justin never took their marriage seriously at all … Justin has already been married, and divorced, once before."
Conversely, Stause hadn't been married before she tied the knot with Hartley. However, her caution about marriage was very deliberate, as an insider told the media outlet, "Chrishell had been in other serious relationships in the past, like with Matthew Morrison, and didn't take them further because she was always adamant that when she got married, it would be forever — she was only going to do this once." The source went on to allege that Stause didn't rush into marriage, because "she wanted to be sure that when they said their vows, they meant them. And she did — she would have stayed forever."
Unfortunately, the union didn't last. And while we may never know for sure if this was truly down to Hartley "never [taking] their marriage seriously," it is one possible theory.
Were their busy career schedules to blame for their divorce?
As previously mentioned, Justin Hartley's career has ballooned thanks to his performance on This Is Us — but Chrishell Stause has also found herself in the spotlight in recent years. The actress and real estate agent joined the team at The Oppenheim Group as the company's new agent, which became the focus of Netflix's reality TV show, Selling Sunset, in 2019. With a third season set to premiere in August 2020 (just a few months after Season 2 dropped), the show has showed no signs of cancellation, which is a very positive sign for even more to come. Even Stause told Harper's Bazaar Australia that May, "I think it's looking really good … I can't go anywhere without people telling me how much they love the show."
On a related note, a source confirmed to People that December that "Justin and Chrishell are both focused on their busy careers," suggesting that their work may have contributed to their surprising split. However, the insider also explained, "[Chrishell] was his staunchest supporter and would've had his back through anything." Unfortunately, it doesn't look like Hartley felt the same.
Justin Hartley supposedly changed
In December 2019, Chrishell Stause posted a curious quote by author Nishan Panwar on Instagram, which read, "It's hard to watch people change right in front of you. But it's even harder remembering who they used to be." Coming so soon after Justin Hartley filed for divorce, fans instantly read Stause's post as implying that her ex-husband had unexpectedly changed. And while it's entirely possible that the quote is in reference to something else, it certainly seems as though Stause had been reflecting on the end of their relationship.
Meanwhile, Stause's Instagram bio at the time included the Rumi quote (via Us Weekly): "The wound is the place where the Light enters you." It suggests that she's dealing with the divorce as best she can. But as for whether Hartley has indeed changed, a source cited by Entertainment Tonight claimed, "Justin loves Chrishell, but people close to the couple feel he's choosing his career path over their marriage. Justin is finally getting his big break in Hollywood and it's completely changed him and how he treated his marriage."
Was something shady going on in Justin Hartley and Chrishell Stause's relationship?
One of the aspects of Justin Hartley and Chrishell Stause's split that doesn't quite add up is the exact date of their separation. When he filed for divorce, Hartley listed July 8, 2019, as the date he officially separated from Stause. However, the former couple attended several events together right up until Hartley filed for divorce that November, including The Hollywood Reporter and Moet & Chandon Golden Globes party, from which Stause shared several photos taken with her former beau. Hartley and Stause also attended the Emmy Awards together that September, followed by the Los Angeles Veuve Clicquot Polo Match the following month.
In fact, even Stause reportedly disputed her ex-husband's timeline, with a source explaining to People in December 2019, "There are so many things that she doesn't understand. They don't even agree on their separation date. It's just a strange situation." Plus, other insiders allegedly close to Stause told TMZ that she "is privately calling BS on the date of separation Justin listed."
While it's currently unclear how or why Hartley decided on the exact date, TMZ revealed that when Stause filed her response to the divorce petition, she listed their separation date as Nov. 22, 2019 — the same date that Hartley actually filed — suggesting that she had no idea they were splitting up prior to this. Seems like these divorce proceedings might get messy.
Justin Hartley reportedly had money on his mind
Justin Hartley's decision to file for divorce from Chrishell Stause may have seemed swift to outsiders, but according to multiple sources, money might be behind this celeb breakup. An insider cited by TMZ claimed that Stause thinks there's "some sort of deal Justin may have and she believes he just doesn't want her to get a piece." Per the publication, this might explain the early separation date listed by Hartley in the divorce filing, especially if he signed a lucrative business deal after that date and didn't want Stause to have any claim on it.
At the time of this writing, Celebrity Net Worth lists Hartley's fortune as $7 million, and Stause's as $5 million. While it's possible that Hartley was trying to avoid paying his wife a larger chunk of earnings by alleging their breakup was earlier than it was, it does seem pretty petty to potentially lie about a separation date over money — especially when another person's feelings are at stake. We certainly hope these reports aren't true.
Was Justin Hartley impulsive?
Considering the fact Chrishell Stause apparently learned that Justin Hartley was filing for divorce from TMZ, it's possible that the actor made a rash decision. Of the seemingly quick split, a source told the Daily Mail, "People close to Justin and Chrishell are completely shocked by Justin filing for divorce. The couple has always been incredible with no signs of things being on the rocks." As such, many were left wondering whether Hartley really thought this decision through. Per the Daily Mail's insider, "Friends are speculating this was an impulse on Justin's side due to something that happened, and are hopeful the couple can work things out."
Meanwhile, Entertainment Tonight reported a similar version of events, with a source telling the site that Stause was reportedly equally "shocked" over the divorce filing, and "is devastated how everything is unraveling." It seems as though the reality TV star thought that their relationship was for the long haul. TMZ suggested the same, claiming, "It's almost like this came out of the blue. Justin and Chrishell were together just last week, so something seems to have happened." However, there have been no moves to call off the divorce so, sudden or not, it looks as though Hartley was ready for the split.
Justin Hartley and Chrishell Stause might not have a prenup
When TMZ reported that Justin Hartley had filed for divorce in November 2019, the site claimed, "Justin says he does not want to pay Chrishell spousal support and he wants her to pay her own lawyer's fees. It is possible they had a prenup that would make spousal support unnecessary."
While it's still unclear whether the former celeb couple had a prenuptial agreement, it would seem that Hartley is keen to exclude his ex from any financial benefits. TMZ also noted that Stause's lawyer, Samantha Spector, has asked that Hartley not only pays spousal support to his ex, but also covers her legal fees. According to Entertainment Tonight, Stause is reportedly "asking that Justin's ability to receive spousal support be terminated."
Considering the fact that Hartley and Stause have listed very different separation dates, their divorce could turn ugly, which is why a prenup would make all the difference. If the exes had an agreement in place, then dividing up their finances and assets would be a lot less complicated. However, without one, any earnings made during the marriage would potentially be up for grabs.
Justin Hartley may have been affected by his first divorce
Having been married once before to Lindsay Korman from 2004 until 2012, Justin Hartley is well aware of just how messy marital breakups can be. The former couple got together after meeting on the set of Passions in 2003, and during their eight-year marriage, welcomed a daughter together.
In a candid interview with Anthem in November 2016, Hartley opened up about the split. "Divorces are not amazing," he explained. "To get yourself into a place where you're ready to make that commitment again, it takes a special person, a special situation, and a special chemistry. If you asked me three years ago if I thought I'd be engaged and ready to have a new wife and be on this show, I would've laughed at you."
Basically, it took Hartley a while to believe that he could find marital happiness again, which he seemingly did with Chrishell Stause. But having already gone through a divorce, it's unlikely that Hartley took his decision to split from his second wife lightly. Sadly, some relationships just don't work out.
Justin Hartley made the decision without Chrishell Stause's knowledge
Judging by the majority of reports about Chrishell Stause's split from her husband, Justin Hartley was the one who wanted a divorce. During a Selling Sunset Season 3 preview released by Netflix and shared by Us Weekly in May 2020, Stause could be seen crying as she spoke to co-star and fellow real estate agent Mary Fitzgerald about Hartley's decision to leave. "It's just a lot all at once because everybody in the whole world knows," Stause explained. "I love him so much, this was my best friend. Who do I talk to now?"
It wasn't just Stause who was surprised by Hartley's divorce filing from his second wife, seemingly without warning. Selling Sunset co-star, Amanza Smith, told Express, "When we all found out we all cried for her because up until that day, we would look at them as the couple that, you know, they say like hashtag goals, they were goals." Revealing that the couple's relationship had seemed strong until Hartley's shocking decision to call it quits, Smith added, "They seemed like they were just so madly in love, she doted on him all the time, he would come into the office and bring her coffee and I mean, it was just so bizarre and so sad to see … I was actually with her the day she moved from the home that she and Justin shared and it was just brutal."
Selling Sunset will show Chrishell Stause's divorce from Justin Hartley
As Chrishell Stause wasn't anticipating that Justin Hartley would file for divorce so suddenly, the events ended up being filmed for Selling Sunset Season 3. Rather than being able to hide from the cameras, Stause found herself being the hot topic of conversation, especially as the news broke internationally while she was still shooting the reality series. As such, Season 3 will reveal even more about Stause's emotional split from the This Is Us actor in August 2020.
As Stause told Entertainment Tonight Canada, "The first eight episodes [of Season 2] I came across a little unscathed and then the second half [Season 3] is a little trickier for me." The actress went on to explain, "This is still new for me trying to adjust to such an uncomfortable thing but unfortunately yes, the cameras were there. I still had a month left of shooting when my personal life kind of exploded … It's not a comfortable thing to live in front of everyone."
Understandably, Stause wished that she hadn't had to share the devastating moments on a reality show, telling ET Canada, "If I'm being 100 per cent honest with you, it's friggin' awkward. They were there and some of it is going to be shown and I'm dreading that."
Chrishell Stause admits that 'relationships are hard'
As we all know only too well, relationships can be difficult to sustain at the best of times. Although Chrishell Stause was unaware that her husband was about to file for divorce in such a public way, she admitted that romance isn't always easy. Speaking to Entertainment Tonight about having to relive the split when Season 3 is released, Stause revealed, "It's obviously not something that I am looking forward to but it does follow our real life … When it gets to the bad, I am going to go under a rock and I am going to go off the grid."
The former soap star was also quick to explain that rewatching the breakup would be particularly difficult, because she's still very much in love with Hartley. "I obviously really, truly love him, and it's unfortunate the way that everything happened and the timing of everything," Stause said. "… I still had a month to plot shooting the show when this all went down." As most people can relate, Stause hopes that she will be able to be civil with her ex-husband in the future, telling Entertainment Tonight, "Hopefully, we can get to a place where, one day, we will look back at this and laugh. I don't know, hopefully. It's very unfortunate and relationships are hard."
Justin Hartley's new girlfriend was apparently Chrishell Stause's friend
Perhaps the most surprising piece of news in Justin Hartley's split from Chrishell Stause is that he was reportedly already dating someone new just six months after filing for divorce. In May 2020, TMZ posted a photo of Hartley kissing a new woman, who was later revealed to be his former co-star on The Young and the Restless, Sofia Pernas. Pernas had played Hartley's girlfriend on the show in 2015, which wouldn't be awkward if it wasn't for the fact that Stause joined the cast of The Young and the Restless the following year — which is how she started dating Hartley. He even appeared in a photo on Pernas' Instagram account in 2016.
According to a source cited by Entertainment Tonight, the two "are newly dating and enjoying their time together," and have gotten to "know one another better" while "[spending] time together during quarantine." To make matters worse, however, The U.S. Sun reported that Pernas and Stause were actually "close friends" who'd kept in touch after their time together on the show came to an end. The outlet also noted several instances in which both Pernas and Stause commented on each other's Instagram posts — which seems all the more shady, considering the fact that Hartley is now allegedly dating a friend of his ex.
Per ET's insider, Chrishell — who reportedly stopped following Pernas on Instagram — is reportedly "upset" over Hartley's new relationship, "but she understands they both need to move on." The plot thickens.